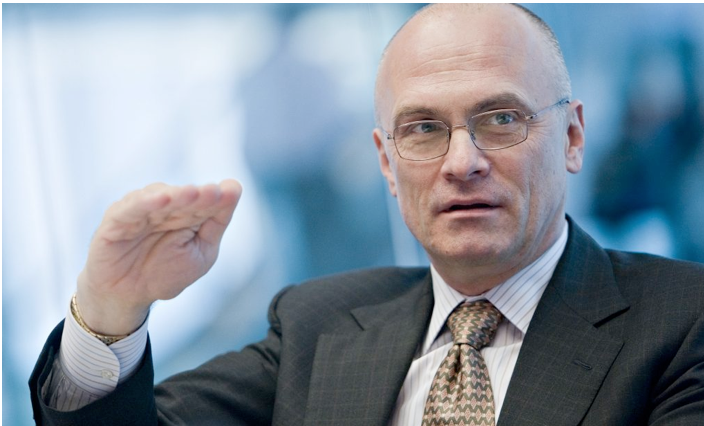 CAPITAL & MAIN REPORT--Andrew Puzder (photo above), whose nomination by President Donald Trump to head the Department of Labor ignited heated controversy even against a field crowded with contentious cabinet picks, withdrew his name from consideration Wednesday afternoon. Puzder, the CEO of CKE Restaurants, the corporation that owns Carl's Jr. and Hardee's diners, was the target of growing criticism amid charges he and his company had a history of shortchanging store workers and managers of wages and promotions, as well as discriminating against women and minority employees.
Puzder was the subject of a six-week series of investigative stories by Capital & Main, which was widely cited in other media outlets as well as in Senator Elizabeth Warren's February 13 letter to Puzder. Our team of reporters found a widespread pattern of alleged employee abuse at CKE Restaurants, which has been named in dozens of civil suits and federal complaints. The public record of these court cases, alongside our interviews conducted with current and past employees, reveal a male-dominated culture extending from CKE's highest executive ranks to franchise store kitchens — and a company that seems to operate with impunity and a special contempt for employees who are seen as weak or a burden on the company.
Focusing on Puzder's more than 16 years as CEO of CKE, our stories uncovered the following: 
Seventy-eight employment discrimination cases filed in federal court alone, more than any other large U.S. hamburger chain on a per-revenue basis. 
Six Equal Employment Opportunity Commission cases filed against CKE and its restaurants, far more than any other large burger chain on a per-revenue basis, with the exception of Sonic Drive-In. The EEOC only takes on the most serious of discrimination cases. 
Twenty-seven cases, representing 41 people, filed in California state courts against CKE directly, alleging wrongful termination or discrimination in the company's decision to fire employees. Of these cases, 20 of the employees involved worked at the store level, 12 of the employees involved worked at the corporate level, and 10 cannot be undetermined. 
These cases show a similar pattern of workers being targeted for termination and harassment, including: workers who get sick or take medical leave, including maternity leave; workers who go to human resources offices for help with sexual harassment, discrimination or safety violations; and workers who are older and have worked their way up to a higher salary. (These legal complaints do not include the many cases that deal with wage and hour violations.) 
Twenty-two complaints filed with the California Department of Fair Employment and Housing alleging discrimination at CKE or its franchisees. 
One lawsuit filed in California at the executive level of management describing behavior by Puzder and his executive team that was discriminatory and sexually inappropriate. The lawsuit alleges the kind of sexual harassment that was reported in recent interviews collected by the Restaurant Opportunities Center with workers in Hardee's and Carl's Jr. restaurants. It depicts a culture in which women are demeaned, sexual impropriety is tolerated and those who complain are punished. 
Nine interviews with former or current workers, most describing the same working conditions alleged in the lawsuits — an environment where employees have no security, where discrimination is persistent and where anything seen as making a worker inconvenient or too expensive is grounds for termination. Two workers had positive things to say about the work environment. 
A practice at some locations of paying employees with fee-based debit cards, resulting in sub-minimum wages. This practice was found by the Department of Labor to violate minimum wage laws in a 2014 case involving Hardee's. 
A refusal to take responsibility for labor violations at franchised locations. The basis for this position is the assertion that the company does not exercise control over the behavior of franchisees – despite the fact that CKE requires franchisees to sign a highly detailed agreement stipulating a wide range of conditions. That same agreement exempts CKE from any responsibility for compliance with labor laws.
(This analysis was posted first at Capital and Main.) 
-cw