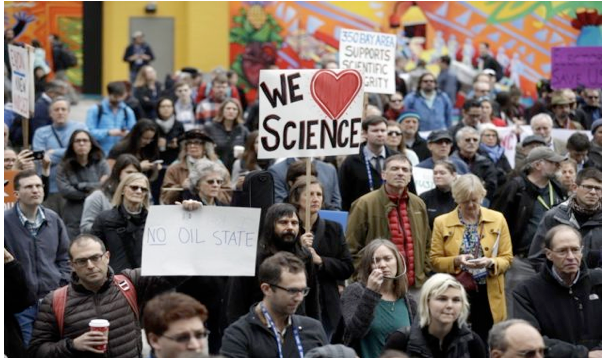 DEMONSTRATIONS CONTINUE--The Trump-Pence administration's war on facts may have galvanized the next major demonstration in the nation's capital—the Scientists' March on Washington, which is as yet unscheduled but is garnering significant enthusiasm online.
Spurred by the new administration's stance on climate change, muzzling of scientists, and slashing of environmental regulations, the idea grew out of a Reddit thread started in the wake of Saturday's inspirational Women's March on Washington and global solidarity events.
As the Washington Post reports:
[S]omeone wrote, "There needs to be a Scientists' March on Washington."
"100%," someone replied. Dozens of others agreed.
One participant in the exchange, University of Texas Health Science Center postdoctoral fellow Jonathan Berman, took the conversation to heart. In short order, the march had a Facebook page (whose membership swelled from 200 people on Tuesday night to more than 150,000 by Wednesday at noon), a Twitter handle, a website, two co-chairs, Berman and science writer and public health researcher Caroline Weinberg, and a Google form through which interested researchers could sign up to help.
Indeed, the Facebook group had swelled to nearly 300,000 members as of later Wednesday, and @ScienceMarchDC now has more than 50,000 followers. 
Organizers said Wednesday they would "soon be releasing our formal vision" (as well as a date for the march), but for now they summarized their mission thusly:
Although this will start with a march, we hope to use this as a starting point to take a stand for science in politics. Slashing funding and restricting scientists from communicating their findings (from tax-funded research!) with the public is absurd and cannot be allowed to stand as policy. This is a non-partisan issue that reaches far beyond people in the STEM fields and should concern anyone who values empirical research and science.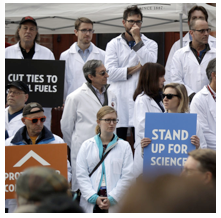 There are certain things that we accept as facts with no alternatives. The Earth is becoming warmer due to human action. The diversity of life arose by evolution. Politicians who devalue expertise risk making decisions that do not reflect reality and must be held accountable. An American government that ignores science to pursue ideological agendas endangers the world.
Indeed, Union of Concerned Scientists president Ken Kimmell said Wednesday in response to the latest crackdown on the Environmental Protection Agency (EPA) in particular: "Demands to shut down informational websites and prevent the release of scientific findings are straight out of Orwell. We don't live in a world of 'alternative facts'—you can't delete climate change and you can't overrule the laws of physics by preventing scientists from talking about them."
"President Trump and his representatives in the EPA and other agencies are accountable to the public interest," Kimmell said, "and the scientific community will continue to expose and resist abuses like these."
"This is not a partisan issue," the March for Science team told Mashable by email. "Scientific research moves us forward."
On other pro-science fronts, the climate movement is planning a redux of the People's Climate March for April 29, and The Atlantic reported Wednesday that a newly formed group called 314 Action has been "created to support scientists in running for office." 
As 350.org noted in its call to action for the April 29 march, "Now more than ever, it will take everyone to change everything."
Keep up to date on the scientists' demonstration under the hashtag #ScienceMarch.
(Deirdre Fulton writes for Common Dreams where this piece was first posted.)
-cw