GUEST COMMENTARY - Los Angeles' current homeless policies hurt everyone. The County's and the City's politicians' vision of harm reduction and their acceptance of criminal behavior have failed the people they are trying to help and the citizens of this City.
Over the last five years, Los Angeles has spent billions trying to make, and I hate to use the word 'homeless' because the majority are mentally ill and drug addicts, better. Worse, these policies ignore the significant impacts on citizens, families, and communities. 
Los Angeles has a shelter capacity of 58,000 people. However, only 17,000 people are taking advantage of these facilities. This is due to the preferences of the homeless. They would rather be on the street pursuing their lifestyle than being in a shelter obeying rules, like no drug use. 
Recently the City Council, like a bad permissive parent, unanimously voted to place an ordinance on the 2024 ballot that would force hotels to house the "homeless" in vacant rooms. Los Angeles cannot build enough permanent supportive housing at $837,000 per apartment. So now wants to put drug addicts and mentally ill people next to tourists and businesspeople. Is there a more surefire way to destroy Los Angeles' tourist industry than to house the "homeless" next to paying customers in hotels? 
Homeless in hotels is undoubtedly an anti-business proposition. When will there be an accounting of how many small businesses have lost money or gone bankrupt due to the current ineffective policies of dealing with homelessness? How much has propositions 47 (The Safe Neighborhoods and School Act) and 57 (the Public Safety and Rehabilitation Act) increased crime and put innocents at risk? 
Homeowners of Encino (HOME) has continuously been urging a complete overhaul in the policies for the homeless, mentally ill, and drug-addicted people littering our streets. HOME has compassion for these lost souls, but it cannot be at the expense of everyone else in Los Angeles. Parents should be able to go to the park without worrying that their kids will be stuck with a dirty needle. Citizens have the right to walk on the street without being harassed or assaulted. Unfortunately, in Los Angeles, we pay a disproportionate amount of tax to help homelessness, resulting in cascading safety failures approaching a societal breakdown. 
HOME views our current policies regarding the street homeless lifestyle is that our bureaucrats are enablers of these lifestyle decisions. Recently the State Assembly passed the bill to open supervised drug injection sites. Which was vetoed by the Governor. Injecting heroin and fentanyl are not a do-less-harm situation. That is enabling addiction which will only result in more tragedies and an eventual trip to the morgue. 
It is overdue that we stop throwing money at the least productive members of our society. We need to offer them a simple choice: get treatment, leave, or face jail time. This money that we're spending has not produced any visible improvement in the homeless situation. So, it is time to provide actual treatment and support to people who cannot make rational decisions for themselves.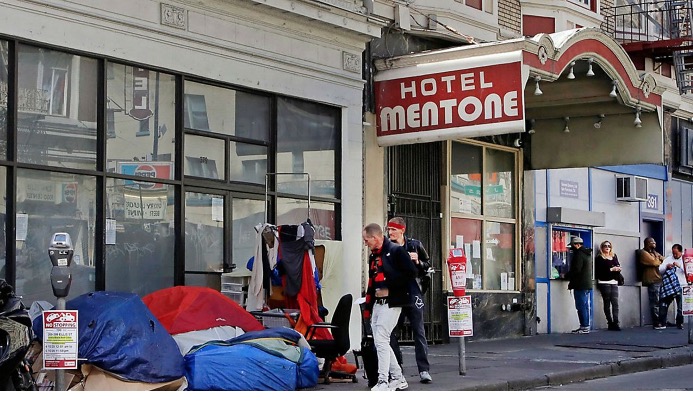 There are two pathways to improving the homeless situation. The first and best would be motivational and voluntary, with the patient requesting treatment for substance abuse and medical conditions. This could be structured as an outpatient facility, with supportive group housing for all who followed the program. The second-best approach would be to keep track of the number of hospitalizations and incarcerations an addict or mentally ill person incurs. Then, after a predetermined number of hospitalizations, arrests, or a combination of both, the homeless are given a choice, move into treatment or the criminal justice system. 
It is unfair and foolish to spend billions on the homeless without visible, measurable improvement. Crime is growing and safety continue to diminish in Los Angeles' San Fernando Valley at an alarming rate. Additionally, municipal services such as maintenance of roads, parks, schools, sidewalks and adequate funding of police and pension funds all lag due to the tsunami of politicians throwing money at the homeless industrial complex. Who have no incentive to make the situation better, as they would be cutting themselves off pallets of taxpayer money. 
 It is time for the City Council to figure out how to improve taxpayers' lives in Los Angeles. That would include a tough love policy for our mentally ill and drug-addicted inhabitants. Angelenos do not believe in giving all their money away to people who don't deserve it!
(Eliot Cohen is President of Homeowners of Encino, [email protected].  The opinions expressed are those of Eliot Cohen and not necessarily of citywatchla.com.)