PERSPECTIVE--If you take Interstate 15 about two hours north from Los Angeles, heading into the high desert of San Bernardino County, you'll reach a for-profit federal detention facility called the Adelanto Immigration and Customs Enforcement (ICE) Processing Center. The center's named for the neighboring town of Adelanto, which means "advancement" or "progress" in Spanish, and it's not an inappropriate title for a town founded a century ago by the inventor of the Hotpoint Electric Iron. But the name now carries a rather different set of associations due to the ICE facility's presence there.
This year, eight asylum seekers from Central American countries who had been "detained" (imprisoned) at this facility went on hunger strike to affirm the right to asylum as well as to protest excessively high bail, substandard food and medical care, and other abuses. Three detainees at Adelanto have died since March, one found hanging in his cell on March 22, the other two suffering from serious medical issues that, advocates say, had been inadequately addressed at the facility.
This year's protest follows a previous hunger strike in 2015, when 26 detainees protested prolonged imprisonment and excessive bail while awaiting resolution of their asylum cases. Earlier that year, over two dozen members of Congress wrote a letter to the Justice Department and ICE officials, citing numerous cases of medical neglect and calling for a halt to the facility's expansion. More recently, an immigrants' advocacy organization called CIVIC (Community Initiatives for Visiting Inmates in Confinement) issued a report asserting that Adelanto had the third highest number of sexual assault complaints of all U.S. immigration detention facilities.
Last year, the Obama administration ordered a phasing out of private federal prison facilities like Adelanto. Citing an Inspector General's report that faulted the prisons on issues of safety and security, and noting a decline in federal inmates, Deputy Attorney General Sally Q. Yates stated in a memo that the private prisons "compare poorly" to public facilities: "they simply do not provide the same level of correctional services, programs, and resources," she said, and "they do not save substantially on costs."
All this changed with Donald Trump's inauguration as president. The new Attorney General, Jeff Sessions, reversed the Obama administration's initiative to phase out the private facilities, and the stock prices of private correction companies like the GEO Group, which runs Adelanto, and CoreCivic, went up substantially (about 80 percent for GEO and 120 percent for CoreCivic since the election).
Once again there is official support for the unholy union of two policies: the criminalization of anyone "without papers," including those seeking asylum from terror elsewhere, and the affixing of dollar signs to incarcerated immigrant bodies. The more bodies that can be captured and held, the higher the proceeds for prison companies and the higher the earnings for shareholders.
As I read various commentaries on these developments, I was struck by one comment in particular. Terry Dwyer, an analyst with KDP Investment Advisors, was quoted in the New York Times as saying, "The deportation crackdown is doing very good things for these companies. On a personal level, it leaves a sour taste in my mouth, but I guess business is business."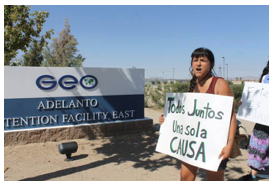 Inflicting for suffering for profit may once again be sanctioned as official policy, but the new regime has prompted resistance. Aside from hunger strikes inside the walls and activists' sympathetic protests outside, there have been movements to restrict or eliminate the prisons altogether.
In California, for example, the legislature last month approved a budget measure preventing any privately run facilities from expanding the number of beds for inmates involved in civil immigration proceedings, and it now requires the state's Department of Justice to audit the facilities in order to ensure that they provide proper food, medical care, and access to legal assistance.
More fundamentally, a group called the Detention Watch Network, together with MoveOn.org, [[hotlink]] has begun a petition drive calling for defunding the private prisons altogether.
So what is Adelanto? Until the walls and criminalized borders fall away, it will remain a deep stain – a composite image of cruelty, greed, and indifference – that we will see if we're willing to gaze squarely into the mirror of American self-identity.

(Andrew Moss is an emeritus professor at the California State Polytechnic University, Pomona, where he taught in Nonviolence Studies for 10 years. This perspective was provided CityWatch by PeaceVoice.)
-cw