ERIC PREVEN'S NOTEBOOK- The collective effort of the entire Harvard-Westlake Family and Tailgating community has been inspiring.  Something like the illuminated paper bags from so many Luminaria past. Little shining stars, including the many student volunteers from Harvard-Westlake over the years, who helped to set up the dangerous condition light show. 
I will never forget working side by side with the community service candidates, snaking extension chords through the damp public seating area assembled at the Campo De Cahuenga, as our Neighborhood Council conducted its sacred rite and hazard. 
Songs of Love and Peace mixed with pointed demands for a god damned public restroom at the metro station filled the air -- and testimony from museum employees who have been badly shat upon by desperate travelers who cannot find a bathroom and the council leadership. Technically Paul Krekorian and Nithya Raman.
Store-bought cookies and sugary punch passed around in recognition of but not limited to Christmas (Christian)  Diwali (Hindu)  Bodhi Day (Buddhist)  Hanukkah (Jewish) Winter Solstice (various cultures/religions)  Feast of Juul (Scandinavian) Yalda (Persia/Iran) St. Lucia's Day (Scandinavian) Dong Zhi (Chinese) Gody (Poland) Chaomos (Kalasha, Pakistan) St. Thomas Day/Sun God festival (Guatemala)  Kwanzaa (African) Chinese New Year (Chinese) and Ramadan (Muslim). 
The Time of year to take inventory is upon us. Time to revise the local laws organize the course catalogue and get back to work.  
City Sneaky Rules Committee: 
For those interested in a sneaky Rules Committee of three councilmembers, they've called a Special Meeting for 1pm on November 21st...even though we thought they were on recess.  So dedicated.  Krekorian / Blumenfield / Harris-Dawson.
County Holiday Waivers:
As in the past, parking waivers are requested by the Board of Supervisors for both events including the mandatory rehearsals to accommodate artists, crew and VIPs performing and participating in the Annual Tree Lighting Ceremony on Monday, November 27, 2023, from 12:00 p.m. to 8 p.m.:
The 64th Annual Los Angeles County Holiday Celebration in the Dorothy Chandler Pavilion:
Dec. 2, 17, and 20, 21, 22, 23, 24 — Not 25th or 26th — 27, 28, 29
$100
$1,500
$6,000
$500
$4,000
$4,000 
$2,000
$13,200
$1,000
$240
Total $28,540.  Sheesh.
Explainer:  Raman Introduces Empty Bag With A Hole In It:
The Councilmember published her sad and pathetic compromise on behalf of "I don't know who" about the Golf and Tennis fiasco.
Amend Condition 20 by adding Subsection H to read as follows: 
The School shall allow individuals access to Field B, including the track, from 7:00 a.m. to 12:00 p.m. year-round except between the months of June, July, and August when they are in use by the School for camps.
Smart Speaker: So, mornings are available  (when people are in school or at work) except for the summer. Respectfully, that is not "open to the public."
The applicant may require individuals to execute an annual liability waiver and conduct a background check to grant access...
Smart Speaker:  Not exactly "open to the public."
Amend Condition 18, Subsection C VI to read as follows: 
Swimming Pool (for members of pre-approved swim programs and individuals, when not in use by the School) - 7:00 a.m. to 9:00 a.m., weekdays except between the months of June, July, and August, when they are in use by the School for camp. 
However, the School may, in its discretion, expand public hours of use for the swimming pool up to 8:00 p.m., daily. 
Smart Speaker:  Interesting idea to retain the right to leave the pool open until 8pm.  How thoughtful.   Are folks supposed to be comforted by the phrases "When not in use"  and "in its discretion" ? 
"Swim programs" means club teams and individuals like Michael Phelps who are pre-approved to train at the elite compound. 
Nithya Raman's letter also confirmed no early morning or late afternoon activities on Federal Holidays and a new condition confirming no Olympic-related events, including athletic games or otherwise at the project site. 
Smart Speaker:  Check the fine print. For example, training is not "an event, game or otherwise." And who cares? 
"The existing tennis facilities will remain open to the public"
Smart Speaker:  Why would you mention that when the fact is there is a serious reduction from 16 courts to 8 ... sneaky.   The courts Raman's dad plays on ffs.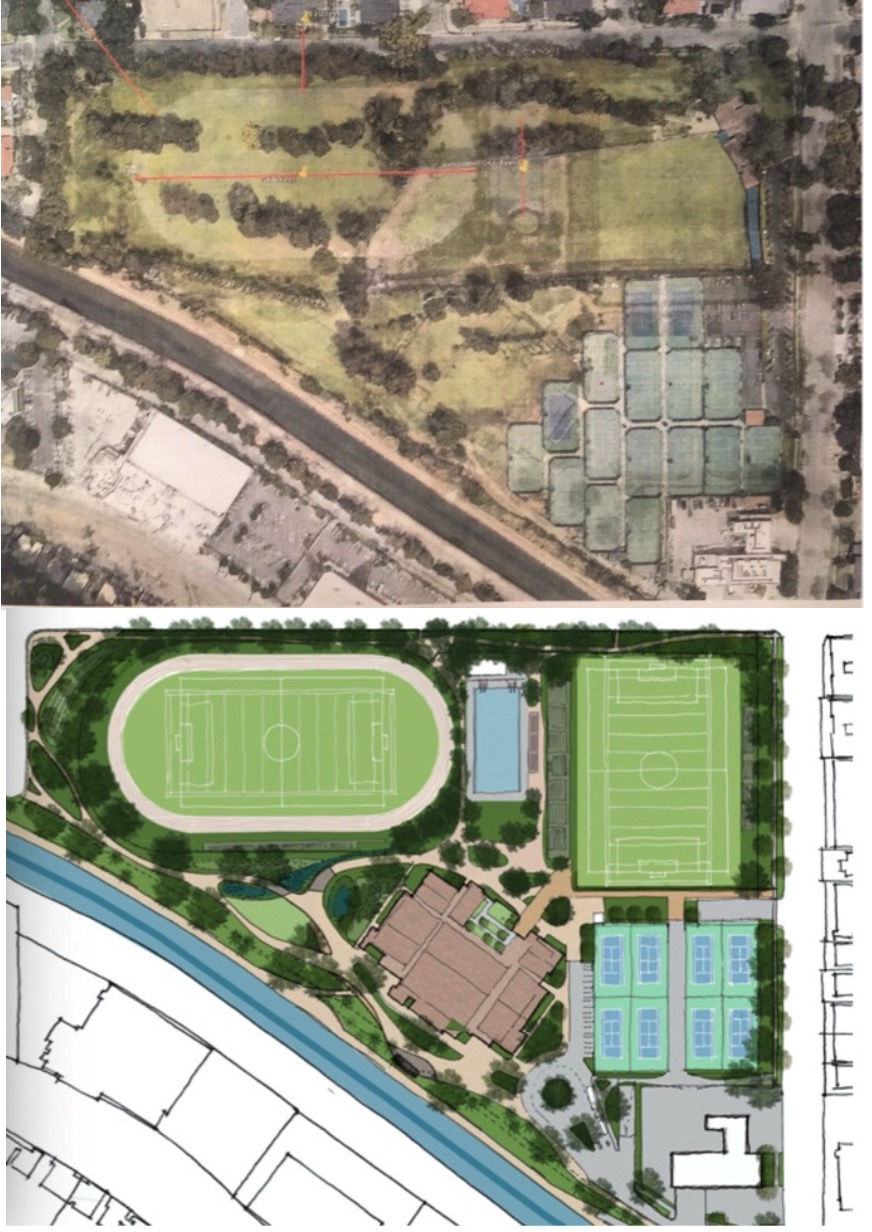 So much could be lost, including half of the Tennis Courts that Nithya Raman's father uses when in town. 
Question:  Do you think one of the Trustee billionaires could have a conscience?
Like, say Anthony Pritzker.  He could sit down for breakfast tomorrow and open the blinds on his 50,000-square-foot mega-mansion soaring above the plebes...and say
DISSOLVE ...to 
Anthony Pritzker seated at a long table with a glass of orange juice and a cup of coffee.
Anthony Pritzker: Smart Speaker, get me Rick Commons.
Smart Speaker: Yes sir.
[Phone rings]
Rick Commons: Rick Commons, good morning, Sir, did you mean to call me? Or another pocket dial? [awkward laugh]
Anthony Pritzker: Not funny Commons, it's really me, calm down. I called you on purpose. You know, "Purpose beyond ourselves." Listen, I've had a small change of heart. I think imposing our will on the people of Studio City is a bad plan, I don't give two shits what Engelberg and Khalatian think respectfully.
Rick Commons: Sir, the project is approved. There are no more obstacles. We are home free.
Anthony Pritzker: There will be lawsuits. Commons, I'm talking about purpose beyond ourselves... Let's give Studio City what they want. Cut the project in half and leave some of the golf intact. Do you copy?
Rick Commons: Respectfully, Sir.... let's not make any rash decisions. This has been a long expensive haul and we want to maximize--
Anthony Pritzker: Do you want to argue with me, Commons? Do it before the holidays to avoid another poem... 
Ethics Tutorial: 
Paul Krekorian has not made his plans for the future clear, though he sure seems like a guy who wants to run the LADWP.  That's based on nothing, other than the migration of his guy Matt Hale, over there...  Maybe Krekorian could teach Ethics?  
Here are a few course ideas: 
"Laissez-unfair" is a doctrine that provides justification to do … anything, regardless of basic norms, principles standards and obviously right and wrong. 
"Debating is Over-rated"  Rather than debate over societal ethics this course will examine how Incumbents can avoid candidate debates and sail to victory without opposition.  
"Universal fairness is ... out." 
"An overview of the LA City Ethics Commission."
Most courses provide education and advice about how to comply with the laws and why complying is important. This course is a little different... 
Historic review of many stately ethics commissioners... including but not limited to... 
Melinda Murray (June 2017 - June 2022) a lawyer working at the DA.
Andrea Sheridan Ordin (August 2016 - June 2021) the former County Counsel, troublemaker. 
Serena Oberstein (October 2014 - November 2018) the wife of Paul Krekorian's staffer Jeremy who was delisted from her CD12 candidacy by a lawsuit. She's back!
Jessica Levinson (October 2013 - June 2018) the quotesmith who has a zillion comments on any subject across all jurisdictions. 
Ana Dahan (November 2014 - November 2016) an NBCU lobbyist commissioner bestie of Jose Huizar. 
Nathan J. Hochman (August 2011 - June 2016) a recent Republican attorney general candidate who forgot to weigh in on the Harvard Westlake Trustee donation blitz of yesteryear. 
Erin Pak (December 2012 - July 2015) the wife of Chris Pak a prodigious donor/developer. 
Nedra Jenkins (June 2008 - April 2011) Mark Ridley-Thomas's chief for a while.
Gil Garcetti (2002 - 2007) the father of the Harvard Westlake alumni Ambassador.
Miriam Krinsky (1998 - 2003) Zev's CCJV executive (Civilan Commission on Jail VIolence)
Paul Krekorian (1998 - 1999) a master Ethics engineer. 
"Civics" will not be taught this semester to make room for Krekorian. 
Reading List for Holiday Break: 
November 12, 2017 - A weight is lifted as Harvard-Westlake abandons parking plan [Daily News]  
October 2, 2017 --  Huge 
August 10, 2017 -- Story Behind the Studio City NC Controversial Harvard-Westlake Vote   
August 7, 2017 -- Studio City NC Says No to Harvard-Westlake's Improvement Plan … Controversial Public Hearing Looms 
July 6, 2017 -- Coldwater Canyon Parking Project: Not Every Harvard-Westlake Parent is On Board   
June 12, 2017 -- Tony Winning Ben Platt Provides Some Positive Headlines for LA's Westlake High 
May 25, 2017 -- High End Harvard-Westlake School Stuck in 'Park'
March 7, 2016  --   Paul Krekorian and the Harvard-Westlake Project Headed for a Buzz Saw   
February 25, 2016  --  Hey Reporters! How about a Few Questions Please on the Harvard-Westlake Scam?   
December 14, 2015 --  Harvard-Westlake School Pays to Play … Stokes Resentment in Coldwater Canyon 
The Damn Greenway:   
Speaker: The Harvard-Westlake River Park Project involves the redevelopment of the approximately 16.1-acre Weddington Golf & Tennis site, and an adjacent approximately 1.1-acre portion of property along the Los Angeles River leased from Los Angeles County, collectively comprising an approximately 17.2-acre (749,344 square foot) project site, for use as an athletic and recreational facility for the Harvard-Westlake School and... 
Moderator: Next speaker.
Smart Speaker:  Let him finish. 
Speaker: The athletic facility will be for the Harvard Westlake School (mumbling) and shared public use."\
Smart Speaker:  What?  What is shared public use?  Do you mean the facility will be open to the public, like a library or a park?  The way the current golf and tennis amenity operates.  For decades, anyone can fire off a bucket of balls if they have the time and ten bucks. 
City Attorney:  Next Speaker.
Smart Speaker:  How does shared public use work?  
City Attorney:  Next speaker, sir your time has expired. "
Smart Speaker:  It means, the residents are being given an empty bag with a hole in it. People, without identification may walk around the facility. Imagine if New Yorkers could merely walk around Central Park but not enter, unless the students at Harvard Westlake a quasi-Hogwarts have finished their training for the day.  Nice try, these kids are major overachievers and never quit. 
The amount of time open to community swimmers will be next to nothing. 
The HW Riverplan proposal is comparable to a gate around Central Park.
Their plan of "shared public use"  is to provide a limited series of ID cards, following lite background checks. Unclear how signups to use a state-of-the-art soccer field, will work since the school claims they are desperate to have dozens of teams using the proposed playing fields.  It's the HW Badplan. 
The preferred use that gets at the way life in Studio City that was conceived by our predecessors is a community golf and tennis. It should be easy to run such a properly, while achieving some of the goals the school is trying to achieve.  
We can, because we think we can, (+the Mayor is an alum! )
EXTRA CREDIT: 
How does HW School's Bad River Plan address the principles of Kwanzaa?
Each day is represented by a principle of Kwanzaa: 
1st day –  umoja (unity), 
2nd day – kujichagulia (self-determination), 
3rd day – ujima (collective work and responsibility), 
4th day – ujamaa (cooperative economics), 
5th day – nia (purpose),
6th day – kuumba (creativity), 
7th day – imani (faith).

Please elaborate. 
(Eric Preven is a longtime community activist and is a contributor to CityWatch. The opinions of Mr. Preven are not necessarily those of CityWatchLA.com.)