ERIC PREVEN'S NOTEBOOK - After claiming that he wrote 41.18 the no sitting, lying, or sleeping ordinance and urging Hugo Soto-Martinez to make some referrals for federal investigations, the Goat Puppet delivered an affirmation, "Yes for corruption, yes for high rent, yes to developers…"   
Curren D. Price, who had taken over for Paul Krekorian running the meeting let the puppet continue with a prayer.  
"Now, we will take a knee and pray for the convicted felon, Mark Ridley-Thomas. Dear Lord, let us hope he does not rat out his colleagues from the Board of Supervisors.   
Let us pray that he keeps his mouth shut and does not put Janice Hahn— 
Spindler: Sheila Kuehl 
Sheila Kuehl and the rest of them in federal prison next to him.   
Let us pray, as Curren Price did when he made that motion yesterday, that he will succeed in his ninth circuit appeal.   
And let us pray that he will sue the city and continue to receive his salary because his appointment is not final yet.   
And that's because of  Curren Price's motion.  
Let's give him a hand.   APPLAUSE 
A very good sleight of hand.   And remember—" 
City Attorney: Your time has expired. Full Clip here. 
KNX Tipsters:
Jennifer York appears on KNX 97.1 and her respect for tipsters is a model worth lifting up as we all benefit from motorists trying to explain a problematic situation clearly with just what you need to know. 
Thank you to all the many tipsters.    
And thanks to @Craigfiegener who is out there duking it out every single day. The public notice and appreciate the coverage of what is important. 
Tip:  What about the impact of canceling the opportunity to give virtual testimony at committee meetings?  Rufkm 
These are the same committee meetings that the City Attorney claims exempt the city from allowing a person to speak on an item on the day that it is going to be voted on by the city council.   
That can't be right. 
The city says the item was agendized another time for a hearing, often somewhere else.  "It's already been heard in committee,"  they say. 
Sounding authoritative and providing play-by-play has been a personal dream of mine ever since Zev Yaroslavsky, the voice of Carmaggedon and the actual Pa-in-law of Katy Yaroslavsky of CD5, said, "We don't need a Vin Scully down here, Mr. Preven."  
"Yes, we do!"  
Shake The Pitch:
Was the english language translation of a TV show that I commissioned and developed for an overseas Paramount-related company, around the Premier League soccer contract that the platform I had been working for had recently overpaid for via a bizarre bidding protocol that my boss participated in that included slipping an envelope under a hotel room door in England.   We got the license!  
The concept for Shake The Pitch was simple, "You say you wanna be a sports commentator?"  The Vin Scully of futbol!  Step right up.   
We put a few kiosks in malls and plenty of young aspirational announcers got a turn at making a recording to win the chance of an ACTUAL real job! See the fine print.  
Each contestant recorded their version of a classic soccer clip. From the many, we whittled it down to ten and moved them to Dubai for a month of group living, fun and games, and learning a valuable. skill.  
We brought in the regional bigwigs to inspire and judge the aspirants.    
Originally, there was an elimination component, where each week someone would go home, but I nixed that component. 
I thought for this type of warm-feeling show,  a sibling, camaraderie vibe was more appropriate.  Not a cutthroat world, but rather a world of opportunity.  A band of brothers and sisters rooting for one another to succeed in broadcasting. Like, Kenneth Mejia's young team who are currently destroying one another and everything progressives everywhere believe in.   
The ten episodes we produced were local, fresh, and organic!  Many of the young commentators who participated in the show, went on to real broadcasting careers.    
Be nice, be good, and possibilities arise. 
Not at City Hall: 
In the latest episode of Dumb-dumb TV, there was a frustrating item about Catalytic Converters on channel 35.  
Of all the things we need, the team over at public safety has come up with a no-carry law, for Catalytic converters. 
Thanks to the geniuses in City Attorney and LAPD, once we write up this law, anyone found with a catalytic converter will be asked for proof of purchase or face the consequences.  
"I have questions…" said Eunisses Hernandez who replaced Gil Cedillo in CD1.  She wondered why we wouldn't take more preventative measures, rather than developing a new way to potentially arrest (usually) a person of color. 
The public defender was against this… Eunisses asked if she could speak to the City Attorney.  
A moment later, a City attorney popped up and Eunisses asked "If you can charge someone with a felony, why do we need another misdemeanor?" 
You could see this city attorney clear as day, unlike the public comment speakers, who appear like they were photographed from a mile away.  Public speakers at City Hall to are unrecognizable. 
The City Attorney said, "I'm not with the criminal division…" 
Unacceptable.   
Smart Speaker:  We do not want to increase Traffic Stops EVER (only where absolutely necessary) and this ordinance about catalytic converters without receipts is not preventing the crimes at all, so redeploy any resources to hardening targets. 
Incidentally, if you are wondering why council members are visible when they stand at the podium, grandstanding, it's because ITA has a lens that is used when council members like Paul Krekorian, shown below infuriating Monica Rodriguez by touting her blessed Poly High girl's volleyball team, that won a bleeping city championship.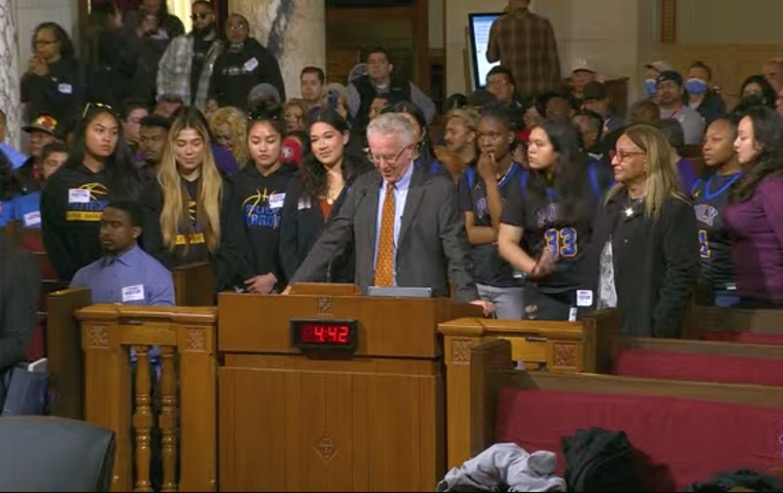 Low Blow Krekorian, but yeah, go girls!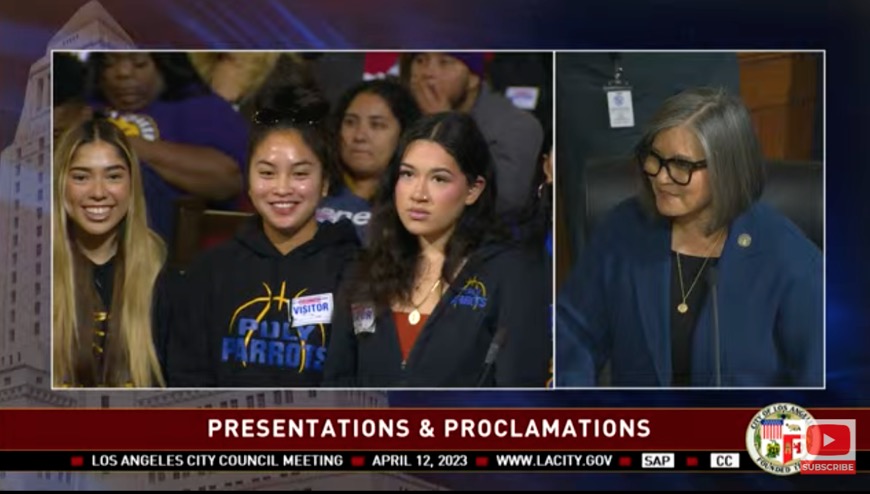 Why can't we have a closer look at Grace Yoo and Aura Vasquez?  
They say very smart things.  
Curious, if Eunisses, Hugo, Katy, and Traci.. have noticed.  
Is a two-class system what we want?  
First class for Electeds, Economy for the Public.  No. 
Please reconsider.  
Three pointers:  
I too am proud of Poly, but it doesn't seem fair to Harvard Westlake for Paul Krekorian to be out praising the Poly girls without acknowledging that Harvard Westlake won the CIF grandpappy of 'em all last month in Sacramento.  
This is a big big big deal.  How big?  
Very big. Not as big as the load of max donations to Krekorian from bareback HW trustees, but very very prestigious.  
CM Raman, who handles the Krekorian dumping ground from CD2,  is probably still examining some new district items closely:
Should I fight to Save Weddington from the Charles Munger Limited Access River Plan? Answer: Y
Should I question an inappropriate high school regulation basketball court at one of the last remaining Tongva little league rec centers in Studio City:  Answer: Y
On Wednesday Raman and Krekorian were linking arms to celebrate Warner Brothers with a 4-minute wonderful world of cinema sizzle reel intended to celebrate 100 years of killing it!  
Killing what?  
I wonder if the WGA appreciates LA City Hall, mired in corruption, touting a major studio just as the writer's guild is gritting its teeth and fighting for their lives. 
One argument, goes, that the City Council should not be cuddling with Studios at this precise moment.  How crass and craven do you have to be to ignore…the creative artists behind everything in Hollywood. 
City Attorney:  Sir, you're disrupting the meeting.  
Smart Speaker:  You never called me up to speak on Wednesday, Fauble, you sneaky bastard.  As for the South Park lawsuit, yes, in February - Warner Brothers Discovery announced that they are suing Paramount+ for $500 million. 
Paramount says these claims are "without merit." 
The Writers Guild's claims are very serious.    
One of the most hotly debated issues is the pervasiveness of "mini-rooms," in which fewer writers are hired for shorter periods of time. The upshot, the guild argues, is that fewer writers are squeezed to work more for less pay. 
Traditionally, writers working on network TV shows could expect residuals well into the six figures, cushioning them during the lean times between projects and public comments.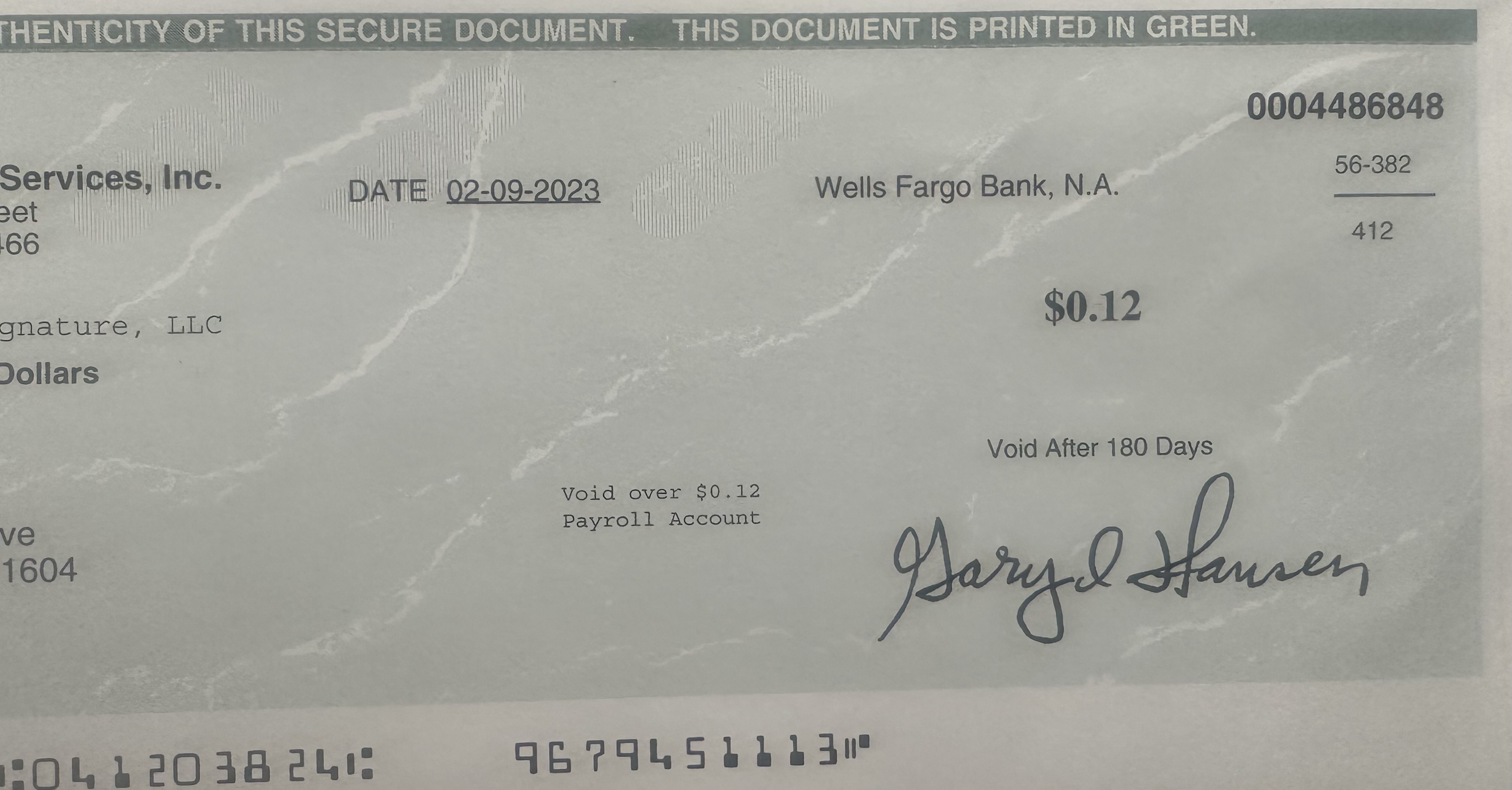 However, streaming residuals are not only significantly less, they are paid out on an annual basis as long as the show remains on the platform. And how these rates are formulated is not transparent. 
Also, a problem is these "if-come" deals where Studios get a writer to develop a series, and as one writer put it "They don't have to pay us and can shop our project without putting any money down." 
Next item.  
Prayer for the Progressives: 
Let us pray that the young leadership will rise up and nix the idea of excluding virtual testimony at committee meetings.  
Angelenos, who may not be able to shlep all the way to a committee meeting at city hall because they work all day should not be required to increase their cost and carbon footprint, to participate.  Full stop. 
Suggestion:  Turn virtual testimony back on, stat. Ffs 
Civil v. Criminal: 
Richard Bruckner is a lobbyist who jumped to that role following several years as the county's regional planning director.   
Right after his service… he was spotted brokering an early negotiating agreement before his lawful holdback on lobbying was up. 
The County DA said it was The City Attorney's problem because it was a misdemeanor violation. The City Attorney kicked it back to the county, where the investigation stalled...  
Mr. Ridley-Thomas remained arrogant and untouchable.  Let us pray. 
(Eric Preven is a longtime community activist and is a contributor to CityWatch. The opinions expressed by Eric Preven are solely his and not the opinions of CityWatch)