ERIC PREVEN'S NOTEBOOK - The Daily News had an article about how after years of bashing the L.A. Homeless Services Authority, leaders are standing behind the messiah of the moment, Va Lecia Adams Kellum, the new CEO.  
[APPLAUSE] 
LAHSA is sometimes referred to among frenemies as the Homeless Industrial Complex.  
For those who don't know, a messiah complex (sometimes Christ complex or savior complex) is a state of mind in which an individual holds a belief that they are destined to become a savior ... on a Tuesday, Wednesday or Friday. 
Council President Paul Krekorian said the other day, "We have a lot of speakers, and I can tell you now we will not get to everybody… while Mr. Herman!  This is your last and only warning... you're disrupting the meeting.  Your instructed to be silent." 
The messiah complex can also refer to a state of mind in which an elected body believes that they have hired the… right choice.  
If not, they can be fired, or in the case of electeds, recalled.  
But the public has a say, and one commenter from ACE, said last week, that he was ready to back Kevin DeLeon all the way to the White House.  Quixotic.  
 Va Lecia Adams Kellum, the new CEO of LAHSA is the new messiah and we all have a lot riding on her and the Mayor's plan.  Get in the boat!  
Even at City Hall there was a short break from Krekorian and Fauble's arresting the public for a sharp presentation on the Denver Support Team Assisted Response (STAR) program led by Eunisses Hernandez..   
STAR is an alternate crisis response model from Denver Colorado and they have been scaling up a program that they launched with one van in June of 2020.   
They're kind of Social Worker Cops, but they're really just social workers who respond to some 911 calls. Not cops at all. 
Eunisses said,  "I'm new to council, but I am not new to building life affirming responses, care first... I brought the Denver Star team ... who just spent a week and met with organizers here in LA. They met with Police, Fire … about a shared vision for un-armed crisis response. 
Emergency 911 Denver is an independent civilian agency within the larger public safety department, said the presenter.  "No matter how someone reaches out, there have alway been three options for the last fifty years, Police, Fire or Ambulance."  
This becomes a fourth option….  
Denver spotted the non emergent response activities in Eugene, Oregon in 2016. 
The 911 operators are trained to ask questions about scene safety,  injuries and criminal activities. If the answer is "yes" to any of the above, then it is not for STAR and a police officer will be dispatched.  
Though, sometimes a clinical perspective on scene with law enforcement is appropriate, the essence of the program is to send Social Workers, rather than armed police officers.  
Social workers go out all the time, what is newish here is going in response to 911 calls.  
During the pandemic… Denver had five vans up and running 16 hours a day, seven days a week.  Now they are trying to provide 24/7 and increase to 8 vans.  
The key best practice is a commitment to a harm reduction approach that is community driven.  By community driven,… insert: funded.   Give the money to the community, they will handle the mess.  
The CEO said, with this program "you put the gas in the car and let the community"… where there is baked in cultural and linguistic proficiency," do the driving!" 
The Urban Institute, an allegedly third party, will be providing an independent study / glowing write up, soon.  
Denial is not a River:
There wasn't much of an international feel to Friday's city council meeting but there was one speaker who wondered why Paul Krekorian was helping Armenia so much but not his own constituents in the valley. Ouch.  
The comment came from an in-person speaker who was not visible to the viewers on taxpayer-funded channel 35,  and who was annoyed at the behavior of the Valley Food Bank.   
The council re-opened and amended item 3 on their regular meeting agenda Friday after dipping briefly into a special meeting packed full of goodies and baddies.  They took comments on the half-dozen items that were on the agenda.  
The Brown Act does not require an opportunity for general public comments, in Special meetings, so you can see the appeal.  
By not providing an opportunity for the public to address the amendments to item 3 that were substantial, the council violated the Brown Act.  Again. 
People do enjoy some of the rituals of government, but not Brown Act Violations.  
They prefer for instance, the State of the City address, which is scheduled to start at 5:30 pm Pacific Daylight Time, 6:00 am India Standard Time, New Dehli, India.  
Mayor Bass will be live streaming her first State of the City address Monday night. One can only hope that Eric Garcetti will be beamed in from India to fire up the anger emojis on Channel 35, Facebook and Twitter.  We miss you, Sir.  
A respected, four-hooved, legal expert spotted another problem with the City's in-person-only comments at committee meetings.  
The city will take either in-person or virtual testimony at council meetings but consider the reverse for a moment.    
"Your time is up."  
Seriously, if a committee meeting were hybrid but the City Council meeting was only in-person, that would constitute an advantage to the people who are able to attend committees. 
But justice is simply treating all people fairly under the law and providing all people with equal opportunity.   Fix it...  
We have a hiring crisis here in the city with a 21% vacancy and for that reason, the public is more important than ever.  We are offering $5,000 to new police hires.  Conclusion? 
The public is responsible for securing justice. We have to do the heavy lifting ourselves. And we have to be dedicated to bringing justice to all people… not just the ones who can travel downtown.    
All hands on deck. 
Help Wanted:
How can we turn Homeless Industrial Complex work into the kind of work that will present an appealing  career trajectory?  
Easy, we find folks, who don't want to work in an office, who want to be outside in the community. 
An alley or encampment?   
How can we get the young workforce to get excited about the mindset change underway? 
To become a part of a loving tapestry woven together by the communities.   
What?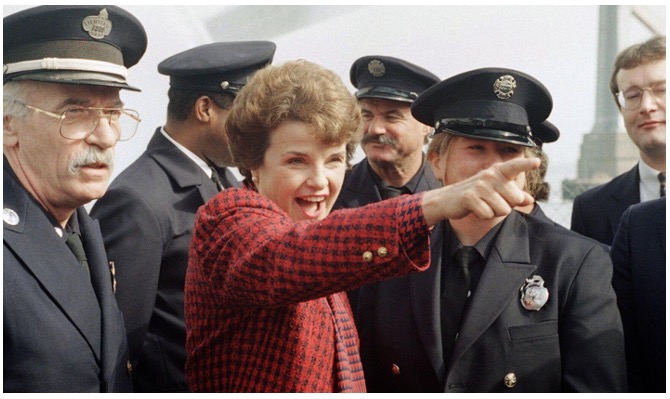 Nancy Pelosi claims sexism may be the culprit of calls for Dianne Feinstein, shown in 1994, to resign. 
The Genie is OUT:
The city council continues the charade that the genie is not out of the bottle. But the genie is clearly out. 
The common practice for two years was to take virtual testimony at committee meetings. 
How could a puppet of ordinary firmness be expected to know that there was a proposed change in said pattern and practice? 

There was simply no outreach or less. 
These items need to be cured and corrected by re-agendizing them and opening virtual testimony.   
To obviate further action, all committees should resume accepting virtual testimony.  
Gestalt NOUN: 
An organized whole that is perceived as more than the sum of its parts. Eg.  "Up close, the painting looked like a bunch of jumbled shapes, but from 30 feet away, the gestalt of the portrait appeared."   
As Blumenfield ensured that the $300,000 from the UB to perform the waste hauler audit reports for RecycLA would focus on the individual franchises - not just the aggregate, 
"Mr. Herman... " 
Nobody loves Waste Management more than Staffer B John Lee, except for Staffer Katy Yaroslavsky (not yet running for the US Senate.)  
The Anonymous Angry Angeleno from CD5 was bitterly against 41.18 until the program arrived in his neighborhood, then he became a crazed proponent. 
Now, as his is among the 41.18 zones that are going away, he says the current situation is dire.  "Developers get a hold of older rent-controlled properties" like the one his family owns.  Mom and Pop landlords lost tenants, he explained, after they quit paying rent during covid.  And the homeless situation and crime. He says they can't take it. They give up and sell their properties. "Owner next door to me gave up and sold."   
And this is how the rent-controlled housing stock gets destroyed.  
People get pushed out of the neighborhood… luxury non-rent controlled housing gets built and the affordability crisis gets worse.  And the developers contribute to the politicians.  
Commemorative Trans Cans: 
"Anheuser-Busch works with hundreds of influencers across our brands as one of many ways to authentically connect with audiences across various demographics. From time to time we produce unique commemorative cans for fans and for brand influencers, like Dylan Mulvaney.  This commemorative can was a gift to celebrate a personal milestone and is not for sale to the general public," according to an Anheuser-Busch spokesperson.   
How about a Bud Light can for Paul Krekorian who has single-handedly curtailed the public comments on the council business of the 2nd largest city in America by dramatically reducing the opportunities to speak out?   
It's a commemoratively bad idea!  
Exemplary Service:
The Malibu City Council voted to begin holding City Council meetings in a hybrid in-person and remote format starting March 27 as Los Angeles County continues the trend of low COVID-19 conditions. The Council directed the City's Commissions, Committees, and Boards to continue meeting virtually.  Check out the discussion: 
(Eric Preven is a longtime community activist and is a contributor to CityWatch. The opinions expressed by Eric Preven are solely his and not the opinions of CityWatch)