ANIMAL WATCH-A young West Los Angeles couple, wanting to adopt a dog as a pet for the family they were planning in the near future, attended a Los Angeles Animal Services mobile pet adoption event in September 2019 and was encouraged to consider a six-year-old Pit Bull, named "Big Man," which came with a price discount and an 8-week training program at the Lancaster, California, maximum-security prison. 
This program, Paws4Life Rescue, was called the "first ever Prison Dog Training introduced by LA Animal Services" when it was proposed by GM Brenda Barnette and approved by the LAAS Commission. But, it got off to an "insensitive" start when its media release featured a black prisoner with a Pit Bull. 
OWNER BLAMED FOR DOG ATTACK 
There is no record of whether the adopters took advantage of the training offer. However, it seems incongruous that spending time in a prison would have duplicated a home environment with children and a family. 
On February 9, 2021, an appeal hearing was held by the Commission regarding "Big Man," who had bitten a four-year old girl in the face eight months later while the owner was walking with him near his West Los Angeles home. The dog was NOT declared "Dangerous" but the owners' right to possess, own or license another dog in the City of Los Angeles was revoked for a period of three years. 
WHAT DO YOU THINK? 
The owner explained that he and the dog were in the grassy area near a street which the child and her mother had just crossed. He said a fast-moving car caused the child and mother to move quickly out of the street into the space less than five feet  from the dog (which was on a leash.) The owner explained that the dog had just pooped and he had bent over to clean up after him when this occurred, and the dog lunged forward and bit the child. 
He added that, contrary to allegations by the parents, he was immediately concerned and emergency responders were called to care for the child. He said he provided his insurance information and the dog's license and health record promptly to the parents and continued to stay in touch with them and check on the child's condition until his insurance company advised him that he could not have contact with them. 
In response to Commission questions, he stated that the dog had not acted aggressively since being adopted and he had "interacted" with children on the street while they were walking with no problem.  
He also told the Commission that his wife was pregnant and that they had made it clear at the shelter that they wanted a dog that would be a safe family pet. He was opposing the provision that he would not be able to own and maintain another dog for three years. 
The Commissioners were more concerned about the future of the dog. GM Brenda Barnette stated that she might talk to them about being able to have another type of dog that is more suited to them. 
GM Barnette explained that the dog would be put up for adoption at the shelter. She at first did not indicate that it would not be available to the public but then added that it would not be adopted out "directly" by LA Animal Services to the public but "rescuers" often take a dog that has bitten and rehabilitate it for adoption. She said that was unlikely in this situation where the dog had bitten a child in the face, because of the liability. It was made clear that the decision was based upon the fact that he had not contested that the dog bit and injured the child and that all evidence was considered at the Dangerous Animal hearing.
However, as of 3/21/21, "Big Man" (Dog ID A1742766) is on the adoptable pet search and there is no statement that he is restricted to "rescue only." 
BIG MAN'S HISTORY 
The volunteers at the Mobile Pet Adoption where the couple met "Big Man," and the shelter staff at the West LA shelter -- where he had been moved to give him a better chance of finding a home -- were ecstatic and gushing with praise for the dog. "Big Man" had been impounded for over two years (which should have raised some questions) and was called their longest resident in shelter. 
The 70-pound, brown and white, Pit Bull was originally from the South LA shelter, owner-surrendered because of "landlord issues" on 11/22/2017, when he was about four years old (DOB 12/14/2013). However, there is no explanation of what "issues" were involved -- nor whether they related to the dog's behavior. He was transferred to the West LA shelter, which has a higher adoption rate, on 9/8/2018. 
LA Animal Services (like many shelters) loves putting Pit Bulls in play groups with numerous other Pit Bulls, and then is surprised when fights break out. As could be expected, on 2/16/2019, shelter records show that "Big Man was in a fight during a play group," and suffered "bite wounds on left side of face under eye." Shelter notes say staff "brought Big Man into yard with Kane and Zeus. Big Man and Kane ran around, played appropriately. Big Man layed (sic) down to take break. Kane walked up behind him very calmly and appropriately and Big Man lunged and attacked Kane. Had to separate two dogs." (Author's note:  We now have notice that Big Man does not like dogs walking up behind him. Is it just dogs? Or did the shelter test him, under tightly controlled conditions, to determine his reaction to children approaching him? No notes indicate this was considered and the subsequent adopter indicated he informed the shelter they intended to have children.) 
SHELTER'S DESPERATE ADOPTION EFFORT 
On 6/17/2019, an e-blast sent from the WLA shelter to rescue groups about Big Man extolled his virtues, but this was followed on 6/27/2019 with pleas that appear to be written by a volunteer, "Please help!!!! He has been in the shelter for more than a year. Attended the K9 Connection Summer Fest…Big Man did great at the event. Will do best in a one-dog household."  
On 6/29/2019 a more emphatic warning about behavior was noted in all caps: 
"VOLUNTEER DISCLOSES THAT BIG MAN IS CAUTIOUS AROUND OTHER DOGS AND NEEDS MORE SPACE. WILL LUNGE TOWARDS OTHER DOGS IF PUT UNDER PRESSURE." 
However, was it to counter that observation that on 8/3/2019 (name redacted) writes: 
"Nobody is like Big Man. Has been in the shelter since 2017!!! Transferred from South to West LA since they were full and this boy was their shelter favorite! He is a cuddle bud, he is a doll and a greater walking partner. He loooves (sic) dogs and people. He is just the perfect dog. And handsome beyond belief!  Yellow alert at West LA and in very urgent need of rescue. FINALLY, this boy needs to get a chance to home that he can call his own." 
 BIG MAN ADOPTED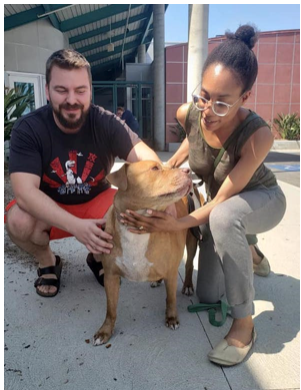 Then on 9/1/2019, this appears: (SHELTER E-MAIL) "I have great news!!! Big Man was just adopted by a wonderful couple. They visited him a couple of times and decided to adopt him. They have all the information about the 8 weeks [prison] training." 
BIG MAN BITES CHILD 
6/29/2020 WLA shelter notes read, "Big Man…Dog is on hold pending hearing because of a dog bite on a 4-year-old girl. The girl sustained injuries to her face." 
On May 15, 2020, it is alleged that the Respondent's dog, Big Man, was on a leash on public property when it attacked the Complainant's daughter, causing injuries to the victim. 
11/13/20 Case Number: DA201099 WLA  Notice of Order November 6, 2020 
GM Decision: The license privileges for dog, Big Man, has been revoked and Respondent has lost the privilege to own, possess, control or be in charge of any dog or dogs within the City of Los Angeles for a period of three years. 
NOTE:  After the appeal date has passed, Big Man must be transferred to another City of Los Angeles Animal Care Center and made available for adoption for a minimum of 45 days. Big Man may only be adopted to a rescue organization outside of the City of Los Angeles. If Big Man is found within Los Angeles City limits the dog may be impounded and the person fined. 
11/23/20  Appeal letter was filed with Admin prior to the deadline. Continue to hold the dog until the appeal hearing decision has been received. 
WERE THE ADOPTERS GIVEN ALL THESE RECORDS ON THIS DOG? 
This couple's life has been changed forever. This decision that they are essentially "irresponsible" owners, rather than that this is a dangerous dog, can affect many aspects of their lives. 
From his testimony, there was no indication this was an experienced dog owner who would have requested to personally review ALL the records on prior behavior, rather than believe the "hype" on this dog. 
There is also no record in the shelter notes of his reaction to children, or if he was tested for that. This couple had informed the shelter that they needed a "family pet" and there would be young children in the dog's household. 
Was he advised that the dog had twice been in altercations with other dogs, one specifically where a dog with whom he had just been playing approached him "calmly and appropriately" and was attacked by him? He also has notes on "lunging" at other dogs and that he should be in a "one-dog" home. This type of warning is important in the overall evaluation of the animal's response to sudden approach by any animal or child -- or potentially any adult.  
There is also no explanation of the "landlord issues" that purportedly caused hm to be surrendered to the shelter and whether they involved any aggressive behavior. 
From his very articulate and precise presentation at the hearing, which can be heard here, this dog owner is obviously very caring and detail-oriented. Obviously, this was a tragic accident. However, does he appear to have acted irresponsibly on that day? And how can he be deemed to be such a menace as to be prohibited from having dogs, if the dog involved in this one incident is not even considered to be a danger? 
A legal expert questioned how, without a finding that the dog is dangerous, the City has any authority to regulate this person's ownership of dogs. That authority stems only from the City's dangerous dog ordinance. 
Is it time to require that shelters are also held accountable or the dogs they release or that adopters be entitled to a copy of ALL notes and behavioral comments to review before making such a serious decision and assuming such an important responsibility?
(Phyllis M. Daugherty is a former City of Los Angeles employee and a contributor to CityWatch.) Edited for CityWatch by Linda Abrams.