PLANNING WATCH - The entry of highly successful shopping mall developer Rick Caruso into LA's mayoral race, included spending over $30 million of his own money on campaign advertising, has generated detailed scrutiny of Mr. Caruso's Grove Shopping Mall (photo above). 
This phenomenally successful venture is adjacent to the Historic Farmers Market, in LA's Fairfax neighborhood.  After a long list of zoning exceptions and numerous re-designs, the shopping mall received its final approvals in 1998.  It opened for business in 2002. 
Twenty years later, The Grove is under the microscope because Mr. Caruso could become LA's next mayor in the November 2022 runoff election.  For Caruso supporters who imagine that the Grove could be scaled up to fix what ails LA, the urban design principles that make the Grove a financial success would be an absolute disaster for LA. 
In a Los Angele Times profile of Rick Caruso, largely based on his business successes, much of the article centered on The Grove.  Despite the mall's popularity, largely with upper-income shoppers, UCLA Planning Professor Michael Manville told the Times that The Grove is a carefully designed pedestrian environment almost entirely accessed by car.  While this critique rings true, it only scrapes the surface of why The Grove is a totally unsuitable model for mending Los Angeles: 
The Grove is deliberately automobile oriented:  Unlike the adjacent Historic Farmers Market, which is served by many tourist busses and only has surface parking lots, The Grove's enormous parking structure is tucked away at the back of the shopping center.  Nearly all of its 18 million annual visitors – more than Disneyland -- arrive by car.  They can choose entry level valet parking or six levels of self-parking.  They then emerge to a meticulously designed pedestrian street surrounded by stores, restaurants, a fountain, block long trolley, and a small grassy area.  Strolling shoppers are treated to piped-in crooner songs, while invisible maintenance and security crews keep these Disneyesque surroundings in pristine condition.  Until visitors head home with lighter wallets, they are insulated from nearby homeless encampments, traffic congestion, lifted sidewalks, shabby store fronts, and poorly maintained street trees.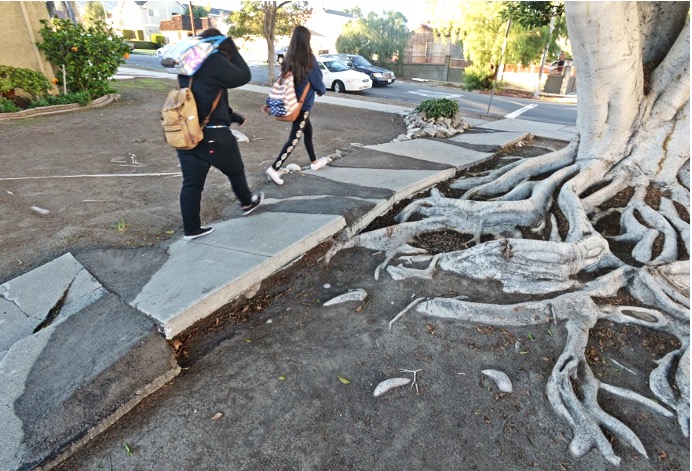 What shoppers encounter when they leave the Grove's antiseptic world. 
The Grove is poorly served by mass transit:  Although METRO buses are available on Fairfax Avenue, at the mall's western edge, and on Third Street, to the mall's immediate south, nearly all visitors arrive by car.   Even when the Purple Line Subway eventually opens, recently pushed back to 2024, the nearest stop will be over a half-mile away.  The chance that Grove visitors will take the subway to the LACMA area and then walk over broken sidewalks or wait for a bus, is small.  As for scootering or biking, no buffered bike paths connect the subway to The Grove, and the mall closed its bike-sharing hub several years ago. 
Furthermore, the Grove's isolation is reinforced by METRO's first-last mile failures.  It does not have any funded plans to link its forthcoming Purple Line subway stations to The Grove, Farmers Market, CBS studios, Beverly Center, Beverly Connection, Cedars-Sinai, LaCienega's restaurant row, West Hollywood's Pacific Design Center, and other nearby destinations. 
The Grove does not connect to surrounding neighborhoods.  The major destinations near the Grove are isolated from the shopping center and desperately need an urban design makeover similar to The Grove's.  These nearby sites need improved street lighting, undergrounded electric and telecommunication wires, adequate parking, systematic tree planting and maintenance, and widened sidewalks.   As for billboards and other garish signs, like The Grove, they, too, need to go.  If this were to happen, the Grove would no longer be a self-isolated inward-facing pedestrian environment, but the center of a much larger vibrant region.  With community upgrades in place, the Grove could be easily connected to the Pan Pacific Park to its east, the Park LaBrea and Palazzo apartment complexes to its south, the Miracle Mile museum district on Wilshire Boulevard, the shopping centers and medical complex to its west, and the commercial corridors on Fairfax Avenue, Third Street, and Beverly Boulevard. 
The Grove is located in the wrong location.  At a historic design charette for the Miracle Mile, CBS, and Farmers Market locations, Calvin Hamilton, a retired Los Angeles Director of Planning, argued that the best location for a new regional shopping center was Wilshire Boulevard.  It was the original location for major department stores, and it was then (and now) the busiest transit corridor in Los Angeles.  Furthermore, the Wilshire corridor was the route for the future Subway to the Sea, now called the Purple Line.  Mr. Hamilton was absolutely correct since The Grove site is totally land-locked.  An adjacent shuttered drive-in movie theater became The Grove because market forces substituted for rational planning decisions in Los Angeles.  When zoning ordinances and adopted plans stood in the way, they were swept aside by high-priced lawyers, generous donations to office holders' pet nonprofits, and unmet promises to local community groups. 
Conclusion: Those who love The Grove's atmosphere and imagine it could become a template for a revived Los Angeles only need to visit Disneyland, then nearby Anaheim and other nearby Orange County cities.  They are like night and day, and Los Angeles would be no different.  The Grove already weighs heavily on Los Angeles, which suffers from increasing poverty, homelessness, and infrastructure decay in order to prop up The Grove's antiseptic world.  More of the same will leave many Angelenos disappointed, but they can't say they weren't warned. 
(Dick Platkin is a former Los Angeles city planner who reports on local planning issues for CityWatchLA.  He serves on the board of United Neighborhoods for Los Angeles (UN4LA) and the Greater Fairfax Residents Association.  Previous Planning Watch columns are available at the CityWatchLA archives.  Please send questions and corrections to [email protected].)