EDUCATION POLITICS--School board candidate Marilyn Koziatek's ties to groups promoting discrimination against LGBTQ people and families and to those defrauding and coercing pregnant women raises concerns about her fitness for office. 
"We believe that the term 'marriage' has only one meaning: the uniting of one man and one woman in a single, exclusive union, as delineated in Scripture. 
— Children's Hunger Fund 
As the Senate rushes through the confirmation of Amy Coney Barrett to take the seat of the late Justice Ginsburg for a lifetime appointment to the Supreme Court, it is clear that representatives in state and local governments will become the first line of defense for the cherished Constitutional rights of privacy and marriage equality. 
Having called for "an end to the barbaric legacy of Roe v. Wade and [to] restore laws that protect the lives of unborn children," Barrett is likely to take away women's right to control their own bodies. Justices Thomas and Alito are already salivating at the opportunity to overturn Obergefell v. Hodges, the June 2015 ruling that guaranteed marriage equality for all Americans and protects the security of thousands of households here in L.A. with children in Los Angeles schools. 
The persistence of deeply ingrained intolerance against LGBTQ people has devastating effects on students. According to the Centers for Disease Control, "LGB youth are almost five times as likely to have attempted suicide compared to heterosexual youth." Children from families whose families do not support their orientation "are 8.4 times as likely to have attempted suicide as LGB peers who reported no or low levels of family rejection." Among the homeless youth population, 40 percent are LGBTQ young people. 
The renewed attack on the hard-earned rights enshrined in Obergefell is sure to embolden those with bigoted views towards LGBTQ people and young people perceived to be non-gender conforming. School board members must confront this head-on with policies that ensure that our schools are safe zones equipped to stop bullying and provide services that are needed. This includes factual sex education that gives students the complete information they need to keep themselves safe. 
In the election in L.A.'s School Board District 3, it is clear that only one candidate is devoted to equity and protection for all students to ensure that LGBTQ people have the full protection of their Constitutional rights. The incumbent, lifetime educator Scott Schmerelson, is endorsed by LGBTQ leaders and the Stonewall Democratic Club, which encompasses "lesbian, gay, bisexual, transgender, and straight allies of the LGBT community." His opponent, Marilyn Koziatek, is supported by Abby Bailes, a neighborhood council member who invited the leader of an anti-LGBTQ hate group to speak at a public forum. Koziatek's official campaign website also includes a picture of her family posing in front of the logo of an organization that promotes the discriminatory statement that marriage can only be "the uniting of one man and one woman in a single, exclusive union." 
Further troubling questions about efforts by Koziatek and her family to undermine Constitutional rights have surfaced in conjunction with Open Arms Pregnancy Clinic. While this agency will show up as "Abortion - Open Arms Pregnancy Clinic" in a Google search, it does not perform abortions or refer pregnant women to doctors who can. In fact, they "do not provide extended OB/GYN or prenatal care, birth control, abortion services, referrals for abortions or birth control, or STI/STD testing."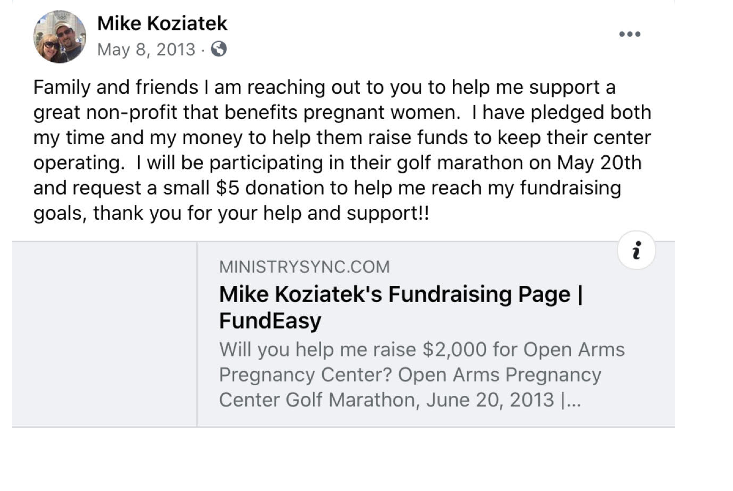 Open Arms is a pregnancy counseling center "which typically exist[s] to steer women away from abortions and can even engage in coercion and shaming to achieve their goal. Several women who have visited such centers have reported that they "told staff...that they wanted an abortion and were given deceptive information, such as in one case being told that it was too late to terminate her pregnancy."
Once again, the choice for voters is clear. Board Member Scott Schmerelson is endorsed by the Planned Parenthood Advocacy Project of Los Angeles County. Koziatek is supported by those opposed to comprehensive sexual education. Her family raised money for a clinic that seeks to deceive and even shame women to deprive them of the knowledge of all of the choices available to them. 
When promoters of unaccountable charter schools circulated anti-Semitic flyers that were "crude," "inappropriate," and "unacceptable," Koziatek used the excuse that she had no control over what independent groups released, even if they were meant to help her campaign. But her family's support of an organization that defrauds women considering the course of pregnancy brings the denial of rights closer to home. Her decision to promote an organization that engages in vile anti-gay rhetoric makes her complicit in efforts to stigmatize LGBT people and families, now under the shadow of an attack on their Constitutional rights. 
Koziatek and the campaign to put her into office are alienating students, parents, and educators who rely on the integrity of their school board member to vigorously uphold privacy and equality. Since a school board member must be counted on to champion the rights of all students and families without exception, Koziatek is not fit for this important job.
(Carl Petersen is a parent and advocate for students with special education needs. He is an occasional contributor to CityWatch. Petersen lives in Northridge, in Board District 3, and serves on the Community Advisory Committee of the L.A. Unified School District (LAUSD). His columns on public education can be read at www.ChangeTheLAUSD.com. Opinions are his own.