BCK FILE--On Wednesday of last week, we learned fashion designer Kate Spade had hanged herself in her New York apartment. Just two days later, celebrity chef and travel documentarian Anthony Bourdain (photo above) had ended his life in a Strasbourg hotel. 
Both Spade and Bourdain were part of a demographic in which suicide rates have been substantially increasing, according to an abstract released in the Morbidity and Mortality Weekly Report. The study, which tracked suicide statistics from 1999 through 2016, found that overall suicide rates in the United States have increased by 30%, with mental health issues one of many contributing factors.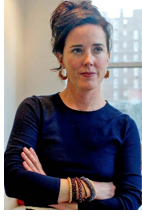 The report noted an age-specific trend with the most significant increase in people between 35-64, of which both Spade (photo right), 55, and Bourdain, 61, were a part. The suicide rate for males is three times that of females and deaths by suicide now exceed deaths by homicide by at least 3 to 2. 
The MMWRreport includes suggestions for suicide prevention, which include "broader implementation of affordable and effective treatment modalities" for people with mental health and substance abuse issues, as well as comprehensive suicide prevention programs, from strengthening economic support such as housing stabilization, teaching coping and problem-solving skills, especially in early life, and promoting social connectedness. 
Although suicide prevention programs tend to focus on mental health, the MMWR study concluded that about half of those who had committed suicide did not have a known mental health condition but tended to suffer from relationship problems, criminal/legal matters, eviction or loss of home. People who had been diagnosed with mental health conditions also tended to experience similar situations (relationship problems, professional/financial struggles, or physical health challenges) that also contributed to suicide. 
We tend to view people in the public eye through a sparkling prism. On the outside, Spade and Bourdain seemed to "have it all." Spade had launched a new line, Frances Valentine, and Bourdain was filming his 11th season of "Parts Unknown." But, we don't know the internal struggles and pain that lies beneath the surface. 
Midlife presents numerous challenges because it is a time of many transitions. We become increasingly mindful that our time on the planet is not endless. Have we accomplished what we set out to do? What will our legacy be? Many people experience profound loneliness. 
A friend of mine commented that Bourdain in particular seemed to be surrounded by people. Loneliness is less a condition of being alone than internally driven.
Although we are wired and connected 24/7 in a virtual sense, people may experience fewer in-real-life connections as we rush through life. How often, especially in Los Angeles, do we have conversations with strangers on the street? When we're busy, how often do we check in with our friends? 
Most, if not all of us, have experienced challenges. Two periods when I had been experiencing personal struggles in my own life, two different people reached out to me. I am forever grateful because a few words brought me out of my own isolation. I try to pay that forward. 
We don't know if that would have made a difference in the outcome for Spade or Bourdain or for the 300,000 Americans who commit suicide each year. But we should all try to practice kindness and to be aware of those around us, whether family or friends, colleagues or people on the street. Smile, acknowledge each other's presence. We all need that. 
If you are having thoughts of suicide, please know that you are not alone. If you are in danger of acting on suicidal thoughts, call 911. For support and resources, call the National Suicide Prevention Lifeline at 1-800-273-8255 or text 741-741 for the Crisis Text Line. 
(Beth Cone Kramer is a professional writer living in the Los Angeles area. She covers Resistance Watch and other major issues for CityWatch.)
-cw