GUEST COMMENTARY --On Feb. 13, 2018, a fire demolished the last standing structure at the corner of 84th and Vermont. Fortunately, no one was hurt, but this was far from the first time this lot owned by Sassony Commercial Development has been a public nuisance. Blighted for 26 years, it has been an ongoing source of embarrassment for residents and a daily reminder of how difficult it has been to rebuild the spirit and wealth of South Los Angeles since the Civil Unrest.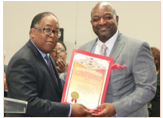 I serve as Pastor of the 88th Street Temple Church, just a few blocks south of 84th and Vermont. We have been property owners and contributing members of this community since the early 1980s. From operating a food bank to hosting neighborhood meetings, our congregation has always sought to uplift the Vermont-Manchester community. 
Supervisor Mark Ridley-Thomas has long been our partner in this effort. We have collaborated with him on several community projects over the years, including tree plantings, cleanups, façade improvements for small businesses, even exploring how to redevelop our church property. 
For these reasons, it is unsettling for us to hear Sassony and its cohorts allege that there hasn't been enough community engagement around the County's intent to acquire the property. On December 5, 2017, many members of the Vermont-Manchester community and Sassony representatives shared their views in an open forum. I, along with many other local stakeholders, spoke in support of taking immediate possession through eminent domain. We expressed our heartfelt gratitude that the County has taken a firm leadership position on this issue and utilized the only public tool available to end the dilapidation of this prominent location in our community, so that we can have much needed public amenities. 
As the Supervisor himself stated, we must all be committed to elevating the quality of life in this neighborhood if we are to see any change. Sassony has not gotten the job done for the last 26 years. Let's give the County a chance to bring the services that this community is long overdue. 
A recent article, written by a media consultant hired by Sassony, offered excuses for why the property has sat vacant all this time, but the residents of South Los Angeles know better than to accept the assurances of a developer who promises "The Grove" tomorrow, but gives us the ghetto today.
(Pastor Anthony L. Williams, a well-known community leader, serves the 88th Street Temple Church of God in Christ.) Prepped for CityWatch by Linda Abrams.