MY OWN EYES--As I drove home from a Trader Joes run late Saturday afternoon, I noticed a telltale black cloud hovering in the vicinity of my neighborhood. For those of us who live a spitting distance from canyons or brush that can only mean one thing.
By now, people all over LA and possibly even the U.S. know all about the "Old Fire, " which burned over 500 acres in the vicinity of Old Topanga and Mulholland Highway. The fire was actually the merging of three fires. One of the fires is said to have started when a pickup truck crashed into a Mulholland Highway power pole, also leaving hundreds of residents without power. The vegetation and brush in this area had not burned for over seventy years and the multi-year drought had left the mature brush extremely dry, along with the heat, the perfect storm for a wildfire.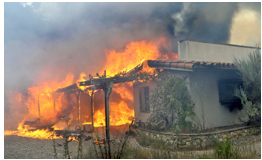 Two streets adjacent to mine were evacuated and many of us packed up the dogs and kids to leave voluntarily. By now, I'm back in my home, helicopters hovering overhead, soot and ash in the pool, and that all-too-familiar acrid scent of smoke. Calabasas High School and AC Stelle, our neighborhood middle school are ground zero for over 400 firefighters who have been battling courageously throughout the day and night.
This morning, I Googled news stories to find out if my neighborhood was safe to return. Curiously, we made People and The Daily Mirror in London. Now, those of us who live in Calabasas are well aware of our notoriety due to a certain reality television family. The rare times when we reach a domestic call center, the first question we're asked is, "Do you know the Kardashians?" Calabasas has at one time or another been home to Jessica Simpson and Nick Lachey's reality show, Justin Beiber, Drake, Katie Holmes, and a host of other television and sports stars.
Most people don't know that Calabasas isn't only manicured gated communities. We have a scenic corridor along Mulholland Highway, home to more rustic areas. One of our neighborhoods, affectionately known as The Bird Streets, was a former artists colony years before Calabasas became a city.
Calabasas is a tight-knit community, especially when we support neighbors during fires like the most recent one. People open their homes for friends who were evacuated. For a city of our size, we've experienced so many challenges and tragedies during the fifteen years I have lived here. People pull together when we hear a neighbor is undergoing chemo or a family has lost a mother or father. We coordinate meal rotations, carpools, send baskets, whatever needs to be done.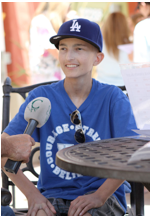 At no time did Calabasas pull together like our community did for Kevin Cordasco, (photo left) a brave young man who battled neuroblastoma for six years from 10 until he died at 16. The support for Kevin was as much a testament to his unbelievable character and wisdom far beyond his years as to our city. Kevin was a fixture at city events. He was named Citizen of the Year in 2008 and given the Courage Award by proclamation of our City Council. He was also the Honorary Mayor in 2013. Kevin's loss was a loss for our entire city, which continues to honor him with an annual Kevin Cordasco Day, the Kevin Cordasaco Memorial 5K, the Kevin Cordasco Memorial Award for Calabasas Football, and the annual Courage, Strength, Believe Student Alumni Basketball Game.
No matter what challenges face Calabasas residents, from blazing wildfires to illness of our neighbors, we know we can count on each other. Los Angeles is filled with neighborhoods and communities just like Calabasas. Neighbors pull together to stop excessive development, help a family in need, and support each other in innumerable ways.
Fortunately, as I write this, the fire is 75 percent -contained. We'll sweep ash from our yards, stare up at the now blackened hillsides surrounding our neighborhoods. Aside from minor damage to two homes and a commercial structure, our homes are secure. We're grateful to the hundreds of firefighters who worked tirelessly to extinguish the fire and protect our community. And we're also grateful to be part of a community that is so much more than a haven for reality television stars.
For more information on The Kevin Cordasco Foundation, Something Yellow, and how you can honor the heroes of childhood cancer, visit www.somethingyellow.org. 
(Beth Cone Kramer is a successful Los Angeles writer and a columnist for CityWatch.)
-cw