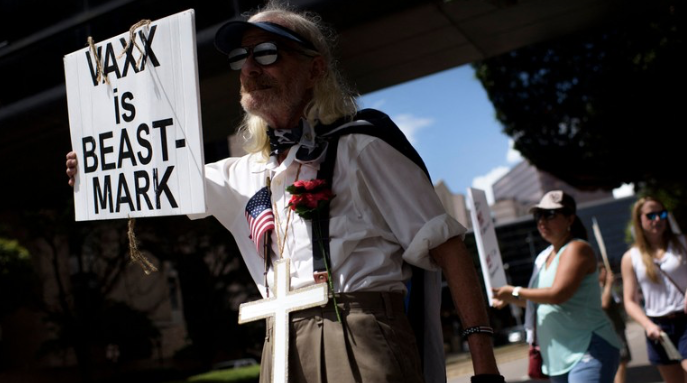 SAY WHAT?-Amid rising COVID cases, falling vaccination rates and a persistent flood of crackpot hogwash a timid media terms "misinformation" - WE WILL NOT COMPLY! - its bone-headed perpetrators just keep spewing even when, as experts predict, by fall the surging Delta variant could kill 850 of their own irredeemable peeps a day in what has become "a pandemic of the unvaccinated."
In Alabama, which has the country's lowest vaccination rate, a doctor describes seeing young people dying. "One of the last things they do before they're intubated is beg me for the vaccine," she says. "I hold their hand and tell them that I'm sorry, but it's too late." Still, the idiot masses  head out to protest hospitals requiring vaccines for employees with balmy signs like "Medical Dictatorship," "I Call My Own Shots," "No to Socialism," and "Remember the Nuremberg Code." Umm.
They probably eat up Marjorie Taylor-Greene's online rants - COVID is a bio weapon, STOP MASKING CHILDREN!, Indict Pelosi! - or they did until she got suspended for saying vaccines don't work and COVID poses no threat to anyone under 65 and not obese, even as cases in Georgia are up 193%.
She was so mad at "COMMUNIST TWITTER" she held a presser where she refused to say if she'd been vaccinated, claimed the question "is a violation of my HIPAA rights" - not - and laughed, loudly braying like a demented horse, when a reporter noted kids have died of COVID. Actually, one just had, three days before, in her own district. His obituary said Wyatt, Gibson, five years old, liked to strum a toy guitar and sing, "I love donkeys and I love dogs." Declared his grieving father, "I feel like I've lost my best friend."