MY TURN-The image above exemplifies a picture that is SO "white" that they had to dial down the lighting so the glare didn't reflect into the camera.
This is the perfect symbol of what the Republicans have always represented and wanted for government control. They act like "overlords" of days gone by, cracking the whip for the serfs to do their bidding. However, as much as they think they are so smart, they aren't. A lifetime of obstruction has left them with an inability to actually "lead" and this has cascaded into the lack of efficient organization. They have devoted multiple generations into the funnel of voter cheating, including gerrymandering and passing laws that restrict voter access. 
But here's the thing, in their deliriously pasty white format, they left themselves wide open for investigational evidence of treason. This became blatantly apparent prior to the GOP Convention when members gathered to make changes to the GOP lines. Names that are now headlines in the Mueller investigation such as Carter Page and Paul Manafort were heavily involved with the input of the pro-Russia alterations. Both men played integral roles in the Trump campaign. In a Politico article they include a few more details: 
"The platform, a nonbinding policy document, is revised every four years at the Republican National Convention by a committee of 112 delegates from around the country. It's viewed primarily as a ministerial exercise, with few real-world ramifications — more about signaling the policy views of the party's base than dictating positions for elected officials to follow. Presidential nominees are not bound to its positions and often publicly oppose them. 
But the process drew intense scrutiny last summer after reports indicated that campaign aides intervened to help water down the call for lethal aid to Ukraine's pro-western government. 
By that time, many leading Republicans in Congress had been harshly critical of the Obama administration for not providing Ukraine with weapons to fend off the Russia-backed separatists. But when California delegate Diana Denman proposed adding the language in support of such a policy, other delegates and Trump campaign staffers in the room objected. 
Sources in the meeting said Denman's initial proposal never received a vote in part because it seemed unlikely to have the support to pass. Another delegate offered amended language that 'seemed to get some heads nodding,' one witness recalls. The amended proposal, which included the "appropriate assistance" language was adopted and the committee moved on. 
The process has gained new significance as details emerged about Manafort's ongoing business relationship with a Kremlin-connected Ukrainian oligarch. In addition, a disputed opposition-research report on Trump funded by Democrats and compiled by a former British intelligence agent includes a claim that Trump's campaign agreed to weaken U.S. support for Ukrainian forces in exchange for help defeating his campaign rival, Hillary Clinton. 
'In return the TRUMP team had agreed to sideline Russian intervention in Ukraine as a campaign issue,' according to the dossier, which Trump has dismissed as a fake." (It should be noted that since this statement, a majority of what is written in the dossier has been proven to be true.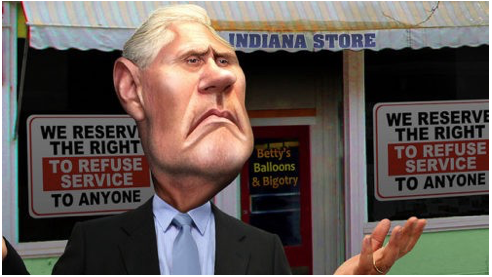 Pence is Embedded in the Treason 
Don't forget that Mike Pence was recommended to the Trump campaign by Paul Manafort. In addition, Pence is the only real savvy "politician" and by far takes pride in maintaining in-depth knowledge and information on what is going on. When Chris Christie was fired as Chairman of the Transition, the position fell to Pence and in that role, he was required to be aware of all that was indeed happening as it related to Trump and the campaign. The Mueller investigation into the Russian interference with the election may be a touchy subject, and thus far, Pence has vehemently denied any knowledge or involvement. Again, I repeat, he is a well-groomed politician and this type of denial is status quo. 
A CNN article covers this topic: "Russia probe tests Pence in-the-dark defense" 
"Advisers have long insisted that Pence was unaware Flynn spoke to then-Russian Ambassador to the US Sergey Kislyak about a new set of U.S. sanctions on the day they were announced last December. 
But court filings unsealed last week, paired with new details about President Donald Trump's own knowledge of events, indicate a wide circle of advisers were aware that Flynn raised the issue when he spoke by phone to Moscow's envoy — even as Pence reportedly remained in the dark. 
The new questions raised by special counsel Robert Mueller's investigation signal what could be a pivotal moment in Pence's careful calibration of trying to keep a safe distance from the Russia probe even while maintaining his credibility for being left out of the loop by the West Wing." 
I mean really, as smarmy of a group as these people are, sharing their achievements to push the Russian interference along, do you really think they left Pence out of the loop for over a year when he was supposed to be in charge as Chairman of the Transition? 
The CNN article continues with: 
"I think he has new questions to answer," said Sen. Richard Blumenthal, a Connecticut Democrat, who said he wanted Pence to appear before the Senate Judiciary Committee to explain what he knew at the time about Flynn's conversations with Russian officials. 
In the days since Flynn's guilty plea was unveiled last week, seven people close to the vice president continue to maintain that Pence did not know Flynn spoke with Kislyak about Russian sanctions, despite being the head of the Trump transition. 
But among top transition officials, Pence would have been largely alone in his lack of knowledge. According to court filings released last week, Flynn spoke with "senior members of the Presidential Transition Team" about his conversations with Kislyak regarding the new US sanctions.'" 
Pence has largely been the ace-in-the-hole of the Republican Party. As long as they can keep up his appearance of remaining the clean, pseudo-Christian, he will be a perfect shoe-in when the crazed and out of control Trump is dragged out of the White House. Considering how disorganized and hap hazard the GOP has been in trying to cover their tracks, it is becoming more and more apparent every day that Pence knew all about the treason and participated in it. 
Bill Moyers had an excellent piece in 2017 that included: 
The Pence Timeline is a companion piece to "Enabling a Dangerous President: Pence Was There," and pulls entries from our main Trump-Russia Timeline.  His ability to be aware of and then lie for Trump and the various members of the Republican Party equates to the fact that he knew and is willing to say and do anything to circumvent the meltdown that is coming. 
You have to remember that Pence has a dirty past, funneling campaign funds that lost him an election and passing one of the most restrictive and prejudiced anti-LGBT laws in the State of Indiana, while playing the role of the "clean Christian."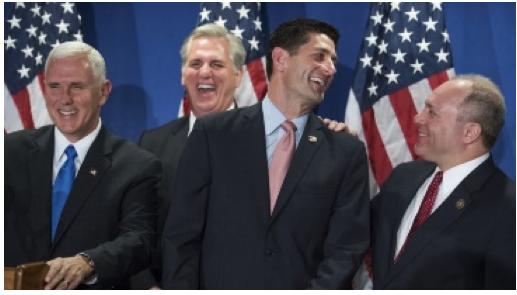 The Republicans Took Millions from Russian Oligarchs 
If there is one thing that Putin can count on when it comes to Republicans, it's that their greed knows no bounds. As we continue to move forward in the Mueller investigation into the Russian interference with the election, the influence of money becomes a major indicator. Russian oligarchs donated millions to the various campaigns of the Republicans and they eagerly took it. 
A Dallas News article states: 
"Buried in the campaign finance reports available to the public are some troubling connections between a group of wealthy donors with ties to Russia and their political contributions to President Donald Trump and a number of top Republican leaders. And thanks to changes in campaign finance laws, the political contributions are legal. We have allowed our campaign finance laws to become a strategic threat to our country. 
An example is Len Blavatnik, a dual U.S.-U.K. citizen and one of the largest donors to GOP political action committees in the 2015–16 election cycle. Blavatnik's family emigrated to the U.S. in the late '70s from the U.S.S.R. and he returned to Russia when the Soviet Union began to collapse in the late '80s. 
Data from the Federal Election Commission show that Blavatnik's campaign contributions dating back to 2009–10 were fairly balanced across party lines and relatively modest for a billionaire. During that season he contributed $53,400. His contributions increased to $135,552 in 2011–12 and to $273,600 in 2013–14, still bipartisan. 
In 2015–16, everything changed. Blavatnik's political contributions soared and made a hard right turn as he pumped $6.35 million into GOP political action committees, with millions of dollars going to top Republican leaders including Sens. Mitch McConnell, Marco Rubio and Lindsey Graham." 
So, if this horrid condition is considered to be "legal," why should anyone be concerned? Just take a look at the Russian oligarchs that made the donations. From the same DallasNewsarticle: 
Oleg Deripaska is said to be one of Russian President Vladimir Putin's favorite oligarchs, and he is founder and majority shareholder of Russia's Rusal, the second-largest aluminum company in the world. Blavatnik holds a stake in Rusal with a business partner. 
Further, nearly 4 percent of Deripaska's stake in Rusal is owned by Putin's state-controlled bank, VTB, which is currently under U.S. sanctions. VTB was exposed in the Panama Papers in 2016 for facilitating the flow of billions of dollars to offshore companies linked to Putin. 
Viktor Vekselberg is one of the 10 richest men in Russia. He and long-time business partner Blavatnik hold a 20.5 percent stake in Rusal. (They met while attending university in Russia.)
In 1990, Blavatnik and Vekselberg co-founded the Renova Group for large-scale investments in energy, infrastructure, aluminum and other metals. One of their earliest investments was in Tyumen Oil Co. (TNK), founded in 1995. TNK is best known for its contentious partnership with British Petroleum after the two entities formed a joint venture in 2003. That rocky relationship ended 10 years later when they sold out to the state-controlled energy giant, Rosneft, under pressure from the Russian government. 
These are just two of the major players and there are many more. However, it's not just the money that is involved, it is also the Americans that they have close ties to. Each plays an integral role in funneling millions into place for the benefit of the Republican Party and future business deals with the Russians. 
The Dallas News article includes some of the Americans that are noteworthy: 
"Andrew Intrater, according to Mother Jones, is Vekselberg's cousin. He is also chief executive of Columbus Nova, Renova's U.S. investment arm located in New York. (FEC records list his employer as Renova US Management LLC.) 
Intrater had no significant history of political contributions prior to the 2016 elections. But in January 2017 he contributed $250,000 to Trump's Inaugural Committee. His six-figure gift bought him special access to a dinner billed as "an intimate policy discussion with select cabinet appointees," according to a brochure obtained by the Center for Public Integrity.  
Alexander Shustorovich, chief executive of IMG Artists, attempted to give the Republican Party $250,000 in 2000 to support the George W. Bush presidential campaign, but his money was rejected because of his ties to the Russian government, according to Quartz. So why didn't the Trump team reject Shustorovich's $1 million check to Trump's Inaugural Committee? 
Simon Kukes is an oil magnate who has something in common with Intrater. From 1998 to 2003, he worked for Vekselberg and Blavatnik as chief executive of TNK. Redacted CIA documents released in 2003 under the Freedom of Information Act said "TNK president Kukes said that he bribed local officials." The CIA confirmed the authenticity of the reports to The Guardian newspaper but would not comment further. In 2016, Kukes contributed a total of $283,000, much of it to the Trump Victory Fund. He had no significant donor history before last year's election." 
And this is just the tip of the iceberg. Various members are associated with such names as Betsy DeVos' brother, Eric Prince; Robert and Rebekah Mercer, investors in the data mining company Cambridge Analytica; Dan Backer, a Russian-born immigrant who ultimately helped the passing of the bill that eliminated caps on political donations to federal candidates, parties and PACS. 
The Republicans know they are outnumbered, and they have been working for years to "cheat" in every way they can. 
You may think there is too much information included, but this barely touches the level of detailed intricacies involved in the treasonous actions taken to influence our election process. 
We will probably never know the full depth for years to come, but you can bet dollars to donuts that the 2016 elections were illegitimate.
(S. Novi is a journalist who worked in the media and continues to seek out truth and integrity. A liberal and one that is suspicious of cults and empty promises. This piece first appeared on Medium.)   Edited for CityWatch by Linda Abrams.