THIS IS WHAT I KNOW-Stanford University is known for many accolades. Until Brock Turner put the Palo Alto University on the media radar, Stanford was primarily known as a breeding ground for Silicon Valley tech entrepreneurs and as one of the nation's most competitive universities. Now, Stanford ranks high on a list that isn't quite as impressive. 
Using data from the U.S. Department of Education's campus safety and security website, a San Diego law firm assembled a ranking of the crime rate at four-year colleges in California and Stanford came out on top. According to criminal defense attorney George Gedulin, Stanford's rate of crime is more than double the closest California university. 
The attorney's office notes, "While the vast majority of schools comply with the law that requires them to report crimes on campus, some schools have underreported campus crimes…Other schools have made honest mistakes in their reporting. Schools that are honest and accurate with their reporting may have higher numbers than other institutions that are not." 
The office also reminds that crimes that are never reported to the institution aren't included in the data and that the statistics provided by the U.S. Dept. of Education website represent alleged criminal offenses reported to campus security authorities and/or local law enforcement agencies, which does not necessarily reflect prosecutions or convictions.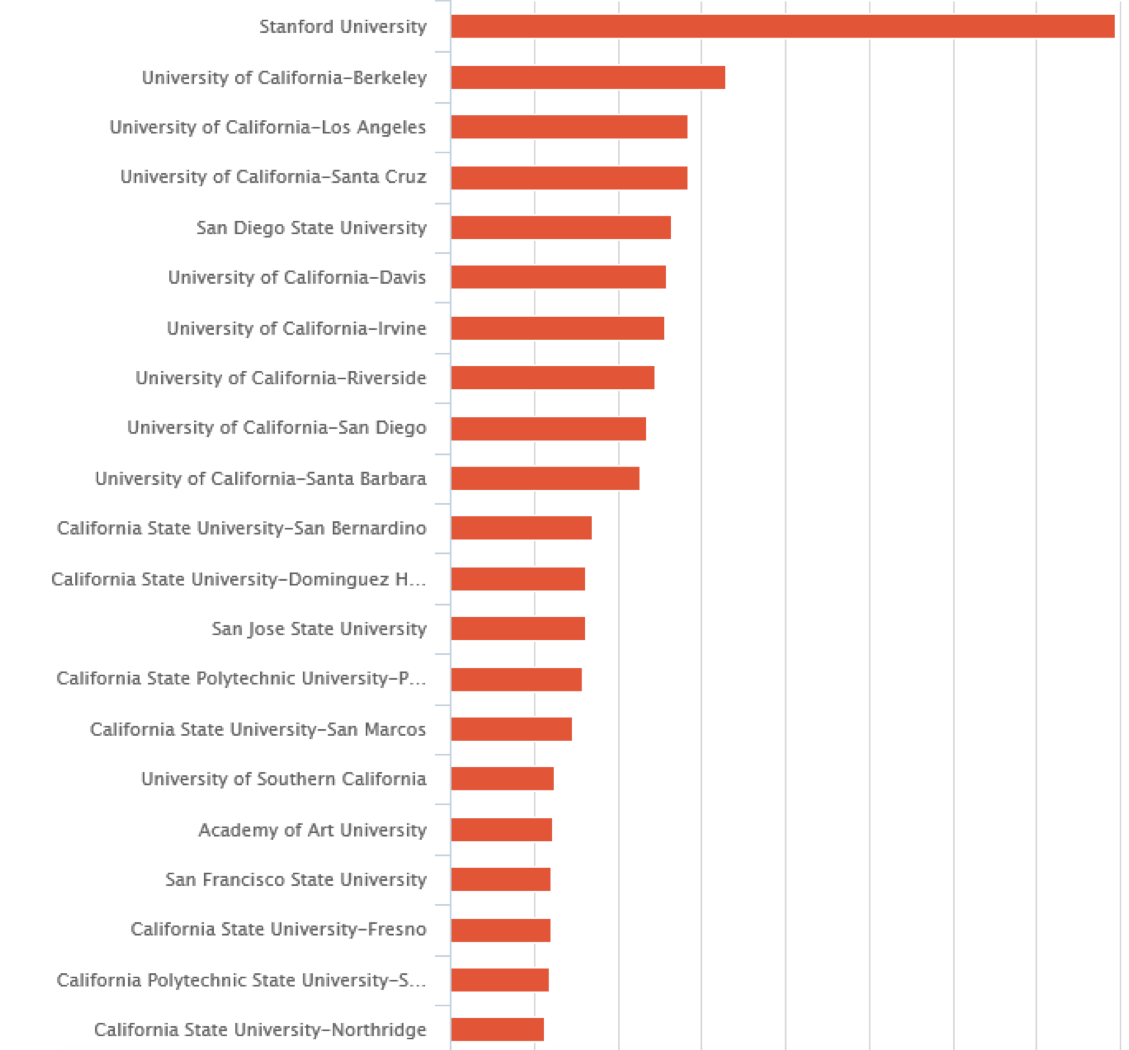 Limiting the ranking to a higher volume of crime may not be a fair evaluation, as larger schools typically have more overall crimes, the law office looked at crimes per capita or in this case, per 1,000 students, based on reported crimes from 2012-2014. 
Stanford University (Student Population, 16,963) had an effective crime rate of 7.94 per 1,000 student during the reported period. The next closest campuses are UC Berkeley (Student Population, 37,565) with an effective rate of 3.2 per 1,000 and UCLA (Student Population, 41,845) with an effective rate of 2.84 per 1,000. Most California universities had an effective rate between 1 and 2.5 per 1,000. 
Other Southern California schools and rankings include USC with an effective rate of 1.25 per 1,000; UC Santa Barbara (2.26 per 1,000); California State University Northridge (1.13 per 1,000); and California State University Los Angeles (1.08 per 1,000.) 
An effective crime rate does not need to set off alarms and fears, especially since the reporting rates of schools may impact rankings. While many schools have relatively low effective rates of crime, the reporting is still an eye-opener. As parents prepare for their kids to leave for (or return to) campus later this summer or fall, it's important to remind students to be aware of their surroundings and to take safety precautions.
(Beth Cone Kramer is a successful Los Angeles writer and a columnist for CityWatch.)Prepped for CityWatch by Linda Abrams.