ERIC PREVEN'S NOTEBOOK - There were strong memories of Joe Buscaino, the man who made the term knucklehead a term of art, floating around the John Ferraro Chambers where Eric Garcetti used to repeatedly insist that," in the Temple of Democracy, the microphone makes us all equal" before being pelted by vendadores with whatever fruit was ripe.
Paul "Yes, I'm hiking the permit fee on the poorest Angelenos just hanging on trying to sell a chap a coconut" Krekorian, eventually handed things off to Marqueece Harris Dawson to drive the 15-aye bus home.  But not before Sister City Nagoya sent up at least one helpful tipster who had previously bellied up to the bar with Tom LaBonge.  It was a warm moment reminiscent of Paul Koretz's picture book celebration some years ago. Amusing time capsule LINK.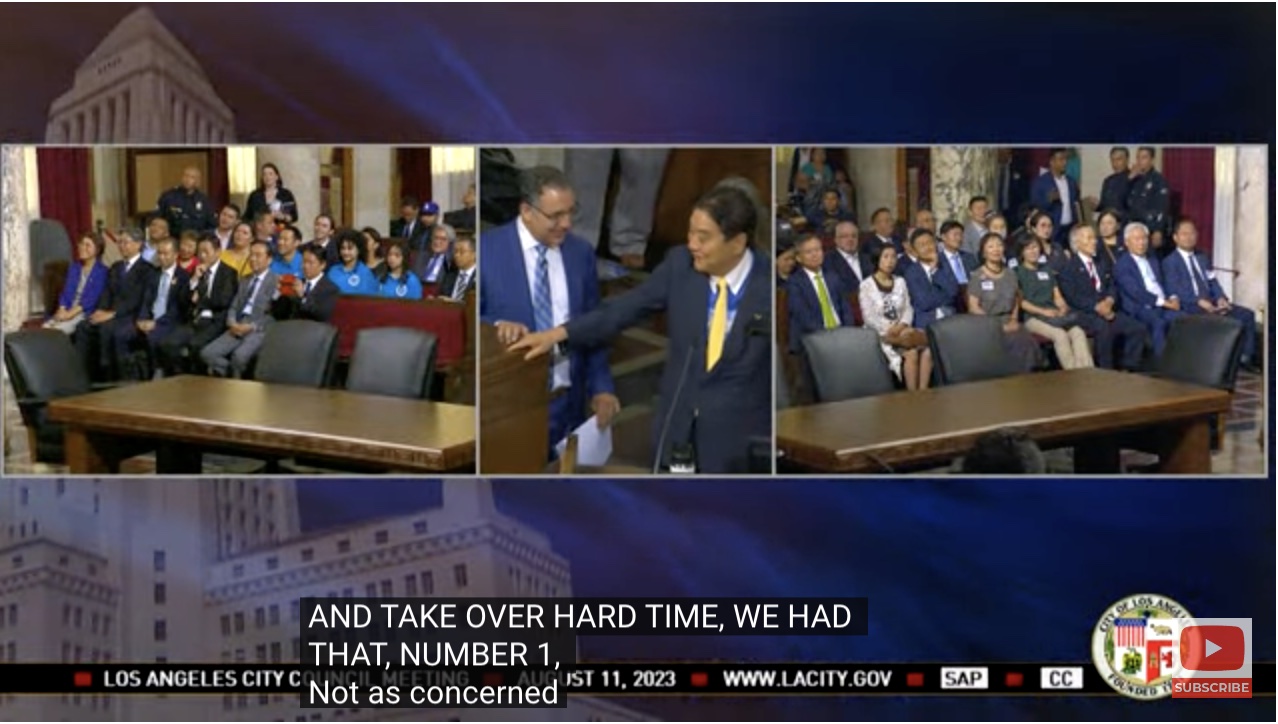 By the time, Fernando Valenzuela was trotted out by Eunisses Hernandez from the ONE, there was not a dry eye around the horseshoe.  Everybody it seemed had an association to the great slimmed-down Dodger champion.  He was great.
Hearing the strong feelings among Latinos when Fernandomania swept across the region, reminded me of Smoking Joe Dimaggio of the New York Yankees. 
I grew up in Larchmont, NY which was right between New Rochelle and Mamaroneck, which is where I went to Mamaroneck High. There was a robust population of Italian Americans, consequently, I became a member of the so-called, Famiglia.   I was the don over a group that back then was known as the... SWAS wall kids, dba, theatre fags!   I was the head of the construction crew at one point. 
DiMaggio's achievements on the baseball field brought immense pride and inspiration to the Italian American community. As the son of Italian immigrants, his success served as a source of hope and a symbol of the potential for success and acceptance for Italian Americans during a time when they faced discrimination and challenges in the United States.
DiMaggio became a cultural ambassador and a role model for generations of Italian Americans, showcasing the contributions and potential of the community in various fields.   
And then he did what they all do… veered into Coppozio Chevrolet, like Orel Hershiser.   
DiMaggio's fame and iconic status made him a sought-after figure for advertising campaigns. Some of his memorable commercial appearances and endorsements include Mr. Coffee: He appeared in television commercials in the 1970s alongside his wife, Marilyn Monroe.    
DiMaggio also appeared in commercials for Bowery Savings Bank, promoting the bank's services to the public.  And DiMaggio appeared in a commercial for The Good Guys, a chain of consumer electronics and appliance stores. 
These commercial endorsements contributed to DiMaggio's continued visibility and popularity beyond his baseball achievements. They also highlighted his crossover appeal and enduring appeal to both sports fans and the general public. 
Bottom Scraping:
Elon Musk and Mark Zuckerberg have been holding discussions about a possible billionaire boy beat down in some kind of cage. This has mesmerized millions of strung-out young people who are evidently vaping their heads off and watching UFC while delving deeply into very sophisticated first-person shooter games. 
"If you have a mouse," as one of the internets come-ons says, "you'll never put it down!" 
Lovely. 
I wonder if this is contributing to the shocking number of mass shootings in America.  Is thirteen hours of screen time a day unhealthy? 
Get him out of here. 
Zoom on, Zoom off:
Zoom, the popular videoconferencing platform agreed to seek people's consent before using their audio, video, or chat data to train artificial intelligence models.
Great. The main question for AI or anyone why has the Los Angeles City Council  elected to deny virtual access to the public commenters when it has been proven to increase engagement and participation:  
I asked AI about Eric Preven delivering public comments and speaking truth to power. "Mr. Preven has gained recognition for his activism and advocacy work, which often involves addressing government officials, participating in public meetings, and speaking out on various issues of public interest. Preven is known for his ability to eloquently and passionately express his viewpoints while challenging those in positions of authority. He has been active in advocating for government transparency, accountability, and citizen participation in the political process. His dedication to speaking truth to power has made him a notable figure in the local political and activist circles in Los Angeles." 
According to AI, Preven is effective in delivering public comments and speaking truth to power for several reasons: 
Passion and Conviction:
Articulate Communication:
Research and Preparation: 
Persistence:
Community Support:
Media Presence: 
Nonpartisan Approach: 
Legal Knowledge: 
Engagement with Officials:
Long-Term Commitment:
But humans and computers are generally noninterchangeable.
Smack!!! (the crowd goes wild!): 
Harvard-Westlake is among the top-tier private schools in the United States, offering a rigorous academic curriculum, extensive extracurricular activities, and a reputation for preparing students for prestigious colleges and universities. 
The cost of tuition and fees at Harvard-Westlake can be quite high, reflecting the school's reputation and the resources it provides.  
Students at Harvard-Westlake are encouraged to excel both in the classroom and on the field, and the school aims to provide a well-rounded education that includes both academic and athletic achievements. It's important to note that the level of emphasis on sports may vary among individual students, families, and coaches.
Some students may be more focused on sports, while others may have different interests or priorities. 
As with any school, the overall culture and emphasis on sports can evolve over time and may be influenced by various factors.  
Harvard Westlake has a Dodgeball Tournament each spring, the middle school comes to life with a 32-team, single-elimination dodgeball tournament that spans the last few months of school.  All students are welcome to participate, and each team is also allowed one faculty member.  
The dodgeball court is apparently the place to be during the activities period, as spectators can range into the hundreds for high-profile matchups.  
The movie Dodgeball was an irreverent and often absurd comedy about a group of misfits who enter a dodgeball tournament in an attempt to save their gym from being taken over by a corporate fitness chain. 
Not the same as a local Golf and Tennis being taken over by an imperious Private School, but not so far off, either. 
The perception of dodgeball as an insensitive sport can vary depending on cultural, social, and individual perspectives. 
Dodgeball is a physical activity in which players throw balls at each other with the objective of hitting opponents and eliminating them from the game. 
While some people view dodgeball as a harmless and fun game, others raise concerns about its potential negative impact, particularly in educational and social settings and right in the face! 
Critics of dodgeball often point out the following concerns: 
Bullying and Exclusion: 
Physical and Emotional Harm: 
Reinforcement of Aggression: 
Promotion of Stereotypes: 
Lack of Inclusivity: 
Some schools and organizations [not Harvard-Westlake] have chosen to de-emphasize or eliminate dodgeball from physical education programs and recreational activities. They aim to promote more inclusive and cooperative games that focus on teamwork, skill-building, and overall well-being. 
Blumenfield Knows:
Coming up at a very special meeting of the budget and innovation committee…at 11 am on Thursday. Bob Blumenfield will sign off relative to the Measure ULA FY 2023-24 Interim Program Guidelines and Expenditure Plan.  
Measure ULA imposes a new special transfer tax (the ULA Tax) on residential and commercial real estate valued at more than $5 million. When applicable, the ULA Tax is payable in addition to the Los Angeles City and County documentary transfer tax (the Base Transfer Tax)
 Two very nice amendments: 
Amend 4a of the CAO report to delete the words "($38.07 million as of July 1, 2023)" and replace them with the words "in an amount up to $62.84 million." 
Amend Recommendation 6 of the CAO report to revise the amount recommended to be transferred to the Community Investment for Families Department from $1,335,000 to $487,500.
Sole source means, there is no competitive process. This makes it infinitely more likely that shady back rooming could be going on.  
"Execute a sole-source contract with Cerida Investment Corp. dba AnswerNet to provide inbound and outbound call center services for the Measure ULA short-term emergency assistance program, with a compensation amount up to $500,000 and a term of one year commencing on or about August 1, 2023"
"Execute a sole-source contract with the Southern California Housing Rights Center to perform application screening, eligibility determinations, and disbursement of financial/rental assistance for the Measure ULA short-term emergency assistance program, with a compensation amount up to $20,700,000 and a term of one year commencing on or about August 1, 2023"
"Execute, on behalf of the COC, a contract with a to-be-determined entity, after a selection process defined by the COC, to serve as an interim Inspector General, with a compensation amount up to $250,000 and a term of up to two years, subject to funding availability. Luigi Verano Legislative Assistant"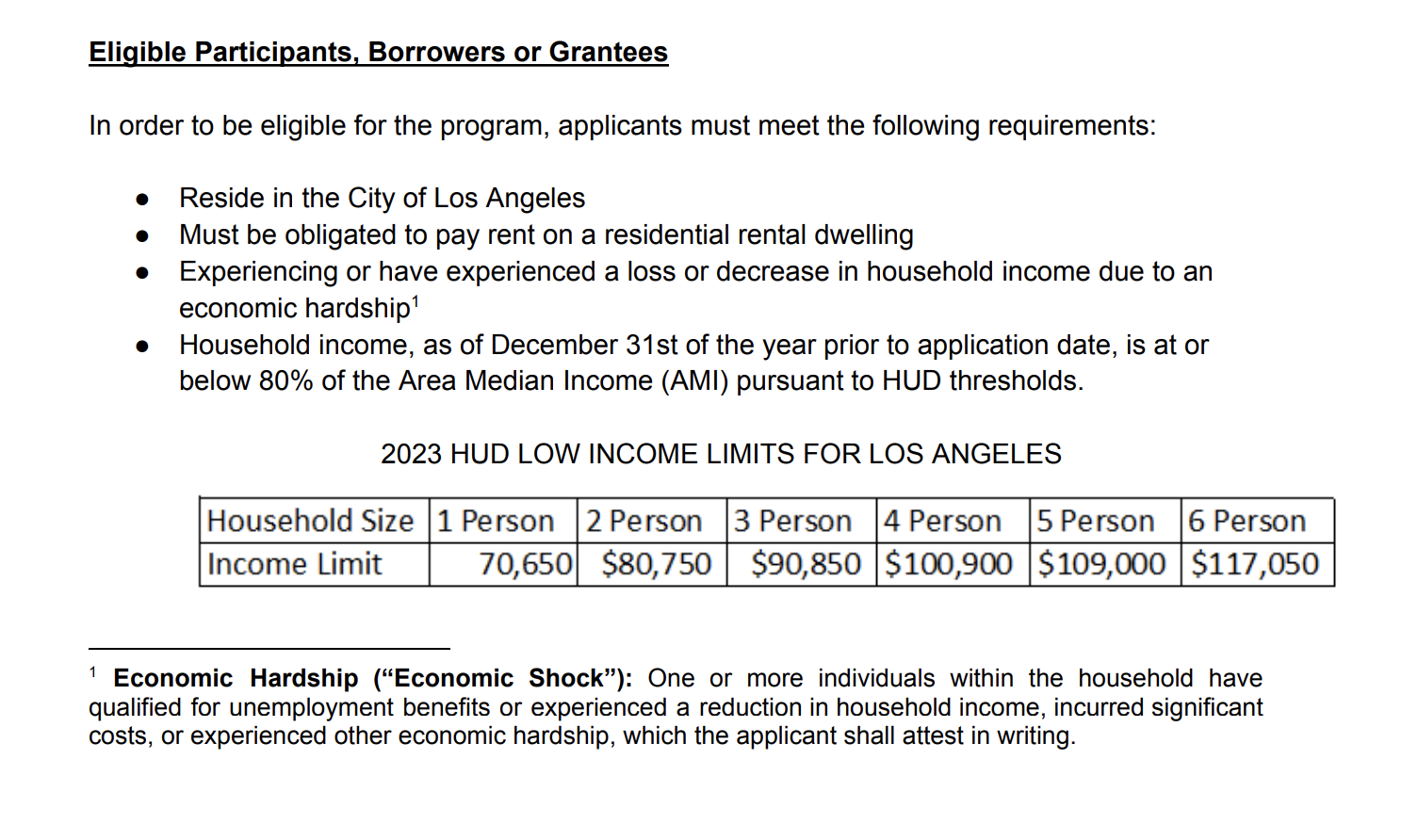 Private Equity Submersibles:
Following the recent tragedy, it may not be a terrible time to invest in submersibles.  
One submersible manufacturer estimated that there are 200 manned vessels worldwide. Some are used by scientific institutions, others for tourism.
But a growing number belong to a select group of Yacht owners. 
It's already expensive and a little risky to ride a submersible down to visit the Titanic shipwreck.  What about this proposal to do something fun but also beyond the purpose of themselves at Harvard-Westlake?  
If the school's donors and Trustees could fund a fleet of submersibles the school would be moving the needle forward in terms of dangerous tourist adventures and attracting wealthy families with exclusive free tours of the Titanic, hosted by the very trustees who will eventually become synonymous with ...the failed voyage.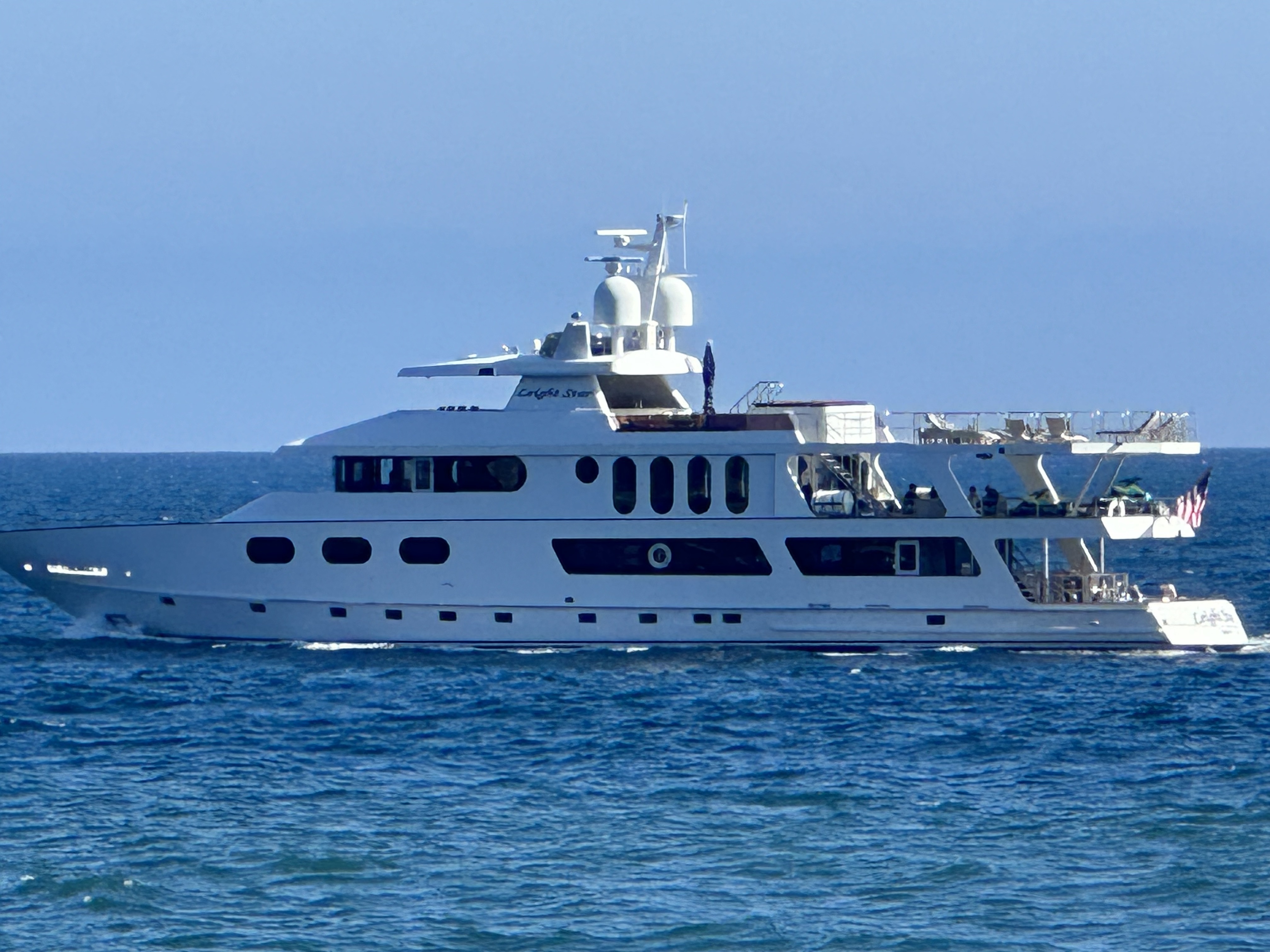 Holy Forest Academy:
Great Teacher Onizuka, officially abbreviated as GTO, is a Japanese manga series written and illustrated by Tooru Fujisawa. It was originally serialized between January 1997 and February 2002. 
The story focuses on 22-year-old ex-bōsōzoku member Eikichi Onizuka, who becomes a teacher at a private middle school, Holy Forest Academy, in Tokyo, Japan.
Eikichi has an encounter with a schoolgirl, and upon seeing a display of an old teacher's power over the girl, decides to become a teacher himself.  However, he earns his teaching degree, just barely, at a second-rate college.
In his quest, he realizes that he has a conscience and a sense of morality. This means taking advantage of impressionable schoolgirls is out of the question, but their unusually attractive mothers are not 100% off-limits.
Most of the time, Onizuka teaches life lessons rather than routine schoolwork. He hates the system of traditional education, especially when other teachers and administrators have grown ignorant and condescending to students and their needs. 
With these realizations, he sets out to become the greatest teacher ever, using his unique brand of philosophy and the ability to do nearly anything when under enough pressure.  He embarks on a mission of self-discovery by reaching out to each student one by one and helping each student overcome their problems and learn to enjoy life. 
He uses methods that are unorthodox, illegal, and life-threatening, yet he manages to succeed in educating and opening up his students. 
From the Folks that brought you "Ted Lasso" 
UCLA and USC get a lot of credit for destroying the PAC 12. 
The outgoing chancellor at the University of California Los Angeles (UCLA), told the LA Times during his exit interview, "If you really listen ... you'll always make a better decision,"    Interesting. What might the Great Teacher Onizuku say?
"We cannot go back to the past, no matter how hard we try. No matter how wonderful it was. The past is nothing but the past. "   
Or maybe, "You think you can just escape? Walk out of this world like it's some bad movie? It's too easy to make like a bird. To flap your wings as you chicken out after causing all these problems. The tough part's walking. Taking what comes along and walking right through it. That's what real people do. "
People wonder was the PAC 12's implosion the responsibility of embarrassing leadership or actually, just another painful reality based on changing viewership and the fact that half of the games start when half of the country is in bed.
The Athletic's Stewart Mandel reported that the new Big Ten package - which may include 18 schools so Big Eighteen -  includes a five-year, subscription-based streaming package from Apple with a base annual rate of $23 million per school. (A subsequent counteroffer elevated that rate to $25 million.)
The cost: "Severed rivalries. Ballooning travel demands. Conferences gerrymandered beyond recognition. And a league with 108 years of history — the home of the Rose Bowl, the self-dubbed Conference of Champions — undone over the course of 13 months by leadership missteps, a chastening dose of media-market reality, and by the folks who brought you "Ted Lasso."  
Gene Block is 75 years old and still, very much a sleep scientist, who plans to return to his academic work, once he steps down from the administrative duties of running an enormous leaking vessel. 
Apparently, his own ideal daily rhythm is good: sleep at 10:30 p.m., rising at about 6:30 a.m. for a light breakfast, a scan of the news, and a 45-minute treadmill workout before reaching his office by about 8:30 a.m. 
One of his biggest regrets, he told the Times, was not moving more quickly to increase Latino representation.  UCLA is now working to become a Hispanic Serving Institution, a federal designation that qualifies campuses for certain grant funds if Latinos make up at least 25% of the student body. 
They made up 22.5% of all students and 25.3% of undergraduates in fall 2022.  
Primo Villanueva was a great Bruin. 
Pit Viper and Liquid Death - 56'3"
A thirteen-year-old talks about the brands mentioned above because they never waver in their steadfast commitment to cultural engagement.  
"They're accessible, and he finds them entertaining," says his father a marketing maven.
In May 2020, Liquid Death released Greatest Hates, an album of death metal music created with lyrics from hate comments the company received online; a second album of hate comments, described as "punk rock", was released in November. 
In February 2022, during Super Bowl LVI, the company released an advertisement featuring children enjoying the beverage with Judas Priest's song "Breaking the Law". Parodying advertisements for alcoholic beverages, the advertisement ends with the tagline "Don't be scared, it's just water".
For Pit Viper, the edgy sunglasses company,  August's key player of the month is Colby Raha!  He's the motocross maniac who broke the x games quarterpipe hit air record last month. 
How high (airtime, duh) do you have to get to be deemed the king of the dirt bike?  
Raha made it clear the answer is 56 feet-3 inches! 
Bringing home gold for the third year in a row, Raha has brought motocross to the next level all while having a f*cking good time.   
Kudos Raha, for working your butt off and winning big! 
(Eric Preven is a longtime community activist and is a contributor to CityWatch. The opinions of Mr. Preven are not necessarily those of CityWatchLA.com.)