ERIC PREVEN'S NOTEBOOK (SPECIAL EDITION) - As we charge ahead forward into the new year, flanking to the right or left looking for an open man, it's important to take inventory of what matters the most and to recognize the men and women who brought us pride and joy... and national championships.  
Michigan (13-0) who finally made the playoffs faces TCU (12-1) in the Fiesta Bowl. (Go Blue!) 
Ohio State (11-1) faces number one Georgia (13-0) in the Peach Bowl.   
UCLA (9-3) is gearing up for the Tony the Tiger Sun Bowl showdown with Pittsburgh (8-4). 
USC  (11-2) will face Tulane (11-2) in the Goodyear Cotton Bowl classic.  
Here in Pasadena on January 2, the Grandaddy Of Them All which could be the final Rose Bowl to feature the traditional Big Ten vs. Pac-12 format, Penn State (10-2) from the Big Ten will face Utah (10-3) from the Pac-12.   
The Utah Utes will be returning for a second time for back-to-back appearances following last year's loss to Ohio State, 48-45 in the third highest-scoring Rose Bowl in history.  
Back-to-back you say...    
What about the 1954 UCLA Bruins?  The only team in the school's history to go undefeated and win a national championship.  Both the Big Ten and Pac-eight conferences at the time had a "no repeat" rule in force for a number of years.  Under the rule, any team that had appeared in the Rose Bowl game the previous season could not go again, even if they were the conference champion.  
Because of this rule, the 1954 Bruins did not get to go to the Grandaddy of them all. 
As my mother, who did not play football, said about the rule, "it would be like telling Roger Federer after winning or even losing a Wimbledon final that he could not play in next year's Wimbledon final."  
Bruins gather round... the head coach, Henry Russell "Red" Sanders, who coined the expression  "Winning is not the most important thing, it's the only thing" famously said of the 1954 undefeated team, "all I know is that I wouldn't trade this team for any other." 
The 1954 Roster was the only team in college football history to lead the nation in both scoring and scoring defense. In nine games that season, the Bruins outscored opponents 367-40.  
It's always a good time to remember and celebrate, Red Sanders, in the Bruin nation,  but the name atop the stat chart above is Primo Villanueva.  
Primo was the backup tailback for the Bruin's two-time All-American, Paul Cameron, and in 1954 he got the call and led the Bruins to its best season ... EVER.   
Don't Cry For Primo:
So, rise if you are able, set down your shredded beef taco for a second, as the Bruins charge out of the tunnel at the Sun Bowl in El Paso and remember the great Primo Villanueva the "Calexico Kid" who turned ninety-one this year. 
Send a THANK YOU card to Primo:   
Primo's 15069 Marine Dr.  
White Rock, BC V4B 1C5,  
Canada   
Or pop by to celebrate the 1954 perfect season and remember... while enjoying a perfectly poured margarita.  
Primo Villanueva arrived in Westwood from Calexico during a period when being called names and treated unfairly was not uncommon.  Primo 2, the son told me his dad used to say about being a Mexican-American, "they had the white bus, they had the black bus. Me? I got cab fare."  
And the year in which Primo put the entire franchise on his back and led his team to their only 9-0 season in Bruin history and a legitimate claim to the national championship, was right out of the silver lining playbook.   
For several years, under Red Sanders, the Bruins had been surging. But in 1953 Paul Cameron's last season before graduating, the Bruins went all the way to the Rose Bowl and lost.   
1954 would likely be a rebuilding year, but for Primo Villanueva... it was time to step up and do what nobody had ever done at UCLA, go 9-0 and stake a legitimate claim on the national championship.   
Primo became a lodestar for the UCLA Bruins. 
Primo spent most of his childhood in Calexico, just north of the border with Mexico. After graduating from Calexico High School, he got a football scholarship to attend UCLA. In the September 6, 1951 issue of the Calexico Chronicle, Primo writes to his mother,  "I'll make every effort to achieve success in my future schooling and will always feel I share my athletic honors or victories with the people of Calexico."   
For a lot of Chicanos in L.A., the 1954 Bruin team was special, precisely because it was led by a Chicano kid, number 19, Primo Villanueva.   
Primo was a star tailback, racking up 886 total yards that year, 486 rushing and 400 passing, more yards than any other Bruin.  He also played first-string defensive back, going both ways, as they used to say, and was named second-team All-American.   
After a critical game against Stanford, Dick Hyland wrote in the Los Angeles Times: "The Calexico Kid stopped the opening Stanford drive...by grabbing a John Brodie pass and engineering a 46-yard march to the first Bruin touchdown in just over four minutes of play."     
One can only imagine the pressure on a kid who'd only played in front of a couple of hundred high school fans in a border farming town, to play in front of 101,000 in an iconic Los Angeles stadium just around the corner from Hollywood and Beverly Hills. 
Here comes, Primo Villanueva, an excellent student, with eleven brothers and sisters, the son of a Protestant minister in the Imperial Valley where Mexicans carried the bulk of heavy lifting, many working in the fields in 110 degree heat.  
One Primo fan noted, "We rejoiced, going so far as jumping in a car with automatic-nothing and trekking across the state to witness an "adopted" hometown son in action."  
Another commenter reported that her father would make them stay to congratulate Primo after each game before he trotted off into the locker room and then again as the players headed toward the buses. 
She said,  "We'd all call out, Primo! Primo! Primo!"  Of course, he'd wave and smile.    
One woman said her father was obsessed, "as adults, he and his friends would drive from the Imperial Valley to watch Primo play in the Coliseum. During one trip, they got into a nasty car accident.  
They were badly cut and bruised. People on the scene advised they go to the hospital.  She said, that rather than missing Primo play, they sat through the entire game covered in bandages."  
Grandkids: 
What to tell the children?  Primo was a great football player who did what no other UCLA team could do. And he was a great father and grandfather and a pioneer who brought Mexican food to Canada. 
At his 70th birthday party in the early 2000s, Chuck Phillips an alumnus of USC met Primo for the first time in Vancouver and said, "Oh, it's nice to finally meet Paul Cameron's backup."   
Primo hopped in the golf cart with Chuck and said, "This is going to be a long F**king day." 
After five hours of golf, a friendship was forged. Twenty years later, I got a call from Chuck, who grew up as a UCLA fan and wanted to recognize Primo.  
He told me all about the 1954 season and the single-wing tailback formation favored by Coach  Sanders, which allowed the tailback to either pass or run.  
It worked for the two-time all-American, Paul Cameron, and it worked for the backup! 
The Los Angeles Times speculated after UCLA's 41 to 0 route of Oregon the "district attorney will charge the Bruins with murder." 
There was a particularly monotonous 72 to 0 thrashing of Stanford in which UCLA intercepted eight passes and its offense rushed for 418 yards.   
In one game, I read in a Charles Chiccoa column, the Bruins scored quickly on a long post pass,  Primo Villanueva to Bob Heydenfeldt.  
Terry Debay, a team captain and blocking back, described the play something like this: Villanueva, running left on a run/pass option, leaves his feet while throwing across his body, and was still able to put the ball 50 some yards in the air and on the money.   
Debay called it "one of the greatest passes I've ever seen."    
There were two close calls during the storied season. The Bruins pulled out a 12-seven victory over defending national champions, Maryland, in the third week of the season after Bob Davenport rushed for two touchdowns. The Bruins prevailed 21 to 20 only after Primo deflected the late pass that would have ended their near-perfect season.  
In a nine-game season, Villanueva led the 1954 Bruins in total offense with 886 yards—486 yards rushing and 400 yards passing.  
Primo also had 106 yards on punt returns, 80 yards on four kickoff returns, and 21 yards on two pass interceptions. He scored nine rushing touchdowns and five receiving touchdowns and was considered "a clutch defender."  
Jack Ellena, who went on to the NFL told the LA Times "we were a hell of a football team I remember so well that we would go into the games with so much confidence that we came up to the line of scrimmage with smiles on our faces."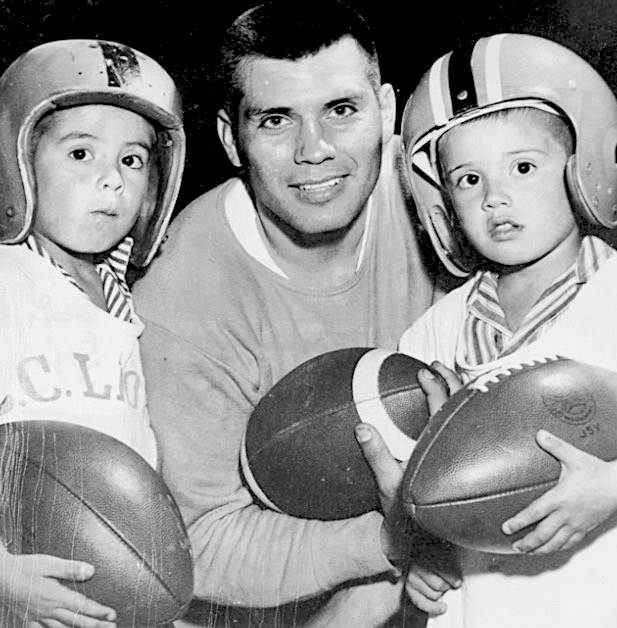 Primo Villanueva with his sons, Jorge and Primo with the game-winning ball, that sits above the var at Primos Mexican Grill in White Rock, BC. 
Primo 2:
I spoke to Primo's son, Primo Junior (2), who was born in 1952 and now lives in British Columbia.  I also had a chance to connect with, Joel Villanueva, a nephew of Primo.  
"First off, my pop is incredibly humble..." Primo 2 said, "he married the girl next door from Calexico and raised a family.  He just turned 91 and has 5 boys and 8 grandkids." 
Primo 2 told me his dad is living in Crescent Beach in British Columbia with his second wife who is about the same age, "I've been taking care of my parents. On the outside..but in reality, I'm teaching my own kids. One day my wheels are going to fall off. I want them to know which garage to take me to." 
One of those sons, Jorge apparently "won a lottery" and has been researching and writing a book about Primo.  
Primo 2, said his brother, was so into his dad's UCLA legacy that he proposed naming the children "Rose" if it was a girl, and "Victor" if it was a boy.    
Upon graduation from UCLA, Primo 1 was handpicked and came up to Meralomas and played Canadian football for the BC lions. 
In 1959 after several seasons with the BC Lions, Primo opened a little restaurant called "The Cozy Inn."  Eventually, he bought a couple of apartments next door and expanded.  
He had the restaurant for 54 years and in his family's eyes the chain of restaurants it turned into was where Primo shined the brightest and displayed true "heroism." 
At the outset when Primo was introducing Canadians to Mexican cuisine, he had to put steaks and spaghetti on the menu, while Canadians adjusted to the new flavors. With Primo's wonderful personality and a lot of hard work, eventually, the business took off.  
Primo 1 apparently loves watching college football and always says, "Everyone out there is applying for a job." 
Primo Jr. mentioned that he'd visited the Cheech Marin Museum of Latino history, so I asked him if Primo 1 had been recognized, there. "No, not to my knowledge."  
He said, there was a Primo Villanueva day in Calexico and Primo has a spot in the Calexico Bulldog trophy case.   
As for my dad..." Primo 2 said "to be remembered, how terrific!"
Primo Villanueva and grandson at 70.
 (Eric Preven is a longtime community activist and is a contributor to CityWatch. The opinions expressed by Eric Preven are solely his and not the opinions of CityWatch)