ERIC PREVEN'S NOTEBOOK - Cyclone Biparjoy made landfall near the border of India and Pakistan on Thursday with winds of up to 78 miles per hour.  
The storm unleashed rain and flash flooding in coastal areas and I immediately thought of former Mayor Eric Garcetti out in the community, possibly in a kayak, braving the wind as the ranking diplomat, formally representing President Biden as The Ambassador to India with the full complement of plenipotentiary powers (i.e. full authority to represent the government).
Of course, Ambassador Garcetti is focused on protecting American citizens while advancing U.S. interests, promoting peace and yes … prosperity.
But please tell me there is not an "Ambassador's Fund?!"
We can not forget the "Mayor's Fund for Los Angeles" which can only be described as a creepy not-for-profit dedicated to improving lives for Angelenos, via untraceable gift cards.
Incidentally, Karen Bass has revamped the masthead over at the Mayor's fund and appointed a new leader to spearhead the initiative to make life better for Angelenos (with untraceable gift cards) while twisting the arms of local moneyed interests, eager to move forward.  The envelope please…!
Her Treasurer and Policy Chair from Bass for Mayor 2022, Conway Collis.  I know, it's not exactly Mellody Hobson, but Mr. Collis, went to Stanford Law School. 
Curren D. Price went to Stanford, which could help explain how he survived nearly forty years on the gerbil wheel of public service helping Angelenos live better — primarily by gift card.
It all came crashing down on Tuesday when the indictments were announced by District Attorney George Gascon. 
The Price indictments serve as one more reminder that whatever Price did, it pales in comparison to what Paul Krekorian and the boys at UFLAC and Sportsmen's Lodge accomplished, namely Jimmy Blackman and Associates and Afriat Consulting Group, and Hal Dash, CEO of lobbying firm Cerrell Associates.
With serious business before the city and Krekorian's budget committee, these brave lobbyists were informed and believed it would be effective to send checks for up to $5,000 to repay an outstanding loan that Paul Krekorian made to his own state committee, Friends of Paul Krekorian FPK. Clever.
Since Krekorian loaned the money to the committee himself, you can just make the $5,000 check out to… Paul Krekorian.  RED FLAG
A government watchdog group admitted that FPK's fundraising from lobbyists illustrates an "unfortunate loophole" in state campaign finance laws because individuals like lobbyists can legally donate to Krekorian's state committee.
"For the sake of public appearances, it would make sense for Paul Krekorian not to receive funds from special interests who have business before the city to pay off these loans."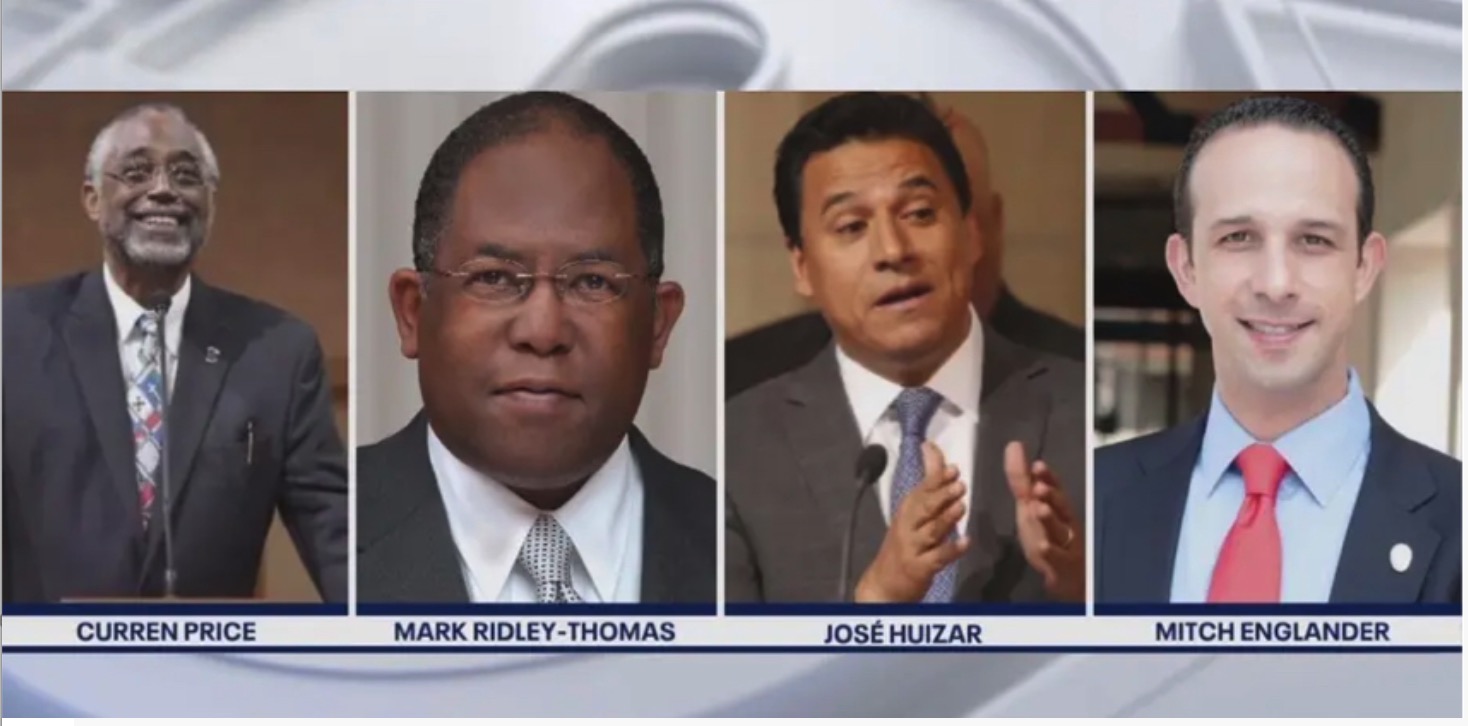 All-Star Indictees! (To date!!)
The Public Appearance Desk:
I handle the public appearances desk. And it is fair to say that Curren D. Price had a stately way about him.  For one thing, the was born in 1950 making him 73 years old in December. 
My biggest problem with Price was the fact that he was one of those "consensus" builders, who does exactly what he's told.  If Herb Wesson said, "We jumpin'", Price would climb into the nearest bouncy tent and start jumping! Price seemed to enjoy catering to and helping all the treasured partners of Mr. Garcetti (and his constituents, with any time remaining.)
"Your time has expired."
I believe that Curren D. Price was deeply passionate about the free public admission to The Lucas Museum of Narrative Art.  If he can get that done, I would certainly support a sentence of home confinement for his transgressions.
In one conversation with Council member Price by the elevators in City Hall, I requested that he talk to Commandant Wesson about the persistent and disgusting reduction of public speakers on the channel 35 meeting telecast.
CM Price did exactly what Paul Koretz and Bob Blumenfield had done— nothing.  He simply shrugged, "I know it's wrong, but you need to talk to Herb." 
Cop-outs R us down in the new ninth. 
I also had to press way harder than necessary to get his council district office to serve one of their constituents, who was facing a pernicious lien that appeared to me, totally unwarranted.  
I was eventually right, and they eventually helped, but it was an absurdly heavy lift.
Celebrity Realty Holdings, LLC
The only reward for a public commenter, who braves the crazy sophisticated effort to obfuscate and block public scrutiny, is when the public gets the damn answers to your questions.
In June of 2016, there was an itsy-bitsy item to give away city property to a proposed buyer, for a good price without competitive bidding.  Lovely.
An ordinance authorizing the sale at its fair market value of an approximate 7,830 square foot parcel of City-owned real property (City Property) to Celebrity Realty Holdings, a California limited liability company (Buyer) with conditions assuring that City economic development purposes are carried out on the property. 
Huh? I asked what I thought was an important question of the lawyer I found attached to the LLC, "Who are the members of the LLC described in the subject line?" I wrote.
Getting no response, "I can't interpret your silence as... "it's a secret" because I'm sure you will conclude that it could never be completely secret as to who the City is unloading a bit of surplus city property to...
How could the public express gratitude to a treasured set of partners working to develop a worthless piece of nothing...into something special (or certainly better)  without knowing their names.  In my experience, the public can handle and often expects the who, what, where, when and why of yer city property transfer situations.  
So, I won't bother you further but I will ask once again... who are the members?
When lawyers fail to cooperate, I go directly to the Office of the City Controller. At the time it was being furnished by Ron "The Decorator" Galperin!]
I said, "The names of the members of this Celebrity Realty Holdings LLC do not appear in the approval documents for some reason.  
Disclosure is a best practice as it permits the public to vett for any conflicts.  Whenever city property is transferred to individuals on a possibly non-competitive no RFP basis or not the public likes to know the names of the beneficiaries.
Who are the members? 
"Lopez, get in here!"
Lopez took me around the block and wrote, "Hi Eric, The GSD Real Estate Division has information on City property and may have the approval documents available for you to review. I've CC'd Tony Royster from GSD to this email.
But the GSD tossed the hot potato right back at me, "following up on the phone conversation I had with you earlier today.  The Department of General Services is not the custodian of the record you are requesting for properties 704-706 West Martin Luther King Boulevard.  You should direct your request to the Department of Economic Workforce Development.  I have cc'd Catherine Saillant of EWDD on this email."
Saillant, I know.  She was a LA Times reporter when we met.  I had scratched my way into a debate against Sheila Kuehl, Bobby Shriver et al. in the Pacific Palisades.  It was a bloody miracle I got in, given the diligent efforts of Joel Bellman to keep me out - you won't find a chapter on that dirty trick in Zev's Master—
"Master what, Masturbation?"
"No, Master Bio!"  
You're disrupting the meeting, though it is more than adequately self-referential -- Disclosure: I have not read it yet.  
Coming Soon:  Rebuttal Bio, Tuesdays With Zev by Eric Preven
Saillant covered the debate and ran a picture of all of the participants, except me. It was devastating and totally unfair. 
Finally, ten days before the 2014 election, so too late to make a difference in any case, Saillant called and said she was going to write a profile of my historic campaign. She interviewed me for nearly an hour.  Then, on election day, she called and said, they were nixing the piece as my profile wasn't high enough.   
Anyway, she left the LA Times and took a job working for Jan Perry at the LA City Workforce Development Department. 
"Hi, Cathy," I wrote, "This is long overdue so please make public the members of the LLC without further delay. Thank you. Eric Preven."
She wrote back, "Mr. Preven: Acquisition of City property at 704-706 Martin Luther King Boulevard is in preliminary stages and EWDD has not yet received the information you are requesting. You requested:
"Could the names of the members of the Celebrity Realty Holdings LLC that just acquired the City property also be made public?"
For your convenience, we direct you to the California Secretary of State's webpage to ascertain public information filed by Celebrity Realty Holdings, LLC.
This completes EWDD's response to your request of August 13, 2016.
 
 
 
 

 

Celebrity Realty Holdings LLC 

Los Angeles, CA 90015

08/20/15

12/31/15

ANY CITY AGENCY

Celebrity Realty Holdings LLC 

Los Angeles, CA 90015

01/01/16

12/31/16

ANY CITY AGENCY

Total Client Registrations : 2
Ms. Saillant, I wrote, "The below link shows that Mayor Garcetti approved the sale of City owned property at 704-706 Martin Luther King Boulevard for $740,000 on June 23, 2016. 
So, what do you mean by "preliminary stages"?  I don't think it's too soon to know who the members of the LLC are, do you?  
Could you ask Jan Perry?  I'm sure she would know.   
EWDD is recommending a direct sale--without competitive bidding--because it will assist in the economic development of the City.  A direct sale to whom? 
Please make public the members of the Celebrity Realty Holdings LLC.   
From and including: Wednesday, June 15, 2016
To, but not including Monday, August 15, 2016  Result: 61 days
This is a PRA  6250 et seq. for a link to the contract between City EWDD and Celebrity Realty Holdings LLC, with signature.  Thanks. 
She finally responded, "Eric Preven, This is EWDD's response to your Aug. 15, 2016 request for information on Celebrity Realty Holdings LLC. You requested in pertinent part:
"Please make public the members of the Celebrity Realty Holdings LLC."
The principals are as follows:  1) Josef Shuster; 2) Ted Bessen; and 3) Sean Wolfington Opportunity Trust U/A/D 12/14/04, a Pennsylvania trust, with Sean Wolfington serving as the sole trustee.
This completes EWDD's response to your request for information.
Thank you,
Catherine Saillant
Sr. Project Coordinator-Communications
In February of 2017, I wrote to Matt Lait of the Los Angeles Times. "Here they are going to cut a deal to put an auto dealer (cuz auto sales tax is $)... never mind the initiative to get cars off the road. I recall putting a city property (no bid) into this initiative. 
On March 1, 2017, it appeared on an agenda to MAKE a finding of public benefit…with a request to reduce from 24 days to 10 days, the public hearing notice period for Council's consideration of the DA between the City of Los Angeles and Celebrity Realty Holdings, LLC for the Downtown Honda Project
On May 29, 2017, Edgar Khalatian, who worked very closely with Harvard Westlake alum Eric Garcetti, appeared on the item as the consultant from Mayer Brown.  
Applicant: Josef Shuster, Celebrity Realty Holdings LLC  
Representative: Edgar Khalatian, Mayer Brown LLP  Case No. CPC-2016-1034-DA  CEQA No. ENV-2016-1036-MND  
Garcetti, eager to put more cars on the road, I joked.  To fill up the HUGE parking structure he was dreaming about approving for Harvard Westlake.  
Top Ten Agenda Items: 
Bribery 
Conflict of interest 
Extortion
Fraud
Money Laundering
Lying to Federal Authorities 
Obstruction of Justice
Perjury
Racketeering  
Tax Evasion 
(Eric Preven is a longtime community activist and is a contributor to CityWatch. The opinions of Mr. Preven are not necessarily those of CityWatchLA.com.)