ERIC PREVEN'S NOTEBOOK - Zev Yaroslavsky rode the Eric Preven's Notebook wave last week, as I included a link in my email blast, and this weekend, he took the New York Times bump. Kudos to Shawn Hubler for getting such prime real estate for the voice of Carmaggedon in ye olde paper of record.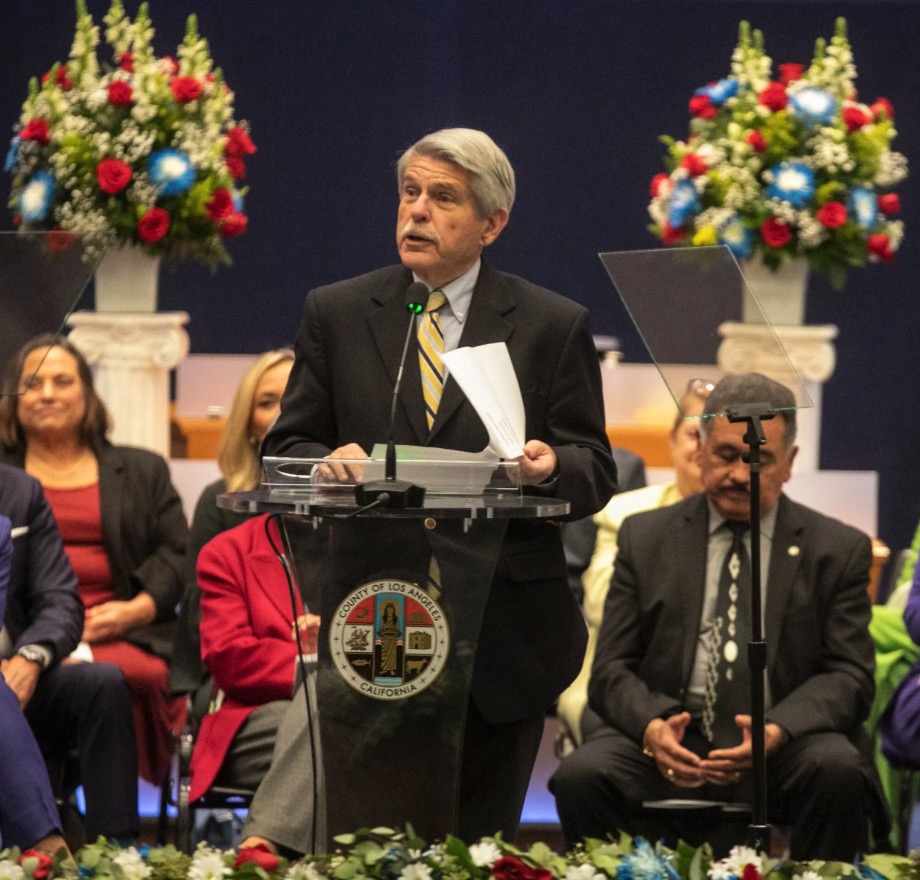 As reported, the Los Angeles Times and a visibly upset Kevin Merida had to let 74 newsroomies go. Yes, Soon-Shiong is worth $6.5 Billion, but to cover say an extra ten million a year for the next ten years would be an additional $100 million. He paid $500 million.  What if the whole thing cost $1 Billion? Intolerable?  Why?
(Get him out of here)
"74 Willows wept the day I plotted my escape..." 
Provided to YouTube by Universal Music Group.
Private equity firms have used sophisticated but indirect political maneuvering with state and local entities to smooth the way for growth and revenue. How Private Equity Found Power and Profit in State Capitols 
Provided to New York Times by Residents like you.
If only newspapers were like Sports teams. 
Civil Rights Golf
The current Third District Supervisor has attracted a drag performer who dresses in the same fashion she does. This is a big compliment!   No word if the Supervisor compared notes, or if the drag performer, spots the Supervisor early in the parade and then jumps into action. Lindsay Horvath is an active celebrant of LGBTQ+ rights.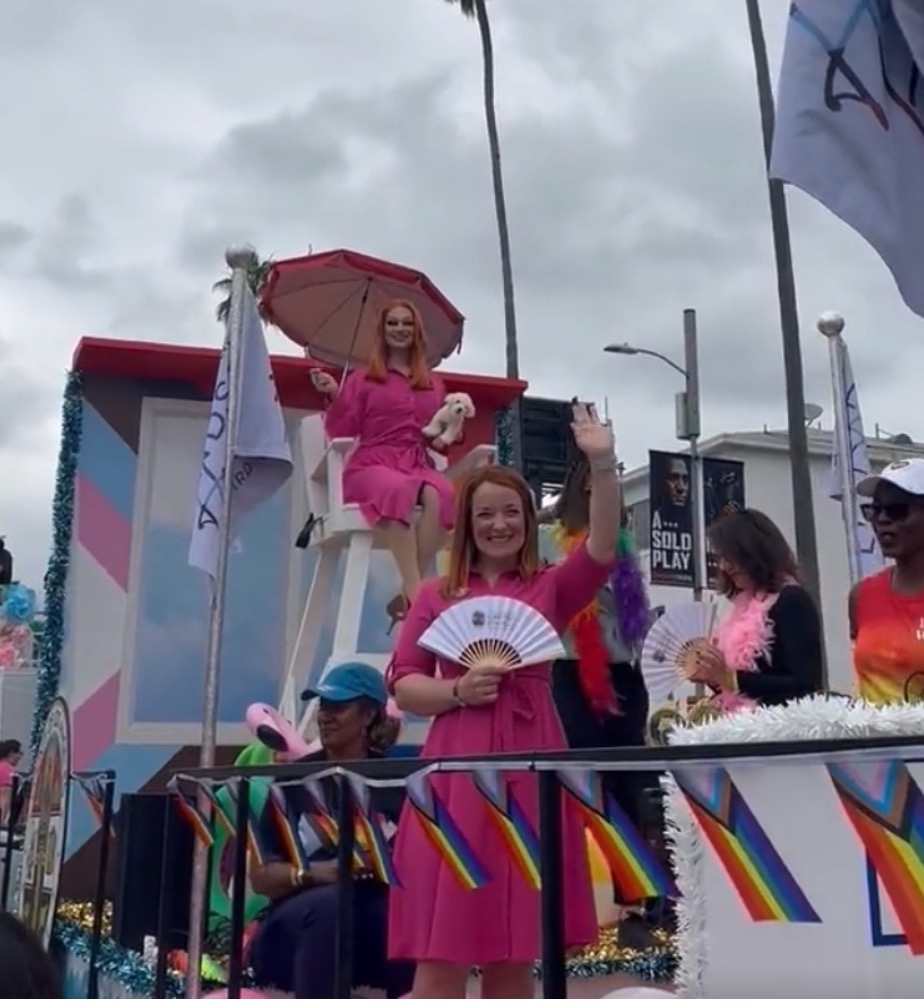 The Supervisors are busy as we head toward Juneteenth. This week, as Los Angeles County plays host to the U.S. Open Golf Tournament, we link closely with the indigenous community, the thoughtful sponsors, and obviously, the U.S. Attorney's Office, as we manage our various consent decrees. Thank you and Welcome!
To ensure that the optics remain pleasant, as the NBC juggernaut rolls out of the station, we encourage residents to attend, there are tickets available for standard Trophy Club access, at $230.50 for each individual. That's like six 16 Piece Family meals at Pollo Loco, for benchmarking. 
Not cheap or welcoming, but historic.  
The sponsors are very nice, obviously. If you don't have a ticket to attend, call your Supervisor or we can investigate a FREE shuttle to the... First Amendment zone. 
Smart Speaker:  "Wait, isn't an NBC first amendment zone, far away from the action and operated by private security firms that don't bog down in civil rights, the way police officers--"
Close enough. (Get him out of here.)
Smart Speaker:  "Wait, NBC... as in NBC Universal? Aren't the writers on strike?" 
Sir, you're disrupting the meeting.
(Get him out of here.)
Smart Speaker: "Unhand me, I am a member of the WGA!  Who do you think you are?"
"I'm a DGA stage manager/showrunner!"  
Smart Speaker: "What is this, Vichy Studios!" 
[Vichy France, the authoritarian government led by Marshal Pétain co-operated with the Germans' Nazi racial policies and turned France into a quasi-police state.]
Mayoral Ethics:
Mayor Bass trotted out  Ruth Kwon as the first-ever mayoral ethics officer with a quick confusing pump of the Norm Eisen of the Obama Administration horn, capably tooted by @sherlyholmes
It sounded for a moment like Eisen would come aboard the HMS Indictment and whip 'em all back into shape, but no such luck. Kwon is terrific, her only problem is that she reports to the mayor's counsel, David Michaelson, a Dark Sith of anti-public sentiment.   
I can't say I've tried under the Feldstein-Soto City Attorneys' office but it was not possible to get a meeting with Mike Feuer, outside ordinary fundraising work or tugging on his sleeve at a public appearance. He, like the Mayor Garcetti was simply unavailable.  If you want to make behested payments or attend the U.S. Open that's a different story.
But a regular constituent meeting is harder to get than tickets to the June 18th, pre-Juneteenth, U.S. Golf Open Final!!!
Mr. Michaelson should be required by City Charter to personally sleep in one of the dismal city animal shelters, and the entire City Attorneys' office -- so EVERY filled position should begin EVERY work day and weekend walking the dogs in our toxic shelters. 
Ms. Kwon will assist the mayor's office in developing "policies relating to ethics, transparency, and other initiatives for this office and the city as a whole," according to Zach Seidl.   What about Chris Thompson of LA2028 assuming the top job as Mayor's chief deputy? 
(Get him out of here!)   
Mr. Michaelson has a starring role in the cult classic, Preven Finance Chart 01 25 19 
It takes money to make money - the LA City Council candidates who need it the least get the most public money for their campaigns. And The Man doesn't want you to see the chart. 
I admit, I am feisty and WGA but frankly  denying folks who are not pay-to-players, is par for the course.
The Fancy Section: 
With the 123rd U.S. Open Championship upon us in Los Angeles for the first time since 1948, the United States Golf Association — as it does in every city hosting the event — has chosen to endow a local municipal golf course. The Maggie Hathaway is connected to the County's Chester Washington Golf course.
Norma E. García-González, director of the L.A. County Department of Parks and Recreation, said that the Legacy Project's goal is to "widen that door for African American youth and youth of color in Los Angeles."  
The USGA hopes to further the work Hathaway herself started in the 1950s as a civil rights activist.  Hathaway became interested in golf in 1955, after losing a bet against former heavyweight boxing champion Joe Louis. 
According to a biography posted at the golf course, the young actor's film career ended when Hathaway refused to wear a bandana and sit atop a bale of hay in a biopic about President Woodrow Wilson.  
Once hooked on golf, Hathaway also began writing about it for the California Eagle and Los Angeles Sentinel. 
That's now Danny Bakewell's outfit.    Bend it to fundraising. 
 "We're gonna see some improvements that are exciting, going to raise the level on aesthetics, but also bring about pride by playing there and hopefully making it a destination place for the youth," Garcia-Gonzalez said. 
"The Los Angeles County Department of Parks and Recreation is thrilled by this dynamic public-private partnership aimed at creating a legacy of greater access and inclusivity to the sport of golf, especially among communities of high need, youth of color, and women and girls."
So, get out the checkbooks... folks, there are no limits as to how much you give. 
The USGA is donating the first million, joined by the Southern California Golf Association, the Los Angeles Country Club, L.A. County and other donors in raising funds to refurbish Maggie Hathaway — where golfers can play a half-round of golf for $7.25, or shag a bucket of balls at the driving range for $9. 
I wonder how much L.A. County is kicking in? 
Drive Shack, Inc. the parent company of American Golf was not mentioned in the press releases. 
The group manages nearly a dozen or more golf courses for the county, and has recently hit a rough patch. The departures last month of some folks, including the CEO - a woman of color of Lebanese descent, "were not the result of any disagreement regarding any matter relating to the Company's operations, financial statements, internal controls, auditors, policies or practices."
Great! (Yeah, right.)
Drive Shack Inc. Chairman Wes Edens said: "As we continue to build our leading golf-related leisure and entertainment venues, we are delighted to have Mike Compton lead us through this transition with his wealth of investment management and operational experience. Looking ahead, we remain focused on expanding our footprint, with additional locations set to open this year, and offering premier experiences for our guests, and we are confident in our talented team to continue the success we've seen over the past few years."
I hope Drive Shack Inc. is planning a robust contribution to the Legacy Project! 
Fore Youth Golf Foundation plans to donate an initial amount of approximately $7,000,000 to the County with an option to increase the donation amount to a total of approximately $15,000,000 during the term of the agreement for the Legacy Project. 
AGG will implement and construct the Legacy Project in a manner consistent with the existing lease agreement with the County and in coordination with Fore Youth Golf Foundation (and its project manager).  This means AGC who have a very good deal, charge to do the work, and handsomely.
Plenty of timely communication with DPR about the Legacy Project and all activities leading up to the U.S. Open Golf Championship, but there was no mention of the Billionaire, Wes Edens, who likes municipal governments.
With language like this in the annual report: "We may engage in the purchase and sale of investments. Our officers and directors may change any of these policies and any investment guidelines without a vote of our stockholders. Our board of directors has the authority, without stockholder approval, to issue additional common stock or preferred stock in any manner and on such terms and for such consideration it deems appropriate, including in exchange for cash or property."
American Golf, acquired by the Company in December 2013, is one of the largest operators of golf properties in the United States.  "As an owner, lessee, and manager of golf courses and country clubs for over 45 years, we believe American Golf is one of the most experienced operators in the traditional golf industry. As of December 31, 2022, we owned, leased or managed 52 properties across seven states. American Golf is focused on delivering lasting experiences for our guests, with over 26,000 members and over 1.9 million rounds played at our properties during the twelve months ended December 31, 2022." 
"Our twenty-nine (29) leased public properties generate revenues principally through daily green fees, golf cart rentals, and food, beverage, and merchandise sales. Amenities at these properties generally include practice facilities, pro shops, and food and beverage facilities. Our public properties have larger clubhouses with extensive banquet facilities at certain locations. In addition, The Players Club is a fee-based monthly membership program offered at most of our public properties, with membership benefits ranging from daily range access and offpeak course access to participating in golf clinics." 
I smell money! 
Get out the checkbooks, People:
Pro sports owners, unlike Newspaper owners, never lose money. Even if there are occasional seasons that lose money, that's soon made up by the incredible escalation in the value of the team.
And who do you think gets the lucrative stadium naming money? 
SoFi® is an online company that provides personal loans, mortgages, and student loan refinancing, mostly targeting Millennials. Go Lakers. 
Fiserv is a global fintech and payments company with solutions for banking, global commerce, merchant acquiring, billing and payments, and point-of-sale. Go, Milwaukee Bucks.  
When a reader honed in on the outrageous amount of money Wisconsin taxpayers had to come up with to get the Fiserv stadium built a few years ago, I was skeptical and wrote in Citywatch with my brother, about how that would benefit the community.   
The Bucks team's value is now $2.3 billion, a 5-fold increase in value in 8 years, thanks to taxpayers. 
Still not sure the Milwaukee community benefited, but on the plus side, Moneybagg Yo is coming to Fiserv Forum this summer.  He's a popular recording artist.
But sometimes, things don't go as planned. Like, the French Open delivered a vintage women's final in state-of-the-art facilities, but apparently, there were tons of empty seats.
Don't cry for the trio of sporty billionaires who own the Bucks: Wes Edens, whose net worth is estimated at $5.1 billion, Marc Lasry, at $1.8 billion and Jamie Dinan, who came aboard as a major investor just a few months after the team was purchased, with a net worth of $1.9 billion. 
In short, the three amigos could have afforded to build Fiserv Forum without a handout from the taxpayers and would still have seen a huge increase in the value of their investment.
Go Bucks!
(Eric Preven is a longtime community activist and is a contributor to CityWatch. The opinions expressed by Eric Preven are solely his and not the opinions of CityWatch)a