ERIC PREVEN'S NOTEBOOK - At the People's Choice Awards Simu Liu told people that "I went to school, college for finance and accounting... and it was because I didn't have the courage inside me to give myself the permission to pursue what I truly wanted.
So, what is that...? It all starts with permission to yourself! 
Give yourself permission to do something. 
New Year Resolutions, 2021: 
As the year comes to a close it's a good time to clear the desk and take inventory on one's ongoing disputes and see which might be settled and resolved before the proverbial Council President sings.  Though technically the city council has begun another hibernation.  
This is true not just for governmental issues but also for corporations and unions and all of god's children and entities, including LLCs and attorneys.  
For instance, the real estate giant Realogy inside of which the Corcoran Group, where Pamela Liebman and Andrew R. Levinson* are perfecting the Spitaleri Dine & Dash ($25k), a scheme to ripoff senior citizens, while abdicating any responsibility for the community or market.  And, certainly the largest Home Staging company in America, Meridith Baer Home, could re-arrange some of the outside office furniture in such a way as to avoid another student losing a scholarship because of Mayra Harris and Renee Becnel.   And the Life insurance company at USAA, who sponsors the frickin' NFL, but have steadfastly refused to refund money ($13k) that had not been authorized.  
And if you can believe it, even the Writers Guild of America has a few scores to settle ($8k), or face the reality of Nigro Karlin Segal & Feldstein, LLP and Hersh Adell's dirty work in print.  A big labor union in Paul Koretz's district where I cut my eye teeth writing silly jokes and dramatic scenes hired George Kraw from Mountain View, who immediately spotted the wrongdoing after Hersh's untimely passing, but like so many here in Los Angeles County, see something, say nothing.  
It starts at the top, where the County Board of Supervisors and their Chamber of Secrets sets the wrong tone.  As Zev Yaroslavsky said a decade ago, "If you've got a legal beef (pausing, glaring.. regretting) So, sue us."  
Bon Anniversaire!  
Coverage... with a purpose.  
The Good Fight:
Yes, Paul Koretz is aggressively pursuing composting at multi family facilities.  Single family homes will follow soon. The idea is to start putting the stinky organic stuff in the green bin to divert it from landfills, where it just creates more methane gas. If we recycle the food waste etc, we'll reduce global warming.   
There is a serious climate crisis, but there is also an Ethics crisis.  Even the New York Times who mostly sit cross legged on the sofa with Eric Garcetti to chat and sip tea, noted "Federal prosecutors have charged a former deputy mayor in a bribery scandal. A former member of the mayor's security detail has sued the city, accusing a former top mayoral aide of sexual harassment. The former head of the city water and power department has agreed to plead guilty to bribery charges in a case involving the city attorney.  And at least three City Council members have been convicted or indicted on public corruption charges.' 
Biscotti?
Campaign Cookies Never Get Stale:
Paul Koretz of CD5 is termed out and running for Controller, obviously,  
Going through campaign statements for the 2022 Third District Supervisor campaign materials, where Ron Galperin is hoping to replace Sheila Kuehl,  a reporter from up north noticed that Zev Yaroslavsky, who was termed out seven years ago, controls a campaign kitty of $1.8 million as of February 2021.  
So, understandably, a conversation has arisen as to whether the CD5 campaign of Zev's daughter in law who is married to his son David Yaroslavsky, a Superior Court Judge, can be spent.
This would be a more heartwarming story, if Rick Jacobs weren't a close friend of the Yaroslavskys. Yuck.   
This year, for the first time in the many years community groups are focused on public safety and are holding candidate forums so we can bring it up there, and The LA City Ethics Commission is meeting on Wednesday so we'll raise the issue there and report back. 
City Hurdles:
The New York Times described all the additional hurdles that have emerged for Garcetti, "Even without those distractions, Mr. Garcetti can only do so much" as we head into his Senate Foreign Relations Committee hearing on Tuesday.  Nice infuriating 'deflection' comment, but Spectrum 1 and the IN Focus staff from El Segundo, have set the bar very high with no mentions of trouble just, "I know it's going to be the adventure of a lifetime."  
As for his replacement, Rick Caruso has hired a team of political consultants once again, to weigh his odds in a run for mayor of Los Angeles.  
Jessica Lall who serves as the President and CEO of Central City Association (CCA) and on the boards of the University of Southern California (USC) Board of Governors, Goodwill Southern California, Los Angeles Tourism & Convention Board and Coro Southern California, has a good chance of getting the all the fancy treatment, out in the Valley, where Stuart Waldman plays the role of Mayor-maker. 
He's being branded as a whiter, huskier Jim Clyburn of the Valley.    
She also co-chairs the Communications Committee for the USC Board of Governors. Not a fun job.  
She was Communications Director for the Austin Beutner for L.A. Mayor campaign and Chief Advancement Officer at Coro Foundation. 
Coro is the tiger team of Democratic party players.   
Q: Are Mark Ridley-Thomas and Casey Wasserman still on the Tiger Team? 
A: No.
Perspective: 
The year before I graduated from the University of Michigan and landed a gig on NBC's Soap Opera Santa Barbara as an entry level office runner, charged with driving around Los Angeles with a Thomas Guide delivering scripts in a car I was renting, I met with the Coro Foundation in New York.  
They took a pass!    
I reconnected with the Coro Foundation in Los Angeles when I'd noted in a Communication from the Mayor relative to the appointment of Ms. Laurel Gillette to the Board of Building and Safety Commissioners for the term ending June 30, 2026, that she would be filling a vacancy created by Mr. Jasson Crocket's withdrawal from consideration.  
Why would anyone say no to the Office of Los Angeles Mayor Eric Garcetti?  I wondered... could it be the toxic vile...  
Jasson Crockett joined Snap Inc in 2021, where he leads Public Policy and Government Relations for the Greater Los Angeles Area. He was the Director of Community Business for Garcetti.
In this role, Jasson led engagement with small businesses, and oversaw policy and business development in the life science, healthcare and tech sectors, as well as sports, and tax policy.   
Jasson worked to connect companies of all sizes to resources within City Hall to enable their growth in the City of L.A., and develop a more connected ecosystem wherein companies can thrive.    
Oy vey.  
Coro is a very nice mix of treasured partners.  You find a wide variety of usual customers from the Senator from California, Alex Padilla, to the Youth Policy Institute, the horribly corrupt not for profit run by Dixon Slingerland.   
Alex Padilla wrote, "For me, Coro is…a great blueprint for how to move our city, our region, and our society forward, whether it's public safety, whether it's water, whether it's transportation infrastructure, or designing the economy of the future. I know it's helped me immensely throughout my political career…I can't tell you how many times I've gone back to the Coro experience and lessons learned at the time–or a lesson that finally clicked for me just last week–that has helped me in my job of serving people."  
On the Board, alongside Sheila Kuehl's besties from Liberty Hill Foundation, you'll find Ari Engelberg,  the Head of Communications and Strategic Initiatives at Harvard-Westlake School. 
Herbalife Nutrition, who poach on poor Angelenos, is in the house with Tod Gimbel who serves as the Senior Vice President of Global Government Affairs.  
And Karly Katona, currently serving as Chief of Staff and Caretaker of Council District 10 because... well, Mr. Ridley-Thomas is fighting a federal indictment, but hoping for reinstatement.  
Impressive, also, to see the President of Chief Strategies, Mr. Areen Ibranossian... up in there.  
Areen deserves his own chapter because a few pieces fell out of his resume on the way to his new job; namely,  six years of Krekorian dirty work. 
Areen been working at 360 Strategies, but when he opened his new shingle, last month (Nov 2021) he dramatically understated his service to Paul Krekorian in CD2.   Fact:  His wife Sara, still works as Krekorian's top scheduler.  She's very nice.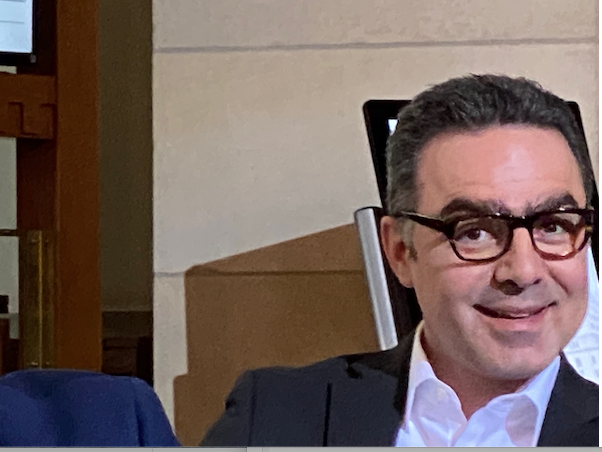 (Areen Ibranossian)   
Pigs:
Eyes popping out of my head at this LA DA Gascón quote about LA Sheriff Villanueva: "My dad used to say that when you wrestle with a pig, you both get muddy and the pig likes it," Gascón said before clarifying that he didn't mean to insult law enforcement.    
I say, there is an assumption that pigs like wrestling, but in my experience what they really want is to be held… + tickled. There's a lot of trauma around bacon, but pigs go wild for a wide range of foods including slop and cookies.  
That'll do.
FBI:
Just like the Coro Foundation, the FBI agents told me "We're going to take a pass."  
The special agent who had just agreed that what we'd alleged the Department of Neighborhood Empowerment had done, by fixing the submission date for another candidate and so providing an improper advantage... was illegal, but the bureau has limited resources.  I'd been down to the Westwood office several times... and the process is similar to taking a show idea to a studio or network, you hear a lot of, "We're going to take a pass."   
Like the matter surrounding Richard Weintraub's, now dead lobbyist Steve Afriat, and the Sportsmen's lodge (which re-opened last week)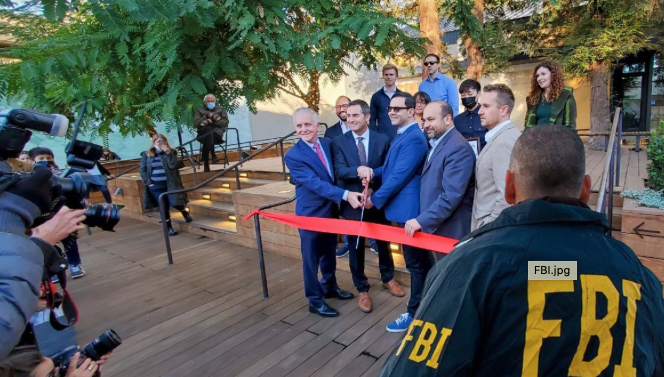 (FBI jacketed chap added via technology)
Thanks to the quality reporting of a young Dakota Smith at the Daily News,  we'd learned that Krekorian had been washing payments through a 'dated' but still open state assembly account, Friends of Krekorian.  The idea was people who wante his help could issue payments to repay loans held by the committee, Friends of Krekorian. It was a brilliant sneaky scheme because the loans were being repayed directly to Paul Krekorian who loaned his committee the money.  Yikes, we thought.   
We showed how, Frank Lima, the head of UFLAC at the time, had plunked down $5k and then Krekorian led the vote to give LAFD an historic new and lucrative contract.  
"We're going to take a pass."  
Fighting Lunacy with Lunacy: 
An enigma is someone or something that is difficult to understand or explain.  
Taylor Lorenz, maybe back in the NYT from book leave, had the story about Peter McIndoe, the 23-year-old creator of the viral Birds Aren't Real movement.   
In January 2017, when Mr. McIndoe saw some Trump protestors, he said, he ripped a poster off a wall, flipped it over and wrote three random words: "Birds Aren't Real."   He said "It was a spontaneous joke, but it was a reflection of the absurdity everyone was feeling,"   Claire Chronis, 22, a Birds Aren't Real organizer in Pittsburgh told the NYT. "My favorite way to describe the organization is fighting lunacy with lunacy."  
He and Connor Gaydos, a friend, wrote a false history of the movement, concocted elaborate theories and produced fake documents and evidence to support his wild claims. "It basically became an experiment in misinformation," Mr. McIndoe told the Times. "We were able to construct an entirely fictional worldthat was reported on as fact by local media and questioned by members of the public." 
"This is the year. We will flood the streets. We will not rest until every Bird Drone in the sky has been deactivated. See you there."   
McIndoe says, "My whole understanding of the world was formed by the internet."  
Q: What are the ages of the generations in 2021?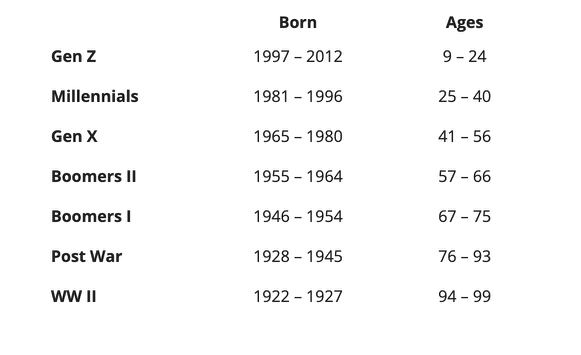 Awardees: 
Isaac G. Bryan, the Assemblymember from CA's 54th ought to get an award for tweeting that "Climbing the ladder" whatever you want to call it is just part of the game. "As an elected official we are taught that if you see an opening and you think you could win, run for it.. I came into politics to give people hope, to stay rooted, and to always put people first. The best way I know how to do that is by finishing the job I came to do in the Assembly. I will be running for re-election in 2022. And I'd love for you to be there with me."
Good instinct to stay put until the Mark Ridley-Thomas stank wears off.
Bryan was dialed right into to Sebastian's seat, after Sydney Kamlager did her time. Poor choice of words. 
President Joe Biden was celebrating the artists, including Bette Midler, Joni Mitchell and Lorne Michaels at the Kennedy Center Honors.  Referring to Michaels, Biden joked that the 'Saturday Night Live' creator was 'trying out seven guys to play me.'  It only takes one! 
Also in the mix this year, Justino Diaz, the Puerto Rican operatic bass-baritone and the latest Motown honoree, and oldest in this year's field, the 92 years young, Berry Gordy.   
I had to check because Chappelle was born in 1973, which seemed young for a lifetime achievement award, but I realized I'd seen his hilarious and sentimental acceptance speech for the 2019 Mark Twain Prize for American Humor.   
By comparison, as a 1963 baby alongside fellow University of Michigan alum, Jim Harbaugh, who will be coaching Michigan vs. Georgia in The Capital One Orange Bowl, on  December 31 at 4:30pm, I get some stuff, and don't get others.  
Go Blue! 
Another 1963 era character is Hideo Kojima who came to my attention when Geoff Keighley, the video game and television personality who created and hosts the annual event, confirmed,  "Game Awards Just an Excuse to Hangout With Hideo Kojima" 
Kojima was born on August 24, 1963 in Setagaya, Tokyo.  He was the youngest of three children. His father, Kingo, was a pharmacist who frequently travelled on business, and named Kojima after the most common name among doctors he met. 
Kojima has been noted for predicting and exploring themes in his works years before they gained mainstream notoriety on numerous occasions, ranging from the sociological to the scientific.  
Among these themes were post-truth politics, alternative facts, echo-chambers, fake news, AI-curated news feeds, information overload in the Information Age and political correctness. 
In Death Stranding, a game released on November 8, 2019, people live isolated in cities and bunkers, unable to go outside because of the hazardous conditions brought by an event named the "Death Stranding."  
Thus, the inhabitants of the world rely on "porters", people who risk their lives making deliveries, to receive and exchange the resources they need to survive. 
Uber eats?  
The most prestigious title, game of the year, went to "It Takes Two," a two-player puzzle adventure game developed by Hazelight Studios about a married couple navigating a divorce and journeying through a fantastical world. The winners were determined by a vote of industry insiders and the general public.  
For many watching, though, the awards are just a sideshow. The Game Awards is also used by the industry to introduce new game announcements and debut trailers for upcoming titles.   
"Our secret sauce with the shows is that it's half an awards show and half a look into the future of where things are going next,"   
"We should not, and will not, tolerate any abuse, harassment and predatory practices," Mr. Keighley told the crowd, though he did not mention Activision by name.  
Casey Wasserman, who not only heads LA28,  serves on the Board of Activision where the horrifying harassment scandal has been bubbling, given his proximity to Eric Garcetti's boiling cauldron of gay sex allegations, make Wasserman a quasi-nexus of harassment.    
Keighley addressed the issue, "Are we going to use our platform to take companies to task publicly inside the show? It's always something worth thinking about." 
Meanwhile, it's go time... as the mayor should be preening for his big Senate Foreign Relations committee hearing.   
Good luck, Sir.  
And it's impossible not to recognize, The LA CityView Media Group, whose Channel 35 became the city's first-ever 24-hour municipal cable channel in 1989.  
This year,  Channel 35 was the recipient of the Governors Award,  for its history of service and wide-ranging news coverage and for its vital, lifesaving Covid-19 coverage.  
Channel 35 station manager Ted Lin said, "I am just gobsmacked. With sincere humility, thank you very much." 
It's impossible for forget #Blumenfield's nose and Council President Wesson out of focus.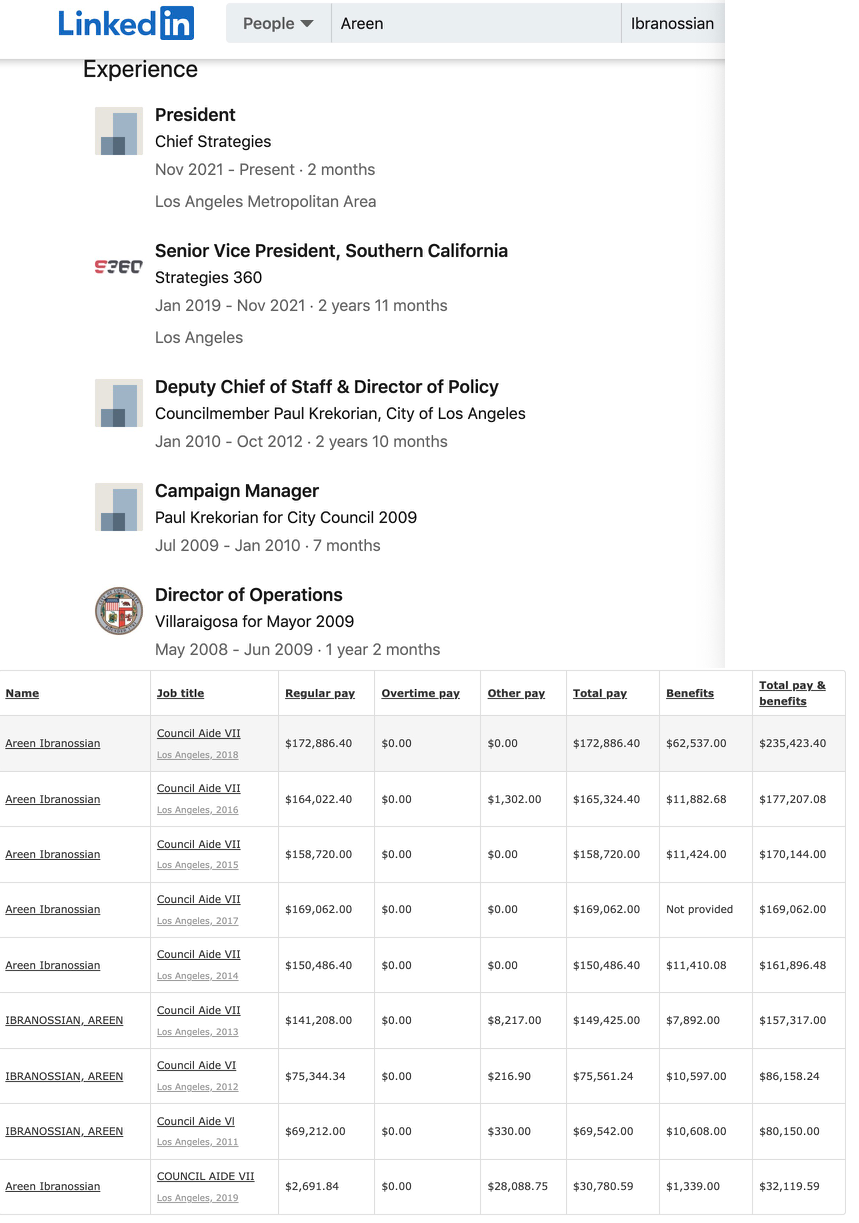 (Eric Preven is a longtime community activist and is a contributor to CityWatch. The opinions expressed by Eric Preven are solely his and not the opinions of CityWatch)