ANIMAL WATCH - Cockfighting—the brutal death-sport of placing two roosters (fighting cocks) in a ring to fight for their lives or be killed during matches on which humans place bets—could make a comeback as a legal activity in the U.S. if it survives in the Oklahoma legislature. 
A recent attempt to reduce State penalties for activities related to cockfighting by "decriminalizing possession and training of fighting animals," was introduced in Oklahoma but initially failed to become law. 
However, a clever political maneuver brought it "back to life" and the issue will soon be decided by the legislative body. If passed, this could open the door for weakening State cockfighting laws all over the U.S. 
This was not the first time this has been attempted. (In 2012 a similar measure was introduced but quickly thwarted.) 
On March 24, 2022, EINPresswire.com published a statement by Animal Wellness Action (AWA) President Wayne Pacelle, stating, "Today, the Oklahoma House of Representatives chose not to take up House Bill 3283, by Rep. Justin Humphrey, that would have gutted penalties in Oklahoma's comprehensive, voter-approved anti-cockfighting law. The bill would have also decriminalized possessing and training of fighting animals." 
The passage of H.B. 3283 would have made cockfighting violations the price of a speeding ticket, Pacelle warned. "It was an outrageous maneuver to allow individuals to commit malicious and premeditated acts of cruelty." 
However, the bill was not killed by a predominance of "no" votes but by the fact that the same day was the deadline for it to be moved from the House to the Senate for final vote and that did not occur. Therefore, the inaction of the House resulted in its demise. 
Pacelle commended members of the House for "acting responsibly in letting the bill die a humane death." 
Cockfighting Bill Rises From The Dead 
Then, on April 4, it was announced by State Rep. Humphrey, who proposed the measure, that he "is not done trying to lessen the penalties for cockfighting this legislative session."   
According to the Journal Record, he said, "In my area I've gotten much more support. They're raising them as game breed stock. We're talking about really an economic impact. Changing the law would keep legitimate game fowl breeders out of jail and pump more money into rural Oklahoma's economy," he stressed. 
Weakening The Law 
Under the existing Oklahoma "ban" approved as a voter initiative in 2002, engaging in cockfighting is punishable by up to 10 years in the state penitentiary and a $25,000 fine. 
Senator Humphrey wants to reduce the offense to a misdemeanor punishable by a fine of no more than $2,000 and also redefine "cockfighting" to mean, "Only when the birds are fitted with artificial spurs, knives or gaffs would it be considered a cockfight," the Journal Record reports. 
Humphrey's Bill would also remove language from the current definition of "cockfighting," that reads, "any training fight in which birds are intended or encouraged to attack or fight with one another" and remove the prohibition on advertising a cockfight. 
Cockfighting Amendment Revived By Political Maneuver 
"The original House Bill 3283 had initially passed out of committee on a 5-0 vote, but was rendered "inactive" by failure to call it for a vote in the full House of Representatives before the legislative deadline, the report explained.
Humphrey then used a common practice by legislators in amending his earlier Senate Bill 1522 to contain the cockfighting wording. It then passed in the Senate by a vote of 3 to 2, which "brought it back to life."  It will now receive another chance.  
 Breeding And Shipping Game Fowl Is Big Business 
In contrast to common efforts to minimize the impact of an existing illegal industry, the report states that, "It is estimated by the Oklahoma game fowl breeders that the raising and selling of game fowl in the U.S. and shipping them overseas to countries where cockfighting is legal brings in at least $4 million annually to rural Oklahoma, according to the bill's supporters." 
They claim that much of this money is used for breeding operations and maintaining the birds and is spent in the local small towns and supporting the rural economy. 
"Cockfighting is a billion-dollar industry in places like the Philippines," he stated, emphasizing that "Oklahoma's breeders should not be penalized just for raising the birds." 
He added, regarding local breeders, "If you catch them fighting, then OK, that's illegal." 
He challenged the law punishing raising birds to sell, stating, "What other people do with them is their business." 
Cynthia Armstrong, the Oklahoma state director for the Humane Society of the United States said, "It's all part and parcel of the same criminal enterprise…there's a lot of human violence that goes on at these events. Cockfighting is a legally and morally settled matter in Oklahoma." 
But that was apparently not a valid assumption. 
In Violation Of Current Law – "Oklahoma Tops List Of Illegal Shipping Of Fighting Chickens" 
The results of an investigation by Animal Wellness Action (AWA) disclosed two dozen cockfighting operators in Oklahoma illegally shipping birds to Mexico, the Philippines, and some 20 other nations, Enid News reported on May 26, 2020. 
AWA describes itself as a Washington, D.C.-based 501(c)(4) organization with a mission of helping animals by promoting legal standards forbidding cruelty. 
"Nearly 20 years after Oklahoma made cockfighting and the possession of chickens used for cockfighting a felony, the state is one of the largest exporters of game fowl used in illegal cockfights in the country, according to a national animal rights group," the report states. 
"Avian shipping records obtained from Guam Department of Agriculture by the group Animal Wellness Action showed that between 2017 and 2019, around 8,800 birds were illegally shipped from the U.S. mainland to Guam, a U.S. territory in the western Pacific Ocean, for cockfighting," said Wayne Pacelle, the group's founder and president. 
"Of the 71 people who exported those birds to Guam, the top five exporters were responsible for more than half of the birds sent, and three of the top five shippers were based in Oklahoma," he added. 
Pacelle said the shipping records from Guam Department of Agriculture show tell-tale signs of shipping birds for the purposes of cockfighting—the male to female ratio of birds shipped was around 100-to-1, prices for two or three birds ranged from $500 to $1,500, and Guam's lack of major poultry laying and broiler operations. 
He pointed out that in order to assure the roosters being shipped are from a blood line of "winners," a substantial on-going sampling must prove that to be true—and that can only be done by engaging them in cockfights before they are shipped to places where cockfighting is legal.
Drew Edmundson, who serves on the AWA National Law Enforcement Council stated, "All border states treat cockfighting as a felony offense, and Oklahoma will be a magnet for criminals in these states, conducting illegal gambling, drug trafficking, money laundering, and attempting to corrupt law enforcement." 
"Cockfighters in Oklahoma are breaking the law every day, and now they are seeking to weaken the legal standards so they don't have to worry about doing it," said Pacelle. "We blocked their efforts in 2022 and we'll do so in 2023. No state in recent decades has weakened any state anti-cockfighting law." 
More Dangers Related To Cockfighting – On-Line Gambling 
Americans should keep an eye on this Oklahoma Senate Bill because of the above statement, "No state in recent decades, has weakened any state anti-cockfighting law," and its bold departure from traditional animal welfare values in the U.S. 
Voters in all states should also be aware of the dangerous and alarming outcome for the Philippines, where cockfighting is legal, and E-Sabong (online betting) was approved.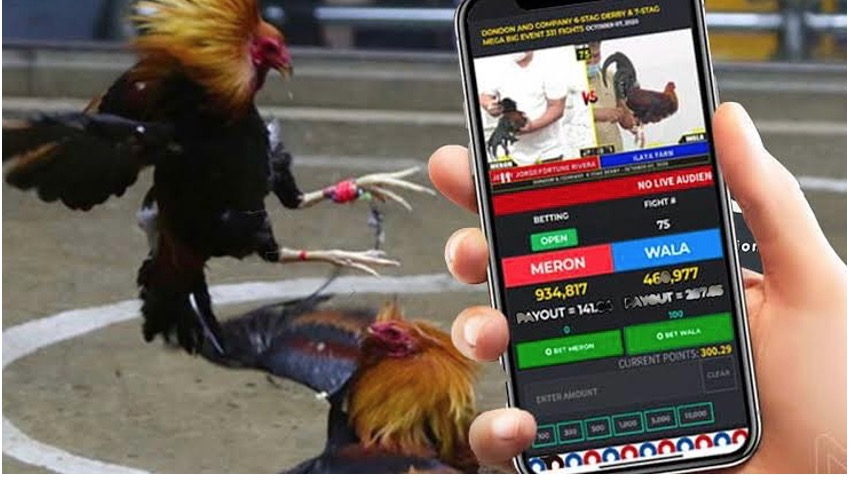 Similar online gambling measures may be spreading. Online sports gambling was a ballot measure in the June 2022 primary and will be on the November 2022  ballot in California.  
That is not to imply that electronic betting on cockfighting is available under U.S. laws, but that the Internet is essentially uncontrolled. Legalizing online gambling on "sporting events" will make it much easier to engage in online betting on cockfighting, and provide significant financial incentives for people to engage in this brutal, illegal activity.   
The results of legal online gambling, for a very short period of time, illustrate the dangers. 
On May 4, 2022, Philippine President Duterte suddenly announced his decision to ban E-Sabong after only five years, despite the economic benefit it provides to the country. Duterte said the ban was immediate, although the estimated income from this activity is approximately $1.2 million (USD) per month.
"Online cockfight increases gambling addiction and uncontrolled debts." Duterte asserted, "This leads to crimes including the increasing unsolved disappearances of participants and other scandals." 
We should learn from the mistakes of others, without having to repeat them. 
See also:
 Cockfighting: 9,000 Birds Illegally Shipped to Guam, Animal Wellness Action Report Claims 
Cockfighting: Cops' Addiction to On-line Betting (E-Sabong) Sparks Fear of Crime Wave 
Mother Sells Baby to Pay Online Gambling Debt 
(Phyllis M. Daugherty is a contributor to CityWatch and a former Los Angeles City employee.)