ANIMAL WATCH - No matter where you live, it is important to be aware of the increasingly violent Pit Bull attacks reported across the U.S. and around the world.
On April 2, a 3-year-old CA girl was brutally attacked by a Pit Bull inside a children's daycare center in Hemet—a place that could be reasonably expected to take every safety precaution. Officials say the owners at first provided conflicting information about the incident. Will there be any penalty other than an insurance claim? 
Another mother speaks out about the family's 8-year-old Pit Bull attack on their own son—a child with whom the dog had been "best friends." 
The reality is that it could happen to you, or someone you love, in a split second and when least expected. It is unlikely that any of the victims we have reported before, nor whose stories are told below, ever thought this would happen to them. 
On April 4, 2022, in an article entitled, Pit Bull Attacks:  Woman's Arms Amputated - Baby Killed - Plus, More, we discussed the terrifying attack on a 38-year-old mother who was walking home on March 21, and was attacked by three Pit Bulls that escaped a yard and mutilated her so badly that both her arms had to be amputated.  Here is a follow up on her story. 
Kyleen Waltman reportedly awoke from a coma since the March 21 attack and realized both her arms were gone. (She also lost part of her colon, according to the report.) Her sister, Amy Wynne, wrote a heartbreaking update on GoFundMe, stating that Kyleen, when she realized she had no arms, "was so viscerally upset that the doctor had to sedate her again." Wynne added that, because of the extensive damage, she will not be able to have "regular prosthetics" and will live the rest of her life without arms. 
We also provided the report that on March 22, seven-month-old Serenity Garnett was killed by a Pit Bull being cared for by her great-grandmother in Martinez, GA. 
On March 25, WRDW News broadcast an update that Migdela Guadalupe, 56, the great-grandmother,  shas been charged with second-degree murder in connection with the child's death from the dog attack and possession of methamphetamine. Information is being withheld pending an investigation by the Columbia County Sheriff's Office.
PIT BULL-ATTACK STATISTICS 
According to Dogsbite.org, "46 U.S. dog bite-related fatalities occurred in 2020…and pit bulls contributed to 72% (33) of these deaths. Pit bulls make up about 6.2% of the total U.S. dog population." 
National Pit Bull Victims Awareness database shows 85 media reports of attacks on humans and/or animals in the U.S. and Canada since January 2022 in which the attacking dog(s) were identified as Pit Bulls. 
Many of these attacks involved children.
WHY ARE PIT BULL ATTACKS NOT AS IMPORTANT AS CAR SEATS?
Compare this to the release on April 21, by the National Highway Traffic Safety Administration (NHTSA), that over 20,000 child car seats are being recalled because "children could pick pieces of foam from the headrest pad, posing a choking hazard." 
What influence or "persuasion" by lobbyists is stopping elected officials from applying similar concerns regarding Pit Bulls which have already demonstrated their destruction of lives? 
Why do politicians remain silent—and, thus, complicit in their constituents becoming innocent victims and often fatalities—if even the extremely remote possibility of choking on a small piece of foam warrants nationwide restrictions on sales of car seats?
A breed-type does not need to be banned to be regulated with special permits, like other potentially dangerous animals. No other breed has this record of attacks. 
HOW MANY MORE DEATHS WILL IT TAKE? 
WOMAN FOUND DEAD BY GRANDDAUGHTER, 2 PIT BULLS IMPOUNDED 
On Thursday, April 21, police were called to the 800 block of Leal Street in Mission, TX, at approximately 3:41 p.m. They found a 59-year-old woman covered with blood and several bite marks on her neck, which were inflicted by one or both of the Pit Bull dogs present in the house and identified as belonging to the victim, according to Valley Central News.   
A police spokesperson said the woman was found unresponsive by her 10-year-old granddaughter when she arrived home from school. The victim was identified as Maria Racheal Perez, according to the Public Information Officer for Mission Police Department, who also said that there was evidence of dog bites on the victim's upper left portion of her body and left arm. 
Both Pit Bulls, identified as "owned by the family," were isolated in another room when officers arrived, according to the report. The dogs were taken into custody by animal control and are being held in quarantine. 
When the exact cause of death is determined by autopsy, a provision in the Texas Health and Safety Code states, "The court may order the dog destroyed if the court finds that the dog caused serious bodily injury to a person by attacking, biting, or mauling the person." 
WOMAN, SON ATTACKED BY PACK OF PIT BULLS AND THEIR DOG KILLED 
On the morning of April 9, just west of Prosser, WA (located on the Yakima River) Christin Gregerson and her son, Hunter, 15, were walking their dog when they were savagely attacked by at least three Pit Bulls near their home, around 9 a.m., according to the Yakima Herald. Both will need months of treatments and physical therapy, their GoFundMe page stated. 
Authorities say that "someone had entered their neighbor's property and left the gate open, allowing six or seven dogs to escape. The sheriff's office identified the dogs as Pit Bulls which "attacked the Gregerson's dog and killed it." 
The mother and son tried to escape onto their own property and close the gate, but the dogs were too strong and were able to force their way in. They mauled Christin first as her son tried to protect her and was also bitten. 
The owner of the dogs then saw the attack and had to fight his own dogs to get them off the victims and back inside his fenced yard, said Lt. Jason Erickson of the Benton County Sheriff's Office. 
Both victims were taken to a regional hospital but had to be transferred to a facility in Richland due to the severity of their injuries, according to news reports. 
The Sheriff's spokesman said three of the Pit Bulls were identified as being involved in the attack because they were "covered with blood," but the others could not be confirmed. The owner agreed to have the three identified dogs euthanized after a 10-day rabies quarantine. 
Animal control and code enforcement were familiar with the property due to being called previously to the house over animal control issues. Deputies are investigating possible charges, Erickson said. 
3-YEAR-OLD CA GIRL NEEDS OVER 200 STITCHES AFTER PIT BULL ATTACK 
A 3-year-old girl was viciously attacked by a Pit Bull on April 2 around 3:30 p.m. in a home in Hemet, CA, used as a child day-care center.  It was reportedly only her second visit to the facility. 
The girl required 200 stitches, with over 180 to close wounds on her face after the attack, according to Riverside County Department of Animal Services. 
In an updated release from Animal Services, the girl's mother told them the attack started inside the house and continued outside and in the backyard after the dog pulled her out of the backyard, KTVU reported. 
"Riverside County Department of Animal Services earlier this week said the dog had been in a pen and tethered in the backyard. The dog's owner still says that's where the dog was, but 'the mother told us that was incorrect,' John Welsh, a spokesperson for Animal Services, said in a news release Thursday," according to reports. 
Officer Mike McGee of the Riverside County Sheriff's Office described the two-year-old Pit Bull-mix, named Bruno, as "powerful and aggressive," and said the dog lunged at his leg despite the use of a control stick and managed to tear his pants. 
The Pit Bull is being held in a protective custody kennel at the Western Riverside County/City Animal Shelter, Welsh confirmed.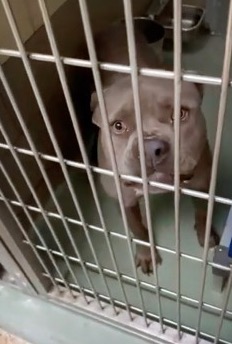 He will be held for 10 days pending an appeal of the dog's seizure by the owner. 
"SOFT" PIT BULL BEST FRIEND TO TODDLER – RIPS BOY'S FACE 
On April 19, Jodie Griffiths, mother of eight, said she wanted to issue a warning to parents about the dog that attacked her son's face—a large 8-year-old Staffordshire Bull Terrier-type (Pit Bull) who was Romy's best friend until he suddenly attacked the little boy and viciously tore his face.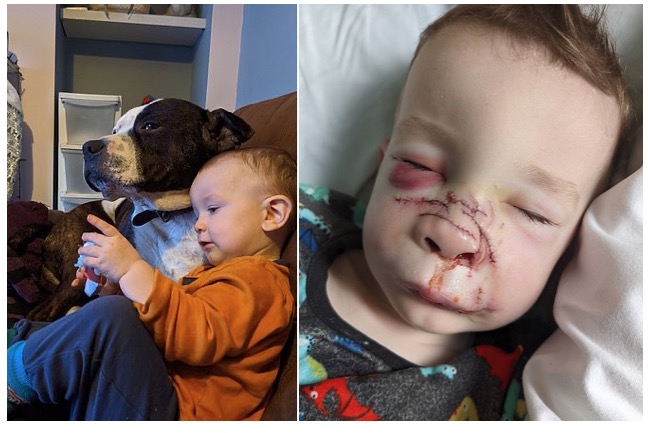 "I want to raise awareness and I wouldn't advise anyone with kids having a dog because even if it's an accident it can still happen." 
Jodie lives in Walsall, England, according to the Daily Mail, and was at work on December 27, when she received the call from Romy's father, Daniel, telling her their two-year-old toddler had been attacked. 
The little boy and his siblings were playing in the living room with their new flying helicopters toys. 
"My partner got up to go to the kitchen – he heard Romy scream and turned around to find their son covered in blood. That was just how fast it happened," she said. 
The eight-year-old family Pit Bull, Blizzard, was asleep on a couch nearby, and she believes the dog was awakened and startled by the noise. The parents say the dog, who was their son's 'best friend,' had never been aggressive before. 
She never thought her dog would do such a thing, but he left her son scarred for life. She also told Sky News she knew she could not trust the dog again. 
"It fractured his jaw, ripped all of his nose, ripped out three teeth from the root - he had to have hundreds and hundreds of stitches, they lost count of how many," she said. 
Police reported the dog was seized under Section 3 of the Dangerous Dog Act, assessed for rehoming and humanely destroyed. 
Jodie urged other parents to always be cautious around dogs. "People love their dogs and say, 'my dog would never do that' but we used to say the same."
(Phyllis M. Daugherty is a contributor to CityWatch and a former Los Angeles City employee.)