ANIMAL WATCH - The merciless bombing of Ukraine by Russian President Vladimir Putin has now continued for over a month, with news broadcasts making the tragedy and pain of innocent human and animal victims unbearably palpable and arousing our need to help in the only way we can—by sending a donation to an organization that promises help. 
This is a very noble and laudable reaction. There are many deserving charitable groups working tirelessly under the most difficult, dangerous, and heartbreaking situations to do just that, and they should be supported generously. 
However, financial experts warn that legitimate photos of empty strollers depicting the number of children killed, hungry dogs scavenging in abandoned streets, and the elderly clutching their beloved pet as they escape the wreckage that was their home—although very real—can also be used by scammers posing as non-profit organizations to steal your personal and financial information, as well as your money. 
DON'T BECOME A VICTIM 
In a CNBC article, "Here's how to protect yourself against a cyberattack as Russia-Ukraine crisis escalates," Jessica Dickter warns, "In times of crisis, fraudulent activity spikes." 
She provides words of caution by Vahid Behzadan, an assistant professor of cybersecurity at the University of New Haven, "It's unlikely Russia would target the critical infrastructure here in the U.S., however, there is a long history of Russian hackers engaging in patriotic attacks against entities not well aligned with the Russian government." As tensions between Russia and the West over Ukraine escalate, "this is something that private citizens may need to be concerned about," Behzadan said. 
He provides the best ways to protect yourself here, including, frequent review of your bank accounts to check for suspicious activity or unauthorized charges and setting up bank notifications that will track transactions on your credit card and notify you of any account activity. 
NEED FOR DONATIONS FOR ANIMALS 
While there is continuous speculation and rumors that Vladimir Putin is decreasing his assault on Ukraine for various political and strategic reasons, the headline of an AP article released yesterday, is "Shelled city in north Ukraine fears becoming 'next Mariupol'. It describes the bleak and fear-filled lives of those terrified to leave a hotel serving as a shelter to get enough drinkable water and food to survive. 
WHAT IS HAPPENING TO THE ANIMALS? 
Rabies 
The reports of rescue operations show a strong and positive pattern of cooperation between groups inside Ukraine, accepting and caring for animals dropped off by owners who have reached the point that they can't keep them or are escaping the country and cannot take them.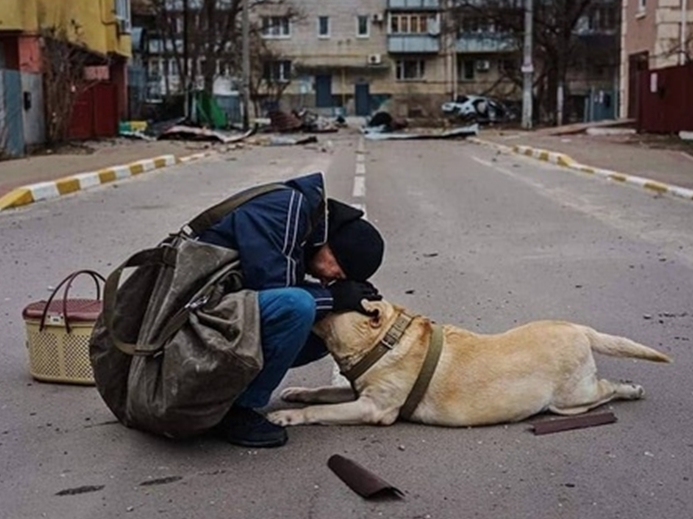 They do not want to abandon their pet(s) but also want to avoid being forced to leave them on their own, because they do not have the paperwork on vaccinations that will allow the animal to cross the border, shelters state. They report that some leave them at the door with a note that they hope they can find them later. 
RABIES FEARS HAMPERS SOME RESCUE EFFORTS 
Other countries are refusing stray or unowned animals now because of the fear of a possible rabies outbreak. "Ukraine remains the only country in Europe where rabies is widespread among animals and humans. Annually there are about 1,600 rabies cases in animals in Ukraine and sporadic cases in humans have been registered despite the conducting of preventive measures," according to a 2021 report by the Ministry of Health of Ukraine. 
EMERGING EUROPE REPORT 
"In Ukraine, the total number of stray dogs has been estimated at between 50,000 and 100,000," according to a February 2021 article by Emerging Europe, which continues, "If the upwards estimates are correct, that is equivalent to what some have suggested could be the total population of stray dogs within the whole of the European Union." 
The threat seems most exacerbated in the Russian-controlled Donbas region, where they were believed to have been abandoned during a conflict in 2014 and medical professionals report that five to ten dog bites are reported daily in Chernivtsi, a town of only 250,000 resident, according to the report.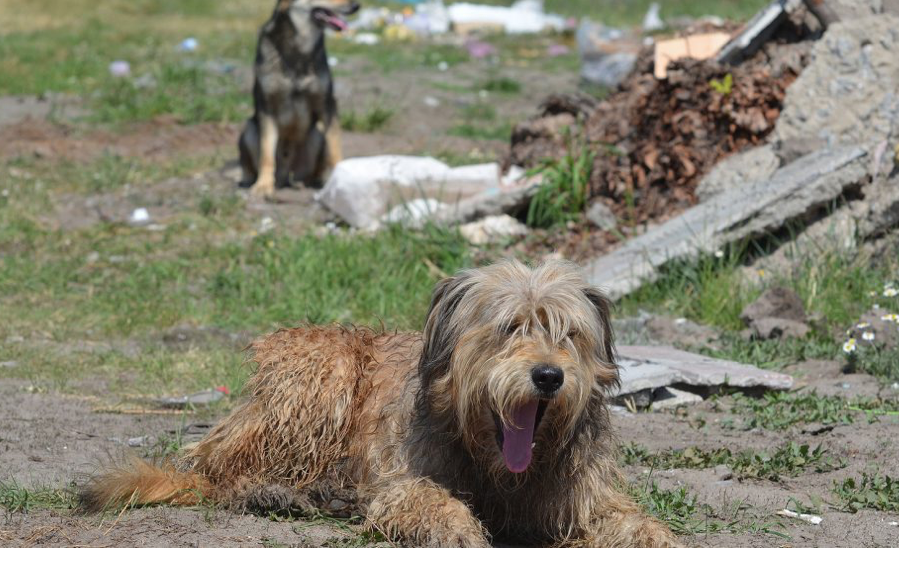 However, the problem does not exist in that proportion in cities such as Kyiv and Lviv. Emerging Europe states, "…there are significant concerns linked to how the issue was resolved, and if the approach taken is sustainable in the long term." 
The article recalls that, "In 2016, local animal rights advocates were able to secure a grant worth 500,000 euros from the European Union, aimed at … rabies vaccination efforts, as well as sterilization (and the training of local vets to perform the procedure)." 
"Unfortunately, the article continues, "recent reports point to a large amount of those funds as having been embezzled, hindering progress in resolving the country's stray animal problem." 
KYIV ZOO 
Last week, heavy fighting was reported near the Kyiv Zoo, raising concerns on social media about the wellbeing of its animals. 
The last updated report by AP on conditions at the zoo in Kyiv was on March 3, 2022, when Ben Anthony Horton wrote that, "As Russian forces descend upon the Ukrainian capital, Kyiv Zoo remains closed to visitors - but no plans have been made to evacuate its animals." 
At that time the report stated volunteers were helping care for the 4,000 creatures belonging to over 200 species, including elephants, camels and Ukraine's only gorilla, and that "the opportunity to evacuate its animals has now well and truly passed." 
However, on March 23, NBC News announced that "Lion and wolf safely evacuated from zoo in war-torn Ukraine," which discusses the cooperation between animal-welfare organizations to move Simba and Akyla to a safe zoo in Romania. 
SUPPLYING FOOD / ARRANGING FOR ANIMALS TO BE REMOVED 
Among the names of prominent American organizations that are reported helping Ukraine shelters with food and supplies are PETA-Germany(which also reported making arrangements with other countries to ease restrictions on owned pets entering with owners); Humane Society International (HSI), Animal Welfare Institute 27 (AWI) and International Fund for Animals Worldwide) IFAW. (This is not an endorsement of any of the above, but merely a beginning point for searching secure sites.) 
PETA MAP SHOWING COUNTRIES WHERE ANIMALS CAN BE TAKEN 
WANT TO HELP UKRANE? – CHOOSING THE RIGHT CHARITY 
Maine Public posted a very helpful article with tips on how to choose a safe and effective way to donate. Among many other issues, you need to assure that the "charity" has the proper legal status to collect money and whether or not your donation is tax-deductible. 
The U.S. Federal Trade Commission recommends searching for the name of the charity or organization in question to learn more about how your donation will be used. (Link contains information on how to assure your donation is not absorbed by administrative fees, etc.).   
Also, Ukraine organizations and churches in the U.S.,  are advising donors to be very cautious in donating because of the tremendous amount of fraud.  
Be sure it is an established organization, not just a "pop up" opportunistic effort on Facebook to take advantage of a tragedy. (The FTC and other charity oversight groups say scammers like to pose as legitimate organizations during a crisis.) 
In fact, the FTC suggests including the words "scam" or "complaint" in an on-line search of the charity's name. This can provide others' opinions and experiences and whether it is a legitimate organization. 
Also, beware of social media posts, the FAC advises, and make sure they're legitimate before donating, the FTC says. 
There's LOTS of good information to learn before donating, provided in this article by WBUR here. 
BOMBING DESTROYS FARMLAND AND NATURAL HABITAT 
While the millions of examples of victims of this war bring us to tears, it is also important to remember that farm animals have been victims and farmers report trying to keep operations functional in order amid the bombing to provide milk and ration meat to feed local survivors. It also affects the growth of crops for food and is impairing planting. 
A Ukraine farmer describes his struggle and anguish, in a March 27 article, "'Just trying to survive,' Ukrainian farmer asks, 'Will you stand by us?'" 
The bombing and resultant contamination has also disrupted or destroyed the habitat of wildlife of all species. which will affect the natural environment and also diminish or destroy natural shelter and breeding areas.  
For animal lovers, they all matter, and it is so painful that our immediate instinct is to help. This is exactly what the disingenuous want us to do. A legitimate charity will share information on their experience and success that you can verify. Don't be impressed just by size and familiarity, and don't hit the "save them NOW" button. 
Donating and maneuvering through the political and economic obstacles in Eastern Europe (and other) countries requires more than good intentions. Don't let sadness weaken your caution. 
HELPING WOUNDED SOLDIERS - "BATTLEFIELD KITS" 
This week our own Bill Handel on KFI interviewed Dr. Jim Keany, Co-Director of the Emergency Room at Mission Hospital in Mission Viejo, CA, about a program in which he is working with a Ukrainian Church in Los Angeles to send medical packets to Ukraine. I am copying this for those who may wish to help these soldiers. (Dr. Keany said that even wounded Russian soldiers are treated and not just left to die.) 
Here's a partial description.  A network of churches has arranged for food and shelter for treating wounded Ukrainian soldiers. But there was a tremendous need for medical packets that are similar to trauma packet small first-aid kit for opening airways to help breathing and "Quick-clot" to stop bleeding, that a soldier would carry, but also can be used for injury victims. They are "warkits" ("battlefield kits) and they can help injured  children, the elderly, civilians and soldiers.  Hear the podcast and how to help HERE.
(Phyllis M. Daugherty is a contributor to CityWatch and a former Los Angeles City employee. The opinions expressed by Phyliss Daugherty are solely hers and not the opinions of CityWatch)