ANIMAL WATCH - On-line betting on cockfights, called E-Sabong, was approved by the Philippine Congress in 2021 to collect governmental revenue from gambling on this brutal and deadly blood sport in the Philippines.
However, E-Sabong can also be accessed from outside the country and, therefore, needs to be of concern to the U.S.
The increasing arrests of police officers addicted to on-line gambling and the recent disappearance of 31 sabungeros (cockfighting aficionados) in three different areas of the country is now prompting fears of increased violent crimes.
This experiment in easing restrictions on gambling operations and the impact on human safety should be carefully noted by U.S. officials, because the raising of fighting birds (game fowl) in the United States for shipment to other countries is rampant, lucrative and essentially unregulated--usually requiring only a health certificate.
On February 19, a headline in the Manila Bulletin read, "Cop Faces Dismissal for Robbery Try Allegedly Over Online Sabong Addiction." The story reveals that a police corporal is facing dismissal for attempting to rob a hardware store in the Oriental Mindoro the night before. The crime was blamed on his addiction to online Sabong (cockfighting).
The suspect was identified as Police Corporal Leonell Maranan. He was arrested after noises were reported at the store around 10:00 p.m. and local officials saw that the store's doorknob had been broken. The report states they waited for approximately 30 minutes until the suspect came out and, at that time, arrested him and recovered a hammer, screwdriver and his 9mm service firearm.
Maranan is not the first police officer to make recent headlines for E-Sabong addiction.
On March 2, Sabong News reported, 7 Cops Charged, Punished for Online Sabong, and explained that these officers who were either charged or punished for their alleged addiction to online "Sabong" (cockfighting) did not include the two policemen from other jurisdictions who were separately involved in a robbery.
Col. Jean Fajardo, spokesperson for the Philippine National Police (PNP), said the penalties filed against the cops were part of the efforts to shield police personnel from being addicted to online Sabong. "We have already intensified our counter-intelligence against those who are playing online Sabong as part of the order of our Chief (Gen. Dionardo Carlos) to unit commanders to catch them," said Fajardo.
On Monday, Carlos ordered all policemen to refrain from playing online Sabong and also announced that part of the crackdown will be random inspections of their personal cell phones.
"Records from the Directorate for Investigation and Detective Management showed that seven complaints involving police personnel reportedly linked to E-Sabong activities have been listed from January 1 to February 21, 2022," the report states.
Penalties have spanned from administrative complaints of Conduct Unbecoming of a Police Officer to cases of Grave Misconduct. One Police Staff Sergeant was suspended for 60 days while another received a six-month suspension, and a Corporal was dismissed from the service.
"This should serve as a lesson to their fellow police officers. There is no room for illegal gambling to thrive in the organization. It is unfortunate that we received complaints regarding their involvement in E-Sabong, but they must face the consequences of their actions, no matter what their rank is," Chief Carlos announced.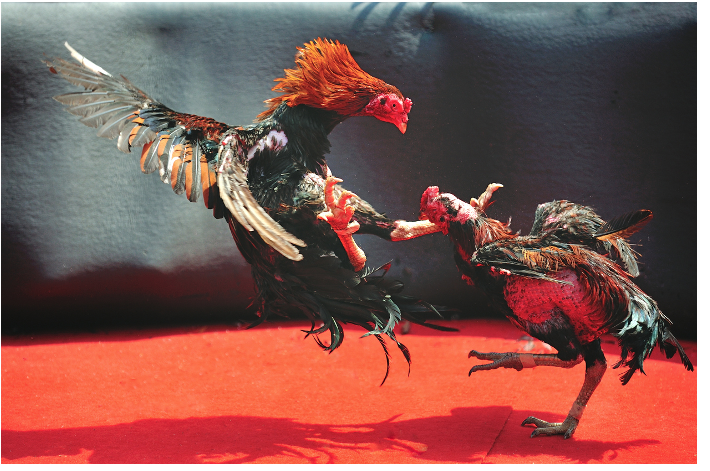 GAMBLING ADDICTION BY COPS NOT UNIQUE
Gambling addiction is not unique, but the temptation and accessibility of on-line betting has increased the need for vigilance and control, Chief Carlos explains. He also admits it is not easy to catch officers who engage in this activity.
Cop Addicted to Cockfighting Gambling Hangs Self
Jennifer Rendon of the Philstar provides an inside perspective on the history and progression of one officers' gambling addiction in 2017 to its tragic end.
"A 40-year-old policeman of Estancia town in Iloilo died Sunday morning due to apparent suicide, which investigators surmised to have been driven by his financial woes caused by his 'addiction' to cockfight gambling," she wrote.
Police Officer 1 James Aguimod, 40, worked in the jail of the Estancia Police Station in Iloilo, she explains, and he was found on a Sunday morning, "hanging inside the bathroom of the female prison cell of the custodial facility." According to the Chief Inspector, he had tied an electrical cord around his neck and then "latched it on the prison cell's window grills."
According to a male detainee, Aguimod entered an unoccupied female cell, which was used as a "comfort room" between 3 to 4 a.m. This room was being used by police personnel because of plumbing "clogging problems" in other areas, he said, and was directly across from the men's lock-up cell.
Aguimod's body was discovered by another police officer around 8:45 a.m. and he was estimated to have been dead for a few hours.
A history of gambling problems
Aguimod first entered the police service in 1995 and seemingly had an uneventful career until 2009, when he went AWOL after spending the paycheck of another officer for gambling on cockfighting. He was terminated; however, a year later he was reinstated but still addicted.
He was soon charged with failing to pay a bet he lost to another cockfight gambler and was so broke that he tried to borrow bus fare from a fellow officer.
Aside from the administrative misconduct, he also violated a policy which barred policemen from entering gambling areas and he failed to produce his .45 caliber firearm, which he later admitted was pawned to finance his cockfighting addiction.
He was staying at the police station quarters after his wife left him, taking their two children, and that is where his life ended.
The report summarizes that, "According to an online Sabong article ("Cops Addicted to Cockfighting"), problem gamblers often have substance-abuse problems and other mental-health issues but debt has been identified as the factor most likely to push them over the edge."
ONLINE GAMBLING (E-SABONG) AND HOW IT WORKS
Cockfighting Sabong is essentially placing two roosters in an arena and betting on which comes out victorious [alive or not mortally wounded]. Online Sabong or E-Sabong is regulated by the Philippine Amusement and Gaming Corporation (PAGCOR). 
E-Sabong is defined as the online/remote or off-site wagering/betting on live cockfighting matches, events, and/or activities streamed or broadcast live from licensed cockpit arenas.
In E-Sabong, actual cockfights are done only by licensed parties. The E-Sabong fights are streamed live online, and bettors can place their wager through various agents using different platforms; such as, a mobile phone or a computer with an Internet connection. There are several apps for Android and iOS but it can also be watched through a browser. (It is available outside the Philippines on certain phones.)
TOP COP ISSUES MORE WARNINGS
Amid a number of recent incidents where policemen mired in debt after becoming addicted to E-Sabong have resorted to robbery/holdups, Philippine National Police (PNP) Chief, General Dionardo B. Carlos called on his men again to shun all forms of illegal gambling activities and online cockfighting games.
In a statement, the top cop reminded the 225,000-member police force to stay away from this vice which has destroyed the lives of countless Filipinos, including some policemen and their families. He issued the advisory in light of the ongoing investigation into the case of 31 missing 'sabungeros' in Manila, Bulacan and Quezon.
The PNP chief added that he dislikes receiving reports of police officers spending time betting in cockfights or E-Sabong hubs instead of focusing on their work. "Definitely, we will monitor them. They are not above the law. Once caught, the PNP won't hesitate arresting those involved in this illicit activity," he added.
Since last year, three policemen who were arrested and jailed for robbery/holdup have turned out to be addicted to online Sabong. One was arrested for robbing a gasoline station a few weeks ago and confessed to have robbed a number of convenience stores. The 2nd (identified above) was caught trying to rob a hardware store.
The 3rd was arrested for robbing a money-remittance center and taken into custody while escaping on a motorcycle. He was accused of having robbed a number of targets, and he yielded a hand grenade, 9mm pistol and P5,000 in cash which was believed to be part of his loot.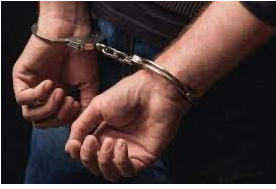 "All three are facing criminal and administrative charges and will also find themselves being investigated by the PNP Internal Affairs Service," the Chief announced.
On Monday, a police officer assigned in Camp Crame was caught by the directorial staff (Police Maj. Gen Rhodel Sermonia) in the act of gambling while on duty.
General Carlo confirmed the Special Investigation Task Group is now hoping rewards will bring in leads to the solution of unsolved cases, including the missing cockfight aficionados and attacks on the BoC personnel which have left two dead and two injured.  Two other Customs officers were also targeted by grenade attacks, he said.
Another serious concern
If even police officers find themselves so susceptible to this seduction that they risk their careers, families  and their future, how many individuals who are not held to a higher level of conduct will find themselves addicted to E-Sabong and turn to crime?
OTHER CIVILIAN CRIMES ARE RELATED TO ONLINE SABONG
Man loses PHP3.5M Worth of Properties to Online Sabong
A man who sold millions of pesos worth of properties belonging to an overseas Filipino worker is in deep trouble after losing it all in online Sabong or derby cockfighting, according to a report by the Filippino Times on August 26, 2021. 
The suspect, identified as Josel Sunpongco, was arrested by the National Bureau of Investigation (NBI) in an entrapment operation.
The NBI said that the female property owner/victim entrusted her properties to the suspect, including her businesses.
Sunpongco sold some of her properties without her knowledge by forging her signature and was charged with falsification of documents, estafa, and violating the Cybercrime Prevention Act. (Estafa refers to the criminal offense of swindling; the use of fraud or deceit that causes loss to another.)
CALL FOR TEMPORARY SUSPENSION OF BETTING
In a March 1, 2022, article, Police Await Orders to Suspend Betting, PHNews reported that President Rodrigo Duterte was considering a call to "temporarily stop the operations of E-Sabong, while the investigation on the disappearance of 31 sabungeros is ongoing."
However, a police official said even if these operations are suspended, the big challenge would be on how to monitor the gambling since it can be hidden from police. "They can be at their house using their cell phone or computer."
Twenty-three senators, including Ronald Dela Rosa, signed a Resolution, urging suspension of the licenses of E-Sabong operators until the cases of missing sabungeros are resolved. However, Dela Rosa later admitted in a radio interview that this was not likely to happen, and that there are lawmakers in the House of Representatives who are also operators of cockpits.
He also said E-Sabong is so addictive that it could reach abroad.
PRESIDENT DUTERTE SAYS "YES TO E-SABONG/NO TO SUSPENSION
In October last year, Finance Secretary Carlos Dominguez III said that tax collections from Pogos were expected to reach P76.2 billion in 2022-2023. (1 PHP = US$ 0.1914.)
In a March 18 article, President Duterte says he "does not want to see the nation's E-Sabong operations suspended due to the revenue the popular pastime generates for the government."
His comments follow calls from the Senate to suspend E-Sabong during the investigation of the disappearances of the 31 cockfighting fans. 
The Philippines gaming regulator PAGCOR has been ordered to take part in a multi-agency investigation alongside the Philippine National Police (PNP) and the National Bureau of Investigation (NBI). 
"For me, I did not immediately react and push for the suspension because of the income that the government derives from allowing these kind of games to go online. The problem is, you can't control the bettors."
"So, I will look first at what is its system. But gambling for 24 hours, I seem to disagree with that proposition," he added. He compared this to gambling in U.S. hotels allowed for 24 hours, but pointed out the difference that one had to be personally in the hotel and could not do this on-line.
Duterte said he is personally against all forms of gambling because of its social costs, in addition to problems of game-fixing and the government's inability to keep minors away from online cockfighting and becoming addicted to it, according to the Inquirer.
 The President said he allowed Philippine offshore gaming operators (Pogos) and online cockfighting because the revenues helped fund the government's pandemic response and economic recovery efforts.
"So, I will choose now between losing income by the billions [of pesos] and allowing it," the President said during Tuesday's Cabinet meeting. "Too bad we don't have money. We're short of money. That is why I permitted it, including the Pogos," he stated.
NO DISCUSSION OF ANIMAL CRUELTY
In no aspect of this discussion was there mention of the suffering of birds that are slashed to death in cockfights by knives attached to their opponent's feet. 
Nor was there mention of the social impact on young people (boys, in particular) who become insensitive to the pain and suffering of other living creatures sacrificed brutally for financial gain.
As the police officials see more of their own officers seduced into this addiction and a growing wave of associated crimes, who will teach and/or protect the values of future generations?
And, by making betting on death acceptable and glorified if there is money involved, where will future lines be drawn on violent crimes against humans?
(See also: Cockfighting - Lawmakers Call on US Postal Service to Crack Down on Transport of Combat Roosters)
(See also:  Free slots, Online Pokies)
(Phyllis M. Daugherty is a contributor to CityWatch and a former Los Angeles City employee. The opinions expressed by Phyliss Daugherty are solely hers and not the opinions of CityWatch)