ANIMAL WATCH - In the midst of bloody, vicious Pit Bull attacks across the nation that are maiming and killing residents and their beloved pets, on January 21, 2022, KNAU news announced: 
 "Utah's Best Friends Animal Society is urging the Arizona state legislature to support a bill (HB 2323) that would "prohibit insurance companies from considering the breed of dog for underwriting or actuarial processes for determining risk, liability, and other potential losses or any other matter related to claims involving dogs." 
The breeds which could not be excluded "include Pit bulls, Akitas, Chow Chows, Rottweilers, and German Shepherds," according to the report. 
Best Friends Animal Society describes itself as "a nonprofit no-kill animal rescue collaborative based in Kanab, Utah." (See report here.) 
It is unclear whether Best Friends also has the non-profit lobbying status 50l(c)(4), to which donations are NOT tax-deductible. 
Best Friends was also among the major organizations listed in support of a similar New York bill this month.  (See: 2022 NY Law Says Insurance Companies Cannot Deny Coverage for Owners of Pit Bulls and Other Dangerous Dog Breeds) 
RECENT PIT BULL ATTACK REPORTS
Here are just a few of the 2021-22 media reports involving the Pit Bulls that Best Friends wants added to your insurance premium cost:
New York City Pit Bull Stats (NY Post)
In a January 8, 2022, article, Pit bulls responsible for most NYC bite victims over three-year period, the New York Post reports: 
"American Pit Bull Terriers and mixes accounted for 2,610 bites between 2015 and 2017 —30 percent of all dog-bite victims, according to the most recent NY city Department of Health stats," according to the New York Post. 
"The disturbing tally is more than seven times any other breed—despite pit bulls being just the sixth most common breed of licensed dogs in New York City." 
The New York City Housing Authority has banned residents from keeping pit bulls since 2010. 
The NYPD still breaks up dog-fighting rings across the city, often involving pit bulls. 
CALIFORNIA – VIOLENT PIT BULL ATTACK IN SAN FRANCISCO LIBRARY 
On January 18, 2022, a Pit Bull that was brought into the main San Francisco Public Library as a "service dog" severely injured a security guard in a violent attack, according to Seagate. 
Around 5:40 p.m. a Pit Bull began barking next to its owner "who was seemingly unresponsive at a computer kiosk," the public library said in a statement. 
Two guards tried to approach the owner to determine whether to administer Narcan, a medicine used to prevent opioid overdose deaths, Amy Graff reported. The unleashed dog "took hold of one of the guards and pushed him to the floor as the other two guards tried to rescue him." (See video.) 
CHICAGO – Man dies from Roseland dog attack – 2 Pit Bulls and an American Bully in home 
On January 1, 2022, the Chicago Tribune, reported the fatal mauling of a 34-year-old man by Pit Bulls on the Far South Side. 
Police were called at about 11:30 pm. Thursday and found a deceased unidentified man in a living room, with "visible dog bites," according to police. 
Three dogs – two pit bulls and one American Bully, were found inside the home and an autopsy Saturday determined a "dog mauling" to be the cause of death. It was ruled "accidental." 
NORTH CAROLINA – Veteran, 89, saves NC woman mauled by 2 pit bulls after they killed his beloved Schnauzer 
On January 14, 2022, an 89-year-old Army veteran ran 100 yards and beat two pit bulls with a stick as they mauled a North Carolina woman after killing his "loving" Miniature Schnauzer. "I had to," Dallas Campbell told The Charlotte Observer. "I had to lay down afterward, but I had no choice." 
If what he did to save the woman "keeps someone else from getting bit, it was worth it," he said. 
OHIO – 16-Month-Old Ohio Girl Mauled to Death by Family Pit Bulls 
Oct 5, 2021 – A horrific mauling by Two Pit Bulls in an Akron, OH, home was described by the Akron Police Chief as, "This is a nightmare that they're going through," WJW reported. 
According to authorities, Kavay's uncle was babysitting her when he got into an argument with an acquaintance on the home's enclosed front porch.
"The little girl was left inside the house with the two family pets and as this disturbance, fight, was occurring outside, it's believed that the dogs reacted and turned their aggression to this beautiful 16-month-old little girl," according to the report.
Neighbors who witnessed the incident told WKYC they will never forget what they saw. 
"That's what I can't get out of my head: Her screaming and the 911 operator carrying that baby out," neighbor Richard Turner said. "That'll always be with me." 
The Pit Bulls had previously violently attacked the mailman during the summer. "Bit him bad," Jerry Smith said, WKYC reports. "Bit his hand, bit his leg. They [didn't do anything] about it," 
TEXAS – Toddler attacked by dog in service vest inside Texas restaurant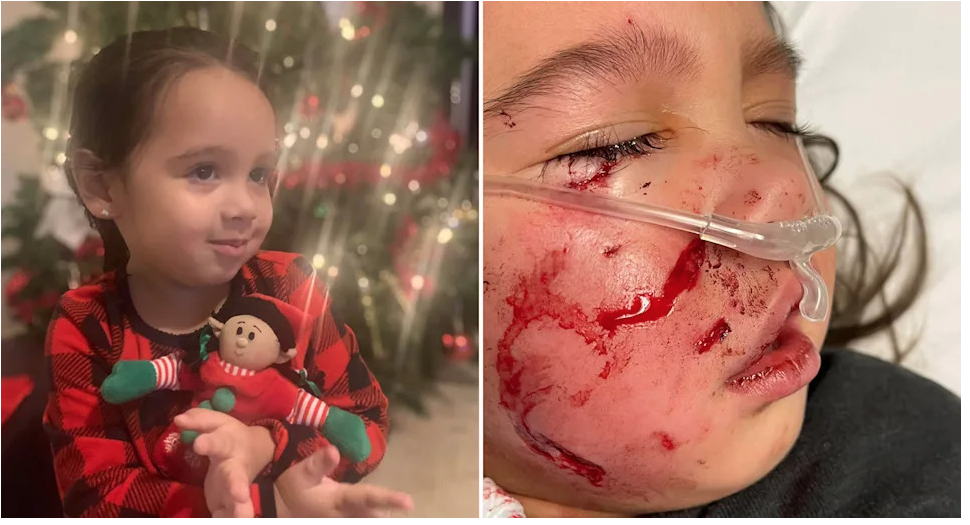 On January 12, 2021, a 3-year-old girl became a victim of a Pit Bull while inside a Texas restaurant, called the Loose Caboose, CBS Austin reported. Her mother and father and a friend were together and said the child walked a few steps ahead of them and rounded a corner to get in line to order. Immediately, a Pit Bull in a service vest attacked her. 
"It had a hold of her face and shook her," Kimberly Parker said. "The lady pulled on the leash, the dog released her and she just dropped like a rag doll." 
The mother quickly grabbed the child to examine her injuries, while the father and friend looked for the dog. Other customers told them "She's running that way." He chased the woman and dog down the street to her car and told her she needed to stay because there was an accident. 
The Pit Bull owner reportedly yelled at him, "It's your daughter's fault." 
The family took their daughter to the hospital for stitches. The parents say their 3-year-old is now telling them, "Mommy, I'm ugly. It's earth-shattering." 
A Go-Fund-Me page was set up to try to help with medical expenses and the doctor suggested she be taken to a plastic surgeon, according to the CBS report. 
NEW JERSEY – 3-Year-Old Child Dies After Falling From Window, Mauled by Family's Dogs in New Jersey 
On June 10, 2021, a toddler fell from a window at his home in Elizabeth, New Jersey and then was mauled by his family's two Pit Bulls in the backyard, authorities told NBC. 
Elizabeth police responded to the home on South 5th Street shortly after 5:25 p.m. and found the 3-year-old victim with serious injuries. The boy was pronounced dead at a hospital an hour later. An investigation revealed that the dogs, which belonged to the child's family, were in the fenced yard at the time of the incident, according to NBC News. 
NORTH CAROLINA – Child killed in Garner dog attack was daughter of WRAL-TV employee 
The mother and child involved in a fatal dog attack on June 27, 2021, were members of the Capitol Broadcasting family, according to WRAL-TV. 
"Heather Trevaskis has been a master control operator for eight years at WRAL-TV. Her 7-year old daughter, Jayden Belle Henderson, would often visit her mother during her work breaks," the report states. Garner police said the mother and daughter were helping care for the dogs while the owners were out of town, and the fatal attack occurred in the owners' backyard. 
Police say they've never fielded any complaints about those dogs in the past. The attack was a shocking situation for everyone involved. 
Dr. Jennifer Federico, Wake County Animal Services Director, told WRAL News that "70% of dog attacks involve child victims who are known to the dog."  
SHOULD PIT BULLS BE PETS? 
These dogs are not intended to be pets. Although some have been diluted through random breeding and are kept uneventfully under restricted and disciplined conditions by experienced owners, there is absolutely no reason for the proliferation of Pit Bulls, except dog fighting, which is reportedly thriving all over the world, with high-stakes earnings made possible by electronic betting and streaming the "matches." 
In prior generations, the only people who owned Pit Bulls were dog fighters. They tied them out in 'yards' just far enough from each other to assure they would remain fearful of attack and constantly on guard, but that also made them vulnerable to detection by law enforcement. 
The dogs' hair-trigger reaction and the historic bloodlines must be preserved if the dog- fighting industry is to survive. The "blood" (a referral to a dog of a certain fighting bloodline) which fighting-dog owners on current game-forum pages boast of using to recreate dogs with specific fight-styles is passed down from generations of breeding the dogs developed over a hundred years ago in the U.S. 
Anyone can breed and sell pit bull puppies of any quality as guard dogs and family protectors.  But this breed is not "protective," it is territorial--and there is a big difference.  A protection dog warns by growling or barking.  A Pit Bull—bred to survive—uses a lack of warning and a deadly tenacity to win. 
They cannot be trusted not to revert to this basic instinct.  Occasionally, some will not inherit aggression, but that is not the norm. Until breeders deliberately remove the "gameness" from their bloodlines, Pit Bulls will continue to kill. 
WHY LEGISLATION TO DEMAND INSURANCE? 
The perfect cover is to have them everywhere and legislate assurance that, no matter how much carnage ensues, they cannot be removed nor prohibited.
Contrary to beliefs that fighting dogs can be rehabilitated or reoriented, placing these dogs in communities is destroying a safe, humane and viable society, as children, the weak and the elderly especially become easy victims. 
Dog fighting is no longer appalling to the public because, when detected in the U.S., the dogs can be "rescued" and thus assured the myth of a happy ending. This also means some are being recycled back into communities, because the "No Kill" movement forbids euthanizing them. 
We must not underestimate nor ignore how much underground money and political contributions may be at stake to hide this industry "in plain sight."  What else can possibly be the reason behind these sudden desperate efforts of lawmakers to assure that aggressive dogs can live, attack, and kill with relative impunity? 
Some geneticists and breeders have stated that in five generations of selective breeding, the "game" (fighting) genetics could be removed from Pit Bulls, creating a loving, stable pet.  If this is true, why isn't it a primary goal of Best Friends Animal Society and other major humane groups—or at least part of a discussion, rather than assuring that all Pit Bulls are Nanny Dogs? 
(Phyllis M. Daugherty is a contributor to CityWatch and a former Los Angeles City employee.)