ANIMAL WATCH - A recent series of unprovoked attacks by Pit Bulls on adult men of all ages—and, especially, the elderly—has been captured in shocking surveillance footage and news videos all over the country.
This deviates from the usual pattern of more frequent reported assaults on adult female victims (especially the elderly). 
These recently victimized males are not joggers running near the dog's property nor service specialists entering properties unannounced.  The victims' ages in the small group below span from 41 to 73.  They were not involved with the dogs in a household setting. All were within a familiar community.  They were husbands, fathers, and grandfathers—and we do not know who will be next. 
ARE MILITARY VETERANS AMONG PIT BULL-ATTACK VICTIMS? 
Most contemporary news reports do not consider whether a Pit Bull-attack victim may have been a military veteran.  But it is likely any male born before 1930 served in the military in some capacity, because from 1948 to 1973—during both war and peacetime—men were drafted by the U.S. government to fill vacancies in the armed forces which could not be filled through voluntary means.  
This means that many of these Pit Bull victims may have been military veterans, whose lives were shattered or ended by an enemy they never anticipated—an animal once known as "man's best friend," and now called the all-American "nanny dog" by many major humane organizations, which encourage keeping them as pets. 
The following are shocking because of the senseless brutality.  This phenomenon is not limited to the U.S., but now occurs in countries worldwide. 
With Veterans Day being observed this week, we also have to wonder how many of these victims survived wars fighting for this country only to be severely injured or killed in an attack resulting from irresponsible ownership of a weapon as deadly as a firearm, but not restricted nor requiring special training or permits. 
A FEW RECENT ATTACKS IN A RISING STATISTIC 
Houston, TX – 68-year-old Man in Critical Condition after Attack by Two Loose Pit Bulls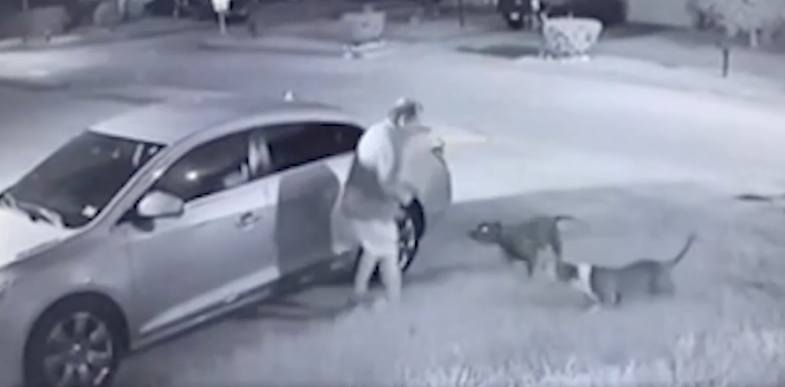 A heart-wrenching attack on a 68-year-old man out for a morning walk was caught on surveillance video just before 7:00 a.m. on August 26. 
The dogs severely mauled him, first attacking his legs and arms as he tried to use a box-cutter he was carrying to scare them away.  Once he was on the ground, they viciously continued their attack on his face and head. Hearing his cries for help, neighbors rushed to his rescue, among them a retired sheriff's deputy who shot one of the dogs.  (See Inside Edition report and video here.)      
His family said they did not know what had happened to him when he did not return from his early-morning walk.  He was not carrying identification when he was transported by ambulance to a nearby hospital in critical condition. 
On August 30, the family was interviewed by ABC13 News and expressed their gratitude for the courage and action taken by neighbors.  
The victim, Ha Mui, was recently able to FaceTime with his family but could not speak with them due to his injuries.  The fresh wounds that ripped his face and neck are appalling.  His brother, Bong Mui, said while his brother wasn't able to respond in the FaceTime conversation, his family was so grateful to see him.

"It's just terrible.  He's a very kind, easy-going, gentleman, and I just can't believe what happened to him," said Bong. 
MAN, 73, CRITICALLY HURT BY PIT BULLS THAT "CAME OUT OF NOWHERE" 
A 73-year-old central El Paso man was critically hurt in an attack by a pair of pit bulls in front of a home in the 800 block of Mission Road, according to an October 26, 2021, KVIA report. 
"These dogs came out of nowhere...they went straight to him and they just started attacking him, full-blown attacking him," a neighbor told KVIA News. 
"When I was telling him that help was coming there was no face, I couldn't even distinguish his face," she told ABC-7. 
The victim was identified as Humberto Rendon on the GoFundMe page set up to assist with his medical expenses. 
The report states that the victim he did not live at the residence where he was attacked.  He was helping an elderly friend by tending to the yard, when the dogs were suddenly mauling him for no reason.  The dogs also did not live at this location. 
On the KVIA video, a block wall shows blood on the long stretch where they drug his body against the concrete. The attack happened just before noon, authorities said, and the victim suffered severe injuries from multiple bites to his face, neck, and arms, as well as several other puncture wounds. 
Mr. Rendon was rushed to a local hospital suffering from severe trauma and life-threatening injuries, according to first-responders; he was listed in stable condition. 
The attack by the two large Pit Bulls, a male and a female who lived three blocks away, occurred around 11:30 a.m.  The owner of the dogs arrived and said he had been driving around trying to find them after they escaped from his yard, and he is seen in the video as he lifts them into the Animal Services vehicle. 
PHENIX MAN, 70, DIES AFTER BRUTAL PIT BULL ATTACK 
A Phenix City, Ala, man, 70, is dead after a dog attack, reported ABC 30/40 on September 22, 2021. 
According to the Russell County Coroner's report, Frank Cobb was attacked by a Pit Bull in the 100 block of 17th Avenue on Tuesday, Sept. 21, 2021, in the early morning hours and succumbed to his injuries. 
Phenix City Police responded and Cobb was transported to Piedmont Columbus Regional, "however, his wounds were so severe that he had to be transported to Grady Memorial Hospital, where he died from his injuries," the report states. 
A witness who was also on the street heard dogs barking and someone calling for help.  He tried to help, but "it was dark and they were black."  He said he went to help but "it was blood everywhere." 
A search was conducted for the Pit Bull but it was not found; however, a dog's body which matched the description was later found after being hit by a vehicle.  Authorities were conducting more forensic studies. 
The victim's cousin told ABC 30/40, the streets don't feel safe. 
PIT BULL FOUND AFTER DEADLY ATTACK ON MAN, 41, IN ALLEGHENY, PA 
Allegheny County police are investigating a death Friday afternoon at a home on Grover Street in McKeesport, PA, TubeCity Almanac announced on November 7, 2021. 
The victim was identified as Stephen Rucinski, 41, a resident of the city, who was reportedly mauled by a dog.  In a corrected report, it was revealed that "McKeesport police and animal control officers searched the neighborhood on Friday evening for a black and brown Pit Bull, which was located about an hour after the incident." 
The owner of the dog involved in the incident was not yet identified, but police Chief Adam Alfer said the investigation is being handled by Allegheny County homicide detectives. 
Emergency responders were dispatched to the home at approximately 4:40 p.m. and Rucinscki was pronounced dead at the scene, according to the Allegheny County Medical Examiner's Office. 
66-YEAR-OLD MAN KILLED BY TWO ESCAPED PIT BULLS IN SOUTH AFRICA 
On November 6, News24 reported that a 66-year-old Durbanville man died on Friday after being mauled by two Pit Bulls that had escaped a yard in Durvanville, South Africa, a town in the Western Cape.  They attacked the man, biting his face, head and feet and he died at the scene. 
The SPCA removed the dogs, and police opened an inquest into the unidentified man's death, News 24 reports. 
Allegheny County police are releasing few details in connection with a death Friday afternoon at a home on Grover Street in the city.  A local publication, The Tygerburger, reported that the Pit Bulls had escaped and jumped another gate in the street to get to dogs on that property.  The man apparently was killed while trying to separate the fighting dogs.  The report states that the actual cause of death may have been a heart attack.   
DOGSBITE.ORG STATISTICS 
Male adults (≥19 years) killed by dogs has been rising over the last 16 years. Since 2013, adult males killed by dogs has risen by 300%. 
More commonly, we look at gender in children (ages 0-9) killed by dogs, because male children are disproportionately represented in this age group. 
Rise of Male Deaths in 2020  (Dogsbite.org) 
Since 2018, we have been tracking the increase of adult females ≥ 30 years old killed by dogs, primarily pit bulls. In 2020, we saw a rise in adult males killed by pit bulls. All males ≥ 25 years old killed by dogs in 2020 (12 deaths) were killed by pit bulls, except for 70-year old Frederick Shew, who was killed by his known aggressive mastiff, named "Thor." In fact, 3 male victims, ages 25, 26 and 27 -- all rare ages in fatal dog maulings -- were fatally attacked by pit bulls in 2020.
(See more at DogsBite.org fatality discussion) 
FOR MORE INFORMATION ON PIT BULL ATTACKS AND FATALITIES
Pit bull attack database for the U.S. and Canada. National Pit Bull Victims Awareness)
2021 US Dog Bite Fatalities - DogsBite.org
Pit Bull Attacks - Victims of Dangerous Dog Attacks
(Phyllis M. Daugherty is a former City of Los Angeles employee and contributing writer to CityWatch.)