ANIMAL WATCH-National Animal Control Officer Appreciation week was recognized and celebrated nationally from April 11–17, 2021, but was unnoticed -- or ignored -- at City of Los Angeles Animal Services by then-General Manager Brenda Barnette, until the afternoon of Thursday, April 15. 
That was when a succinct post appeared on the LAAS Facebook page with NO hashtags or correlating media release to spread the message: 
"It's National Animal Care and Control Appreciation Week, and we want to say, Thank You to our amazing field staff, which includes Animal Control Officers and SMART team.  We appreciate all the hard work you do to care for and assist our LA Community. Keep up the Fantastic Work."   
So, unless you lingered the LAAS FB page until the day before the appreciation week ended, you probably missed it. 
However, the following week was "National Volunteer Week" (#NationalVolunteerWeek) which was celebrated with gushing exuberance and numerous hashtags on the same FB page on April 19, April 20, twice on April 21, then on April 22 and April 23, with glowing comments by Barnette each day.  
It was hard for the ACO's not to notice, but not surprising since Barnette told the City Council at her original confirmation hearing in 2010 that she would ask LA Police Department to enforce animal laws, which -- she was quickly reminded -- is the responsibility of LAAS officers. 
While volunteers are extremely important to the operation of Los Angeles (and other) shelters nationwide, they do not have law-enforcement powers nor do they face the dangers of assaults by abusive, drugged and often violent animal owners that are encountered increasingly in Barnette's "No Kill" LA culture, where pets are given away free, including to the homeless who cannot care for themselves -- let alone a helpless animal -- and where "rehoming" your pet with strangers on Craigslist or other on-line sites is encouraged. 
An ACO's basic duty is to enforce laws that keep animals – pets or wildlife -- and humans safe and they investigate any reports of cruelty or mistreatment. Many of their calls are haunting because they see the realities of the dark side of human carelessness, neglect, or abuse in unvetted "furever" homes.  
Thanking Animal Control Officers publicly, enthusiastically, and sincerely for each day of one week a year is a small token of the gratitude they deserve for performing this physically and emotionally difficult job. 
We all suffer when an animal is injured or in a harmful situation, but animal control officers cannot turn away. 
The chasm distancing Barnette and LAAS ACO's widened dramatically when, as GM, she recently publicly bashed one of her own officers on Facebook for removing a seriously underweight horse needing veterinary care in an alleged cruelty case. 
She also failed to recognize a Valley ACO who climbed through a window to capture a Pit Bull after a vicious attack on its adopters.   
And she expressed no opposition to the recent defunding of the Animal Cruelty Task Force (a collaborative unit with LAPD) formed to address serious abuse or organized crimes such as, dog fighting or cockfighting. 
 A VOICE FROM THE PAST – A TRIBUTE NOT FORGOTTEN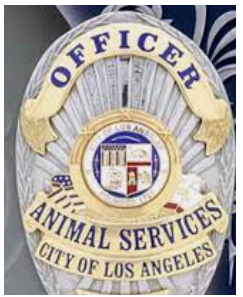 On May 27, 1994, exactly 27 years ago -- shortly after the devastating Northridge earthquake and long before an official Animal Control Officer Appreciation Week was designated, Gary Olsen, then-General Manager of  Los Angeles Department of Animal Regulation, (later renamed Los Angeles Services), wrote a heartfelt and timeless message to the City's ACO's, which is just as relevant today. 
The Northridge (West Valley) earthquake had resulted in at least 57 deaths and over 9,000 injuries in Los Angeles. Some 125,000 people and their pets were made at least temporarily homeless. 
At that time, LA Animal Regulation was one of the first city departments to respond to the Emergency Operation Command Center in any disaster or area-wide emergency because animals are always affected. The alert automatically resulted in all employees (on and off duty) being placed on emergency status and all animal control vehicles being gassed up and parked pointed outward in readiness. 
An immediate inventory of equipment was made by landline phones, including transport trailers available in the community to evacuate large animals, a survey of what resources the shelters and officers had and what could be needed, and a request for residents and businesses to provide donated supplies, food and carriers or cages for animal victims. All locations where animals could be taken and safely held were identified and released to media outlets as they were determined. 
Here's what General Manager Gary Olsen wrote to his officers in 1994: 
Attached is a copy of a letter sent to the editor of the Los Angeles Times by a Los Angeles city resident—a strong supporter of our Department, who has always extolled the dedication and professionalism of the services all of you provide to the residents of our City, often in the face of personal risk and ridicule. 
The letter particularly points out your outstanding performance during the recent disasters, (earthquake and fires) especially on or after January 17, and rightfully refers to you as unsung heroes as you helped rescue animals and helped people find their pets. 
As your general manager, I understand and have experienced the kinds of day-to-day occurrences confronting animal control officers in a City as large and diverse as ours. I add my admiration, respect and sincere thanks to our constituent's expression of appreciation for all that you do; for the residents of our City whom you serve and help protect, and for the animals that you rescue, care for and assist in being reunited with their owners. 
I join all of your fellow employees in expressing our esteem for each and every one of you. 
(Gary Olsen had served as an animal control officer for much of his 30-year City career.) 
IT IS NEVER TOO LATE TO SAY 'THANK YOU' 
We hope that Brenda Barnette (who lives in an area strongly affected by that disaster) never needs the assistance of animal control officers and other emergency responders to save her animals or her own or a loved one's life in the way they were so desperately needed and heroically and effectively responded in 1994 and do in every disaster.  
But, if she does need them, they will risk their own safety as they have in the past and continue to do daily -- without thanks or hashtags. 
It is unfortunate that she, and the Los Angeles Animal Services Commission, did not get to know them better and thank them more during her decade as General Manager of Los Angeles Animal Services. 
Follow me by becoming a CityWatcher (CityWatchLA.com) and on Facebook.)
(Phyllis M. Daugherty is a former City of Los Angeles employee and a contributor to CityWatch.) Edited for CityWatch by Linda Abrams.