GUEST COMMENTARY - The sign, sponsored by the Santa Monica Coalition, accuses City Manager David White of making Santa Monica synonymous with meth by supporting the needle distribution program in the city's public parks
August 10, 2023 - A new sign warning tourists and shoppers on the Santa Monica Promenade was erected today by the Santa Monica Coalition, a group of property and business owners dedicated to restoring law and order to the troubled city.
"Santa Methica is Not Safe," reads the sign, pointing out the dominant drug of choice among the near-thousand homeless individuals who inhabit the public and some private spaces in the city. "Our city manager Supports the Needle & Meth Pipe Distribution Program in our Parks and Public Spaces."
At the bottom of the sign is a QR code that allows viewers to sign a petition opposing the distribution of free drug paraphernalia to vulnerable addicts in the city's public places.
The sign covers nearly an entire storefront in the 1300 block of the Santa Monica Promenade, once a premiere shopping and tourist magnet but today plagued by shoplifting and homeless antisocial behavior.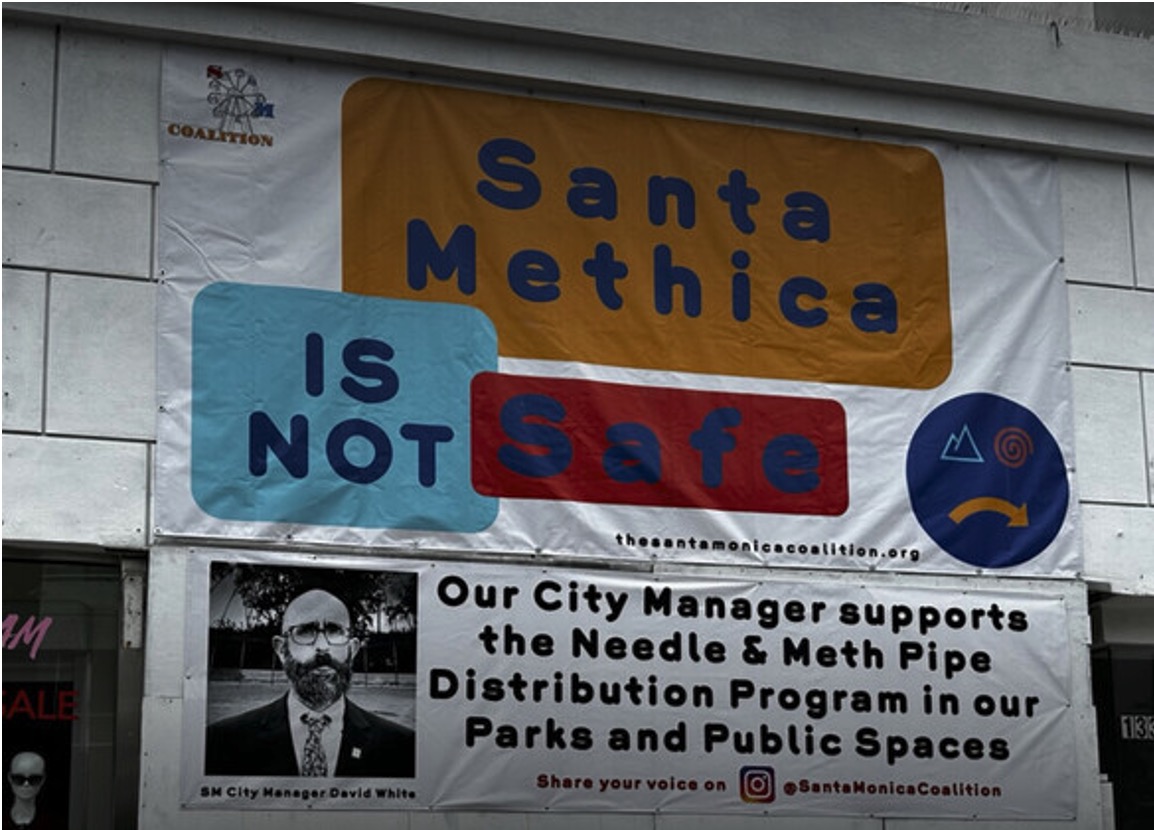 New sign accuses the city manager of promoting the use of meth
The County of Los Angeles Health Department sponsors a "harm reduction" program in which vans operated by the Venice Family Clinic drive to various city parks, including three in Santa Monica, and distribute needles, sanitary kits, and naloxone. The health department claims the kits also include safe sharp disposal containers and that they offer drug counseling along with the needles, but surveillance of the program by the SM Coalition and a journalist did not see either of these services take place.
In early June, City Manager David White approved of a "Joint Statement from the Los Angeles County Health Department and City of Santa Monica Regarding Harm Reduction Services." This statement was allegedly not approved of by the city council. Today, the statement is prominently featured on the County Health Department website. No other city has issued a similar statement. In the statement, White writes, "The City of Santa Monica's Four Pillars approach to addressing homelessness includes balancing enforcement with compassionate and responsive field-based engagement."
An average of at least one homeless individual dies on the street in Santa Monica every week.
(Alyssa Erdley is a writer for Santa Monica Observer where this article was first published.  Smobserved.com.)