DISTRICT 6 POLITICS - Coming back home to Los Angeles from American University in D.C. this summer, I was eager to get involved in local democracy. Angelenos are still grappling with the fallout of racist and homophobic remarks by City Council members Nury Martinez and Kevin De Leon, and L.A. County Federation of Labor President Ron Herrera. 
June 27 marks the special election runoff to replace Martinez in City Council District 6. To me, this is not just another scandal and filling of a vacancy. Perhaps it can be a turning point away from establishment politicians who fail to represent their constituents. But whom should I support and volunteer to help elect as her successor? 
Imelda Padilla and Marisa Alcaraz face off for this hotly contested seat.   
When choosing a candidate to support, I look at each candidate's track record in their community and in leadership on a few key issues: the environment, education, and economic justice. 
As a young person living in Los Angeles, I am acutely aware of the environmental challenges we face from air pollution to fossil-fuel consumption to plastic waste that worsens water quality and trash dumping. 
Los Angeles continues to grow and diversify. Elected leaders have yet to meet the challenge of our housing crisis or adequate investment in public schools, both needs exacerbated by the pandemic.  
Padilla grew up in a working-class Mexican immigrant family in Van Nuys. She suffered the effects of Vitamin D deficiency as a child, contributing to bowed lower legs. This prompted painful surgeries to correct. She is also a product of LAUSD public schools in District 6 and knows the educational struggles that residents face firsthand, especially accessing higher education. Padilla's parents made sacrifices to ensure she could live the American Dream and helped equip her for a lifetime of community service to her neighbors.  
Imelda Padilla led the campaign for the Los Angeles Alliance for a New Economy (LAANE) to win a $15-per-hour living minimum wage for workers in L.A. 
She has also fought for sustainability and equal access to nature and outdoor open space for residents from Northridge to Panorama City. 
As a leader with Pacoima Beautiful, she worked with community members to provide environmental education and create cleaner, more tree-rich communities in the San Fernando Valley. She pushed for better air quality, access to green spaces, sustainable farming, and transportation for residents in the area. 
On the other hand, Padilla's opponent, Marisa Alcaraz, has spent the last decade as a staffer for Councilmember Curren Price. She grew up in a middle-class family in Lake Balboa and claims to hold a wealth of policy knowledge from her experience in City Hall.  
While Alcaraz criticizes Padilla for previous ties to Martinez, Alcaraz has accepted the endorsement of the local labor federation. It was their office where the racist and homophobic insults were recorded. It was their former head, Ron Herrera, who led the insults and resigned under pressure. In my understanding, unions are supposed to be democratic, and a labor federation should be all the more so. The seal of approval from their executive committee and not by a vote of the members should not be considered a badge of honor.  
Padilla holds a much deeper connection with District 6 residents due to her on-the-ground organizing work. Growing up in District 6, Padilla knows what it is like to face adversity and work at the grassroots level with a diverse community. This fluency helped her garner support from the Armenian community. Padilla was endorsed by Armenian American community leader Rose Grigoryan, who finished fourth place in the District 6 primary election on April 4.
Padilla's strong ties to local community leaders and coalition-building experience with District 6 residents make her a clear fit for the job and the superior candidate. A few of the impressive public art projects along the Mural Mile on Van Nuys Boulevard are in District 6. They convey the same sense of community pride that I feel more strongly in the life story and contributions of Imelda Padilla.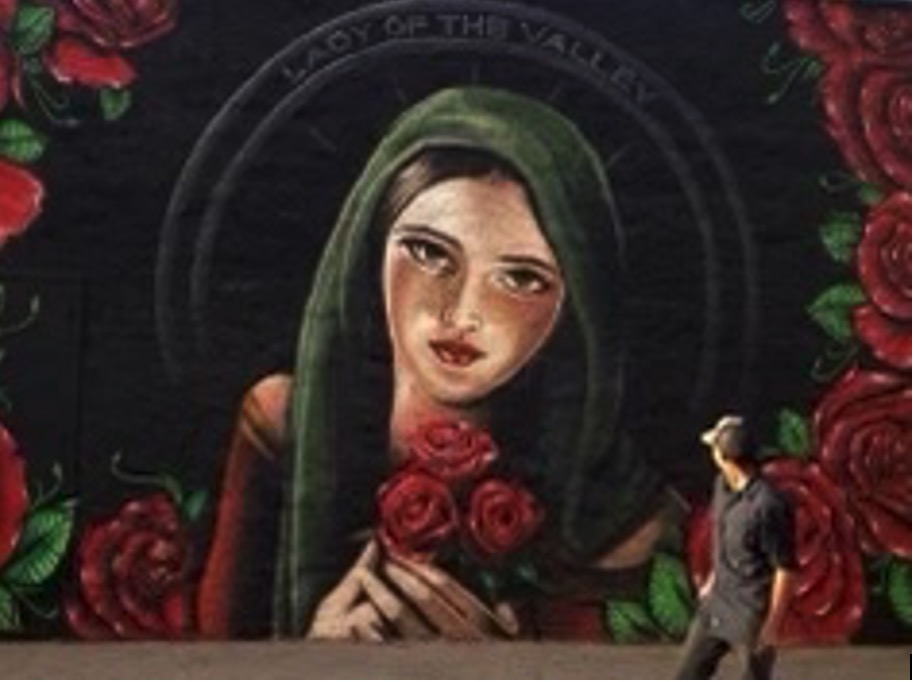 Mural Mile Painting: Lady of the Valley by Levi Ponce 
In the 2022 Mayoral election, Angelenos made it clear they were not interested in electing big-money candidates like Rick Caruso without strong bonds to the community. Through community organizing and coalition-building, Karen Bass showed it was possible for Los Angeles to elect our first woman mayor, and our first black woman mayor.  
Like Mayor Bass, Imelda Padilla is at the forefront of the changing faces of L.A. politics. She has a track record of addressing District 6's most pressing concerns from economic justice to the environment. Many City Council members are career politicians who lack a connection to their constituents, but not Imelda Padilla. 
Imelda Padilla is not just another name on the ballot. She is a lifelong resident of District 6. She is running for office with a commitment to getting specific things done. She has real solutions to address residents' most pressing concerns. And she has my support. I look forward to volunteering for her and sharing that story when I do.
(Graham Miller is a rising sophomore at American University majoring in political science. He previously worked with the Grassroots Democrats HQ to help defeat Trump in 2020 to defend Democratic seats in Congress in the 2022 midterm elections. Having grown up on the Westside, he is exploring the rest of Los Angeles while finding ways to make a difference for LGBTQ rights, economic justice, climate action, and creating a healthier environment.)