PLANNING WATCH - The Sunday, September 4, 2022, Los Angeles Times had a top-of-the-fold front page article comparing the homeless proposals of the two LA mayoral candidates, Karen Bass and Rick Caruso. 
While the article is filled with details on their housing planks, and curious readers should read it, neither candidate understands the housing crisis.   
In order to cure homelessness in LA, as well as the entire country, the underlying causes of the crisis, along with their solutions, must be addressed.  Without that, the corporate journalists, candidates, and elected officials resort to band-aids, like temporary sleeping pods on public land, that shove the visible homeless to out-of-view sites.  But, when these band-aids peel away, the same public officials invariably initiate police sweeps of homeless encampments to placate their fed-up constituents, leaving the housing crisis and its underlying causes intact. 
Homelessness is only one part of the much larger housing crisis.  While at least 600,000 people are homeless in the United States, including 40,000 people on any given night in Los Angeles, one economic setback, like losing a job, could force them and their families into homelessness for several reasons:
Cost-burdened households: Another window on the housing crisis are those who pay more than 30 percent of their household income for housing. According to Affordable Housing On-Line, "58% of households who rent are overburdened in Los Angeles."  If families that live in their own house are folded into these statistics, the total is higher since 40 percent of those who live in houses in Los Angeles are also cost burdened.
Overcrowding: Overcrowding remains a serious issue in Los Angeles.  According to demographer Wendell Cox, LA has the worst overcrowding of any major metropolitan area in the United States.  The Census Bureau reports that 10.7% of all housing units in Los Angeles have more than one person per room, the official definition of overcrowding.  As for renters, the total is 16 percent.  The LA metro area has 3,133,000 households, so at least 335,000 people live in seriously overcrowded conditions, but are not yet homeless.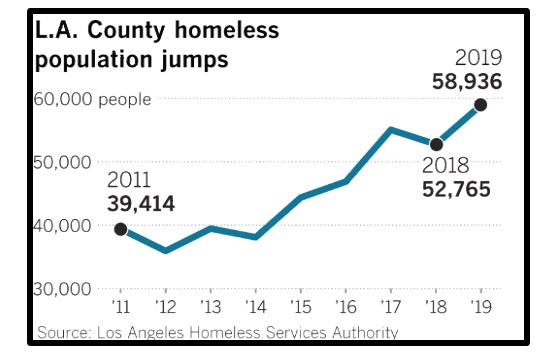 The underlying causes of the housing crisis:  Angelinos, like residents of other metropolitan areas, face a host of imposed problems that account for the steady increase of homelessness.  Until elected officials acknowledge these causes and implement programs to remedy them, the housing crisis will continue to worsen.
Shortage of permanent affordable housing: Curbed LA examined cost-burdened households in the Los Angeles region and reported:  "Los Angeles County has an extreme shortfall of affordable housing, according to a new report from the California Housing Partnership and the Southern California Association of Nonprofit Housing, and 568,255 new units are needed to satisfy the demand of lower-income renters.  Based on Census data, the report indicates that more than 800,000 renter households would qualify for affordable housing, were it available. But fewer than 300,000 units are available across the entire county at rents that would be affordable to these residents."                                      
Low-wages and poverty: The reason why so many households are over-crowded, cost-burdened, and therefore candidates for homelessness are low wages and increasing poverty, obvious causes of the housing crisis that neither Mayoral candidate mentioned to the Los Angeles Times.  In Los Angeles the renter of an average one-bedroom apartment needs to earn $39/hour.  But, according to the Zippia data base, the average wage in Los Angeles is $24/hour.  Only the top quarter earn enough ($37/hour) to rent a one-bedroom apartment for 30 percent or less of their income.  Because of inflation and wage stagnation, the ranks of the cost-burdened are increasing.  Renters are increasingly priced out of housing and at risk of becoming homeless.
Elimination of public housing: Not only is Federal Section 8 housing woefully underfunded, but HUD's many other public housing programs were cancelled by the Nixon administration, followed by more cutbacks during the Ford, Carter, Bush 1, Clinton, and Bush 2 administrations.  The remaining low cost housing programs depended on local redevelopment agencies in California, but the State Legislature dissolved them, including their public housing programs, in 2012.
Land-use. When legally adopted zones and plan designations prevent a residential structure from being legally built, developers resort to discretionary waivers facilitated by pay-to-play.  In Los Angeles decision makers approve 90 percent of these applications, which means that in Los Angeles the planning process bends to the highest bidder.  As a result, the real estate market, not legally adopted plan designations and zones, determine land use.  This is why former LA City Councilmember and LA County supervisor, Zev Yaroslavsky, contends that elected officials must address land use if they want to solve LA's housing crisis.
Corporate purchase of single-family homes, condos, and apartment buildings as investments. Redfin reports that investors purchased 20 percent of the homes in the Los Angeles metro area.  With their deep pockets these corporate buyers pay in cash, often above asking prices.  As a result, the cost of housing increases, pricing out owner-occupants and prospective tenants.
Demolition of existing lower-priced apartments. The Coalition for Economic Survival keeps track of formal Ellis Act evictions in older apartment buildings in Los Angeles.  They have identified 27,127 such evictions between 2001 to 2020.  Their data does not include tenant buy-outs and informal evictions resulting from deliberate negligence to make apartments uninhabitable.
Mansionization is widespread in Los Angeles, except for neighborhoods with Historic Preservation Overlay Zones.  As a result, developers have bulldozed thousands of starter homes.  They then cheaply and quickly build out-of-character super-sized houses that are, on average, three times as expensive and large as the original houses.  Mansionization also applies to potential duplexes, triplexes, and fourplexes that Senate Bill 9 allows in lieu of single-family houses. 
These underlying causes are hardly a state secret.  If mayoral candidates intend to tackle the housing crisis, especially homelessness, they should support the restoration of HUD and CRA public housing programs, raise wage levels, block routine zoning and planning waivers, clamp down on corporate purchases of existing housing, preserve existing low-cost housing, and stop the mansionization of LA neighborhoods.
(Dick Platkin is a former Los Angeles city planner who reports on local planning issues for CityWatchLA.  He serves on the boards of United Neighborhoods for Los Angeles (UN4LA) and the Greater Fairfax Residents Association.  Previous Planning Watch columns are available at the CityWatchLA archives.  Please send comments and corrections to [email protected].)