PLANNING WATCH - A major reason for LA's population decline is the rising cost of housing  and the homelessness resulting from over-priced housing. 
Many people can no longer make ends meet, so they move to areas with cheaper housing, end up living in overcrowded conditions, or are priced out of housing and become homeless. 
To make sense of these trends, we need to understand the underlying reasons for LA's soaring housing costs.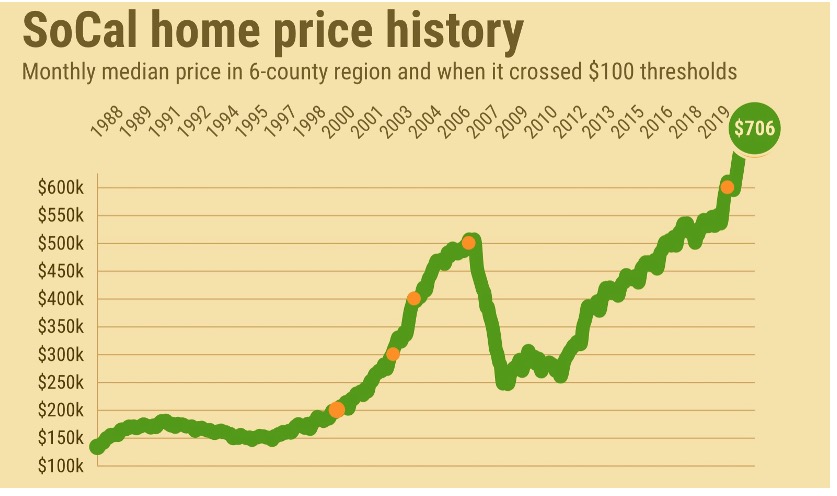 Building on previous Planning Watch columns, I have identified seven separate factors responsible for LA's expensive housing.  While these factors are, in theory, reversible, those who financially benefit from them are their unwavering defenders. 
Factor 1: Termination of public housing programs.  When World War II ended, Los Angeles, like other large cities, expected a major expansion of public housing through the Housing Act of 1949.  Nationwide, it would have funded 800,000 additional public housing units.  But it never happened.  The Los Angeles Housing Authority leveled Chavez Ravine's existing low-income housing and evicted its residents, to make way for 10,000 units of new, high quality public housing.  Instead, the Housing Authority's executives, including Assistant Director, Frank Wilkinson, were red-baited and fired, allowing the Dodgers to acquire the Chavez Ravine site and build Dodger Stadium. 
Around the same time, California voters added Section 34 to the State Constitution.  Sponsored by the California Real Estate Association, later renamed the California Association of Realtors, it effectively barred the construction of new public housing projects by subjecting each project to a public vote.  The California Real Estate Association's campaign messaging, that public housing promoted racial integration and socialism, gained traction with a majority of voters.  Two decades later, in 1971, the U.S. Supreme Court affirmed the constitutionality of Section 34, while the most recent statewide referendum to overturn Section 34 lost in 1993.  
At the same time the Nixon, Reagan, and Clinton administrations jettisoned remaining Federal public housing programs. 
If a statewide referendum eventually removes Section 34 from the California state constitution, the U.S. Congress must also reinstate HUD public housing programs.  Without these programs, a successful state referendum on public housing will make little difference. 
Factor 2)  Dissolution of California Redevelopment Agencies in 2011.  California law required these 400 state-chartered agencies to allocate 20 percent of the budgets to public or publicly subsidized housing.  Without these grants, non-profit housing organizations lost their last source of public funding.  Furthermore, the one remaining source of indirect government subsidies for low-priced housing, Federal low-income housing tax credits, was weakened by the Trump Administration's 2017 tax cuts. 
Factor 3) Real estate investment funds pull up the price of existing housing through their purchases, holding onto them as speculative investments, like precious metals.  According to the 2020 Vacancy Report, these institutional owners deliberately keep 46,000 housing units in Los Angeles off the housing market.  Why?  Because never-occupied units command a higher sales price, a crucial consideration for funds that treat houses and apartments as commodities, not as social necessities.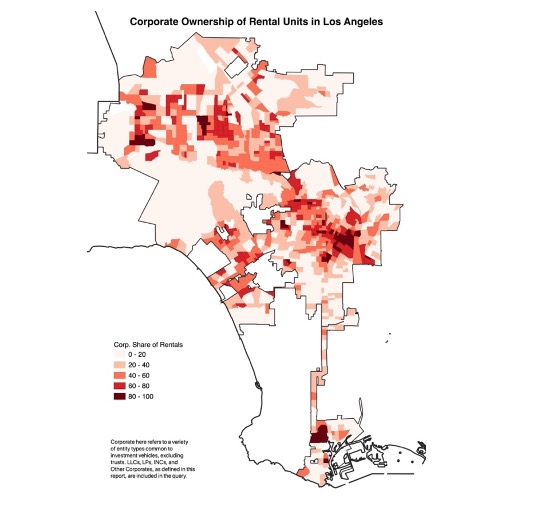 Factor 4)  Los Angeles has a weak Rent Stabilization Ordinance (RSO).  In Los Angeles only apartments built before 1979 are subject to the city's Rent Stabilization Ordinance, even though the City Council could adopt 1995 or even 2007 as the RSO's cutoff date.  Furthermore, in Los Angeles RSO-eligible apartments revert to market rate rents when a tenant moves out.  At that point the landlord is free to charge whatever he or she chooses.  As a result, the number of low-priced apartments in Los Angeles has steadily declined, while the number of expensive residences has increased. 
Factor 5)  Existing low-income units have been removed from the housing market through 27,127 Ellis Act evictions.  Once cleared of tenants, these old buildings are demolished, to become building pads for new, expensive, high-rise apartments.  In addition to these formal Ellis Act evictions, other renters are coerced to give-up their apartments by high-pressure eviction "consultants" who persuade them to accept a one-time move-out cash payment.  Finally, in extreme cases landlords deliberately allow their buildings to deteriorate so they become unlivable, forcing residents to leave on their own. 
Factor 6)  Increases in economic inequality and poverty have priced many people out of housing, forcing them to sleep in cars, RV's, tents, sidewalks, and alleys.  One measure of economic insecurity is the percentage of the public who live pay-check to pay-check.  In March 2022, it was 64 percent, a truly astounding figure indicating that even a minor economic shock could price people out of already over-priced housing.  This explains why, "To buy a home in Los Angeles, residents would need a minimum annual income of $124,400 to pay the $3,110 monthly mortgage . . " 
Factor 7) Residential units are snatched up by short-term rental businesses and then kept off the housing rental market.  They not only reduce the number of houses and apartments that local residents can rent or buy, but they also lead to gentrification. AirBnB and similar businesses are much more profitable than long-term leases, so it is no surprise that many property owners and managers opt for short-term rentals.  Furthermore, the City's Home Sharing Ordinance has been assigned to the Department of City Planning, an agency with no enforcement experience or powers.  
In combination these seven factors have created one of the most expensive housing markets in the United States, even though the city's population is declining, and new market-rate apartments have high vacancy rates.  Furthermore, the private sector cannot meet the enormous demand for low-priced housing, forcing many residents into homelessness.  This is why the city's housing crises will continue, regardless of which primary candidates become the city's next Mayor and Councilmembers. 
(Dick Platkin is a former Los Angeles city planner who reports on local planning issues for CityWatchLA.  He serves on the board of United Neighborhoods for Los Angeles (UN4LA) and the Greater Fairfax Residents Association.  Previous Planning Watch columns are available at the CityWatchLA archives.  Please send questions and corrections to [email protected].)