WILDFIRE POLITICS--From north to south, our state is on fire. 
These blazes have scorched millions of acres. They've destroyed homes, shut down freeways and forced massive evacuations. Californians are dying in these fires while thousands of first responders risk their lives to fight back the flames. 
So why are local politicians across our state moving forward with high-risk housing developments that will increase fire danger and put even more people in harm's way? 
In LA County officials are standing by decisions to approve two city-sized housing developments in highly fire-prone areas near recent blazes: the 9,700 resident Northlake development next to Castaic Lake, and the 57,000 resident Centennial development on grasslands on the northern edge of the county. 
Fire is not new to these places. Between 1964 and 2015, there were 31 fires larger than 100 acres within five miles of the Centennial site. Since 1960 there have been 270 wildfires in the Santa Clarita Valley, including one in 2013 on the Northlake site. 
Northlake and Centennial were approved by the county board of supervisors over the objections of Supervisor Sheila Kuehl, community and environmental groups, and independent wildfire experts. 
Development in fire-prone areas has been shown to increase wildfire risk by leading to more human-caused ignitions. For example, powerlines caused the 2018 Camp Fire, the deadliest and most destructive wildfire in California history. 
In fact, about 95 percent of wildfires in California are ignited by human sources. Developers tout improved fire safety measures. But even with today's building codes, families and firefighters would still be at grave risk when the next blaze inevitably hits. 
Although much of California's wildlands are fire-adapted, the increase in fire frequency is degrading our diverse ecosystems. More frequent fires convert native habitats to more flammable non-native grasses that increase wildfire risk, which creates a deadly feedback loop in the urban wildland interface.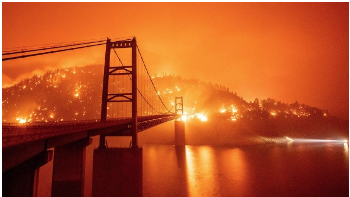 Ignoring an area's fire history endangers residents and down-wind communities. And health and safety impacts of wildfire disproportionately affect low-income and minority communities, especially Black, Latinx and Indigenous communities. 
Our society's most vulnerable (including people who are low-income, elderly, disabled, non-English-speaking, homeless or carles s) often have limited resources for disaster planning. They're missed by emergency services and evacuation warnings, have less access to healthcare and are less likely to receive disaster relief. 
Yet county supervisors continue to push for development in fire-prone areas. At court hearings scheduled for September, L.A. County officials will likely double-down with Woodridge Capital Partners and Wall Street-backed Tejon Ranchcorp and insist that thousands of homes should be built in high fire-prone areas. 
This pattern can be seen statewide. In Northern California, Lake County supervisors last month approved the Guenoc Valley Development just north of Napa County. This luxury resort and low-density development would eventually put nearly 4,000 people in a fire-prone area that is currently burning in the LNU Lightning Complex Fires. 
County deference to sprawl developers is irresponsible. It's also out of step with public opinion, as three out of four Californians want to restrict housing in wildfire-prone areas, according to a 2019 poll. 
Given this failure in local leadership, State Senator Henry Stern introduced Senate Bill 474 to prohibit development in very high fire hazard areas. This much-needed bill would have pushed local officials to prioritize the safety of their constituents over developer profits. While it didn't pass in the recently concluded legislative session, it's likely to come back next year. 
Wildfires are a natural process in many parts of our state, and climate change is expected to increase wildfire potential as conditions become hotter and drier and extreme weather events become more common. We need to learn from recent fires and prioritize safer development in existing cities. 
It's unacceptable for local officials to continue with plans to put thousands of new residents in California's beautiful yet fire-prone landscapes.
(Tiffany Yap, D.Env/Ph.D is a Center for Biological Diversity scientist and J.P. Rose is a staff attorney for the Center.)
-cw