DEEGAN ON LA-Hauling empty tobacco barrels around in the back of a truck as a teen who didn't make it through high school in tiny, rural Maxton (formerly called Shoe Heel), North Carolina during the Depression was the beginning.
The breakthrough came just a few years later with his observation, made on the docks of Hoboken, NJ, that dockside stevedores and other laborers were using the same centuries-old process of moving individual boxes multiple times by hand from factory to shipping depot, and then reversing the process at the receiving end. This many-hands-on-packages technique was required because there was no known alternative. 
What was Malcom McLean's dockside epiphany that changed the way goods are moved? It was containerization ... packing goods once into a huge container and then moving that container across oceans by cargo ships, or across land by rail or trucks. It revolutionized the shipping business, and earned McLean the title of the Father of Containerization.  
From the highways and the high seas to the high rent districts (in Los Angeles that could be practically any neighborhood) shipping containers are being put to work. The newest cargo container iteration -- a possible breakthrough for architecture as well as for housing in LA -- is converting shipping containers into affordable housing. (See graphic above.) 
Now, with a project set for the Westlake area, we will have a chance to see, for the first time, an apartment building made of shipping containers erected in what's being called a response to the affordable housing crisis. The Hope on Alvarado Project at 166 S. Alvarado Street between Beverly and Third, two major streets with good rapid transit service, will be shipping-container-housing with 84 units in a four-story structure, constructed over a six-month timeline. That quick response is what makes it "almost-instant" affordable housing. 
Floor plans will be 440 and 480 square feet arranged around a courtyard. In car-crazy LA, one distinguishing feature is that parking for residents will be available only for bikes, not cars, in acknowledgment to what is being called Transit Oriented Development (TOD).  
CityWatch was able to get some insights to this breakthrough project in an interview with Mark Oberholzer, Associate Principal at KTGY, the architecture and planning studio that is designing Hope on Alvarado. 
CW - Tell me about your materials.
KTGY - "We use recycled containers that are manufactured to our specifications. Using Growthpoint Structures, a local manufacturer, provides not only affordable housing units, but also local jobs in the region. The port of Los Angeles-San Pedro is a ready source of shipping containers that can be reused. Usually we use an 8x20 ft. container. Three of them are combined into a 480-square foot apartment. The Hope on Alvarado Project will be 84 units."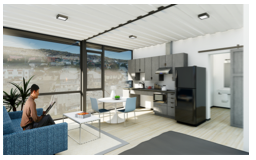 CW - What will a typical apartment look like?
KTGY - "Each container has its own floors and walls. The original steel doors are removed from one end, and the opening is infilled with windows. The amount of windows in the units are as much glass as a high-end condo, so the interiors are flooded with natural light. We've designed appropriate "sunshading" depending on the orientation of each apartment." 
CW - What about earthquake safety features?
KTGY - "The containers are stacked on each other and welded together into a 3-dimensional mass that works together to resist lateral seismic forces." 
CW - Is there any other "container housing" in Los Angeles?
KTGY - "Hope on Alvarado is the first project in Los Angeles using shipping containers repurposed for supportive housing -- we hope that it becomes a template for future works." 
CW - What is unique about your process besides the use of shipping containers?
KTGY - "The construction time is expected to be significantly faster than conventional construction, because the containers are being manufactured offsite at the same time as the site is being prepared for the containers. The containers arrive by truck, are craned into place, and connected together." 
CW - Have you ever done something like this before?
KTGY - "This is our first shipping container project in Los Angeles, but we already have two more on the boards." 
Is this an entirely unique idea, or just new to LA? In 1987, Philip C. Clark filed for a U.S. patent for his "method for converting one or more steel shipping containers into a habitable building." 
In "A Short History of Shipping Container Architecture," we learn that, "Shipping containers have been integrated into construction of commercial and residential structures in Europe and Asia for years. In crowded Amsterdam, for instance, these once-orphaned, and abundant, containers have provided much-needed low-income and student housing. They say that necessity is the mother of invention, and we don't disagree. From emergency shelters for soldiers to housing for densely populated cities, container architecture has helped fill a pressing need for affordable, sustainable structures." 
And now, in Los Angeles, shipping containers may be filling a critical affordable housing need, if shipping container housing can be made to be affordable housing at affordable pricing.
(Tim Deegan is a long-time resident and community leader in the Miracle Mile, who has served as board chair at the Mid City West Community Council and on the board of the Miracle Mile Civic Coalition. Tim can be reached at [email protected].) Edited for CityWatch by Linda Abrams.
-cw