TRANSIT TALK-What do you get when you bring together inventors, investors, local government and cleantech and environmental advocates? Answer: PortTech Expo. 
On March 10, I spent the day in San Pedro at the 6th Annual PortTech Expo which showcases transformative technologies like emission-free trucks and energy saving lighting. PortTech Los Angeles which organized the expo is a nonprofit business incubator that is playing a leading role helping local "entrepreneurs move technologies from the lab to the customer to solve economic and sustainability challenges." 
Between a ride in a prototype autonomous vehicle being developed by Varden Labs and a lesson in heavy-duty emission-free trucks, tractors, school and transit buses by TransPower, I joined other participants learning about smart supply chain software, energy efficient lighting and the commercial applications of instant inventory drones in agricultural and industrial settings. 
The Expo was held at the beautifully restored Crafted building, a 70-year old warehouse that has been converted into a solar-powered craft marketplace and event space. 
Vendors at the event included The Ratkovich Company which recently announced plans to create the San Pedro Public Market, a total overhaul of San Pedro's neglected Ports O' Call. The ambitious plans call for a higher end experience featuring artisanal food sellers reminiscent of San Francisco's Ferry Building and Seattle's Pike Place Market.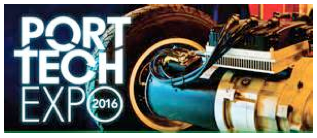 A trip to San Pedro is never complete without a visit to the currently dilapidated and underappreciated fish market at Ports O' Call. Midweek, the market and seafood restaurants were nearly empty though the view of the port with its towering container cranes was as inspiring as ever. From downtown Los Angeles it is easy to forget the critical role the Port of Los Angeles plays in the regional economy. 
PortTech, the Port of Los Angeles and The Ratkovich Company's ambitious plans for Ports O' Call represent a trifecta for Los Angeles and this often overlooked corner of the region. My money is on all three. 
(Joel Epstein is a senior advisor to companies, law firms, foundations and public initiatives on communications strategy, corporate social responsibility (CSR), recruiting and outreach. He is a contributor to CityWatch and can be contacted at [email protected].) Edited for CityWatch by Linda Abrams.