LGBTQ ACTIVITIES - This past August, Camp Mulberry, now in its seventh year, offered free summer camp programs specifically for transgender/gender diverse youth aged 9-17.
Campers came from all over California and neighboring states.  As the youth arrived, their pre-camp jitters gave way to excitement as they began to see the familiar faces of camp friends and meet their counselors. Our volunteer counselors welcomed them, and from the very beginning there was bonding and life-changing connections beginning to form.
While the week was busy with the classic camp fun: archery, hiking, ropes course, and canoeing, there were also one-of-a-kind offerings, like workshops on Healthy Relationships and Gender Euphoria. These were led by our "help team", camp volunteers who support the community with mental health expertise. Opportunities to participate in the tried-and-true camp favorites and experience special workshops and moments created just for this population of transgender and gender-diverse campers is what makes Camp Mulberry a truly special place. 
The Laurel Foundation also offers a free resident summer camp session, Camp Laurel, for youth (6-17) affected by HIV/AIDS. Both Camp Laurel and Camp Mulberry are held in the mountains in Southern California.  One of the highlights of any camp experience is watching a community grow and figure out how to face each day working together and learning about one another.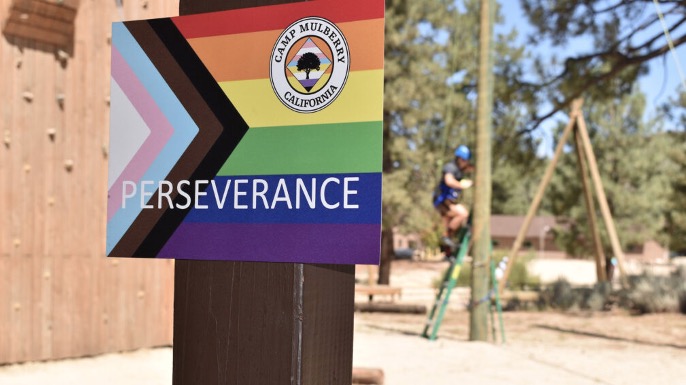 All of The Laurel Foundations' counselors brought their own skills and talents which were put on display through lively and creative evening activities that they designed and led. Campers grasped those opportunities to let their style and humor shine through in everything they did. From a superhero fashion show, complete with superheroes that end transphobia, to an air band competition that got everyone on their feet with hits from Weezer and Guns and Roses performed by cabin groups, to a night of dreaming of a whole new world and what that would look like.
Every year, Camp Mulberry and Camp Laurel end with a very special campfire that includes skits and sharing, both silly and sincere. This year was especially unique, as it was hosted by one of the Senior campers, who totally rocked it! This youth came to camp with the goal to gain enough self-confidence and stand up in front of an audience to talk.  Their goal was accomplished! Just one of the many accomplishments by campers this summer.  
While the evening always starts out with very silly skits and songs from each cabin, it's also a time when we celebrate accomplishments and have a chance to share wishes for the future. This year, for the first time, the Camp Mulberry Legacy award was given out to a former camper who returned as a counselor. As "Bronco" was handed his award, you could hear murmurs from campers as they realized this is something they can work towards, too. 
The closing campfire is also a time to see how our campers have grown during the week, and over the years. One thing that is consistent, is that as the campers share their hopes and wishes, we are reminded that the camp experience is more needed than ever. The Laurel Foundation is a life-changing place for these incredible young people to play and learn and grow, in a place where they are unconditionally accepted for who they are.
None of this would be possible without brave campers who say yes to trying something new, parents who believe in what camp can do, loving counselors and volunteers who understand how to connect and have fun, and the support of medical and mental health professionals to step away from their own busy lives to step into the world of camp, staff members, board members, and donors. Thank you to each person who made this week possible, you were part of something that will stay with campers for the rest of their lives! 
To help keep The Laurel Foundation serving children affected by HIV/AIDS and transgender/gender youth please visit their web page - Laurel-Foundation.org.