@THE GUSS REPORT-Thomas Sowell nailed it when it comes to politicians: 
"No one will really understand politics until they understand that politicians are not trying to solve our problems. They are trying to solve their own problems -- of which getting elected and re-elected are No. 1 and No. 2. Whatever is No. 3 is far behind."  
Sowell's snippet of wisdom is especially applicable to LA City Councilmember Paul Koretz when applied to his so-called advocacy for animals, which is predictably and consistently insufficient, as well as a day – or maybe a decade or so – late. To many, Koretz drags his feet on solutions to animal suffering as his raison d'etre for his (and his family's) staying on the government payroll.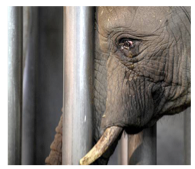 Last week, Koretz, who has been on the LA City Council for eight years and counting, finally agreed that the LA Zoo is no place for one (but only one) of its elephants, Billy, who he correctly feels should be sent to a sanctuary – a fate infinitely more appropriate for this stressed-out and long-suffering pachyderm.
But it was a decade ago in my 2007 opinion piece for the LA Daily News that I, along with many other humane advocates, demanded such moves and more for all of the Zoo's elephants: 
"This week, a magnificent elephant named Ruby was finally granted parole by Mayor Antonio Villaraigosa and the L.A. City Council, after imprisoning her at the L.A. Zoo for 20 years…..it came about a year after another elephant named Gita died a slow, physically painful and emotionally suffocating death at the L.A. Zoo. After nearly 50 years of suffering. And don't forget Tara, who died just a few years earlier, at 39. Make no mistake: These girls suffered, big-time. On our dime." 
But City officials then, like Koretz now, reluctantly did the very minimum. They moved only Ruby (and only Ruby … see the pattern?) and then squandered nearly $50 million on "improving" the elephant exhibit in ways that those in the know understood was a waste of money. This is made apparent by the need to move Billy now. You could think about those upgrades as ones that changed the elephant exhibit from awful and deadly to unacceptable and inadequate. 
At his press conference last week, Koretz said Ruby was sent "to the PAWS sanctuary and allowed her to live out the rest of her life being a real elephant," referring to a Performing Animal Welfare Society facility. "Billy deserves the same," he said. 
But if the LA Zoo conditions are insufficient for Billy, why is Koretz not taking action for the other elephants still there, Tina and Jewel, and pre-emptively stopping the Zoo from taking in more elephants? 
Koretz had no answer and refused to field live questions about it. 
The answer to this question is, of course, that Koretz needs something to trumpet during his recently won third and final term on the LA City Council, rather than solve problems here, now and for good. 
This was precisely Koretz's modus operandus during his feeble and ineffectual ban on one (but only one….see the pattern?) elephant torture device, the bull hook, from inflicting fear and pain on visiting circus elephants when they and other exploited animals came to LA's Staples Center. 
So inept and purposeless was Koretz's bull hook ban that, even though it was approved in 2014, it didn't go into effect until this year, 2017, by which time the public's outcry against elephant cruelty caused the circus to stop exploiting elephants altogether.
In fact, Koretz pledged at that time that until the bull hook ban kicked in, he would walk alongside the circus elephants in their Bataan-like trek from the train station to Staples Center, a move that would do nothing other than promote Koretz while solving nothing.  
By pointlessly delaying the ban's implementation, Koretz exploited the elephants by giving himself nearly three years of photo ops with them….if only the circus didn't stop exploiting them first. 
Koretz's ineptness on animal issues isn't limited to elephants. 
LA has an irrelevant (how should we refer to it?) dog and cat spay/neuter…notion? We can't call it a law, because LA has no mandatory spay/neuter law -- a common misperception. Despite killing scores of homeless shelter animals each year, the City of Los Angeles does nothing meaningful about stopping dog and cat births. Sterilization is optional if you give the city some money, or just ignore its licenses altogether. 
Under Koretz, Mayor Eric Garcetti and City Controller Ron Galperin, LA Animal Services has falsified animal kill statistics and changed the definition of death, euthanasia and adoption. That's no surprise given that the LAAS GM Brenda Barnette and Assistant GM Louis Dedeaux are both professional dog breeders. (Coming Soon: What Koretz told a former LAAS veterinarian who complained about Dedeaux's breeding activity and alleged on-the-job misconduct related to it.) 
LA City Council has been Paul Koretz's intermittent haunt since Gerald Ford was president and, having just turned 62, he has spent his entire adult life seeking elected office in one form or another. But at no point has he ever solved a humane problem completely, effectively and resolutely because, as Sowell pointed out, a politician like Koretz is more focused on longevity than on doing the right thing right away.
(Daniel Guss, MBA, is a member of the Los Angeles Press Club, and has contributed to CityWatch, KFI AM-640, Huffington Post, Los Angeles Times, Los Angeles Daily News, Los Angeles Magazine, Movieline Magazine, Emmy Magazine, Los Angeles Business Journal and elsewhere. Follow him on Twitter @TheGussReport.  Verifiable tips and story ideas can be sent to him at TheGussReport@gmail.com. His opinions are his own and do not necessarily reflect the views of CityWatch.) Edited for CityWatch by Linda Abrams.