VOICES-For the past several years, staff members who left their employment with Jose Huizar's CD 14 office have found lucrative jobs working for other city and state elected officials or have obtained employment working for various Los Angeles City Departments.
Many did not meet the minimal requirements for these jobs, nor did they have the required experience and knowledge for new positions within various city departments. 
Let's start with Ana Cubas who left her position during Huizar's affair with Francine Godoy. Prior to Cubas leaving, she acknowledged in 2011 that Huizar had transferred $1,045,000 from the CLARTS fund to his salary account. These funds were to have been spent for community amenities. In 2012,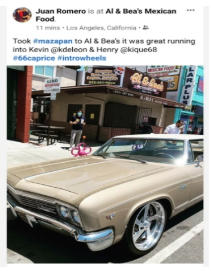 Occidental College hosted a Northeast Redistricting Commission Hearing. Cubas was observed behind a curtain tearing up 3X5 cards that had written questions by community members in attendance for the commission to address and answer. 
We all know what the results were. Huizar held on to his downtown Los Angeles area and Wesson held onto the Koreatown area. Cubas then ran for CD 9 and lost the election. More recently, Cubas stated when she ran for an LAUSD Board member seat that she is an educator at East Los Angeles College, teaching political science. One can ask, does Cubas tell her students about the wide-spread corruption that takes place among LA City elected officials, especially her former boss Huizar? 
We can't forget about Henry Casas who, in 2009, was Huizar's deputy chief of constituent outreach. He was arrested for domestic violence and placed on administrative leave. Then he disappeared as a Huizar staff member. More recently, Casas was observed in Boyle Heights having a meal with no other than soon-to-be elected CD 14 Councilmember, Kevin DeLeon. Will Casas or a member of his family soon to be hired as a staff member once  DeLeon becomes Councilman DeLeon? 
In October 2012, Councilman Huizar was involved in an auto accident after leaving a birthday celebration for his staffer Erick Martell. The party, where a lot of drinking was taking place, was held at the Edison, 108 W. 2nd Street LA, 90012. The auto accident took place on 1st Street in Boyle Heights. On the date and time of the accident, Huizar was driving a city-owned 2008 SUV Highlander. He plowed into the rear of a vehicle driven by David Ceja. At the time, Ceja was working as an investigator for Los Angeles City Attorney Trutanich's office. Ceja obtained an attorney and filed a lawsuit asking for $500,000. Per Ceja's attorney, and prior to the filling of the lawsuit, minutes after the accident Huizar repeatedly asked Ceja if the matter could be handled without calling or alerting the Los Angeles Police Department. Huizar also offered to pay for all of the damages to the victim's vehicle. 
Huizar subsequently called Hollenbeck Division and told Ceja that they told him the matter could be resolved without taking a formal police report. In 2013, Los Angeles City Attorney Mike Feuer settled the lawsuit on behalf of Ceja for over 185,000 taxpayer dollars. Prior to the settlement, did Feuer review all the documents and have his investigators interview any and all police officers that conducted the investigation under oath? Within days of the accident, Huizar staff member Rick Coca  (currently employed by Los Angeles City Councilwomen Nury Martinez) stated that Huizar had undergone sobriety tests and that all tests were negative. 
Recently, I received information from LAPD sources that Huizar had failed his sobriety tests and that the matter was covered up by then-Chief of Police Charlie Beck and then-Mayor Antonio Villaraigosa. I might add that all of this information has been turned over to the U.S. Attorney's office and the local FBI. Now the question is: What did Rick Coca really know? How can he now be trusted to speak the truth as a spokesperson for Nury Martinez? 
How did Francine Godoy, after filing her harassment lawsuit which named Huizar, obtain a new job with the Los Angeles Department of Bureau of Sanitation with a title of Principal Project Coordinator?  When Godoy started as a Huizar staff member in 2006 she made $47,000 per year. Six years later she was making $132,000. Now the question is, did Godoy know anything about the Sanitation Department when she obtained this lucrative job? 
Zenay Lorea left Huizar's staff and ended up marrying another staff member, Nate Hayward. Nate also left Huizar and I was told that he is now working for the LA City Department of Transportation. Folks have said that he is not happy with his current job with the city. 
Kevin Ocubillo, also a former Huizar staff member, is someone that the U.S. Attorney's offices should be talking to. As a Huizar staff member he had first-hand knowledge of buildings and planning permits requested by developers for all of CD 14. He also attended the Land Use Meetings for the Neighborhood Councils for CD 14. After leaving Huizar, he also obtained new employment with the City of Los Angeles. 
A few years back a young couple who reside in Eagle Rock had been trying for years to obtain building permits to construct a home on property that they already owned. They met with Huizar who referred them to Ocubillo. Ocubillo told them in emails that they were number 30 on a waiting list to receive their building permits as they had already attended hearing in City Hall and their building plans were approved. 
More than two years passed, and the family stated that they were still at number 30 on the list. When this was brought to the attention of Sean Starkey, a Huizar field deputy for the Eagle Rock area at the time, he stated that Kevin told him that he had never communicated with this family. When Sean was told about the emails he just walked away. Remember, email communications don't lie. To this date the family has not received their building permit. But they did receive a letter from the city telling them they had to pay for a fire hydrant and a second letter informing them that they had to pay for a new Water and Power light pole. Both items are already there, less than 100 feet from the planned construction site. 
Does this family need to place money in someone's palm before obtaining their building permits? We all know that when someone hires an expediter, they must give them thousands of dollars to grease the palms of city employees to obtain the needed building permits. This can be said for all the corruption and bribes that were taken by Huizar and company. This has been going on in the city of Los Angeles for many years. 
Sean Starkey, also a former Huizar staff member, now works for CD 13's Mitch O'Farrell. Starkey came to Los Angeles from Chicago. He, like Ocubillo, is very informed about building and safety permits and land use items. More than three hundred pages of documentation are being sent to the U.S. Attorney's office surrounding questionable permits given to developers for construction in the CD 13 area. 
I can't forget to mention George Esparza, the former Huizar staff member who went to work for State Assemblywomen Wendy Carrillo. He was in the mix big time and now, hopefully, he will see some good federal jail time.  
Lastly, Huizar's Chief of Staff Paul Habib also left his position. I was told he obtained a lucrative position with the City of Los Angeles Department of Water and Power. Everyone knows that Habib had inside information on the current corruption allegations on his now former boss Huizar. 
Many of the current (those still around) and past Huizar staff members are in competition with each other, vying for staff positions with incoming CD 14 Councilmember Kevin DeLeon. They all worked hard on DeLeon's CD 14 campaign. 
Hopefully, the U.S. Attorney's office and the local FBI office will interview every past and current Huizar staff member. They all know something. One does not jump ship for the hell of it.  
The U.S. Attorney's office also needs to expand their investigation into Empower LA (DONE) and all the Neighborhood Councils that fall under CD 14, CD 1 and CD 13. They need to review all minutes and all forms of communication, letters, etc. pertaining to their Land Use Committees.  
The U.S. Attorney also needs to take a good look at the questionable interference by Huizar and company in the formation (or lack thereof) of the Skid Row Neighborhood Council. 
The U.S. Attorney's office also needs to see if there was any pay-to-play surrounding the installation of the bike lanes in Eagle Rock. The majority of Eagle Rock residents were against the bike lanes. I'm recalling the community meeting held at the Eagle Rock Arts and Cultural Center where Huizar stated "Like it or not the bike lanes are coming." 
It is my belief that this current investigation by the U.S. Attorney's office and the FBI is just the beginning; to date, they have only touched the tip of the iceberg. For the past several years the City of Los Angeles can be viewed as number 1 for political corruption. 
Since Mayor Eric Garcetti wants to offer a buyout for current City of LA Employees, he may want to ask all those who obtained lucrative jobs with the City after departing from Huizar's staff be terminated. After all, just because you had once been employed obtained employment with a city elected council official does not guarantee  anyone full time or part time employment as a city employee with any LA city department.
(Caroline Aguirre is a retired 24-year State of California law enforcement officer, LAPD family member, community activist and Neighborhood Watch captain. Aguirre is a CityWatch contributor.) Edited for CityWatch by Linda Abrams.