PUBLIC HEALTH CRISIS-It is important that I start off this article with my background. I worked in hospitals and nursing homes for about seven years in my 20s while pursuing a degree in nursing.
I worked in almost every patient-oriented department of a hospital as a Nurse's Aide, Unit Secretary, as an Operating Room Tech, as an Emergency Room Tech, and as a Pharmacy Technician. I have worked in almost every unit – medical wards, surgical floors, orthopedics, Neonatal Intensive Care, Coronary Care, and Intensive Care. 
I was trained by a fantastic RN when I first became a Nurse's Aide. And I learned a great deal about what to do and not what to do in a hospital environment. 
I was working in this capacity while going to college at night. Forty years ago, I would have been on the front lines of the Coronavirus with other hospital staff. So to all the health care workers and first responders, I say thank you from the bottom of my heart. 
It was important to explain this because that patient care part of me would never have done what I did about ten days ago. 
I went to pick up a prescription at a pharmacy late in the evening. There were not many people waiting in line. We used social distancing which made me happy. 
WHAT I DID WRONG 
On a machine similar to the one in the photo above, I was asked to push on boxes on the touch screen. When I looked at the screen, it was obvious to me that someone may have sneezed or coughed on it. I cringed as I was told to touch the boxes and to sign. I also had to push the boxes on the keypad. 
After I signed, I asked the pharmacy tech to clean off the machine – in other words, I made him aware of how it looked. But as the next customer came up, I observed that he did not stop to clean the machine. Was that not in his job description?
WHAT I SHOULD HAVE DONE: 
I should have refused to sign until the unit was cleaned. 
I should have asked the pharmacist to look at the pay station so that she could have told the technician to clean it. 
Maybe I should have pulled the WET ONE I had in my fanny pack out and wiped the machine before touching it – would it have hurt the machine? 
I did use my WET ONE after going to my car to clean my hands. 
CORONAVIRUS – AKA: COVID – 19 AKA: SARS – CoV – 2 surfaces:   
"The virus that causes coronavirus disease 2019 (COVID-19) is stable for several hours to days in aerosols and on surfaces, according to a new study from National Institutes of Health, CDC, UCLA and Princeton University scientists respiratory syndrome coronavirus 2 (SARS-CoV-2) was detectable in aerosols for up to three hours, up to four hours on copper, up to 24 hours on cardboard and up to two to three days on plastic and stainless steel." 
WHAT YOU SHOULD DO: 
Take disposable gloves with you when you shop, buy gas, etc. 
Take WET ONES or other hand wipes with you to use after you have shopped or pumped gas, etc. 
At grocery stores, use the cart wipes. Take a few extras to use in the stores on freezer door handles, etc. 
Use those wipes on your gloves. Some of the cart wipes say that they are specifically for carts. If the container says that – do not use them on your skin. 
If the container says they are hand wipes, like Purell hand wipes, you can use them on your gloves, and on your skin if you don't have gloves after wiping your cart.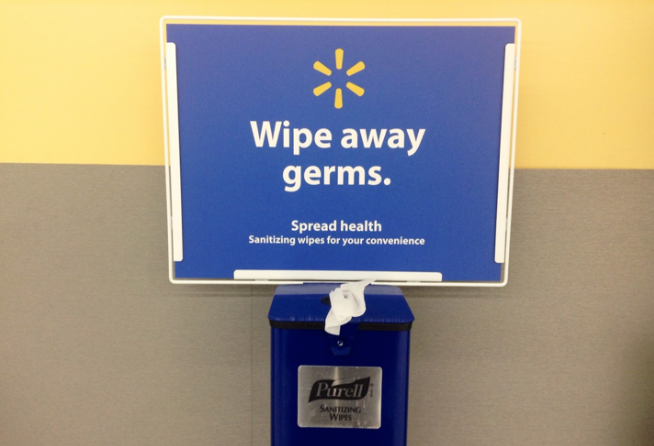 Photo: Flickr


Follow social distancing guidelines. Avoid standing in long lines if possible. 
If you are a senior or someone who is immune compromised, try to find out if the store that you are going to has special hours for seniors according to the guidelines that tell seniors over 65 to stay at home. 
Try to see if the store or pharmacy has a delivery service. 
When you check out, wear gloves when you are touching the credit card reader, keypad, etc. 
Do not take your reusable bags – you do not know whose bags have been on the conveyor. 
Get plastic or paper bags and use them for recycling. 
Remember to wash your reusable bags in the washing machine regularly. 
If you are driving up to a pharmacy window, don't take the clipboard and pen – carry your own pen – you don't know who last touched that pen. 
Use drive through pharmacies where they are available. 
Wash your hands with soap for at least 20 seconds according to the CDC guidelines as soon as you get home. Use your bathroom to wash your hands to prevent transferring any viruses or bacteria to your kitchen sink.
Clean your bathroom sink and kitchen sink and counters with the appropriate disinfectants regularly to protect from carrying bacteria or viruses from one room to the other, and to protect your food preparation area. 
Make sure that family members and caregivers use similar guidelines. 
We are one world. We are all in this battle against the transmission of the Coronavirus and other viruses together. Please follow my suggestions, and if you see something wrong – as I did – speak up. 
Why didn't I speak up? Was it that my husband was waiting for me in a car for about a half an hour? Was it that the pharmacist was wearing a mask and I wondered why? 
The CDC and the California Department of Public Health should put out guidelines not only about having alcohol based sanitizers placed at the pharmacy counter, but they should establish guidelines of who should be cleaning and how often a payment machine should be cleaned each day. 
Is there a better way to pay without typing in a pin code for a debit card for example? I do not support payments with phone apps because I believe that these apps place customers at greater risk for identity theft. 
Please take every precaution to be safe when you leave your home environments.
(Chris Rowe, a former health care employee who has worked at Northridge Hospital, Tarzana Medical Center, and West Hills Hospital has a B.S. in Health Education. She is a 42-year resident of West Hills. She has written for the Los Angeles Daily News, RonKayeLA.org; OurLA.org; and CityWatch. She has a blog on the USC/ Annenberg Center for Health Journalism website and can be reached at [email protected]) Walmart photo: Flickr; Top photo: Creative Commons – Scott Brody     Edited for CityWatch by Linda Abrams.