PLANNING WATCH-We could easily balance our budgets if we were paid each time an official or municipal pundit called for updating LA's 35 Community Plans, heirlooms from LA's boom years.
These relics are part of the city's General Plan, required by California State law and the City of LA's voter-adopted Charter. 
Based on standard planning practice, Community Plans should be updated every five years, while the citywide General Plan elements should be updated on a ten-year cycle, whether mandatory (e.g., Public Safety - 1996) or optional (e.g. Air Quality - 1992). 
But, in LA this does not happen. Most of the citywide General Plan elements are more than 20 years old, as are LA's 35 Community Plans. Instead, these two halves of the required planning process have been severed from each other. The only thing they have in common is City Hall's sluggish pace at updating them, despite slews of new City Planning hires. 
When we say sluggish, exactly what do we mean? The program to update LA's 35 Community Plans dates back over 15 years, when it was originally called the New Community Plans. Since then, City Council has approved six updated Community Plans. The City Council adopted a seventh Community Plan, for Hollywood, but Superior Court Judge Alan Goodman threw it out in 2012 for using cooked data. Eight years later, the update of this annulled Update is still a work in progress. 
Another 16 Community Plans are at some point of preparation, while 13 Community Plans are on hold, perhaps, like the Wilshire Community Plan, pushed back from a 2019 start date to, tentatively, 2021. 
Unfortunately, despite clear scheduling requirements in Mayor Eric Garcetti's March 2017 Executive Order 19, there is still no published schedule for any Community Plan Update starts, completions, and City Council adoptions. 
The 2017 Neighborhood Integrity Initiative, also called Measure S, attempted to remedy this chaotic situation by requiring all 35 Community Plans, as well as the citywide General Plan elements, to begin their long-delayed updates over a two-year period. But the large developers who funded the slick opposition to Measure S prevailed. Furthermore, to ensure the defeat of Measure S, the City Council discussed requiring the Department of City Planning to fully update LA's Community Plan on a six-year cycle. While their six-year proposal got ample press coverage, there was no corresponding City Council action, except funding. The closest was a 2018 City Planning report to the City Council. To meet the Council's six-year update cycle, the Planning Department wrote that it would need to expand the number of Community Plan Update teams from three to five. Several years later these five teams exist: West Valley, East Valley, South and Harbor, West, East, and Central.  What is missing, however, is any schedule for when these teams will start and complete the long overdue Community Plan updates. 
Self-imposed barriers to updating Community Plans. The barriers to meet this six-year schedule are enormous. A poster-child for these self-imposed speed bumps is the twice-postponed update to the Wilshire Community Plan, a huge area that extends from Ramparts Boulevard on the east, Beverly Hills on the west, Venice Boulevard on the south, and Melrose Avenue on the north.  When the Wilshire Plan's update eventually begins, it will need to address many parallel issues and initiatives that ought to be central to any Community Plan Update. 
Wilshire Corridor's Failing Infrastructure. The infrastructure of the older neighborhoods that comprise the Wilshire Community Plan is nearly a century old. The patch work of upgrades to LA's intricate systems for emergency responses, electricity, water, telecommunications, sanitary sewers, storm drains, streets, sidewalks, street lights, street trees, street sweeping, and garbage collection cannot keep up with normal wear-and-tear, mounting user demand, and the addition of many new, energy-intensive, auto-centric buildings. The area's old infrastructure is increasingly failing. For the forthcoming Wilshire Community Plan to be viable, it must carefully assess the area's strapped infrastructure and services, offer programs to repair and upgrade them, and determine how these shortcomings impede various real estate driven upzoning schemes.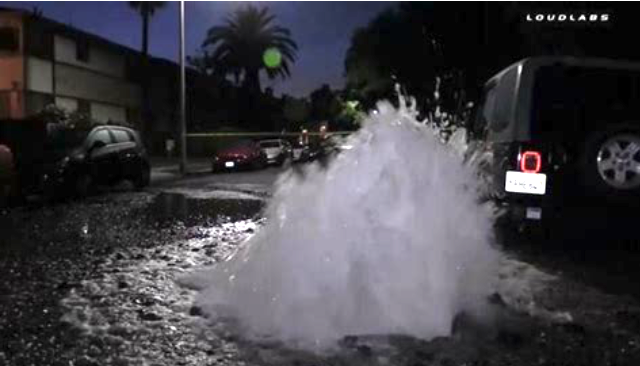 Typical infrastructure failure in the Wilshire Community Plan area.  Beverly Grove in 2015.
Stagnant Population. The Wilshire Community Plan area's population is static, despite major new real estate ventures in Koreatown, Beverly-Fairfax, and the Miracle Mile. One of the major rationales for upzoning schemes, population growth, does not exist. In fact, the Wilshire area has 35,000 fewer people than the 2001 Wilshire plan's population forecast for its 2010 horizon year.

Under-utilized zoning. The Wilshire Community Plan area has huge amounts of untapped zoning capacity. Its available zoning could minimally permit a hundred thousand new, by-right residential units. If LA's two density bonus programs (SB 1818 and TOC Guidelines) were added to these zoning buildout calculations, the Wilshire Community Plan area would more than double it current population, reaching 770,000 people, without any zone changes. 
Purple Line Extension Transit Neighborhood Plan (TNP). The proposed TNP would extensively up-zone the western portions of the Wilshire Community Plan independently from the forthcoming Wilshire Community Plan Update. Any Community Plan Update data regarding population trends, infrastructure constraints, and available zoning capacity would be side-lined in order to separately upzone countless private parcels. Happy days are here again for commercial property owners. 
First-Last Mile Public Improvements. METRO is planning First-Last Mile public improvements for the Purple Line Extension area, without any linkage to the forthcoming Wilshire Community Plan Update, the METRO-funded Purple Line Transit Neighborhood Plan, and City Planning's own extensive Pedestrian First Design and Complete Streets Guidelines. These METRO enhancements will include subway stations, street furniture, landscaping, crosswalks, and sidewalk and street repairs. These efforts to promote transit use would move forward in their own lane, oblivious to the simultaneous Community Plan Update and Transit Neighborhood Plan. 
Re: Code LA is many years overdue, yet the Purple Line Extension TNP intends to adopt non-existent Re:Code LA zones prior to the implementation of the Wilshire Community Plan update through zone changes. 
With so many overlapping planning initiatives covering the same area at the same time, the barriers to successfully updating LA's Community Plans, such as the Wilshire Plan, are enormous.  Furthermore, local communities are on high alert for any City Hall gambit to surreptitiously impose more building mass, height, and density through a Community Plan Update. 
Will the Mayor pull his Executive Order 19 out of a desk drawer and order a detailed schedule for updating LA's General Plan, including the 35 Community Plans? Will the City Council finally demand that City Planning honor its extra funding to complete the Community Plan updates on a six-year timetable? 
Unfortunately, no one knows for sure, but the defeat of Measure S strongly suggests that Mayor's Executive Order 19 and the City Council's instructions were election year ploys, not honest commitments to the good governance that Angelinos want and expect.  
So, beware when they tell you they want to meet for lunch.
(Dick Platkin is a former Los Angeles city planner who reports on local planning issues for CityWatch.  He serves on the board of United Neighborhoods for Los Angeles (UN4LA) and is co-chair of the new Greater Fairfax Residents Association. Please send comments and corrections to [email protected]