PLANNING WATCH-In American elections politicians veer left during campaigns to catch the attention of the electorate, which is more progressive on the issues than the two major political parties.
Even though their posturing is mostly calculated and self-serving, many people take the speeches and ads at face value.  
In the current campaign, the candidates can no longer side-step the housing crisis, so have staked out the following positions for the entire country, including California. 
At one extreme is the Trump Administration, which would be in sync with establishment Democrats not running for office. For them the solution is simple. "We" should deregulate housing markets by cutting back on zoning and environmental review. These actions will encourage investors to "build more housing." The White House and City Halls can then harness this unrestrained pursuit of private profit to flood cities, like Los Angeles, with more housing. This over-supply will supposedly drive down prices, and the housing crisis, including homelessness, will become history. Swept aside in this ingenuous narrative are the millions of chronically vacant homes in the United States, 7,000,000 of which had owner-occupants before the Great Recession de-housed them. 
This approach, of course, has nuances. Anyone who has followed the careers of Trump cabinet members Wilbur Ross and Steve Mnuchin, HUD Secretary Ben Carson, California Senator Scott Wiener, California Governor Gavin Newsom, and LA Mayor Eric Garcetti, can get lost in the weeds of free-market, supply-side, trickle-down, neo-liberal go-nowhere faux solutions to the housing crisis. 
To save you from this tedium, here is the short version. The current housing crisis results from this approach. More of the same, like California's defeated Senate Bill 50, would make the current housing crisis worse. Building even more expensive, free market housing is at the heart of the gentrification process. It leads to evictions and pulls up housing prices, leaving the most economically and psychologically vulnerable overcrowded or homeless.
Into this vacuum the major Democratic candidates have so far presented voters with a range of housing policy alternatives. Based on a summary or their positions in the Sacramento Bee, here is an overview: 
Joe Biden advocates giving new homebuyers a $15,000 down payment grant. Other programs may be forthcoming. 
Bernie Sanders proposes $2.5 trillion for new public housing, $410 billion for rental assistance, and $3 billion for Native American housing. He also calls for a Federal ban on discrimination against tenants with Section 8 vouchers, and a 3 percent maximum national cap on rent increases. 
Pete Buttigieg calls for $430 billion in Federal spending to restore and/or construct 2,000,000 low-income units and help for 1,000,000 million homebuyers. He also supports local up-zoning but has not offered details. 
Amy Klobuchar calls for $1 trillion in housing and poverty spending with a focus on homeless aid and Federal housing vouchers. She also would grant cities that adopt upzoning programs Federal grants for housing and infrastructure. 
Elizabeth Warren offers $500 billion over a decade to build and renovate low income housing. In addition, $2.5 billion would be dedicated to Native American hosing, $4 billion for a middle-class housing emergency fund, and $10 billion in grants to cities that cut back local zoning laws. 
Michael Bloomberg proposes $6 billion in Federal homelessness programs, more tax breaks for affordable housing developers, and unspecified housing assistance for low income people. 
Tom Steyer calls for spending $47 billion to build and renovate affordable housing, pus tax credits for low income housing construction. 
Considering that talk is cheap during political campaigns, we need to ask what would actually happen in 2021. 
If Donald Trump wins a second term, his two foreclosure kings, Steve Mnuchin and Wilbur Ross, will either remain in his Cabinet or be succeeded by their ideological twins. Either way housing schemes to make the fabulously rich even richer will continue. When these schemes invariably fail, the White House will continue to bait local Democratic officials.  
If one of the Democratic candidates is elected and gets support from Congress to go beyond limited Executive orders, there could be baby steps to restore defunded or terminated HUD public housing programs. Unlike military/police expenditures and tax cuts, the Congressional opponents, buttressed by the corporate media, will claim the costs are prohibitive. Meanwhile, the chances of paying for restored housing programs by rescinding recent increases in military spending and tax breaks for the rich are slim. 
Considering that trickle-down economics is folded into the housing planks of candidates Buttigieg, Klobuchar, Warren, Bloomberg, and Steyer, we can assume that "more of the same" will prevail.  Housing investors and developers would do well, and the housing crisis facing the middle class and poor will barely change. 
At the same time local Democratic officials, engaged in a Vulcan mind meld with their estate donors, will continue to promote up-zoning gimmicks. They might build a few low-income housing units through private developers, but they will also turn to more police actions against homeless encampments to placate distraught constituents.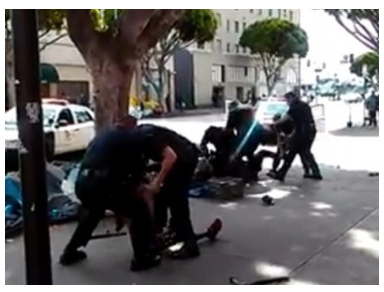 LAPD takes on a homeless encampment. 
The wild card would be a Bernie Sanders presidential victory since his housing plank is based on restoring HUD housing programs, without any local trickle-down schemes.  In this scenario the Sanders administration would face a knock-down, drag-out battle with Congressional Republicans and centrist Democrats. Since both groups use the housing crisis as a pretext for sweetheart developer handouts, they would be at total odds with the new administration's public housing programs.  
The outcome of this conflict is, however, unpredictable.  If the Sanders administration could elicit a groundswell of public activism for restoring slashed housing programs, it might win.  Otherwise, the homeless encampments we accept as the new normal would grow, and the cocooned Sanders White House would end up with a bully pulpit, and little else.
(Dick Platkin is a former Los Angeles city planner who reports on local planning issues for CityWatch. He serves on the board of United Neighborhoods for Los Angeles (UN4LA) and is co-chair of the new Greater Fairfax Residents Association. Please send comments and corrections to rhplatkin@gmail.com.) Prepped for CityWatch by Linda Abrams.