TENANTS RIGHTS-One June 12, Democratic lawmakers harnessed their majority powers to pass sweeping changes in rent laws in order to protect tenants in a state with some of the country's most expensive housing markets. "This package of legislation will reverse decades of rampant landlord abuse and enact much-needed protections for hundreds of thousands of tenants." 
But wait. Those Democratic lawmakers who passed the "strongest tenant protections in history" are in New York. Not California.   
As desperate as Californian renters are, with increasing evictions and rent hikes throughout Los Angeles forcing thousands more people onto the streets, just one of four tenant protection bills survived in the Assembly.  
"It does seem irrational," says Francisco Dueñas, Housing Justice Campaign Director for Alliance of Californians for Community Empowerment (ACCE). "Democrats have a super majority in both houses and yet many still will not champion tenant rights bills that they know would help their constituents." 
The surge in homelessness announced in June -- up 16 percent from last year -- "stunned" some city officials, but it has been an obvious crisis for a long time. 
In our state Assembly, on June 12, only AB 1482 -- a cap on "egregious" rent increases -- narrowly had the votes to make it out of the Assembly, even though considerable concessions had to be granted to landlord groups and the California Realtor Association. The bill, which now goes to the state Senate, would prohibit landlords from raising rent by more than 7 percent plus inflation over the course of a year for only the next three years. 
The companion "just-cause" eviction bill -- AB 1481 -- did not even come to a floor vote, lacking the bare minimum of 41 Assembly votes. It would require landlords to notify in writing to tenants the reasons why they are to be evicted. 
 "We've made one compromise after another. We've been giving and giving and giving," says Amy Schur, Campaign Director of ACCE. In the lead-up to the votes on these bills, "we ceded to one demand from (the Realtors) after another. If the realtors are this unwilling to allow tenant protections to advance, the ball is squarely in the court of the legislators, the Governor and the Speaker." 
In 2018, Assemblyman Rob Bonta (D-Oakland and Alameda) who introduced the just-cause eviction bill, told reporters he had conversations with some fellow Democratic lawmakers "who would cite their own personal experience as landlords in explaining their reluctance to vote for these bills." 
A CALmatters analysis reveals that at least 30 lawmakers -- more than 25 percent of the Legislature -- own one or more properties that generate income from tenants. Six of them sit on one of the Legislature's housing committees. 
We Need More Champions 
In Northeast Los Angeles, Senator Maria Elena Durazo (D-Los Angeles) is hailed for her leadership in authoring SB 529, which would ensure a tenant's right to organize by protecting them from retaliatory eviction. But it too fell short, by one vote.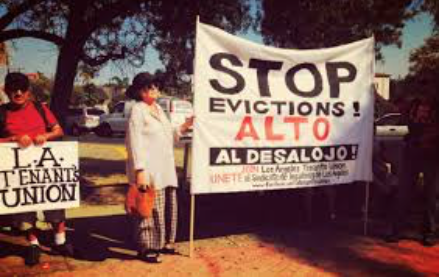 "We are dismayed that [eight} members of the Democratic controlled State Senate caved into pressure from the real estate industry and voted against SB 529," said Lupe Arreola, Executive Director of Tenants Together, "but we are thankful for the support of 20 of 38 senators, and for the tireless advocacy of Senator Durazo and her staff." 
What's clear to many now: "We need more champions in our legislature who will do the right thing by tenants," says Francisco Dueñas of ACCE.  Wendy Carrillo (AD 51-Highland Park, East LA, Echo Park) gave her support as co-author to the rent cap bill (AB 1482) and Laura Friedman (AD 43-Glendale) confirmed to members of ACCE and the Housing Now! Coalition that she was a Yes on both tenant protection bills. 
But Miguel Santiago (AD 53-parts of DTLA, Boyle Heights, Westlake) would only verbally agree to vote Yes on the rent cap bill," adds Dueñas. "We would have liked to see him also verbally support AB 1481, the just cause eviction protections, as they are a package." 
Last year, a CityWatch article put our local leaders on notice: "Astonishingly, eleven Assembly Democrats joined Republicans in voting "no" on the tenants eviction for just cause bill, an astonishing 26 Democrats did not even bother to record a vote, which is in effect a vote against the bill," wrote authors Hector Huezo and Rocio Rivas, Board members of East Area Progressive Democrats. 
This April, AB 36, written by Assemblyman Richard Bloom (D-Santa Monica), would have allowed local governments to control rents on properties more than 20 years old with exemptions for smaller landlords, but it was shelved before a committee hearing. And a proposal that would have created a statewide rental database to reliably track evictions and prices also didn't have the votes. 
"The millions of dollars being spent every year by the corporate landlord lobby to influence the state Legislature is difficult to combat, and we see that over and over again," said Amy Schur of ACCE.
"Housing is viewed as a crisis by the public, and they're looking for bold action," Mark Baldassare, president and CEO of the Public Policy Institute of California, said in 2018. "And from the Legislature, so far, they're getting inaction more than action." 
Too many lawmakers "are fiddling with deck chairs," says Hans Johnson, President of EAPD, "while failing to deliver on our party platform's commitment to safe and affordable homes for ALL and watching hundreds more Californians each week fall out of housing. If New York Democrats can pass such strong tenants protections laws, why can't California's?" 
Legislators in New York called their sweeping tenant reforms "the right thing to do," and said, "for too long, power has been tilted in favor of landlords and these measures finally restore equity and extend protections to tenants across the state." Governor Andrew Cuomo signed the legislation the following day. 
How many bills to prevent evictions and protect vulnerable renters have our elected lawmakers sent our Governor?
(Mary A. Fischer is an award-winning journalist and member of EAPD.) Prepped for CityWatch by Linda Abrams.