@THE GUSS REPORT-The University of Southern California may be located a few miles south of downtown Los Angeles, but it did the Texas Two Step last week as an infuriating but delicious scandal of fraud, bribery, fame, wealth and privilege in college admissions unfolded at its doorstep. 
USC's first step of that dance was in fact a major misstep, by claiming it is a victim of the scam, in which wealthy parents of underachieving high school kids allegedly paid college admissions consultant (and admitted scam mastermind) William "Rick" Singer, tens and sometimes hundreds of thousands of dollars to get their kids into universities they have no business visiting, let alone attending. Singer did this, allegedly with the parents' and some of the kids' blessing, by bribing college officials, including some sports coaches, and by bribing others to alter or take college entrance exams on the students' behalf. 
But anyone who has followed USC over the past several years knows that the highest reaches of USC are infected with scandals that consistently demonstrate a pattern of corruption, chaos, substance abuse and criminality, including: 
The drug-fueled secret lifestyle of USC's now-former medical school dean Carmen Puliafito, whose behavior was so outrageous that he was eventually booted and stripped of his California medical license. 
The alcohol-fueled antics of USC's then-head football coach Steve Sarkisian, whose story was so warped, he eventually lost his job and arbitration case against the university. 
The sexual abuse by George Tyndall, a former ob-gyn who preyed on young female patients at USC's student health center for decades, resulting last month in a $215 million class action lawsuit settlement for his victims. 
The shady $100,000 gift made by LA County Supervisor Mark Ridley-Thomas to USC (with money that was not his) resulting in his sexual harassment scandal-plagued son, former California State Assemblymember Sebastian Ridley-Thomas, subsequently receiving a full scholarship, followed just a month later by a professorship despite his only having a bachelor's degree. 
If USC is a victim, it is only a victim of itself, its lack of oversight and inability to see a pattern of chaos among its own ranks. 
But there is redemption for USC in the second step of this dance, and the university showed a glimmer of it a few days after claiming its victimhood. It came out and declared that anyone who is currently in the admission process but who has ties to Singer would not be admitted, and that every matriculating student with a connection to him would have each of their cases evaluated individually. 
That's how you do it; stop crying about being a victim and get down to business. But make sure that those working to clean up this mess come from the outside, which is something USC has not yet pledged to do. 
Getting down to the business of cleaning up USC's act might first bring more pain though, and that starts at the very top of the university with the Chairman of USC's Board of Trustees, billionaire real estate developer Rick Caruso. 
USC should hire an outside agency to determine whether Caruso's own daughter, Gianna "Gigi" Caruso, qualifies to attend USC, regardless of her parents' extraordinary generosity to the university over many years. How did she score on entrance exams? Is she attending and succeeding in her studies? And is she receiving any special treatment because of her father's wealth and power? 
And most importantly, would she have been accepted into USC if she was something other than wealthy and white?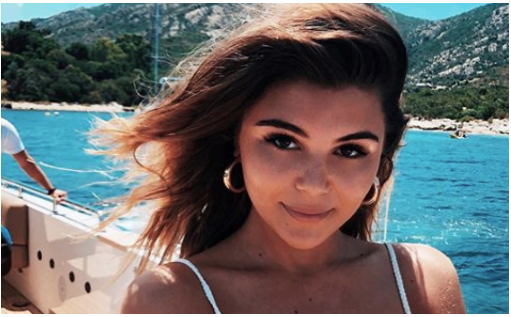 While there is no indication of any wrongdoing by, or on behalf of, Ms. Caruso, these are extraordinary times which call for a thorough, top-down approach to ridding USC of corruption once and for all. That, and the fact that at least one of the kids whose parents were indicted in the fraud last week, were aboard Mr. Caruso's five-level, $100 million yacht Invictus with Ms. Caruso in the Caribbean when the scandal broke. (Photo left: Olivia Jade, daughter of accused parent Lori Loughlin, aboard the Invictus last week.) 
If USC fails to have an outside agency investigate the Carusos, it is not serious about healing itself. 
Then the USC Board, without Mr. Caruso, should ask the NCAA to investigate its wallflower Athletic Director, the former NFL great Lynn Swann, to determine whether criminal misconduct within USC's athletic programs was known to him, and why he has not been front and center in publicly addressing the problem as soon as the chaos ensued. 
USC must let the chips fall where they may. But it must be done away from the oversight of Mr. Caruso whose own late father, Henry Caruso, was indicted by a Los Angeles grand jury in 1957 for fraud, forgery and grand theft related to his automotive businesses before he founded Dollar Rent-a-Car in 1966. The senior Caruso eventually made amends and was allowed to change his plea to not guilty and the charges were eventually dropped. 
While this case has touched the campuses of far-away elite schools like Yale, Georgetown and Vanderbilt, it is a decidedly Los Angeles story due not only to Caruso's overwhelming wealth and influence at USC, but also because of the celebrity shallowness of its most recognizable indicted players, namely actresses Felicity Huffman and Lori Loughlin, and her fashion mogul husband Mossimo Giannulli. 
And it calls attention to whether LA's elite $40,000 per year private schools like Harvard-Westlake, Campbell Hall, Marlborough, The Brentwood School and The Buckley School have been corrupted along the way. 
But USC also has a real opportunity to do something positive with its dirty laundry: become a complete meritocracy. Accept students based solely on high school accomplishments, leaning more heavily on academics than athletics, as well as on community service and students' extraordinary life circumstances. Find a way to minimize wealth, power and demographics, as inconceivable as that might seem. But just do it. Create an admissions process with checks, balances – and outsiders who cannot be corrupted, or that will catch it from the outset. Make USC a place where merit matters most, because that is what should have been happening all along, anyway.
(Daniel Guss, MBA, is a member of the Los Angeles Press Club, and has contributed to CityWatch, KFI AM-640, Huffington Post, Los Angeles Times, Los Angeles Daily News, Los Angeles Magazine, Movieline Magazine, Emmy Magazine, Los Angeles Business Journal and elsewhere. Follow him on Twitter @TheGussReport. Join his mailing list or offer verifiable tips and story ideas at TheGussReport@gmail.com. His opinions are his own and do not necessarily reflect the views of CityWatch.) Prepped for CityWatch by Linda Abrams.