ERIC PREVEN'S NOTEBOOK - Tuesday is snooze day and the fabulous five lady supervisors had their plates full this week … full of equity.
Sup. Holly Mitchell: This is your third warning. [disruption from the audience] Madam chair, they have had three warnings. '
Sup. Janice Hahn, chair: Please remove them from the auditorium. 
Smart Speaker: Well, should I just -- I will stand by.
Sup. Janice Hahn, chair: Okay, we will adjourn to a closed session. We will be in recess. [the board is in recess]
Sup. Janice Hahn, chair: I feel like Eric Preven was hanging on there. 
Executive officer:  He is still there. 
Sup. Janice Hahn, chair: Okay. Eric Preven with 44 seconds left. 
Smart Speaker: Hold on. Why don't we give me a minute? 
Sup. Janice Hahn, chair: Yeah, I agree. Give him a minute. I am with you on that. I am with you. Give him a minute.
Smart Speaker: Thank you. You know, I support tenant protections and I support the "land bank" as well.  I was trying to understand how the land bank would work exactly and how to do that, but again, we have a lot of unfunded programs and a shortage of money. I appreciate all the care but the confusion -- coming to a board meeting is like playing contract bridge. It's getting tricky.  We can see that you are positioning for a supplemental budget slapdown, but it's all very coded.  I suggest dialing down all the bureaucratic maneuvering and easing up on the ceaseless "equity" lecturing. Thank you. 
Sup. Janice Hahn, chair: Next speaker, please.
Smart Speaker: Thank you. As a member of the Writers Guild of America, I appreciate your efforts but don't fully understand what this motion is doing precisely other than nudging, urging the studios and streamers, and parties to resolve. 
Something we should think about is the incredible taxpayer incentives various states provide to studios and streamers. I've always been disgusted by the way the states around the country come up with the money to get the studios to come in for a one-night stand and these places get very excited because the Studios drop a few million dollars, but then they take the money and run and move on to the next state.  Frankly, none of it really benefits the united artists. 
Similarly, when our government gets involved in the "sports" space, we don't actually support the athletes, but rather the very rich stadium developers and team owners. Hello, Kroenke!
Let me be very clear, the studios and streamers need to pay all workers better and fairly and provide healthcare. Without writers and actors and this will be proven, there is nothing.  It's a blank page. Tabula rasa. No more drama, no more comedy.  That's why the directors' settlement, no disrespect to the wonderful DGA, raises serious questions. Like, what the fuck were they thinking?  
Regardless, this must be resolved and the studios and streamers should come to the table immediately and  Governor Newsom, if necessary, should get the axe out on these tax incentives...enough is enough.
Moderator: Our next participant is Eric Preven. You may begin.
Smart Speaker: Thank you. I was waiting to speak on this item because we care a lot about the heat island crisis and I wanted to address all of you on this critical countywide concern. 
But Supervisor Horvath, out here in Studio City there's a County Flood District parcel adjacent to a property along the River where Harvard-Westlake School is hoping to chop down all the tall trees, in order to put up an 80,000 square foot building along with two giant plastic fields.  PFAS are so-called "forever chemicals" because they do not break down In the environment.  I'm sure you know...the state of California will reportedly be taking action on PFAS soon. The women's World Cup Soccer will not play on any artificial fields, even as we speak. 
You may remember that David Ryu was the only Councilmember who refused to descry the last Harvard-Westlake effort to destroy Studio City (Bridge over Coldwater).  I believe Ryu's former staffer is on the Horvath team. #uh-oh
The River Park plan is being pushed by powerful tailgaters from the athletic-industrial complex.  Studio City's little golf and tennis has always been an open-to-the-public recreational amenity and part of our culture. More importantly, the tree-lined site serves as the virtual lungs of Studio City.  
The Weddington family and Supervisor Hahn will remember, used to be a very civic-minded group - not so much anymore - and we need to get back to the founder's ideas.
Instead, the school got Charlie Munger to cough up $42.5 million for the land but doesn't pay taxes.  Now they want to run the table. 
There is an obvious solution - "you cut, I choose"  but we are dealing with a particularly imperious and elite group of wealthy tailgaters who felt empowered by Eric Garcetti's reign of  __________.
The wolverines of Harvard-Westlake seek a big  WIN against the residents of Studio City who have hosted them for years.  They've adopted a take-no-prisoners attitude... and it will not work.
Sup. Janice Hahn, chair: All right, thank you. Next speaker, please. 
Moderator: Our next participant is Eric Preven. You may begin.  
Smart Speaker: Yeah. I appreciate that the chief sustainability officer is here and the city of LA with Prop O and Measure W. These water projects, like the county flood district, that goes right by Studio City Golf and Tennis needs to be scrubbed to be sure that the public funding isn't diverted to benefit an elite group of Angelenos who are privatizing what was zoned for local public access, and saying it's open, but it's clearly not. Prevaricating is not too strong. Hello, Khalatian!
It's not a nice feeling. There is also the recreation park nearby where Brad Sherman and Nithya Raman appear to be fixing to knock down a mid-century building to erect a giant net zero something or other conceived under Paul Krekorian's watch in our grassy field.   Locals, that I know do not want to experiment in state-of-the-art basketball gymnasiums in open spaces.  
Both of these projects have been brought to your attention. We have to speak with our leaders about this and we need to find a way to balance the impacts. We cannot destroy the lungs of Studio City under the banner of sustainability, for the exclusive private benefit of Westside students who attend Harvard-Westlake.
A Blessing or a Curse:
One group's "blessing" is intended to "honor" and show "respect" for the community.  The recipients of this blessing, perceive it as an effort to "raid," "destroy," "demolish," and "ravage."   In short, a "curse."
Who is telling the truth? 
La Super-Rica:
The Super-Rica Especial is comprised of chunks of al pastor tossed together with a pile of roasted chile pasilla that have been stuffed with gooey queso. One bite of the crispy fried cheese edges and the freshly chopped spicy poblano peppers, and you instantly get what Julia Child was tripping about when she wrote the place up in the 1960s.
Even today, there is something undeniably quaint about La Super-Rica. It's off the main drag in Santa Barbara but sits proudly on a neighborhood corner, a small queue beckoning in the local surfers and the out-of-towners alike.  The dishes they serve are autentico and simple, and that's the point.
I popped into La Super-Rica approximately a half dozen times over the course of a year when my former wife and I were restoring the 1945 Gold House, a mid-century modern designed by RM Schindler.  
The Schindler archives are housed at the UCSB Architecture Library in Santa Barbara and as I've noted in a prior column, diving into the life and work of Schindler is engrossing. 
A librarian leads you to the room where the boxes of materials that you requested to review are waiting, and then you are left alone for a number of hours to read and take notes,  then … La Super-Rica!
Stressing Out the Students: 
We used to say out on Long Island, "When it's knee-high on the fourth of July, the corn will be sweet in Amagansett!"  And then slam a tequila shooter, followed by a lime right in the old kisser.  
Summer for me, was always a welcome respite from the rigors and stressors of the school year. I personally cherished sleep-away camp as much as any period in my life, but others who stayed in the neighborhood or visited a grandparent during the summer can probably relate to a measure of freedom.
There is something magical about being outdoors in nature…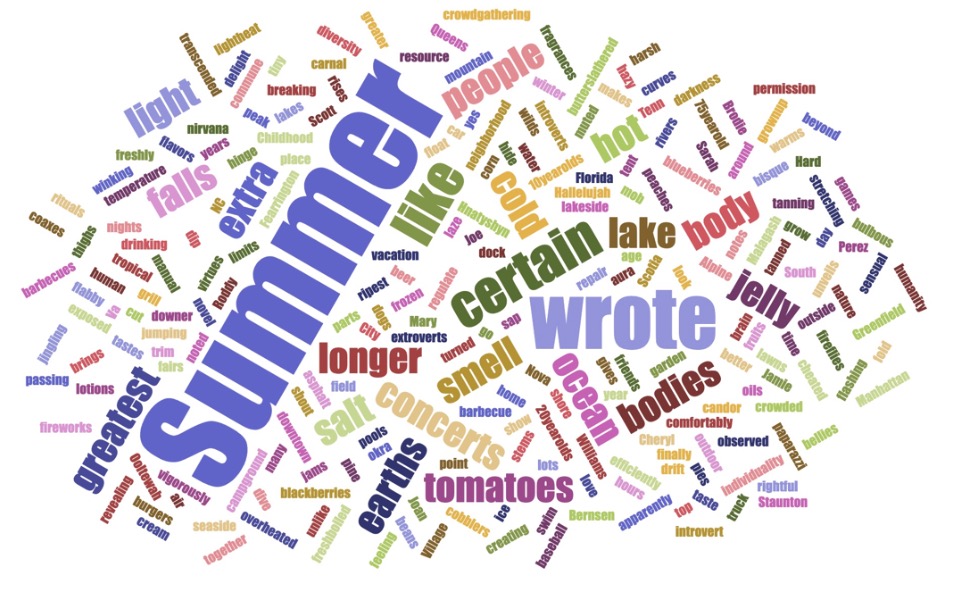 Ellen Janson worked for U.S. Senator Sheridan Downey from California in 1943.  His papers are archived at the Bancroft Library in Berkeley.  
Janson fell hopelessly in love with Michael (as Schindler was known) and wrote several letters that play well on date night.  Despite some pushback by Schindler, or someone else editing his archives for posterity, it appeared at first as if Ellen was a silly young romantic in love with the great master, who was ...married! 
Schindler wrote several letters to Janson that I came across, early on in my excavation, that were puzzling.   
"Your dreams will never, like so many -- meet reality --  I am married, have children -- and could not answer your call --  It is a mistake to place one's whole world onto one point or person --  The world is endlessly big --  And life Rich without bottom --  You will find your treasures -- without me  -- RM
DON'T you realize that not for once in all your letters do you consider that I might have some opinions or inclinations in the matter?   My hope is fairly new defined here  -- I do not intend to get a divorce, nor would it be possible to ever meet you again. Your letters seem somewhat the product of a nervous state and I hope you will feel differently, once you have adjusted your life to conditions. Greetings, RMS April 1932 
May 18th, 1932 I had not intended to write to you - but since you say you are coming to Los Angeles I must emphatically state that I am married, that my present life is complete, that I have no urge in me to see you again now,  -- in fact, I ask you NOT to come, as I shall not see you here.  I do not want you to come to my house.  Your coming here will only result in disagreeable scenes.  Please dismiss your thoughts about me -  do not send me letters, nor try to see me.  This shall be my last communication to you. RM Schindler
The letters from Ellen Janson to Schindler were authentic and engrossing and hot!
It was wonderful to have your letter. But it was very short - I have nearly worn it our reading between the lines - 
Yes, I am working hard - though the work is very pleasant and the hours much easier than they were at home. The Senator himself is not here - he has gone to California as chairman of a Senate Committee to investigate farm labor conditions. But there are four other people in the office (only one man and he is happily married!). The rest of us are girls, but we're all young and light-hearted, so we don't have a bad time at all.   
Washington is so different from Los Angeles it is like being in another country. The weather of course is colder but the air so far has been dazzling clear. the Trees that line every street are still gorgeous with autumn - the yellow leaves fall slowly in the cold brilliant twilights -  I miss you. I long for you - But this longing is a very familiar feeling - sometimes it seems the most familiar thing in all my life, as though it had always walked beside me, like another self.   
Do you remember - on that last night we were together - what you asked me to write and tell you about?  - It makes me shy even to think of trying to write it down - But I'll tell you in a minute at the end of the letter -   Yet I want to tell you all the untellable things that I don't know how to say - I suppose I never will be able to say them, except with my body, which could tell you over and over and always more wonderfully how wonderful you are.  
Do you know that it has always been more wonderful, always somehow new and more deep and fulfilling?  But of course, you know - for it was meant to be so - nothing can ever change it.  Yet with words, I can only say "Do you remember?" - For I want so much to come to your quiet garden tonight and be with you on the grass under the sky - do you remember how close we were?  Do you suppose that any other two people have found so many ways to be close together?  
And last night lying alone, I thought of it - and thought of you until I could feel your actual touch - the way you kissed me -  And so  - I played for you - yes, yes, with both hands - and it happened, no once but twice - So utterly - even though far away - I am your own.
E  
Despite the early Schindler protestations, Schindler and Janson's connection is undeniable. Eventually, Schindler designed and built "Skyhooks" for her in 1949. 
It was at "Skyhooks" that Schindler would convalesce after his second heart attack and finally died in 1953. 
The memories are a treasure.
(Eric Preven is a longtime community activist and is a contributor to CityWatch. The opinions of Mr. Preven are not necessarily those of CityWatchLA.com.)