ERIC PREVEN'S NOTEBOOK – Tasers are back on people's minds as Chuck Todd's Meet the Press took a deep dive into the debate over policing in America and the death of Anton Black, a star athlete who died in police custody in Maryland.
One expert told Chuck that the officer who fired a Taser at Mr. Black, who was running away, that "his design was to place Anton Black in custody."  
The Taser "was an extension of that... his design."  All you need to do is google - Reuters Taser Deaths - to know where you stand on these devices.  
Of course we do need more people of conviction who will stick up for what's right and protect, but it's almost always better to walk away or de-escalate than fight and it's never a good idea to send 50,000 volts into a human. 
The collateral damage is intolerable.
Nine Great Leaders, _____ people of color! (Answer next week)
Wanted: Champion
Hard to forget the chapter of Los Angeles history when that heroic fellow showed up at city hall and ripped down the stanchion posts manned by LAPD, thereby connecting thousands of good and reasonable Angelenos to their elected leaders... on a level playing field, where everyone was respected and treated fairly.   
Pfffft.  
Fighting for the public is a constant search for a person, plant or thing that can raise sufficient awareness of the obstacles to justice, and in a perfect world, right the ship.  It's usually a newspaper reporter.  Thanks Reuters. 
It's hard thankless work. The journalists who are willing to run into the fire and shine the brightest light of day on horrific societal behaviors are the hereos and sheroes and theyroes. 
The shocking police brutality in Men's Central jail and the ensuing legal chicanery that followed attracted a hero who helped expose the egregious scorched earth policies of county counsel.   
Peter Eliasberg, of  ACLU of Southern California,gets credit for helping to raise that issue up before he agreed to help quiet down the good troublemaker he'd stepped in to support. Good trouble, it turns out, is in the eye of the ... ten-eyed Board of Supervisors.   
The yelp review for Eliasberg should be like his comment to me about our shared victory, "it's a half a loaf," he famously said. Though we won at the California Supreme Court the right to see the damn legal bills, not for cases that are ongoing.  And so,  the county has been experimenting with how long (and wrong) they can leave legal cases open.  Why close any Skip Miller case?  
Incidentally, let this article serve as a CPRA request for the Miller Barondess invoices for the Vanessa Bryant... egregious handout. 
Also on my mind is the Los Angeles Times editor who heroically taught a member of the public to navigate the ethics commission's campaign contribution site.  By doing so he helped him unlock the proof to show that Mitchell Englander had been pumping Arizona based Taser company executives for donations, while the firm was seeking an LAPD camera contract.   
David Zahniser tagged his article with, "Studio City resident Eric Preven, a critic of the body camera selection process, said voters should close loopholes in Measure H to make sure contributions are barred during such testing periods. When Taser executives contributed to Englander, they were trying to get LAPD business, he said. "They should be punished."  
Yeah, well no one ever gets punished unless you personally punish them. The big stinger that was nowhere mentioned was how Englander and Krekorian slipped 4,400 Tasers into the truck full of body cameras without any "process." 
Matt Lait was the hero on that one with an assist by David Zahniser, who in that case did what all the good reporters do, listen to the public. Mr. Lait is the managing editor of the CNN Investigates team and is based in Los Angeles.  He likes Paul Pringle. 
Speaking of process, Danny Bakewell Jr. and Senior were front and center at the Heather Hutt confirmation on Friday.  The gang of four who had issues with an incoherent process, led by persons of color, Monica Rodriguez, Nithy Raman, Marqueece Harris Dawson and white and nerdy guy, Bob Blumenfield, folded on any resistance to her appointment.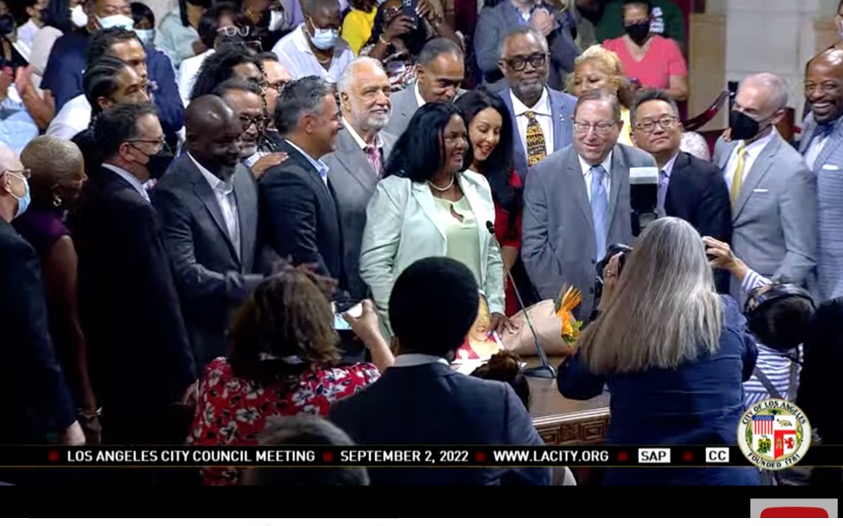 After Paul Krekorian, a person of color of Armenian descent, voted to approve the budget report item 11, the woman who was about to be sworn in as the first woman of color councilmember from CD10 said she'd brought her grandmother's bible "just in case." 
Holly Wolcott, the 'irregular' city clerk who has lent many helping hands to Herb Wesson, Mitchell Englander and Nury Martinez as they attempt to disenfranchise the public who are willing to participate, was wearing a side-ponytail. 
She told Hutt, who came up working for Kamala Harris,  "I love you" before swearing her in. 
Hutt disarmingly said, "I've always been a staffer, now I'll try to be a good council person." 
"Don't set the bar too high," one member of the public thought.  
Nury Martinez took a short break from hollering at her colleagues and the public and referenced the loss of trust in government.
Members of the public who showed up seemed to cheer.   
The entire council including "O'raman and Bloomberg"  as one member of the public identifiedthem accidentally, surrounded Danny Bakewell, the civil rights activist and entrepreneur.  
As the owner of The Bakewell Company, which includes among its holdings the Los Angeles Sentinel newspaper, Bakewell has a larger than life role at keeping the corrupt incumbents in power. 
The man is a genius when it comes to making city hall work for "the community."   Annually he makes the very government that gives him permission to make a ton of sponsorship money on the city streets, where vendadores struggle, pay his company for the right to be there.  
I wonder if Martinez considered replacing Mark Ridley-Thomas and Herbert J. Wesson  with one of the Bakewells?  Bakewell's son sits on the Board of Directors for the Los Angeles Press Club.  And he's a developer.  
Bakewell was parked right next to Hutt in the front row and stood right behind her during the truly astonishing photo shoot following her confirmation.     
Bakewell is the ultimate vendador!  To commemorate his efforts maybe next year's commendatory resolution at city hall and honorary scroll at the county can be for...  Unparalleled leadership at ______ the public.   
Maybe we can run a contest to filling in the right gerund.  
hosing
fleecing
scamming
over-charging
ripping-off
exploiting
plundering
sticking-up
holding-up
bleeding
chiseling
looting
gyping 
New York State of Mind:
Ben Protess is an investigative reporter at The New York Times,  He currently covers the federal government, law enforcement and various criminal investigations into former President Trump and his allies. I've seen his name on page one recently.  
In 2016, he was the co-author of a five-part investigation of the private equity industry and its expanding role in everyday American life. He took a phone call from me and gave me a few minutes to cold-explain how I suspected Goldman Sachs had been involved in owning and flipping lucrative county's golf contracts to Wesley Edens of Fortress. 
Protess was busy but said he'd call me back. He did what he said he'd do and the rest is in print.  
Nobody ever knows exactly what a person is thinking, but the work of Karen Foshay and Vincent Gonzales, a couple of local heroes, who had produced an episode of SoCal Connected for PBS about the Family Ties at County Hall, may have helped persuade the New York Times to go deeper. 
Karen Foshay has won dozens of awards for her video and documentary work during her two decades of work as both a radio and television journalist and has earned the highest awards in broadcast journalism: a George Foster Peabody and two Alfred I. duPont-Columbia University silver batons. In 2019 the Los Angeles Press Club named her Journalist of the Year.  She is the author of  KCET's journalism standards and practices.   
Now she works at the Los Angeles Times as a senior producer.   Not sure who wrote the standards and practices over there.  
S.O.S.
"Ok, we're going to put an end to this today. This is beyond the pale" the younger son exclaimed adamantly. His comment was in reaction to a photograph of his mother''s front door, where a much younger couple who moved in upstairs in January had created a six inch hole in the tile entryway and filled it with muddy water.  
These kind of antics had been going on since the moment the young couple arrived in a fleet of luxury vehicles and attacked the family's housekeeper near the shared garbage cans, calling her a racist before chasing her down the road in a luxury vehicle.  
What followed was a highly coordinated initiative in which the young couple made wild false criminal charges with the LASD about the older woman and then hired an attorney to bring it all to a TRO judge who had no choice but to issue a Temporary Restraining Order (TRO) pending due process.   
The young couple cackled with glee at their successful ploy to bring pain and strife to an older couple struggling with health issues. They also got a TRO on the old couple's chief protector, the woman's fifty-nine year old son who is of Jewish faith. They asserted all these lies under the penalty of perjury. 
The family and their neighbors and the local law enforcement, fire department and town council were all in disbelief.  An access blocking gate with a key was installed blocking the older folks from one of their bedrooms.  The woman's plants, that she had been tending to for years,  mysteriously disappeared one morning.  
When the younger woman, who is very aggressive knocked the older woman to the ground, causing painful and permanent damage to the octogenarian's thumb, nobody did anything.    
Due process certainly helps, but is not a panacea.  When the court heard all the lies it quashed the toxic TROs, forthwith.   
The family thought their nightmare was over....  
Everybody Needs A Hero:
In 2003 when some of us were hobnobbing with Mikhail. Gorbachev, the American Film Institute (AFI) added Billy Jack to their list of 100 Heroes & Villains over 100 years.  
The movie was from 1971 but it takes a while for the good stuff to rise to the surface.  Billy Jack was a hero, not a villain.  In the film, he was a mixed-race Vietnam war veteran from the Navajo Nation.    
For those who are too young to remember, the main character, Billy, defends the hippie-themed Freedom School (inspired by Prescott College) and students from townspeople who do not understand or like the counterculture students.  
There's the iconic scene where the children of various races from the school go to town for ice cream and are refused service and then abused and humiliated by the son of the county's corrupt political boss and his gang.  
This prompts a violent outburst by Billy... who practices Hapkido, a form of self-defense that employs joint locks, grappling, throwing techniques, kicks, punches, and other striking attacks.   
It's harsh, but very satisfying because he's sticking up for the victims. There is a inarguable surge of adrenalin at the larger than life villain, a corrupt deputy sheriff, getting his ass kicked.  
The movie doesn't necessarily hold up, but the color of buttkicking frequently appears on the many colored palettes of Angelenos and others. 
The critics rightly pointed out that the film's message of pacifism was undercut by too much violence, but Gene Siskell admitted, one is frequently moved to genuine emotion. 
Everyone needs a hero. The family who is being tortured by their young neighbors are committed to doing the right thing and have diligently gathered evidence exposing the antics of their tormenters.   
Once the young couple had lost in court, the family expected a new era of peace and quiet.   
Nothing could be further from the truth.  
An insidious campaign of terror has been launched including dripping water endlessly onto the living space of the older folks, placing huge cardboard boxes in front of the older woman's front door, to the degree that the fire department had to struggle to maneuver a stretcher by as they took the older woman's husband to the Emergency Room.  
Which Way LA? 
There's no need to fear, Underdog is here.

When criminals in this world appear,
And break the laws that they should fear,
And frighten all who see or hear,
The cry goes up both far and near for
Underdog,
Underdog,
Underdog,
Underdog.

Speed of lightning, roar of thunder,
Fighting all who rob or plunder
Underdog, Underdog, Underdog.

When in this world the headlines read
Of those whose hearts are filled with greed
And rob and steal from those in need.
To right this wrong with blinding speed goes
Underdog,
Underdog,
Underdog,
Underdog.

Speed of lightning, roar of thunder,
Fighting all who rob or plunder
Underdog, Underdog, Underdog.
Underdog!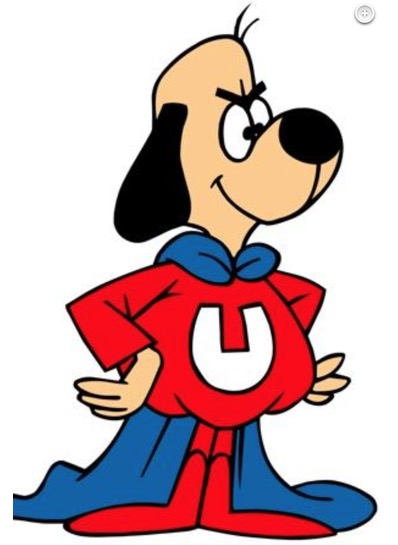 Hugging It Out with Mikhail Gorbachev
Mikhail Gorbachev was famously described by the Sovietologist, George F. Kennan as a "miracle."  The Soviets, Kennan argued, inhibited objective or accurate pictures of internal and external reality, and yet Gorbachev rose above and "saw the world as it was, unblinkered by Soviet ideology." Gorbachev's glasnost was his commitment to allow Soviet citizens to discuss publicly the problems of their system and potential solutions. 
I had the good fortune to meet the "miracle" man while working as a production consultant for SONY International Television on the first Russian language telenovela that originally aired in the Russian Federation and Ukraine in 2003-2004. The story of "Bednaya Nastya"(Poor Anastasia) is set in the 19th century and featured 127 forty-minute dramatic episodes comprised of multiple genres including historical romance and detective drama, and even comedy. 
My assignment was to share the USA production methods with our Russian partners, specifically how to grind out high-quality tv soap opera programming at the blinding pace of an hour a day. We worked off of a very good book, which was called a bible, written by head writer of stateside soap operas. 
The local TV professionals working at Mosfilm, a central studio complex in Moscow, were more accustomed to producing gorgeous eight-hour miniseries over the course of two years, than soap operas.   
I was the annoying American insisting on doing good work "while moving more quickly."  It was a massive challenge, yet working together the show achieved international success and was shown in China, Israel, Serbia, Kazakhstan, Georgia, Greece, Bulgaria, and more than twenty countries worldwide.  
Moscow was booming in 2003 and as the first man on the ground for SONY to establish a pre-production and production plan, I was charged with bringing in various consultants to assist me as I demonstrated how to effectively cut corners while producing Emmy award-winning drama. 
I insisted that my team of experts, which included a DGA director, conveniently my mother',s husband, an art director and lighting consultant, even a boom operator, all be housed with me at The Ararat Park Hyatt Moscow, a world-class, residential-style hotel designed for the discerning traveler.  
SONY wanted to stick my consultants in a lower-cost, less frilly hotel but given my central role as head diplomat during the tense startup period, they had no choice.  
The Ararat Hotel which gives off strong "Lost In Translation" vibes is superbly located in the heart of Moscow, adjacent to the Bolshoi Theatre and only five minutes walk from the Kremlin, Red Square, and the central business district.   
One night during the pre-production period, we were celebrating in one of the consultant's hotel rooms as part of the team were heading back to the states. 
I rode the elevator up to my room near the top of the hotel to load up on supplies. As a long-time guest, I'd grown friendly with the hotel staff including the waitners, doormen, and the elegant men and women working the reception desk.  As I stepped back onto the VIP elevator with a bottle of whiskey under one arm and a bottle of wine under the other, I took note of the three occupants: A large bodyguard in a raincoat, an elegant fifty-something-year-old woman translator, and Mikhail Gorbachev.   
I was a little tipsy so immediately introduced myself as the SONY guy working at Mosfilm Studios, dropping names as fast as I could. Gushing about how cool it was to meet him and how pleased we were to be helping launch the first ever Russian language telenovela. [Disclosure: I do not speak Russian but worked with a translator who went on to become a successful producer in her own right.] 
The elevator doors opened on the floor where we had been congregating but I opted to continue shmoozing with Gorbachev, and allowed them to close.  It seemed to me an alternate reality and we were having an interesting discussion.
As the doors opened onto the beautiful lobby the bodyguard exited first and glanced around before our oddball little trio emerged. Gorbachev's presence electrified the lobby, and there I was chatting with him as my comrades and friends looked on slack-jawed.
After a moment that seemed like a miraculous eternity, it was time to say "do svidaniya."  
The charming doorman with whom I joked daily while waiting for my driver was in disbelief, eyes widening. The receptionist behind the desk had to stifle their giggles as I conducted the most over-the-top goodbye imaginable. Bowing and gesticulating as if we were in a Saturday Night Live sketch, I embraced Mikhail Gorbachev.  
His bodyguard winced, but Gorbachev hugged me right back.  
RIP Gorby. 
Shocking!
(Eric Preven is a longtime community activist and is a contributor to CityWatch. The opinions expressed by Eric Preven are solely his and not the opinions of CityWatch)