ERIC PREVEN'S NOTEBOOK - The image below is not a red state, exactly. It's the 1.75 acre Caruso compound in the Brentwood Park neighborhood.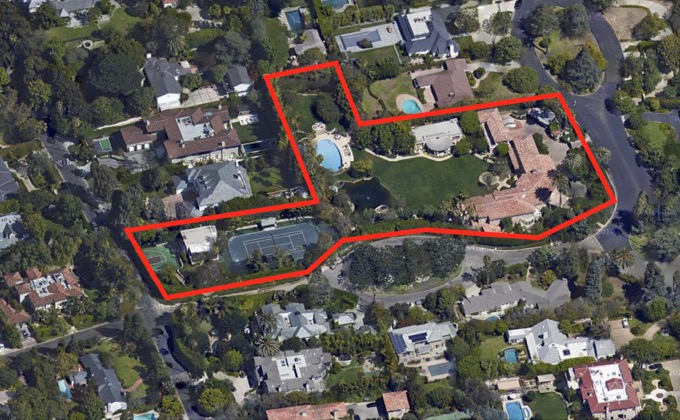 The Rick and Tina Caruso Estate
Below labeled, 4001, is the residence with a pool that may belong to Congresswoman Karen Bass of the 37th congressional district.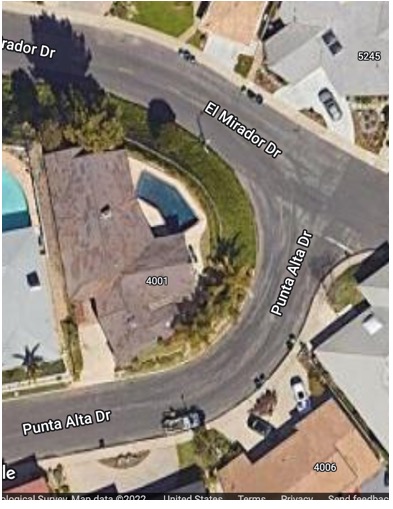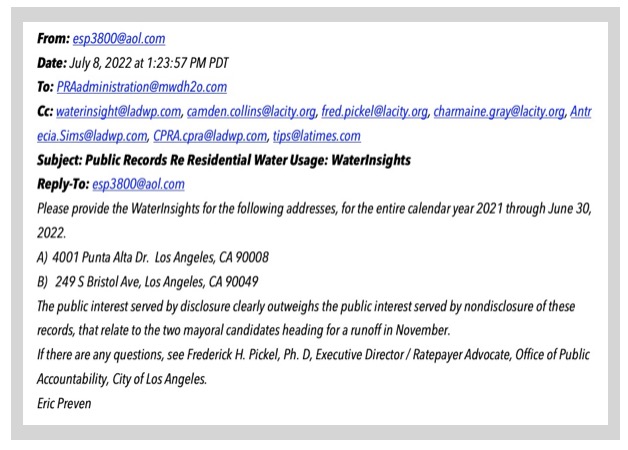 Drought Emergency🚨
LADWP customers are now limited to two-day-a-week watering at only 8 minutes per day (or two 15 minute-cycles per watering day for sprinklers with water-conserving nozzles).   
For the duration of this restriction, watering days are assigned based on home address: if your street address ends in an odd number, your watering days are Monday and Friday; Thursday and Sunday are your watering days if you live at an even-numbered address.   
Due to peak water demands, no watering is now allowed between 9 a.m. and 4 p.m. regardless of the watering days. 
Violation of the water use restrictions will result first in a warning, with escalating fines levied for subsequent infractions.   
LADWP is also asking that all residents reduce their personal water consumption by seven gallons daily, the equivalent of showering for four fewer minutes a day.  
You may not need to change your habits at all, though, if you take advantage of some of the many rebates LADWP offers on water-efficient items – and you'll end up with more money in your pocket in the long run when you do as well.  
For more info go to LADWP's website and find the rebates. 
American Bandstand: 
Was a recent tail out on Elex Michaelson's The Issue Is on FOX 11 Los Angeles, a rare moment of camaraderie among opponents or just a couple of angling press whores, doing what they do best?   
The answer may be both but it was still quite heartwarming to see as the vintage music played in the studio, Gloria Allred and Larry Elder jump up to dance with Elex, and then together as partners.    
As they joined arms, it was very clear that Gloria Allred, possibly the the most famous woman attorney practicing law in the nation today can dance and, perhaps not surprisingly was leading Larry Elder, a conservative talk show radio host and former gubernatorial candidate. 
Michaelson recognized the moment... 
Elex: She's leading!
Gloria:  Larry's not used to women leading. 
Larry: That's right.  
Gloria:  You got to get used to it, Larry.  It's 2022  Lead, follow... Lead, follow,  Lead follow. 
"Or get out of the way!" they chimed in together.  
Apparently, Gloria has been a regular on Larry's radio show for many years and the two have some kind of rapport.  
One tweeterist suggested: "Hey, it's show biz. They'd dance with the devil if it would get them air time."   
Of course that's true, but it is also true that it's nice to see people who don't necessarily agree, "do anything" together and enjoy it.   
Might be time to dust off some kind of Political "American Bandstand." 
Charmingly persuasive + civically engaged:
Thomas Safran says Rick Caruso nails it in retail... "he created a whole community in Glendale... the Grove is popular, it's in the details."  
To create a successful building, the landscaping must be nice... "evergreen and deciduous [See Drought]." 
Safran, a perennial in the affordable housing development game has volunteered in his community serving on local boards: homeowner associations in Brentwood and Bel Air, 15 years on the San Vicente Design Review Board, Chair of the San Vicente Improvement Association, Treasurer of Brentwood Green, and Business Representative on the Brentwood Neighborhood Community Council.  
Safran was also a founder of both the Museum of Contemporary Art and on the Board of The Music Center of Los Angeles County.   
As a boy, he articulates in a podcast interview with Positive Development, that he walked by a Frank Lloyd Wright house on the way to school in Chicago.  His father was in scrap metal.   
He took a course on state and local government, "I'm a democrat." 
He said he was influenced by,  "The fountainhead"... a book he said, was "about a guy who doesn't like the building he built and destroys it" 
In the fall of 1968, Safran took the federal service entrance exam.  He worked in the Chicago housing authority...  and stayed at HUD, in the public housing division.    
He had HUD transfer him to LA county where he served as the housing liaison to housing authorities of LA County, the developers, the not for profits, 1% financing, other funding...etc. 
When he first arrived in LA, "everything was twenty minutes" away.  It was 1973 and Nixon had just been re-elected, and wanted to redo the urban programs. Not kill them, but put them on hold, so he could put his own spin on them.  
Safran got an MBA part time at UCLA.   
He's a real raconteur and rambles on for an hour about his journey, with plenty of interesting tidbits about his business.
"In downtown Santa Ana,  bought it 20 years ago... for $11M ... $60,000 a unit... today worth 60M."  
"Was looking to do a hypothetical, 100 unit project... I was paying $220 rent in an Oakwood apartment ... when I
spotted, 3 houses... tied  them up with $1500."  He knew that HUD was looking for places a block or two blocks from a "bus stop and shopping."  
Once he tied up the land, he found a deeper pocket to make him a partner... "give me 20% of the deal... reimburse the  $2,000 out of pocket..." and away we go. 
When he left HUD his salary was $15,800.    
"Eleven years ago... 8 buildings for $73 million from one HUD developer.  They were for sale as a block ... the broker came to my office. I knew that... 5 of the 8 were HUD assisted buildings.  
Safran knew what to do:  put down major money.  
He came up with a $1,000,000 non refundable... hold for 60 days, all cash no contingencies.  
That offer beat out the biggest offer out there and Safran believes the seller remembered him.  
"That, SOB" he joked,  "he's such a pain in the Ass,"   Since, Safran's job at HUD was to do the highest quality possible... it helped.  "Too many people thought if you build it, it they will come..."  They would try to justify doing shoddy work, "you don't have to be good, because you'll fill it... "  they reasoned.   
Demand for affordable housing is super high, but communities, Safran believes, will resist the "shitty" projects.  
He told one story you make city land available... to someone crazy like me, "I once told a broker to find some land... 1.3 acres west of 405 Del Rey... a developer lost money with Madoff... his price was $10.5 million to buy land for low income... housing.   
"I tied it up and closed it two months..." for vacant land.   Proposed a five story, 170 unit building... got approval from Neighborhood Council, but six neighbors were opposing, and one was a lawyer.  CEQA... he could delay for 2.5 years. "You have to pay legal fees. Settled for a 3-4 story bldg... with 124 units.  Still, took two years... just because you have approval.  There are many projects, but the funding is limited. You cannot just apply for a permit...and build." 
Del Rey Square is a 124-unit, Section 8/Tax Credit property located in Los Angeles, CA for people 62 and over. Through a partnership with the Housing Authority of the City of Los Angeles (HACLA) and support through Saint Joseph Center, Del Rey Square provides 12 units of housing specifically for the formerly homeless population.  
As for the current State of affordable housing.  Safran explains,  "It used to be all about the Feds."  The government is in the housing business. "It allows people who buy, to deduct the interest.... but what will happen for low income?"   
The Feds are minor players now as state and local jurisdictions are more invested. 
How urgent is the need?  Safran says "Never been bigger." 
He described how with two small 45 unit bldgs w/ preference to veterans near Crenshaw and Jefferson.  We opened up applications and in ten days received 4500 applications for 100 units." 
Safran described a deal he did in Calabasas, near the motion picture home, in an upscale community. They asked me, "Why would you do supportive affordable housing here?" 
I told them, precisely, because "you have none.The state housing element says every community should take its fair share."  
We're starting to produce more, now, but our zoning and land use have held back developers...  it's much easier in other states.  
In Calabasas, he got $1 million of $2 million from a county investment trust fund.  And a Zev Yaroslavsky Block grant for $2.5 million and the state gave $3.5 million in prop 1C funds... then a 9% fed tax credit, and $1,000,000  in a home loan. Chase was the lender for construction loan and also the permanent loan.  Then, we sold the tax credits... some twere bought by Google, GE... mostly banks."   
"They have to invest, under the community reinvest act."   
But in the end, it's all about the people.  It was heartwarming to hear Safran, as he recalled,  "when a guy with a shopping cart was housed after having no home for 7 years.  He brings his cart, returned it to Ralphs, showed his furnished one bedroom.  We put food in the refrigerator... he was interviewed on TV."    
I wondered if Safran came up with the Eric Garcetti channel 35 spots of the same ilk, that have the Mayor delivering a housewarming basket with a camera crew in tow to a likable formerly homeless person as he's given a home.   
Safran's business philosophy:  
No means maybe, and maybe means yes.  You are told no or maybe.  But you have to get to yes.   
Never stop being charmingly persuasive.  The complexities... of local, county, state...and banks, putting them all together sometimes with 9 or 11 attorneys at some of these closings.  You must stay focused and charming. 
A  win win should be for all parties.  Safran says "I train that repeatedly.  Unless, every party is succeeding... 50 years... you can ruin it overnight. "Everybody is treated the way you would want to be treated."  
And you need to be better, to be accepted... 
Safran says he still remembers being a tenant, the manager... "we must never forget, our humanity."   
Helping people "fills my soul" and money, he says, doesn't buy the rewards of helping.  
But money certainly can grease the wheels.   
Pay to Play, baby!  
Nobody can question that Thomas Safran is a civically engaged member of the community. In 2018 Safran tapped Mitchell Englander on October 10, 2018 for $800 Reported as: Mitchell Englander for City Council 2011, Officeholder Committee. 
In 2019 he zetzed Serena Zeise Oberstein with an $800 howdy-do. She's the former City Ethics Commissioner, married to Jeremy Oberstein of CD2, LAFD, Controller fame, who faux-ran against ally, Staffer B John Lee for the CD12 seat before a judge round she was ineligible to be on the ballot.  
This list refers by last name to the recipients of contributions from Safran over the last few years. 
Oberstein $800
Melvoin $1200
Daar $200
MRT $800
Abrams CD12 $250
DeLeon $800
Staffer B John Lee $800.  5/17
Blumenfield $800
Garcia CD14 $250
Harris Dawson $800
Nury Martinez $800
Staffer B John Lee $800 7/19
Garcetti $750. 9/10 
Garcetti $750 9/10
Lansing [LAUSD] $1200
Staffer B John Lee $800  10/11
Garcia $550
Garcetti $750 - 10/23
Garcetti $750 -  10/23
O'Farrell $800
Price $800 
Galperin 500 
Krekorian 800
Chavez for city attorney 1500
Koretz $1500
Feuer $1500
Price3 $800
Koziatek [LAUSD]  $500  
Gonez [LAUSD] $1300
Garcetti $1500
Buscaino $1500
Yarosavsky $250
James $250
Ebenstein $250. 5/20
Ebenstein $550. 5/21
Torres $1500 
Yaroslavsky $550
Rodriguez $800
MRT $800
Melvoin [LAUSD] $1300
James $1250
Vahedi $1500
DeLeon $1500
Bass $1500
Lall $1500
O'Farrell $800
McCosker $800
Kapur $1500
Blumenfield $800
Reid $1000
Greiwe $1500 
Holdorf CD11 $800
Park CD11 $800
Kaufman CD10 $1600
Reported as: Mark Ridley-Thomas City Legal Defense Committee for Council File No 21-1203 [1442749]
Yaroslavsky -$800
Newhouse CD11 $800
Caruso $1500
Reid $500
NEIGHBORS UNITED TO RE-ELECT COUNCILMEMBER MITCH O'FARRELL 2022. $2500
Good $800
Feldstein Soto $1500
Darling CD11 $800
Cedillo $800
Villardi Espinosa $150
Numbers First:
Pete Buttigieg the US Secretary of Transportation, gets it.  He said, we should expect two things...."Any public figure should always always be free from violence, intimidation and harassment, but should never be free from criticism or peaceful protest or people exercising their first amendment rights." 
He was not speaking to Nury Martinez and her 500 foot rule about protesting near the homes of certain very special people, like Brett Kavanaugh, the Supreme Court Justice and award winning actor. 
According to MItchell O'Farrell fighting for his life in CD13 as a progressive wave threatens to uproot all of the favors and fancy of a two decade reigh, 759 people have signed a public petition urging Patrick Soon-Shiong to make use of the shuttered St. Vincent Hospital facility to address the homelessness crises. 
"Since Dr. Soon-Shiong's public remarks saying he is open to discussing St. Vincent with 'members of the City Council,' my team and I have not heard back from him to set up a time to meet," O'Farrell said. "Each and every day this facility sits empty is a wasted opportunity to care and provide for the most vulnerable among us. There are hundreds of people out on the streets right now who, instead of living in filth and squalor, could be under a roof, receiving the help they need. Let's reopen this hospital now." 
For benchmarking... 
13,733 signatures opposed to Harvard Westlake's RiverPlan to privatize the  iconic Weddington Golf and Tennis facility, among the last publicly accessible open spaces in Studio City.   
600 workers took part in Wasserman Serve Day. 
One day each year, Casey Wasserman invites Wasserman employees and athletes to volunteer during the annual Wasserman Serve Day. 
The event started in Los Angeles years ago when Wasserman employees participated in activities such as renovating schools and playgrounds.  85 projects over the last 11 years.    
In 2021, twenty-one service projects were conducted in 19 cities across 6 countries. 
85 projects in the lifetime of the program - 21 projects during 2021 = 64 projects over ten years, so an average of 6.4 per year!   That means 2021 was a very good year,  228% above average!  
Looking forward to Wasserman Serve day, 2022...  from the proposed First amendment zone... probably in Alaska, if the Olympic Committee gets it's way!  
Just kidding. actually, where is the first amendment zone for the Olympics?  ________ 
Seriously, the people do appreciate the work -- it takes a lot of energy to be helpful.  Here's what was done in 2021: 
Created a safe place for their youth to play in.  Installed native plants, removed invasive species, and spread mulch & compost.  Restored the Nature Center's trails and other public spaces by picking up trash, pruning overgrown plants, laying mulch around trees, spreading crushed rock on trails, cleaning up children's learning areas and other general landscaping.  Beautified a caretaker's home of a nonprofit that provides educational and recreational activities to those of all ages with and without disabilities. Clear flower beds of exotic plants and weeds, prune historic street trees, till the beds, and plant native species to create bird and pollinator habitats year-round.  Successfully completed murals, including 4 on the front of a school.  Combatted loneliness and inactivity by creating positive aging booklets that allow the elderly to engage and learn through a fun filled activity.  Created new wildflower areas, improved pollinator friendly planting, and installed beneficial features such as bug hotels and ponds.  Beautified and painted the inside of an emergency shelter that provides a safe haven for human rights abuses, including human trafficking and domestic violence.  Spruced up three cottages at a Children's Home, a place for foster children to grow, learn and be loved. Painted 4 classrooms and 1 bathroom. Helped pick up trash and debris and helped restore park areas. Using drills and glue, built planter boxes from pre-cut lumber.  Built an outdoor lounge zone that will provide youngsters with a safe place to rest and refresh mentally. Planted over 400 trees and cleaned up trash & foliage along the shorelines. Hosted an indoor beach volleyball tournament for students from disadvantaged areas. Caused instant transformational change to a lobby with a fresh coat of paint that instantly brightened up the place. Diligently created a garden, spread mulch, and built a sensory walk and room.  Picked up litter along the shorelines.  Designed and decorated over 100 greeting cards, online for students and teachers at a public school.    
...not too shabby! 
Adaptive Use:
Angel City Sports, a local adaptive sports nonprofit, transformed Harvard-Westlake's basketball gym a couple months ago into a safe haven for those that use wheelchairs.  And we are expecting much much more... good will, from this exciting partnership.  
I wonder if Jaime Lee, the Chief Executive Officer of the Jamison group of companies which controls over 13 million square feet of office and retail properties throughout Southern California and has developed over 3,900 multifamily units in the City of Los Angeles, is going to help put Harvard Westlake in the adaptive use hall of fame for 2028?  
This initiative might help steamroll over Studio City locals who are not excited about the large training facilities, envisioned by Harvard Westlake,  plunked down in their last bit of publicly accessible open space.  
Jamie's privately-held, family-run business has been one of the largest commercial landlords in the region for the past twenty-five years.  According to the USC website, Jaimie is currently serving for the State of California on the California Film Commission and is very active in the community.   
For example she serves as a board member on the Los Angeles Organizing Committee for the Olympic and Paralympic Games 2028, the Los Angeles World Affairs Council & Town Hall, and the Anderson Munger Family YMCA.   
Any guesses what the A in YMCA stands for, in these parts, of North Hollywood?

"Ever-changing A" 
Four new animated emblems have been launched by Los Angeles 2028 with the aim of representing the "spirit and vision" of the Olympics and Paralympics that are due to be held in six years' time.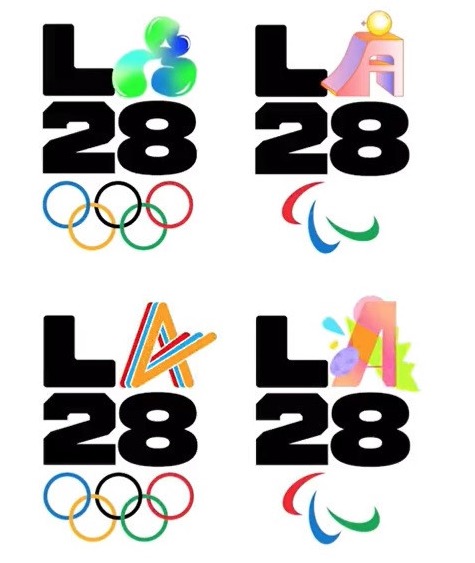 The Los Angeles 2028 Organizing Committee said the emblems showcase the "endless possibility and the power of our differences".  They are among more than 35 individual emblems featuring an "ever-changing A" that have been designed for the Games following collaborations with artists, celebrities and tastemakers.   
The "A" was intended to highlight the "infinite stories" of Los Angeles and the Olympic and Paralympic Games when the logo was first unveiled in September 2020.  The "A" in the logo is designed to show up in almost any color, shape or configuration as a way of representing the diversity of the LA community, Including one entitled "Youth Spirit Olympic 'A'" that has been inspired by children's animation and LA street art. 
Graffiti? "Sir, you're disrupting the meeting." 
 No, expensive murals and...  
☑️ Youthful Energy 
☑️ Determination 
☑️ Athlete Spirit 
☑️ Breaking Boundaries 
The Chairman of LA 2028, Casey Wasserman noted that showcasing the diversity of the city of Los Angeles has never been more important. 
Wasserman is CEO of a leading sports, entertainment and lifestyle marketing and management agency that represents brands, properties, and talent on a global basis. He's also the Chairperson of the LA28 Olympic and Paralympic Games, a position held since 2014 when Los Angeles Mayor Eric Garcetti appointed Casey to head the city's successful bid campaign.  
And Mr. Wasserman serves as the Los Angeles Super Bowl Host Committee Chairman for Super Bowl LVI in 2022. To refresh the memory, the National Football Conference champion Los Angeles Rams defeated the American Football Conference champion Cincinnati Bengals, 23–20. 
Run it back!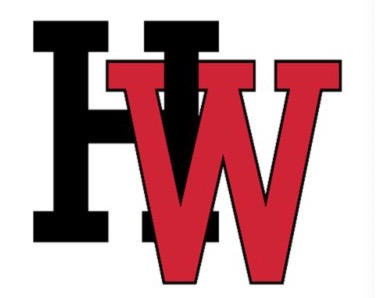 I totally see a A in there!
Crenshaw:
Brittney Griner pleaded guilty to drug possession in Russia and wore a t-shirt with the word "Crenshaw," a reference to the South L.A. neighborhood and a logo made famous by Nipsey Hussle and his Marathon Clothing brand. 
Back in Los Angeles, the city's claims board had a look last month at a case filed in October 29, 2020 having to do with the Crenshaw Corridor Specific Plan.  
The matter that came before the Hon. Mary H. Strobel, Dept 82,  and was brought by ABY HOLDINGS, LLC,  BRK INC., and 853 WEST 5TH STREET, LLC, v. City of LA.  
The ask was to have the court command the City to rescind a zone change ordinance it had adopted to illegally downzone twenty-three commercially zoned parcels, including Plaintiffs' properties, within the Crenshaw Corridor Specific Plan in direct violation of Senate Bill 330, the Housing Crisis Act of 2019 ("SB330"). 
SB330 provides that, where housing is an allowable use, the lawsuit stated,  a City may not change a land use designation (general plan or zoning) to remove housing as a permitted use or reduce the intensity of residential uses permitted under the general plan and zoning codes that were in place as of January 1, 2018.  
Here, however, the City did just that.  Allegedly, the City adopted a pretextural zoning ordinance that was deliberately designed to prevent housing developments on twenty-three specific parcels by significantly increasing lot size and width requirements (among other conditions) for new commercial, mixed use or multifamily projects from what was previously required by the standards in place as of January 1, 2018.  
Another case that the claims board examined (I guess) came from a  West Palm Beach Florida based, fella, named Eric Kentoff, who alleged, that "The mobility fee is excessive and invalid because a reasonable relationship does not exist between the amount of the feel and the type of development project on which the fee is imposed."   
He argued that "There is no reasonable relationship between the need for bus transit and Chatham Warner's Project.  He alleges ...it violates the MItigation Fee Act and Chatham's constitutional rights and amounts to an "unlawful taking." 
One more claims board matter that I glanced at quickly...  "On December 10, 2020, a pro per plaintiff, "reported his stolen vehicle to LAPD South West Division." 
After being treated badly, he wondered, how and why CHP San Diego/Orange County border patrol, happened upon plaintiff's stolen vehicle parked and abandoned on a residential street in the city of Los Angeles.  Not a bad question. 
Plaintiff alleged the LAPD and CHP were intentionally and purposefully negligent, withheld evidence and illegally sold plaintiff's vehicle. He claimed they willfully concealed evidence and that he suffered loss of property, including legal documents pertinent to litigations pending in court involving LAPD officers.  
 (Eric Preven is a longtime community activist and is a contributor to CityWatch. The opinions expressed by Eric Preven are solely his and not the opinions of CityWatch)