ERIC PREVEN'S NOTEBOOK - For women's history month, Tina Choi and Associates beat Edgar Khalatian and Mayer Brown in Q3 2021 lobbying numbers at the City of Los Angeles. 
Choi hauled in $461,067 including clients like $portsmen's Lodge Owner LLC, while Mayer Brown where Edgar Khalatian (who reps Harvard-Westlake School) and Richard Bruckner hang their cowboy hats, trailed her with a measly $446,241.  
Choi seems to be fairly cozy with Englander Knabe & Allen who have a quasi-arrangement to expand their reach.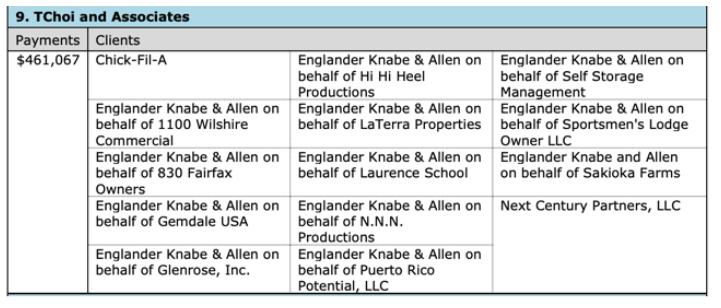 During Q3, Choi made a very important KEY condition imposed by the Los Angeles City Department of Transportation (LADOT), to widen Ventura Boulevard in Studio City to accommodate a huge development, simply vanish into thin air!   
Brava! 
The Metro Gang: 
Organized crime means any continuing unlawful activity by an individual, singly or jointly, either as a member of an organized crime syndicate or on behalf of such syndicate, by use of violence or threat of violence or intimidation or coercion or other unlawful means, with the objective of gaining pecuniary benefits, or gaining undue economic or other advantages for himself or any person or promoting insurgency.  MCOCA 1996 
It's both a social system and a social world. The system is composed of relationships binding professional criminals, politicians, law enforcement officials, and various entrepreneurs. Alan Block 1983
Team work:
Stephanie Wiggins, the CEO of Metro, does not exactly resemble Robert Duvall, who appeared as Tom Hagen in The Godfather, but as consiglieri to the MIghty Metro Gang of Los Angeles, she speaks up to the powerful regional bosses. 
On Thursday at the Metro Board of Director's meeting, Wiggins said, "HERE ME NOW...Fall 2022" with great emphasis, gently ribbing, Holly J. Mitchell ,who had requested a hard date. "Thank you, Director Mitchell."   
She was sort of calling out Ms. Mitchell, and other directors, who had held her feet to the fire, when she gave them the report back they'd requested.   
The reason she was citing it with a little dig, is a matter of accountability.  She did a similar routine with Janice Hahn when she announced that Metro has been given state approval (I think) to engage in Job Order Contracting JOC.  
This is intended to help streamline contracts for work while making local business preferences, a JHahn obsession, more of a reality.  
JOC is task order technology and is widespread in LA county.  To an alarming degree.  
The system is not all bad, but by making huge discretionary contracts intended to minimize the need for a pesky public to oversee how the money is being spent and on what specifically because the price of everything is pre-determined in a big price book. 
The contractors simply bid on how much of a discount they will offer, to the contract price list.   
It's essentially time and materials.  What could go wrong?  
Time and materials and lots of fraud. 
Call the roll: 
Mayor Tim Sandoval of Pomona, who represents the San Gabriel Valley on the Metro board of directors, required that the board take a second vote on a matter because of a small amendment. 
Voting twice, send two directors covered extensively in this column, into a knee-slapping session.  
Paul Krekorian kicked it off by quipping "Vote early and often." 
Sheila Kuehl, who despises public input, jumped in giddily,  "Vote twice if you can!" 
What a fun bunch. Eagle Scout wannabe, Paul Krekorian, shamelessly stuffing giant contributions from out-of-district Harvard-Westlake donors into the public "matching fund" vending machine.  Party boss Sheila Kuehl, always dishing no-bid contracts, this way and that, and who is very smart but would rather pontificate than debate. She's termed out soon!  
So is Herbert J. Wesson, who is perversely back on City Council, improperly seated in the CD10 chair, until Judge Strobel can undo her prior mistake.   
Surprised, Nury Martinez could not find a competent CD10 woman to help break the glass ceiling. 
Upskilling: 
We need to educate the public about how to check into the Metro Board meeting consent calendar. It's very confusing. 
One member of the public who frequently upbraids the Board of Directors for various fishy dealings on their often 20-item consent calendar wanted to know about item 5.   
It was a professional services agreement to complete Supplemental Analysis on the East San Fernando Valley Transit Corridor.  The winning bidder, a British outfit named Mott MacDonald, proposed $1,626,810. The second bidder (there were only two) was STV and they bid $1,486,624. 
What caught the attention was that the Metro Independent Cost Estimate [ICE] price was, $2,661,945  
In the end, staff recommended Metro accept  $1,806,223  was determined to be fair and reasonable.   
$200,000 over the price that Mott MacDonald had initially bid. 
My question... according to who? 
The Industry Wish List: 
A number of callers did not support the RENAMING the working group from  "clean truck" to the "Zero-emission" working group. 
Staff outlined that many ears had "perked up" at the announcement of nearly 50 million dollars in seed funding to jump-start clean trucking.   The "metro gang" made it very clear that all stakeholders, focusing on zero-emission technology would be in this very important loop.  
Advocates, who are accustomed to watching in horror as Truckers who are Independent Owner Operators... get shafted, alongside residents in the corridor near the port.  
Someone from the public suggested, "Maybe we should cover the cost of some angling lawyers to help these hardworking owner-operators represent themselves as you rip them all off."  
Everyone seemed to agree that it was important to balance earth justice, contamination, and equity with... TTSI. 
"Total Transportation Services (TTSI)", is an innovative, asset-based logistics provider driven by Sustainability, Safety, and California Compliance.  They were singled out for VIP seating in the $50 million dollar working group.  
TTSI, not coincidentally,  are longtime lobbying clients of Englander Knabe & Allen EKA, and have been making quarterly payments to EKA for work at both the city and county for... a very long time.  
TTSI also provides students at the USC Sol Price School of Public Policy with real-world experience to cultivate excitement in the field of transportation and also to help develop the "industry wish list!" 
McCourt Gondola:
If the Dodgers Stadium Union Station gondola project is granted any state or federal funding, based on "equity" that would be a shining example of how corporate interests are abusing such programs intended to help disadvantaged communities.
The McCourts, who are excellent, do not have experience running transportation systems. What about parking around the stations? The gondola in London, according to one commenter, has apparently not been able to find a sponsor.
"During our climate crisis running Air Conditioning on batteries... will be hot and sticky."
"This is a bad idea."
And what about the public health of cramming people into such closed quarters?
Dr. Ferrer, get in here!
Instead of building massive towers and stations, how about providing busing on existing roadways and good bus service to the various recreation areas. Great idea.

In Europe near Lake Como: 
On a patio with coffee service and an assortment of fancy cookies. 
Donna: I would like to try to make peace. 
Michelle: No, I don't want to make peace.  
Donna: But I think it's a good exercise-- 
Michelle:   I've had it. I've had it. 
Donna:  I know but there are a lot of factions in the world that are at war, including Ukraine and Russia. It's a disaster. 
There are a lot of things. 
Here we have a lot of common ground with these neighbors.  Let's see if we can make it so that the common area and common ground is not something .... we have to be at war over.    
Michelle:   I'm not looking for a war. They're looking for a war.  
Tom:  But part of any reconciliation means...  
Michelle:    I'm not going for war.  I don't want to talk to them. I don't want to have anything to do with them. 
Donna:: Well, they want to fight. They say they have a report. They want to start a fight 
Michelle:   They have always wanted to fight.  
Tom:  You can bring war crimes over anything and they want to try to bring war crimes against you.  
Michelle:   Good luck with that.  
Donna:  Sweetheart, it's obviously fake and should be treated that way, but while we wait, the people will be worrying and wondering.  
Michelle:   I'm not worrying or wondering.  
Donna: But the people will be.  
Michelle:   It's not necessary.   
Donna: We need to work toward peace. You have to say, even though it's hard for you, "you never wanted anything else than a peaceful border."  Period.  
Michelle:    But I didn't start anything with them. 
Donna:  I know.  But we have to find a sentence that you are comfortable saying. Nobody will believe it, but once you say it, you just said it.   
Tom:  Then we'll go back to them and they will say, "OK, we can live with that." 
Donna:  Hopefully, we'll be able to shake hands and get back to disliking one another intensely.  This is not the right time for war. 
Tom:  That said, I do plan to bring war crime charges on Monday. Spraying racial invective and attacking the indigenous people calling them racists, is a hate crime.   
Donna: (proffering) "Cookie?"
A good scare is worth more to a man than good advice.  
Edgar Watson Howe, novelist and editor (1853-1937) 
When the pandemic struck it was hard to know what to do. My mother and her husband who live about 35 miles from Studio City were already under stress. 
Gary has not been well and after being diagnosed with a type of blood cancer and kidney problems requires him to travel three times each week to and from a Davita dialysis center.  
Dialysis is literally draining and really time-consuming. It's not just the drive time (that was better during the pandemic) and the three and one-half hours for the process itself, it often comes with a two or three-hour nap once home.  
Providing services to our seniors, walking their dog in the afternoon, delivering home-cooked meals and Costco has been gratifying. 
But bringing them Irish Cheddar cheese and the Orecchiette pasta with sausage from Costco, and helping them with the trash and maintenance, is a small price to pay for the gift of being together.    
In a real-life, Silver Linings Playbook, the pandemic pushing me back to the woman who literally brought me into this world in1963.  
This particular octogenarian is also sharp as a tack and a naturally gifted storyteller.   
As so many people struggled, we felt blessed to share so much time, so much laughter together, as we watched the sun set, day in day out, during the most trying of times.
(Eric Preven is a longtime community activist and is a contributor to CityWatch. The opinions expressed by Eric Preven are solely his and not the opinions of CityWatch)