ANIMAL WATCH - A Los Angeles Magazine report on October 25,"'Titties for Pitties': Women Are Baring Their Chests to Rescue More Dogs Amid Shelter Crisis" shows six attractive, well-endowed women, holding only puppies over their bare breasts on a "Titties for Pitties 2024 Calendar." Heather Crowe, the founder of the HIT Living Foundation explained they are, "posing topless in a calendar that will be for sale and benefit breast cancer and pet shelters in a fundraising campaign."
Best Friends Animal Society has a Network Partner page for HIT Living Foundation, explaining that HIT stands for "Honesty, Integrity and Trust …" but it does not mention Pit Bulls or other animals in its mission statement. However, Best Friends also provides a link to HIT's website in Toluca Lake, CA, where it is described as a 501(c)(3) nonprofit focusing its energies on animal welfare and humanitarian aid and stating, "The Titties for Pitties calendar campaign was inspired by our struggles to find homes for beautiful Pitbull puppies."
Crowe also told L.A. Magazine it was inspired by Breast Cancer Awareness month and her mother who has been in remission from stage 3 breast cancer for 17 years. She added, "we've turned this campaign into an opportunity to raise awareness for these puppies while giving back half its proceeds to a breast cancer organization close to our hearts, the AiRS Foundation."
The organization describes itself as a "100% foster-based animal rescue, which means it does not maintain a shelter, but 'relies on' the kindness of strangers" to take in the animals it rescues."
A Google search for "Titties for Pitties" took me here, which also shows Pit Bulls and boobs, but does not appear to be connected to the calendar sales. However, it also took me to a similar program announced last year by another organization with an almost a "cookie-cutter" similarity.
"PITTIE PROJECT" IN 2022—COINCIDENCE OR TREND?
Ironically, on September 29, 2022, the Pittie Project announced that it was introducing a "Bullies for Boobies campaign!" and asked donors to "Help us save Pitties and Titties by purchasing this fun T-shirt. 50% of the net profits will go to benefit the Pittie Project and 50% will go to Mary's Place by the Sea, which is described as "a nonprofit organization dedicated to supporting women with cancer."
The Pittie Project is also a Best Friends Animal Society network partner.
The Pittie Project emphasizes it is not a rescue, but provides assistance with spay/neuter, vaccinations and other services to dogs in New Jersey, and it asks:
It is interesting that two organizations on separate sides of the U.S. would suddenly decide that Pit Bulls and breast cancer are connected in the minds of donors.
Is this just a coincidence or part of a trend?
NUDITY HAS LONG HISTORY IN ANIMAL-WELFARE CAMPAIGNS

 Who can forget PETA's alluring and playful photos of nude celebrities, which broke all the conventional rules in its very successful "I'd Rather Go Naked Than Wear Fur" campaign? (It began in 1990, lasted for 30 years, and definitely impacted and almost completely ended the cruel killing of animals in the U.S. for their fur and the use of fur in clothing/fashion.)
SEX "SELLS" IN ANIMAL-WELFARE FUNDRAISING
"Tits For Pits – A Fundraising Event That Will Get Tongues Wagging!"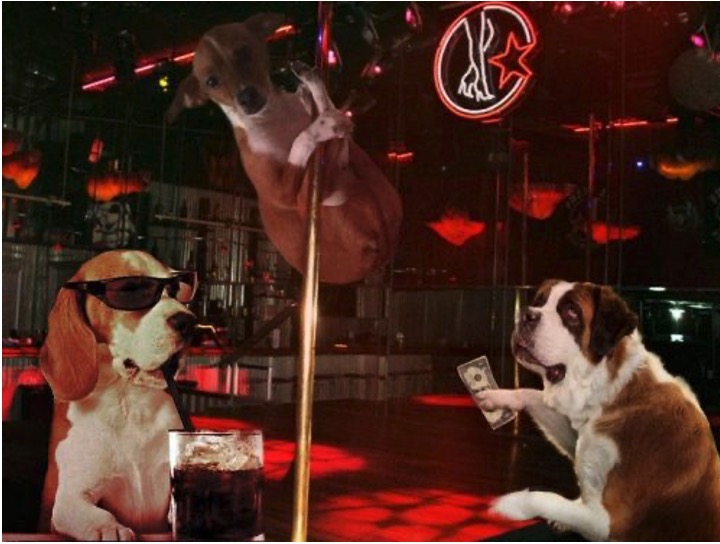 This announcement began with the following disclaimer by CharityPaws.com:
NOTE: I am sorry if some of you find this post offensive. Our goal is to provide examples of unique and inspiring fundraisers—and this is one we thought deserved a mention!
People love boobs – especially men, I know – surprise, surprise!
So, when the Baltimore Bully Crew wanted a unique event fundraiser – boobs were their inspiration. And CharityPaws knew what to do—hold a pitbull fundraiser at a strip club of course. This was the birth of "Tits for Pits."
The event took place at The Gentlemen's Gold Club in Baltimore, where three-quarters of the cover charge were (sic) donated back to Baltimore Bully Crew to help care for the pit bulls in their rescue ... and there was also a raffle for lapdance vouchers, lovingly called "Lapdances for 2nd Chances". (Read more here.)
"It started back in 2000 and was held annually until 2017," according to CharityPaws, "until Baltimore Bully Crew closed their rescue just recently as per this post on Facebook." [Sept. 2018]
"HOOTERS FOR NEUTERS" DIDN'T MAKE IT IN PRUDISH L.A.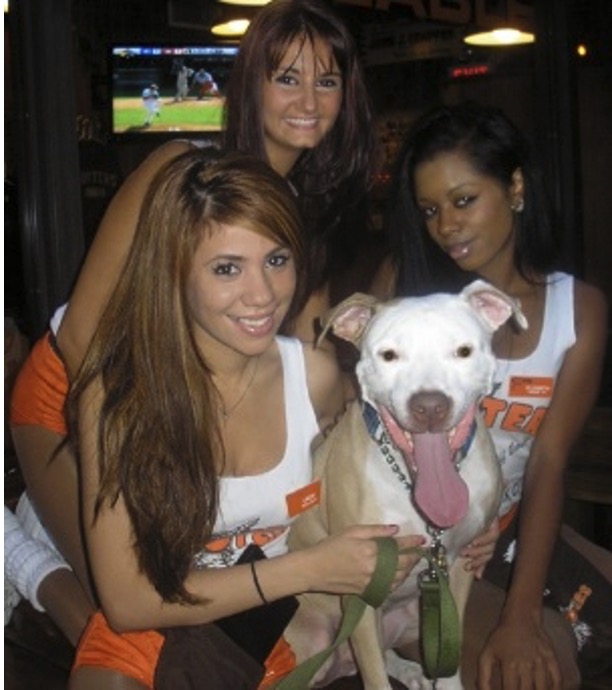 "After extensive discussions by L.A. City officials, on June 28, 2006," the L.A. Daily News announced, "Prudish L.A. Nixes 'Hooters for Neuters,'" explaining that, "Some of L.A.'s most buxom babes will strut their stuff next month to benefit stray animals, but the City of Los Angeles said Tuesday it is pulling out of the controversial 'Hooters for Neuters' bikini contest."
Ed Boks, then GM of Los Angeles Animal Services, had supported the opportunity to use a Hooters-for-Neuters event to raise funds for spay/neuter of City pets, but, the Daily News reported, "After an outcry from women's groups, female city employees and pressure by City Controller Laura Chick, the Los Angeles Department of Animal Services announced that it would disassociate itself from the July 13 event, which Hooters says will still be held."
"It's become controversial and offensive to enough people that we're at a tipping point," Boks said. "We're done with the event."
He stressed, "This was my decision to go into it, and my decision to get out."
"Boks had strongly supported this contest as a way to encourage more men to spay and neuter their pets," according to the Daily News, "however, critics said the city of Los Angeles—with strict standards of equality in the workplace—should never have associated itself with a contest that they say stereotypes and objectifies women."
WE'VE COME A LONG WAY, LOS ANGELES—OR HAVE WE?
So, in 2023, Los Angeles has evolved to the point where HIT Living, a Best Friends Animal Society network partner and L.A. Magazine, feel it does not degrade women to show their breasts on a 2024 calendar—cuddling puppies against them and glancing seductively at the camera, specifically for the purpose of fundraising for Pit Bull rescue and breast-cancer awareness.
And, there seemingly has been no objection by their network partner Best Friends, one of the nation's largest animal organizations, nor Karen Bass, the female Mayor of Los Angeles, Staycee Dains, newly appointed GM of Los Angeles Animal Services, nor Annette Ramirez, the Assistant GM of the department from which the HIT Living Foundation says it "rescues" Pit Bulls and puppies.
Is it because the moral values governing display of a woman's body have changed, a trend, or just marketing? Does adding breast cancer awareness to Pit Bull adoption create a more altruistic gesture or elevated cause? Or is it merely to expand the donor base for fundraising?
What is this campaign to increase adoptions of Pit Bulls in L.A. City shelters saying about the breed, in terms of the article by L.A. Magazine? It and the Best Friends Animal Society spokesperson, admits the are the most frequently returned dog, require individual housing, and they have to be kept away from other dogs so that they do not harm or kill them.
And, what are the implications of endorsement by the City of approving the calendar and concept since L.A. Animal Services shelters are mentioned as beneficiaries of getting more Pit Bulls out of the shelter?
Does this calendar equate with social progress or is it just an exploitation of men's natural attraction to pictures of semi-nude women?
WHAT DO BREAST CANCER SURVIVORS SAY?
A small survey received some interesting responses. One breast cancer survivor said that it made her feel sad, degraded and angry, and ignored the emotional loss of her breast, with the collaboration with fundraising for shelter dogs merely making it a "thing" that can be exploited. She said it also ignored her emotional loss and the physical significance to not being a "whole woman."
Another said breast cancer has no relevance to the plight of homeless animals, which is a separate tragedy, and neither should be exploited for the purpose of expanding fundraising for the other.
Another woman who had a mastectomy said this type of campaign by women flaunting their naked breasts to open men's wallets for a "good cause" demeans the fact that this is also a treasured part of a woman's reproductive system.
When asked about the PETA campaign, she responded "the PETA campaign had direct relevance to stopping the killing of animals to use their fur and made the point that it is unnecessary to harm them and take their lives just to "wear an animal."
She added that "celebrities were directly expressing their personal objection to animal cruelty and willing to be photographed nude to help make that statement heard, but I do not see that redeeming feature in the "Titties for Pitties" campaign, which should be concentrating on controlling the breeding of an animal that is more likely not to find a stable and loving home." 
ANOTHER APPROACH TO WISDOM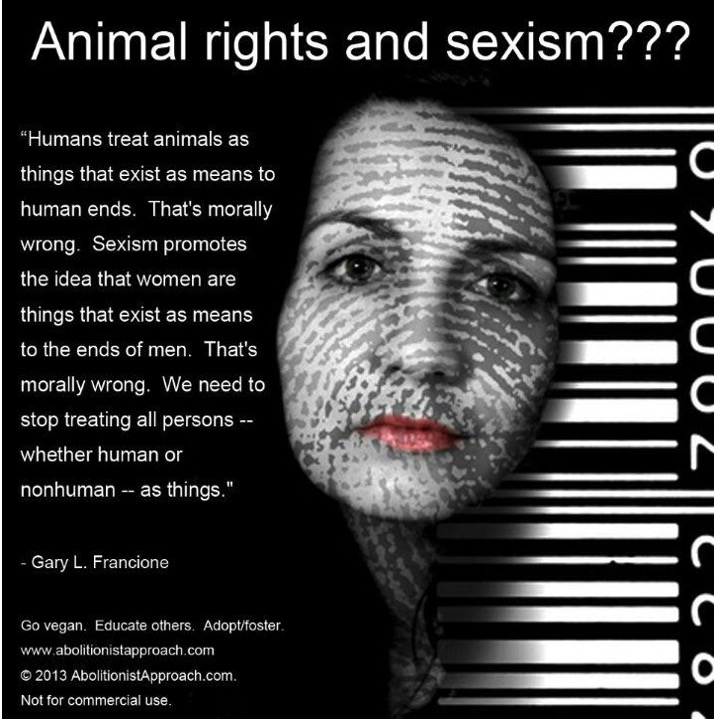 This calendar, because of the tragic issues it involves, needs to be taken seriously since it also reflects a wide diversion in acceptance of how contemporary, independent women, are willing to be portrayed for the purpose of obtaining money.
Gary Francione, well-known animal advocate, who describes himself as a professor of law and scholar of law and philosophy, is quoted on the poster (above) stating:
"Humans treat animals as things that exist as means to human ends. That's morally wrong. Sexism promotes the idea that women are things that exist as means to the ends of men. That's morally wrong. We need to stop treating all persons—whether human or nonhuman—as things."
That is no longer true, in that women now have the power and ability to flaunt their sexuality openly with societal approval and still be protected by laws which govern men's responsive conduct.
Society has taken many steps to prove women are equal to men and are not be considered just "sex objects." How does the 2024 Los Angeles "Titties for Pitties" calendar fit into this?
And are any/all means justified by the objective of reducing horrific overcrowding and unsanitary conditions, as described in the L.A. Magazine article?
In our societal gender-reversal, and focus on equality —has sexual exploitation for monetary gain become a woman's right?
What do you think?
(Phyllis M. Daugherty is a former Los Angeles City employee, an animal activist and a contributor to CityWatch.)