ANIMAL WATCH - A UK headline on September 23 announced, 'XL Bully' Owner Wanted by Police after Man Attacked in London park': and described how another brutal Pit Bull attack had caused a victim to be rushed to the hospital, and how the owner grabbed the dog and ran.
"Police were called by LAS (London Ambulance Service) at 18.07hrs on Friday, 22 September to Pasley Park SE17 after a man, aged in his 40s, was bitten by a dog," the Met said in a statement. "He was taken to hospital with injuries to his arm."
Police are making efforts to track down the owner, a force spokesperson told the BBC: "There have been no arrests. Inquiries are ongoing." They also said that the dog was an American Bully XL and that "the owner fled the scene with the grey dog before officers arrived."
Lawyer and writer Ness Lyons said the XL Bully "jumped a fence" and attacked the man at her local park, in a posting on X (formerly Twitter). According to the BBC, Ms. Lyons wrote, "Man was bitten badly in several places including his abdomen. Police and ambulance came, but it took an hour. Horrifying." "The owner grabbed his dog and legged it," she added.
Some residents near Pasley Park told the BBC that they "live in fear of the American XL bully dogs."
Last year, alone, there were nearly 22,000 cases involving "out-of-control dogs" causing injury in the UK, a BBC investigation found, up from over 16,000 in 2018.
Two years ago, an American bully XL mauled and killed a 10-year-old boy in Wales, and earlier this year, a woman was killed by her own bully XL in Surrey.
IAN PRICE, LATEST VICTIM OF XL BULLY FATAL ATTACK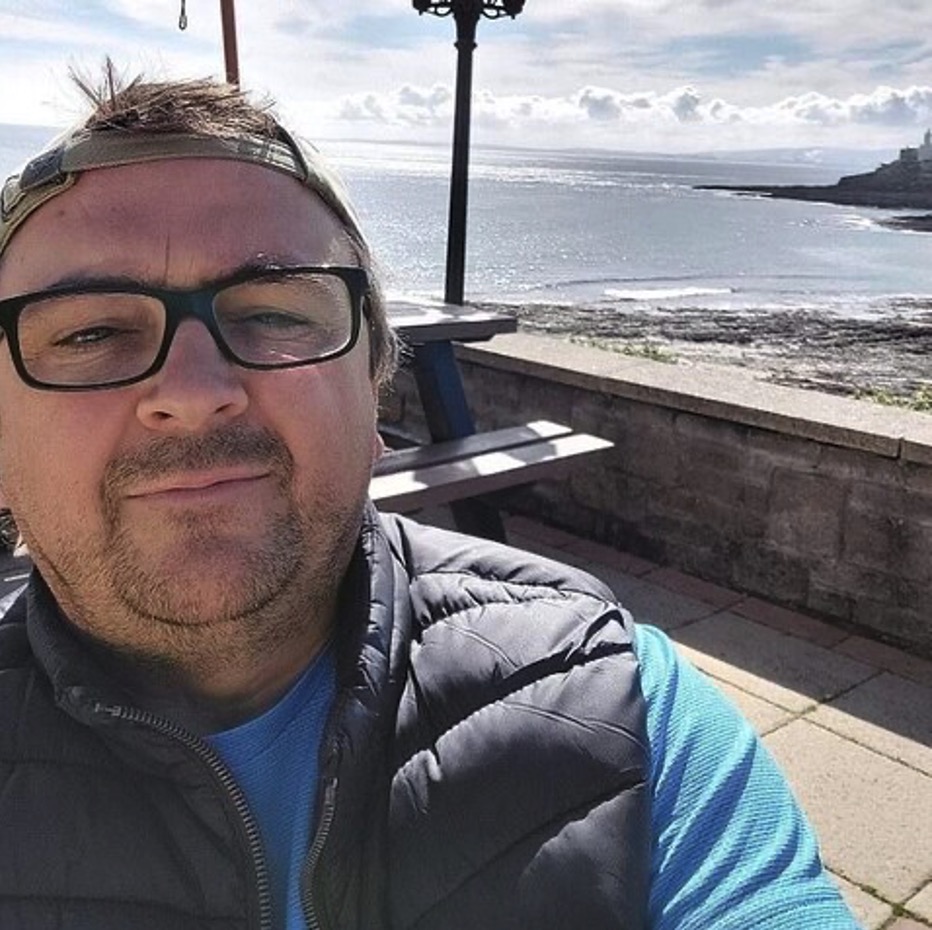 On Sept. 15, 2023, the Daily Mail published a very comprehensive report on the death of Ian Price, 52, who was savagely mauled and killed by two XL Bullies in Stonnall, a large village in Staffordshire, England.
Police say the owner had been warned on previous occasions about his "out-of-control" dogs, which were involved in a previous attack.
The "hero" father of two was reportedly protecting his mother as the dogs brutally ripped his flesh—an attack so vicious that witnesses said all of his clothing was torn from his body (photo at the scene show officers collecting torn pieces of cloth into plastic bags).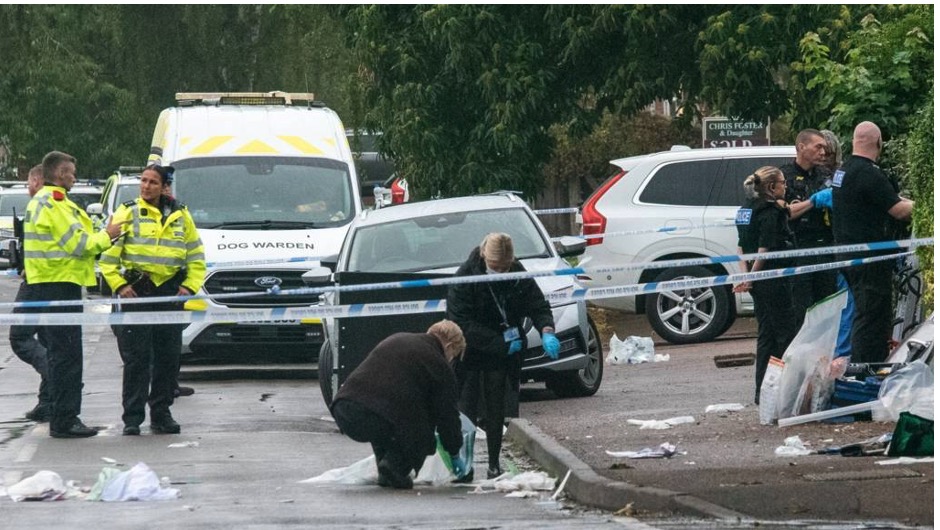 The Mirrror reported on September 16 that the "owner's Facebook page features numerous pictures of his massive dogs, including one of a child stood in front of them, and another of him proudly holding one up as it dwarfs him in size. In many of the posts, he boasts about their menacing appearance."
"One of his comments estimates that his dog would reach over 70kg (154 lbs.) at just seven months old, adding alongside two 'side-eye' emojis: 'Building a lion'. In another post, he says: 'Gonna be a UNIT', and comments in a third: 'Looks like he's been on a year long course of steroids'."(See also: Why XL Bully dogs are 'killing machines.')
The BBC reported that one of the dogs was reported dead after restraint, and the other was found at the owner's home and was euthanized by a veterinarian. The dogs' owner, a man, 30, from Lichfield has been arrested on suspicion of manslaughter, said Staffordshire Police.
Dog Bite Statistics in the UK in 2023 (updated Sept. 29, 2023)
(Above provided by Hepper.com)
XL Bully dogs are currently under the spotlight after Prime Minister Rishi Sunak pledged on September 15 that the breed would be banned in the UK by the end of the year, describing them as a "danger to communities." He stated that a group of animal experts and police will be brought together to define the breed and place it on the dangerous dogs list by the end of the year.
GIRL, 11, ATTACKED BY XL BULLY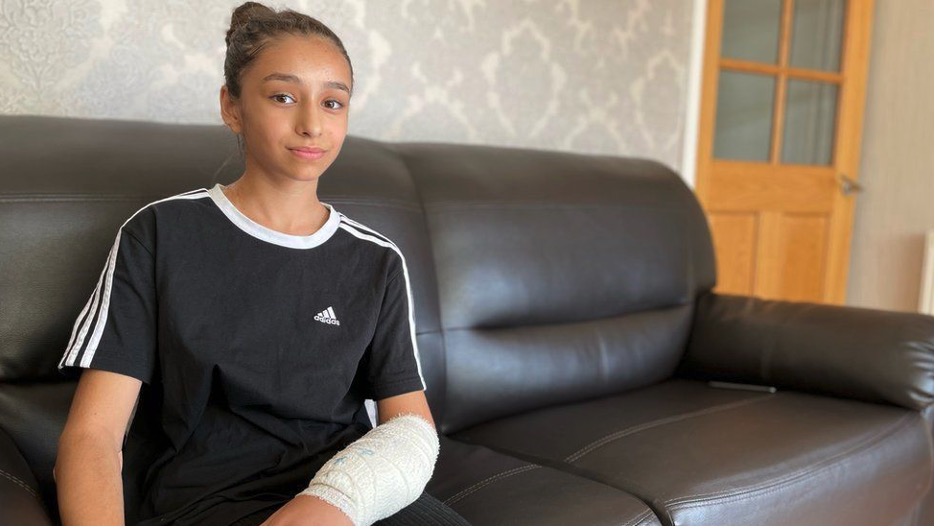 Man arrested after 11-year-old girl attacked by American XL bully crossbreed in Birmingham
On Wednesday, September 13, 2023, West Midlands Police said they had arrested a 60-year-old man on suspicion of possessing a dog dangerously out of control.
Audio created using AI assistance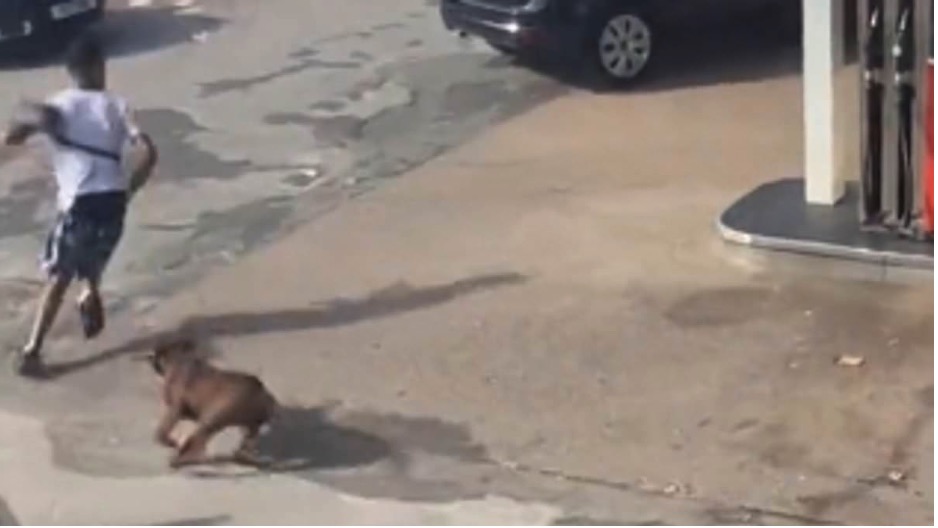 Image: Footage of the attack, in which two men were also injured, appeared on social media.
West Midlands Police said the 60-year-old was being held on suspicion of possessing a dog dangerously out of control, following an incident in the Bordesley Green area of the city on Saturday.
A video of the attack, in which two men were also injured after the dog twice broke free from its collar, appeared on the social media platform TikTok, according to SKY.com
This attack on an 11-year-old girl in Birmingham provoked the debate about banning certain dog breeds to a critical point, The girl survived lacerations to her arms and a man was arrested for the attack by an American Bully XL crossbreed dog, with lacerations to her arms and injuries to the several people who intervened to help her.
PIT BULL/XLBULLY ATTACKS MUST END
The XL Bully owner's brief detention is not comforting. It is outrageous that the leaders of the United States of America and Great Britain have been brought to their knees by irresponsible or criminally involved owners of dogs—to the point that children are afraid to go outside.
The courts need to weigh in on where a human's rights end and a Pit Bull/XL Bully's begin.
Of course, aficionados of this deadly breed blame the owners and, sadly, the victims. And, "humane" organizations oppose any bans or restrictions because they are primarily supported by the donations and don't want to alienate any perspective income source.
So, they advise "teaching responsible pet ownership and spay/neuter," which is their job, not that of the government, and doesn't seem to be working well. If the organizations need more enforcement strength, then that should be the discussion—but not an excuse.
While campaigners are calling for the breed to be banned and the home secretary described it as "a clear and lethal danger," the Royal Kennel Club doesn't even recognize the Bully XL – called a combination of an American pitbull terrier, and American and English bulldogs – as a distinct breed, but the "breed" founder clearly defined its bloodlines.
XL BULLYS STARTED AS "ATOMIC DOGGS" IN LOS ANGELES
The "breed's" founder, Richard Barajas of Los Angeles knew how to define its bloodlines precisely, and created what was first called the "Atomic Doggs," which will be discussed below.
On September 1, 2023, an official announcement was made by the British government, Environment Secretary on the XL Bully ban: "…given the recent rise of fatalities and other attacks it is clear that the time has now come for more decisive action – aimed specifically at the American XL Bully. Very sadly, fatal and serious dog attacks have risen sharply this year – with the American XL Bully disproportionately involved in this rise.
"That is why we will update the current list of banned dogs to include the American XL Bully. These dogs would appear to be valued by some as status symbols prized for their aggressive temperament. We will not tolerate this any longer."
"This has been under consideration for some time, but making it happen within the law is not quite as straightforward as people may think, as the XL Bully is not formally recognised as a breed in the UK. We will be working with experts at pace to formally define the American XL Bully and its characteristics so it can be added to the four breeds already banned by the Dangerous Dogs Act."
The constant excuse and barrier placed by the enthusiasts of XL Bullies that it is not a "distinct breed" will undoubtedly be counted on to support the argument that it cannot be defined and registered. However, that is not what the founders of Atomic Doggs—the predecessors of the American XL and XXL bullies—contend.
MANMADE KENNELS – GOTTI PITBULLS ARE "FOUNDATION OF THE BULLY BLOODLINE"
Six Amazing Reasons Why Gotti Pitbull Is A Famous Bully ...
https://www.manmadekennels.com› News
https://www.manmadekennels.com/amazing-gotti-pitbull-facts/
Gotti is the foundation of the Bully bloodline.
Yes, Gotti Pitbulls are the foundation of all XL and XXL bully bloodlines. Juan Gotti pitbull alone sired over 900 UKC registered American Pitbull terrier dogs. Also, pocket XL bullies directly descend from the Gottline. An average pocket bully weighs at most 70 pounds, but you can tell their Gotti heritage from how stocky and built they are.
There are other bloodlines that are related to the Gottiline pit bull bloodline. Gotti is the foundation for Mikeland's Kracker and Gator and also Kingpinline's Goliath. Besides these unique lines, he is also the foundation for many of the bully pit bulls that weigh more than 90-100lbs., considered to be the XL pitbulls. On the other side of the scale, Gotti is also the foundation for many pocket pitbulls that weigh less than 60lbs.
Gottiline was founded by Richard Barajas of West Side Kennels. He is the owner of Gottiline's foundation sire, "The Notorious Juan Gotty." In 1997, he purchased Gotty from a gentleman by the name of Tony Moore. (Tony Moore is the owner of Gray Line Kennels in Los Angeles, California. The foundation bitch of Greyline was the late Showtime. Showtime is the producer of Gotty's father, 'PR' Greyline's Raider He purchased Gotty for the amount of $1,300. When Gotty was approximately 7 weeks old his sire, "Raider" passed away. When Gotty was 7 months old he sired his first litter. He went on to produce many foundation males and females including Coldens Blue Rhino, and Felony (The sire and dam of 21 Blackjack), New Troijan's Dillenger, Pate's Blue Beast, Gottiline's Monster, Do Good Big Boy, and Westside's Capone just to name a few. Gotty is the sire of nearly 650 U.K.C. registered American Pit Bull Terriers. Since 1997, Gottiline has spread across the USA, Canada, China, the Philippines, and Japan. Juan Gotty will go down in history as one of the greatest dogs in the bully style movement.
http://www.slide.com/r/DDFA8SUAzT-mtJQe1EhWhFvnosJX_00m?previous_view=lt_embedded_url http://greylinepitbulls.kinnemankennels.com/2007/06/history-of-gottiline-by-richard-barajas.html
IT IS IMPORTANT FOR THE BRITISH GOVERNMENT TO HAVE THIS BACKGROUND INFORMATION
In order to define a breed for legal purposes, background is important. Are most of the XL and XXL Bully's really purebred or just mixed-breed large Pit Bulls with no definition of temperament and probably not nearly with the up-to $5,000 per puppy reportedly being paid?
According to Manmade Kennels Juan Gotti is the foundation for the XL bloodlines and his DNA is on file with the UKC.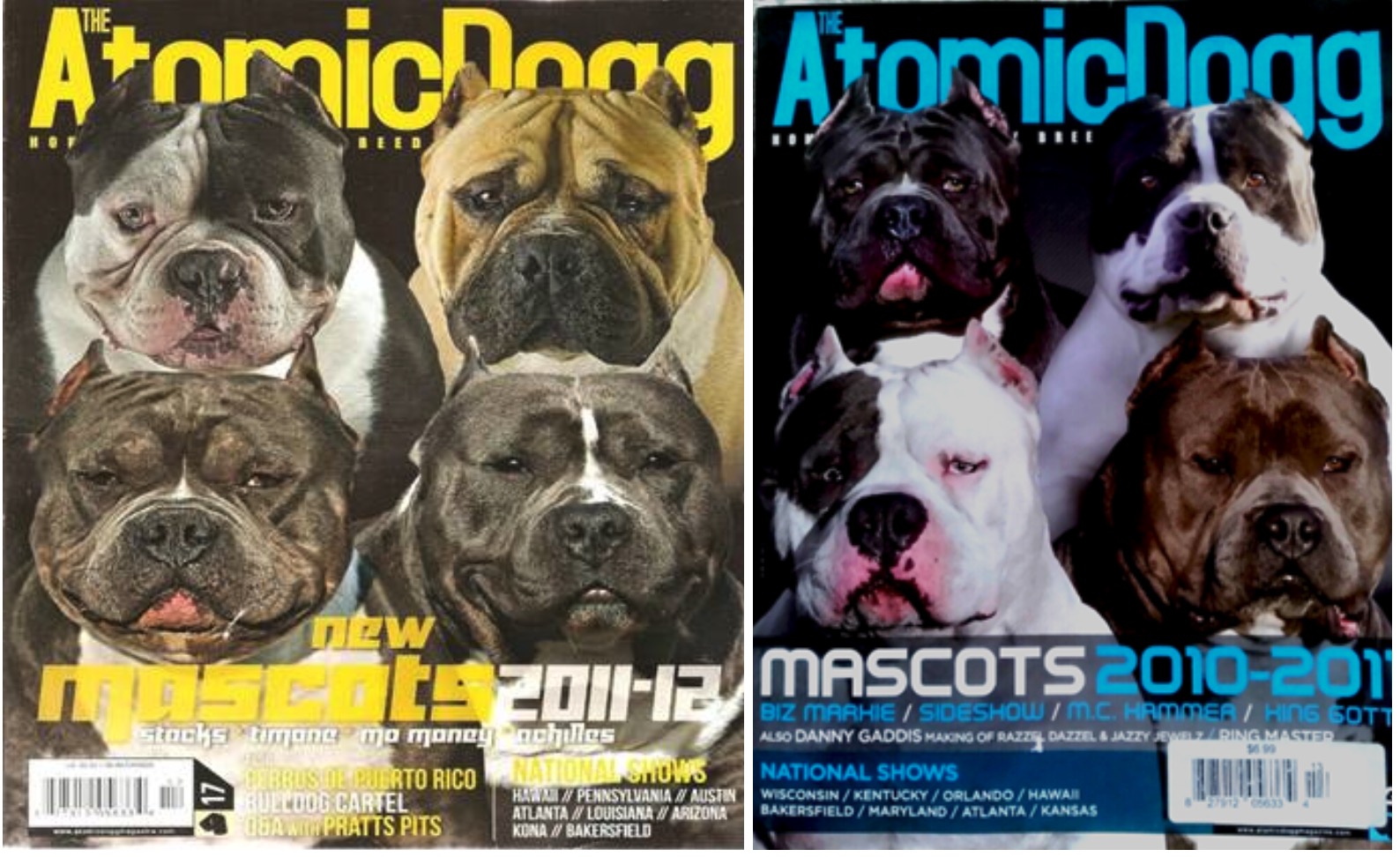 Atomic Dogg magazines from the 2010 – 2012 period can also be purchased online very reasonably for more historical information.
The XL Bullies have shaped a danger to society now and in the future that is unique, and the British government is to be applauded for declaring that it is placing the safety of its residents—adults and children—and the innocent pets also dependent upon them as a priority over the pecuniary interests of breeders of any dangerous dogs.
(Phyllis M. Daugherty is a former Los Angeles City employee, an animal activist and a contributor to CityWatch.)