ANIMAL WATCH - In a September 14, 2020, article, Volunteer Sues LA Animal Services for Negligence After Another Brutal Dog Attack at City Animal Shelter, CityWatchLA provided information obtained from Los Angeles Animal Services' records that showed gross negligence in instructing a volunteer to leash and walk Jaxx, a reportedly known-aggressive 7-year-old German Shepherd dog.  
Management of LAAS did know this and had a "do not adopt" alert on Jaxx's owner which should have automatically popped up when his name was entered into the records system. This should also have automatically generated a "watch" order to determine whether Jaxx demonstrated aggressive reactions. 
He should not have been made immediately available for adoption, and only experienced shelter personnel should have handled him until there was a professional assessment. 
LAAS management had these records and acknowledged them. They betrayed both the volunteer and the animal—and it is not the first time. 
Volunteer Kelly Kaneko is scarred and disfigured for life, and may suffer more serious disability later, including the necessity to have her arm amputated, according to medical experts in her case. 
NEWS COVERAGE OF ATTACK
Major news coverage of this award, included a KCAL interview, in which Kaneko, now 36, said, "The truth was on our side." 
It has been nearly four years since she was volunteering at the Los Angeles Animal Services' North Central shelter in Lincoln Heights and Jaxx "bit her arm and latched on for more than five minutes, causing extensive permanent damage." 
Like most LAAS volunteers, Kelly heard the announcements that the shelter was short-staffed and was drawn to the opportunity to share her time making a better life for homeless animals. 
"Animals have always been a big part of my life," Kaneko told KCAL-News. "So, when I heard most of the dogs didn't get out of their kennels for months at a time, it really broke my heart." 
She said she hopes that the verdict and her story will inspire change within the city's controversial Animal Services department. 
In October 2019, Kaneko had walked Jaxx, a 100-pound German Shepherd dog, back inside his kennel after taking him to the front to meet prospective adopters. He then bit her hand and latched onto her arm with his teeth, almost ripping it off. 
As she searched the facility for help, Kaneko dragged herself and the dog, still latched onto her arm, for more than five minutes. She said she believed the one person who was present did not hear her screams for help because of wearing earplugs, which is an LAAS policy.  
JURY AGREED WITH VICTIM 
In deciding Kaneko's victory and awarding her $6.8 million, a jury found the City of Los Angeles liable for gross negligence, since Jaxx's intake card had no information on his history which could have warned her of prior aggressive incidents, including that the previous owner claimed the dog had bitten him and should be euthanized.  
"Kelly would have been able to read the comments about the dog," said her  attorney, Ivan Puchalt. "Or, she would have been able to know that this was an aggressive dog that as a volunteer she shouldn't walk." 
Jaxx was reportedly euthanized a few months later and finally found peace. 
This was just one of the many horrific and life-shattering attacks that have occurred at LAAS shelters within the past decade of "No Kill," which does not allow euthanasia of potentially dangerous animals and has been in effect since Brenda Barnette and now her protégé Annette Ramirez have been the General Managers. 
The amount awarded by the jury in this case exceeds by $2-million the City Council's recent budget increase granted to the Department for operating expenses and programs that needed funding. 
LAAS OFFICIALS SHOULD BE HELD LIABLE 
At what point will the taxpayers and employees say, "no more," or does anyone really care about these lives (animal and human) and the high settlements that are warranted—except when it makes headlines? 
The suffering of these voiceless animals also is unforgivable and would be criminally charged as hoarding and abuse if done by a private party. 
HERE'S THE REAL STORY OF JAXX – AND LAAS KNEW IT! 
Following is some insight into the owner of this dog and the possible reason he may have reacted strongly to being leashed and held under control. 
While Jaxx was the offender in this incident, there is evidence he was also the victim of heinous acts of assault that did not leave visible scars. LAAS officials had received notifications of this but continued to endanger staff and volunteers. 
This was not a spontaneous dog bite. Jaxx had reportedly given the staff warnings earlier that he did not want to be handled that day—that is euphemistically called "grumpy." Kelly Keneko, innocently and under instruction, ignored his desire to be left alone and he said "no" in the only method he had to be heard. 
But, because the goal is "No Kill," which means allowing suffering to continue as long as the animal can breathe, no action—nor investigation—was conducted by LAAS, even after they had the following, disturbing  information in their file: 
JAXX OWNED BY SEXUAL PREDATOR 
We do not know about Jaxx's earlier years but the man who surrendered him to the shelter, and would have had to use ID to verify he was the legal owner, is associated with a very distasteful and illegal practice, known as "bestiality," or sex with animals, and has had a very public presence. 
LA Animal Services knew there was a serious problem with this person, "known as Sexy Vegan," because they admit in their own notes that they had a "do not adopt" order in place regarding him prior to Jaxx being brought to the shelter. 
You will learn his full name in the final media release issued by the L.A. County District Attorney. 
Here are the documents that were provided by LAAS and other sources in response to CA Public Records Act Requests describing events in Jaxx's life immediately preceding impoundment and the subsequent attack: 
LAAS NORTH CENTRAL SHELTER RECORDS ON JAXX 
PICK UP (STRAY) 
On 3/05/19 an officer picked up Jaxx around Main & College St. as a "stray/possible owner." (He was licensed.) 
On 3/06/19 Jaxx was redeemed. 
On 9/15/19 Jaxx (7 yrs old) was brought into the shelter and surrendered by the owner. 
Although the owner said Jaxx was aggressive, he was made available for adoption on 9/20/19. 
KENNEL RECORD DIFFERS ON INTAKE DATE
The Kennel Record (below) shows an Intake Date of 10/13/2019. It lists DOB as 6/07/12. There is no other information added.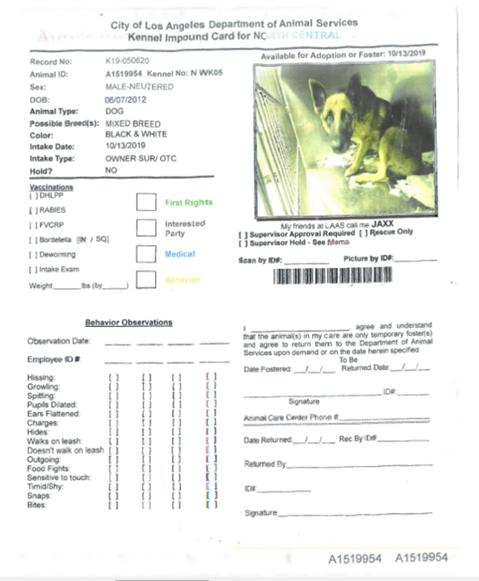 JAX GERMAN SHEPHERD A1519954
10/31 ATTACK REPORT [ON KELLY KANEKO 
LAFD transported to county USC General. 26 years old. Showing Jaxx to a couple and when she walked dog back to kennel, he attacked her right arm and would not let go. 
GS [german shepherd] was owner surrender on 10/13 – no reason. 7 years old. Owner was from Santa Clarita and has cases against him for bestiality. Name is 'sexy vegan' and he has a "do not adopt" with LAAS. (emph. Added.) 
11/5 memo to not euthanize dog without written consent from AGM [asst. General manager] Webber. 
Dog returned from quarantine on 11/3. (note from Jordan - victim didn't want dog euthanized and some of the advocates were getting together petition to save him.) 
No bad behavioral notes until attack. Sexy vegan filled out owner-surrender paper that dog should be euthanized for aggression and unpredictability and has bitten in past.
MEDIA RELEASE LOS ANGELES COUNTY DISTRICT ATTORNEY: 
Media Relations
211 West Temple Street
Suite 1200
Los Angeles, CA 90012
Phone: (213) 257-2000 
News Release 
September 27, 2019: Man Charged With Sexually Assaulting His Dog 
A 37-year-old man pleaded not guilty today for allegedly sexually assaulting his dog, the Los Angeles County District Attorney's Office announced today. 
Sexy Vegan, a.k.a. Hansel DeBartolo III (born in 1982) of West Hollywood entered the plea after being charged with one misdemeanor count each of sexual assault on an animal and posting obscene matter. 
Vegan is scheduled back in court on Oct. 10 in Department 1 of the Los Angeles County Superior Court, Santa Clarita Branch. 
On Sept. 5, 2019, Vegan posted a video on his social media account allegedly depicting inappropriate behavior with a pit bull, prosecutors said. 
If convicted as charged, he faces up to one year in county jail. 
The case remains under investigation by the Los Angeles Sherriff's Department. 
SEXY VEGAN APPEARED ON DR. PHIL SHOW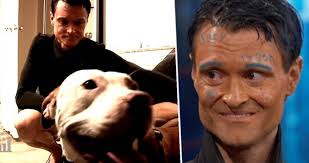 Sexy Vegan, otherwise known as Hansel Marion DeBartolo III, appeared on Dr. Phil in 2017 when his own family complained about his outlandish behavior. 
He made headlines again in 2019 when he was arrested for sexually assaulting his pitbull and sharing a video of it online. Sexy Vegan pleaded no contest and was sentenced to two years of probation and his two dogs were removed from his home, according to Distractify.com. 
He was also prevented from owning any new pets during his probationary period, the report states. 
THERE ARE NO REAL WINNERS IN DOG ATTACKS BUT A GOOD ATTORNEY HELPS! 
Kelly Kaneko's attorney Ivan Puchalt told KTLA-News 5 that, after Jaxx had latched onto his client's arm, "she had to drag him around the facility for about five minutes before finding a staffer who could help her." 
"At that point, she'd suffered serious enough injuries that doctors feared she'd lose her hand. While the limb was saved, a full recovery has proved impossible. 
"When she arrived at the ER, her hand was officially dead," said attorney  Puchalt. "Her hand gets less blood now than it used to. It always feels cold. And it's often a different color. She has a very faint pulse and it's a very serious injury despite the amazing work they did. She hasn't been made whole." 
Kelly is aware that her life is changed forever, but she still told reporters, "I was born with a love for animals and I will die with a love for animals." 
L.A. NEEDS REALISTIC, SAFE ANIMAL SHELTERING 
While this type continued devotion to animals is admirable, the Mayor and Council need to decide if LAAS should be allowed to continue to exploit, endanger and discard these caring individuals and take advantage of people's unsuspecting love of animals to deliberately put them at such extreme risk?  
It is neither ethical nor kind to keep animals in the disgusting, overcrowded conditions of L.A. Animal Services shelter until they go insane and/or hurt or kill someone in order to justify Department management taking responsible action. 
How many more dogs and other animals could LAAS have helped with the $6.8 million it cost to delay the inevitable euthanasia of Jaxx? 
See also: LA Animal Services' Employee Mauled by Pit Bull ... Who Cares?
Pit Bull Attack at LA Animal Services Shelter Leaves Two Injured...
LA Animal Services Shelter: Second Dog Attack in Two Weeks Severely Injures Employee
(Phyllis M. Daugherty is a former Los Angeles City employee, an animal activist and a contributor to CityWatch.)